Get in-depth analysis of the COVID-19 impact on the Edge Computing Market
Benchmarking the rapid strategy shifts of the Top 100 companies in the Edge Computing Market
Request For Special Pricing
[140 Pages Report] MarketsandMarkets projects the global edge computing market to grow from USD 2.8 billion in 2019 to USD 9.0 billion by 2024, at a Compound Annual Growth Rate (CAGR) of 26.5% during the forecast period. Factors such as growing adoption of Internet of Things (IoT) across industries; rising demand for low-latency processing and real-time, automated decision-making solutions; and a need for surmounting exponentially increasing data volumes and network traffic.
Moreover, the emergence of autonomous vehicles and connected car infrastructure, and the need for lightweight frameworks and systems to enhance the efficiency of edge computing solutions are expected to create ample opportunities for edge computing vendors.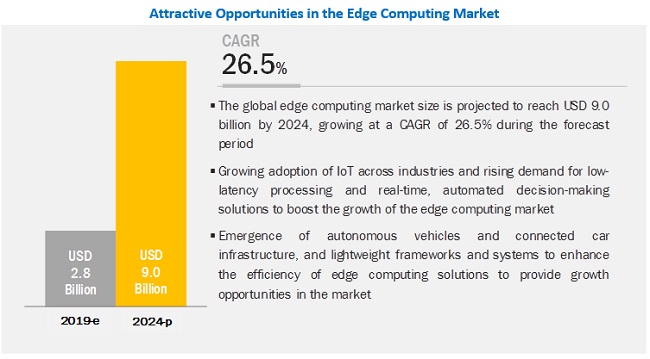 Hardware segment to hold the largest market size during the forecast period
The edge computing market by component covers, hardware, platform, and services. The hardware component is estimated to hold the largest market size during the forecast period, owing to the large-scale deployment of hardware components for decentralizing storage and computing operations, enabling comprehensive edge infrastructure deployment, and reducing network traffic. Organizations offer advanced edge computing hardware that either acts as an initial point of data source (edge devices) or a facilitator of the entire network (gateways and servers); or serves as a storage and local processing unit (local data centres) in the overall edge computing process.
By deployment type, the cloud segment to record the highest CAGR during the forecast period
The cloud deployment type is expected to witness a faster growth rate in this market, as it is being rapidly accepted by various enterprises, because of its easy, flexible, affordable, and scalable features. It also provides the highest level of data security and dependability. Additionally, the installation cost for cloud-based edge computing solutions is lower than that of the on-premises solutions.
Large enterprises to hold a larger Edge Computing Market size during the forecast period
The adoption of edge computing solutions among large enterprises is high owing to the increased generation of data, which is attributed to the widespread geographical presence and customer base. Moreover, the increasing demand of employees to access computing resources and applications ubiquitously while ensuring proper data storage, drives the demand of edge computing solutions among large enterprises. For instance, large manufacturing companies need to correlate voluminous data generated from sensors or actuators attached to their physical assets, such as machines, turbines, factories, and lifts with historic information. Subsequently, this helps them to detect or forecast failures in the shortest possible time for avoiding downtime and loss in production.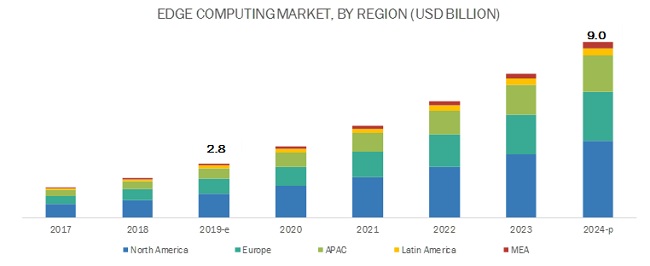 North America to account for the largest market size during the forecast period
The global edge computing market by region covers 5 major geographic regions, namely, North America, Asia Pacific (APAC), Europe, Middle East and Africa (MEA), and Latin America. North America is expected to account for the largest market size during the forecast period, owing to the presence of large number of edge computing vendors and increasing technology adoption among North American enterprises for leveraging new technologies, such as IoT and 5G.
Edge Computing Market Dynamics
Driver: Growing adoption of IoT across industries
The proliferation of IoT has led to a significant increase in data, due to which organizations are increasingly relying on centralized cloud computing and storage solutions. Migrating to the cloud for the entire IT infrastructure poses latency and economic feasibility issues. Hence, organizations using IoT sensors, actuators, and other IoT devices are increasingly looking for edge computing solutions, such as edge nodes, devices, and hyper-localized data centers. Edge computing supplements the existing cloud paradigm by facilitating data processing closer to the data source, thereby enabling organizations to speed up decision-making. For instance, Purdue University that uses IoT sensors and devices to study and improve plant growth and food production processes, partnered with an edge computing solution provider. With the partnership, the university now leverages the wireless and edge computing technologies to gather, collocate, process, and transmit the voluminous data generated by the sensors. Consequently, the technologies help the university save time and money by increasing the speed and accuracy of their research and facilitating faster communication.
Edge computing drives automation and improves the predictive accuracy of events, such as network outages, machine downtime, and weather change. For example, the Alaskan government uses smart sensors in combination with edge computing to send alerts to drivers, about weather and road conditions for preventing road accidents. In addition, edge computing also eliminates the disadvantages of cloud computing, such as DDoS attacks and cloud outages.
Restraint: Initial CAPEX for infrastructure
Enterprises are rapidly moving toward digitalization by adopting emerging technologies to automate and accelerate their business processes efficiently. Edge computing might reduce data transmission and storage costs through localized processing, but investing in edge infrastructure still adds to the CAPEX of companies. Companies looking for comprehensive edge computing solutions would require investing heavily in edge nodes, other edge devices, and edge data centers. They would also be required to spend more on making the devices and the entire network secure. Due to this, various content delivery enterprises are reluctant to move toward the edge, just for achieving low latency processing. For instance, in 2018, Netflix, a live and on-demand video streaming company, rejected the idea of investing in edge computing. The edge infrastructure cost is a restraining factor in the growth of edge computing market, though, with advancement and continuous R&D, the cost of edge technology is expected to reduce soon.
Opportunity: Emergence of autonomous vehicles and connected car infrastructure
Rising consumer demands and various technological advancements have led to the proliferation of autonomous and connected vehicles infrastructure. Autonomous vehicles broadcast information about weather, light, and road conditions, and utilizes the same to navigate, control, and drive. As edge computing makes processing faster and closer to the source of data, there lie significant opportunities for edge computing to support the evolution of autonomous vehicles. Many companies have started reinventing the cloud through edge computing to support autonomous and connected car technologies, though it is still in the nascent stage. In 2017, AT&T announced its step toward building a network of edge data centers for autonomous cars, which is currently in the test phase.
Edge computing in autonomous cars can enable for more accurate and quicker utilization of the data collected, enabling edge data centers to offload non-critical data and retain important data within the vehicle. Combined with Artificial Intelligence (AI) and Machine Learning (ML), edge computing can also help achieve situational awareness within a fraction of time, by providing local processing power to speed up the processing of huge data generated through autonomous cars. This smart driving can help prevent road accidents and avoid traffic jams effectively. Owing to the benefits of edge computing, more autonomous car manufacturers are expected to invest in the technology in the near future, which is further expected to bolster the growth of the edge computing market.
Challenge: Vulnerability issues with edge nodes
Despite the benefits, edge computing architecture is susceptible to cyberattacks with the addition of vulnerable edge nodes and IoT devices. Many IoT devices, such as security cameras, smart doorbells, and baby monitors, have limited capability of authentication and encryption. Hence, they are prone to tampering, eavesdropping, malicious congestion, and identity forging. With the increasing number of IoT startups and rising competition, many small companies are relying on security through obscurity, while neglecting the risk of cyberattacks. As these devices lack in terms of robust IT hardware protocols, the users having less or no knowledge about IT security might lose critical data, paving the way for malware that could shun the entire edge network. This could also lead to large security breaches and can cause huge economic loss to the entire ecosystem. Eliminating authentication and enumeration vulnerabilities is the biggest challenge for IoT device manufacturers until the companies introduce some tough protocols and authentication systems within the devices.
Scope of the Edge Computing Market report
| | |
| --- | --- |
| Report Metric | Details |
| Market size available for years | 2017–2024 |
| Base year considered | 2018 |
| Forecast period | 2019–2024 |
| Forecast units | Million (USD) |
| Segments covered | Component, Application, Organization Size, Vertical, and Region |
| Geographies covered | North America, APAC, Europe, Latin America, and MEA |
| Companies covered | Cisco (US), HPE (US), Huawei (China), IBM (US), Dell Technologies (US), Nokia (Finland), Litmus Automation (US), FogHorn Systems (US), SixSq (Switzerland), MachineShop (US), Saguna Networks (Israel), Vapor IO (US), ADLINK (Taiwan), Altran (France), and Axellio (US) |
This research report categorizes the edge computing market based on component, application, organization size, vertical, and region.
Based on components, the edge computing market has been segmented as follows:
Hardware
Platform
Services
Based on applications, the market has been segmented as follows:
Smart Cities
Industrial Internet of Things (IIoT)
Remote Monitoring
Content Delivery
Augmented Reality (AR) and Virtual Reality (VR)
Others (Autonomous Vehicles, Drones, and Gaming)
Based on organization sizes, the edge computing market has been segmented as follows:
Small and Medium-sized Enterprises (SMEs)
Large Enterprises
Based on verticals, the market has been segmented as follows
Manufacturing
Energy and Utilities
Government and Defense
Telecommunications
Media and Entertainment
Retail and Consumer Goods
Transportation and Logistics
Healthcare and Life Sciences
Others (Education and Banking, Financial Services, and Insurance)
Based on regions, the edge computing market has been segmented as follows:
North America
Europe

UK
Germany
France
Rest of Europe

APAC

China
Japan
Australia
Rest of APAC

MEA

Saudi Arabia
United Arab Emirates (UAE)
South Africa
Rest of MEA

Latin America

Brazil
Mexico
Rest of Latin America
Key Edge Computing Market Players
Cisco (US), HPE (US), Huawei (China), IBM (US), Dell Technologies (US), Nokia (Finland), Litmus Automation (US), FogHorn Systems (US), SixSq (Switzerland), MachineShop (US), Saguna Networks (Israel), Vapor IO (US), ADLINK (Taiwan), Altran (France), and Axellio (US). HPE was founded in 2015 as a result of the split of Hewlett Packard into HP Inc. and HPE. It is a global pioneer in providing software, networking products, and solutions to its end users that range from small business startups to global leading enterprises. It has a wide range of solutions categorized into data storage, servers and systems, networking, and software solutions.
Recent Developments
In June 2019, HPE entered into a partnership with AT&T, an American multinational conglomerate to create MEC systems. These MEC systems would help telecoms and their clients manage the data produced from connected systems and devices.
In March 2019, HPE entered into a partnership with CTERA, an enterprise software company. CTERA with HPE, launched X series Hyper-Converged Infrastructure (HCI) for edge computing.
In February 2019, HPE entered into a partnership with Samsung, a South Korean multinational conglomerateto provide a joint edge-to-core virtual RAN product, based on Samsung's radio network technologies and HPE's Edgeline EL8000 Converged Edge System.
Critical questions the report answers:
Where will all these developments take the industry in the long term?
What are the upcoming trends for the EFSS market?
Which segment provides the most opportunity for growth?
Who are the leading vendors operating in this market?
What are the opportunities for new market entrants?
Frequently Asked Questions (FAQ):
Edge computing is a practice of processing and analyzing data collected from various sensors and connected devices at the edge of the network to assist real-time applications. It helps in reducing latency and bandwidth concerns and provides faster response to the critical applications. Instead of transferring the data to the cloud or data centers, data is transmitted from the sensors and devices to be stored and processed on the edge of the network, close to the devices.
What are the top companies providing edge computing solution and services?
The top edge computing vendors comprise of Cisco Systems, Inc., Hewlett Packard Enterprise Company, IBM Corporation, Huawei Technologies Co., Ltd., Dell Inc., Nokia Corporation, among others. These vendors have adopted different types of organic and inorganic growth strategies such as new product launches, partnerships and collaborations, and mergers and acquisitions to expand their offerings in the edge computing market.
What are the top industries adopting edge computing?
The following are major industries adopting edge computing; manufacturing, energy and utilities, government and defense, telecommunications, media and entertainment, retail and consumer goods, among others.
What are the various use case areas where edge computing is used?
Edge computing can be used in various areas such as autonomous vehicles, smart cities, industrial manufacturing, financial sector, healthcare, and many others.
What are various edge computing technologies?
There are three major technologies namely involved in edge computing which include, Artificial Intelligence (AI), Machine Learning (ML) and 5G.
What are various trends in edge computing market?
The below are current market trends impacting edge computing market;
Driver:
Growing adoption of IoT across verticals
Rising demand for low-latency processing and real-time, automated decision-making solutions
Surmounting exponentially increasing data volumes and network traffic
Opportunities:
Emergence of autonomous vehicles and connected car infrastructure
Lightweight frameworks and systems to enhance efficiency of edge computing solutions
To speak to our analyst for a discussion on the above findings, click Speak to Analyst