[98 Pages Report] The overall Mobile Edge Computing (MEC) market is expected to grow from USD 148.2 million in 2016 to USD 838.6 million by 2022, at a CAGR of 35.2% from 2017 to 2022. The increasing need to improve end-user's Quality of Experience (QoE) and rising demand for ultra-low latency and high bandwidth are some of the factors fueling the growth of the MEC market across the globe. The MEC market is expanding with the emergence of new applications and technologies. The base year considered for the study is 2016, and the forecast has been provided for the period between 2017 and 2022.
Request for Customization to get the Mobile Edge Computing market forecasts to 2024
Market Dynamics
Drivers
Increasing need among enterprises to deliver QoE
Rising focus on delivering high bandwidth and low latency
Restraints
Lack of required infrastructure and deployment capabilities
Opportunities
Opportunities for enterprises in emerging MEC application areas of AV/VR
New revenue stream for service providers
Challenges
Integration of different technologies at the edge of mobile network
Increasing need among enterprises to deliver QoE drives the global MEC market
With increase in the number of interconnected devices, mobile data is exponentially growing, leading to upsurge in the demand for telecom and network services. MNOs are persistently facing pressure to deliver quality services to subscribers since the desire for mobile data including mobile video services is rapidly increasing. MEC is a network architecture that enables operators to deliver new services at the edge of mobile networks. Operators leverage advanced technologies such as Network Functions Virtualization (NFV), virtualized RAN (vRAN), and SDN, which enable them to develop new types of context-aware and value-added services. Application providers, MNOs, and infrastructure providers are developing innovative applications to leverage the advantage of RAN capabilities. MEC enables the deployment of services within the RAN to improve user experience and provide a capability that enables operators to better handle latency-sensitive services. Moreover, the close proximity of MEC components at the edge significantly improves the QoE. To deliver Quality of Service (QoS) and QoE to the subscribers, MNOs are immensely adopting the MEC technology.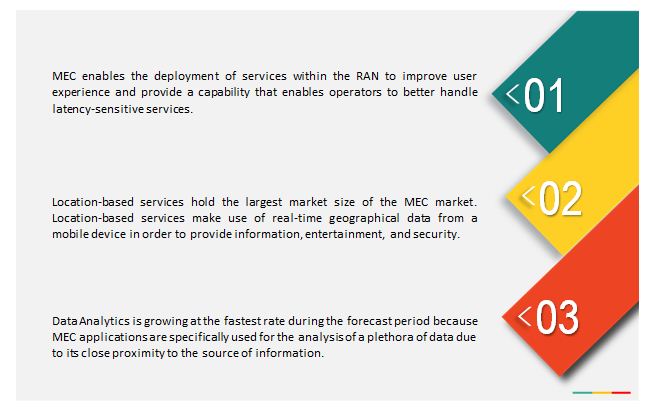 The following are the major objectives of the study.
To describe and forecast the MEC market on the basis of components, applications, organization sizes, and regions
To describe and forecast the MEC market size, by region–Asia Pacific (APAC), Europe, North America, Middle East and Africa (MEA), and Latin America
To provide detailed information regarding major factors influencing market growth (drivers, restraints, opportunities, and challenges)
To strategically analyze micromarkets with respect to individual growth trends, prospects, and contributions to the overall market
To analyze opportunities in the market for stakeholders by identifying the high-growth segments of the MEC ecosystem
To strategically profile key players and comprehensively analyze their market position in terms of ranking and core competencies, along with detailing competitive landscape for market leaders
To analyze strategic approaches such as product launches, acquisitions, contracts, agreements, and partnerships in the MEC market
During this research study, major players operating in the MEC market in various regions have been identified, and their offerings, regional presence, and distribution channels have been analyzed through in-depth discussions. Top-down and bottom-up approaches have been used to determine the overall market size. Sizes of the other individual markets have been estimated using the percentage splits obtained through secondary sources such as D&B Hoovers, Bloomberg Businessweek, Let's Talk Payments, CoinDesk, EconoTimes, and Factiva, along with primary respondents. The entire procedure includes the study of the annual and financial reports of the top market players and extensive interviews with industry experts such as CEOs, VPs, directors, and marketing executives for key insights (both qualitative and quantitative) pertaining to the market. The figure below shows the breakdown of the primaries on the basis of the company type, designation, and region considered during the research study.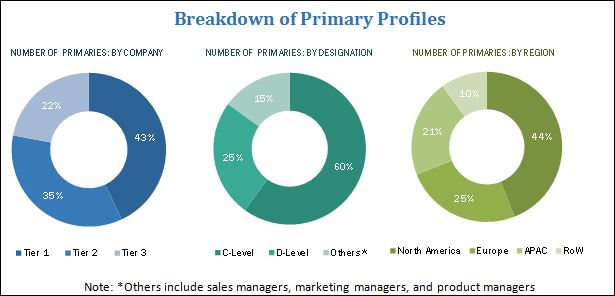 To know about the assumptions considered for the study, download the pdf brochure
The MEC market comprises a network of players involved in the research and product development; raw material supply; component manufacturing; distribution and sale; and post-sales services. Key players considered in the analysis of the MEC market are Adlink Technology Inc. (Taiwan), Advantech Co., Ltd. (Taiwan), Artesyn Embedded Technologies Inc. (US), Brocade Communications Systems, Inc. (US), Huawei Technologies Co., Ltd. (China), Juniper Networks, Inc. (US), Nokia Corporation (Finland), Saguna Networks Ltd. (Israel), Vapor IO, Inc. (US), and Vasona Networks, Inc. (US). These Mobile Edge Computing Software Vendors are rated and listed by us on the basis of product quality, reliability, and their business strategy. Please visit 360Quadrants to see the vendor listing of Mobile Edge Computing Software.
Major Market Developments
In July 2017, Huawei partnered with China Mobile to launch a pilot project for a smart stadium at Beijing South Railway Station, based on MEC. Huawei's CloudEdge solution would enable China Mobile to integrate specific video content sources into the edge gateway. China Mobile users at the stadium would be able to watch videos from content sources by scanning a QR code and signing up for video package subscriptions.
In September 2016, Nokia launched 3 new MEC-based enterprise applications, namely, object tracking, video surveillance, and video analytics. These applications enable enterprises to fulfill their communication needs, enhance operations, and reduce costs. Moreover, the company provided an AppFactory environment to develop these applications and support the integration of the existing enterprise applications with the MEC environment.
In June 2017, Vapor IO launched the Project Volutus, a colocation and data center as a platform service, driven by Vapor Edge Computing. This would enable wireless carriers, webscale companies, and cloud providers to deliver cloud-based edge computing applications.
Key Target Audience Of Mobile Edge Computing Market
MEC technology providers
Communication Service Providers (CSPs)
Telecom equipment providers
Mobile Network Operators (MNOs)
Mobile Virtual Network Operators (MVNOs)
Mobile Virtual Network Enablers (MVNEs)
Mobile Virtual Network Aggregators (MVNAs)
System integrators
Research organizations
Consulting companies
Government agencies
Scope Of The Mobile Edge Computing Market Research Report
By Component
Hardware

Servers
Routers
Switches
Controllers
Gateways

Software

MEC Platform
Application Software
By Application
Location-based Services
Video Surveillance
Unified Communication
Optimized Local Content Distribution
Data Analytics
Environmental Monitoring
By Organization Size
Large Enterprises
Small and Medium-sized Enterprises (SMEs)
By Region
North America
Europe
Asia Pacific (APAC)
Middle East and Africa (MEA)
Latin America
Critical questions which the report answers
What are new application areas which the MEC companies are exploring?
Which are the key players in the market and how intense is the competition?
Available Customizations
Based on the given market data, MarketsandMarkets offers customizations in the reports as per the client's specific requirements. The available customization options are as follows:
Company Information
Detailed analysis and profiling of additional market players (Up to 5)
The overall MEC market is expected to grow from USD 185.8 million in 2017 to USD 838.6 million by 2022 at a CAGR of 35.2%. Increasing need among enterprises to deliver Quality of Experience (QoE) and rising focus on delivering high bandwidth and low latency are the key factors driving the growth of this market.
With voluminous rise in data, generated from millions of subscribers streaming terabytes of videos, music, and social networking every day, enterprises are facing various challenges such as high network load and increasing demand for network bandwidth. To overcome these challenges, enterprises are significantly focused on optimizing and densifying their RAN. Thus, to enhance user experience and better utilize the bandwidth, the MEC technology is a feasible option. MEC allows operators to optimize the traffic within the prevailing radio conditions, enhance service quality, and improve network efficiency. Traditionally, the computational power was centralized at the core network, but in MEC, cloud servers are also deployed in each base station. MEC environment provides real-time radio information, which can be used by applications and services to optimize content delivery and utilize the network efficiently. Moreover, it enables MNOs to quickly deploy various monetizing services for content delivery, Internet of Things (IoT), retail, and enterprise applications.
The MEC market has been segmented on the basis of components into hardware and software. On the basis of applications, the market has been segmented into location-based services, video surveillance, unified communications, optimized local content distribution, data analytics, and environmental monitoring. On the basis of organization sizes, it has been segmented into Small and Medium Enterprises (SMEs) and large enterprises. On the basis of regions, it has been segmented into North America, Europe, APAC, MEA, and Latin America.
The MEC market in APAC is expected to grow at the highest CAGR during the forecast period. APAC is the fastest-growing market for MEC. The increasing adoption of MEC solutions in this region is due to the large subscriber base, which seems to be positive for enterprises. The MEC technology would help MNOs monetize their applications and improve the profitability margins. As a result, APAC holds a significant share of the overall MEC market.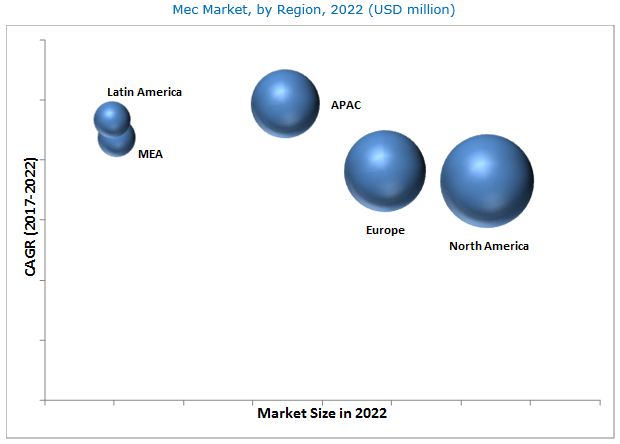 Location-Based Services
Location-based services make use of real-time geographical data from a mobile device in order to provide information, entertainment, and security. In other words, location-based services allow a variety of services linked to a particular place, to be recommended to a user at the right time. Furthermore, to improve the QoE with respect to the usefulness of the recommended service, the user's behavior log and preference can be collected in the users' mobile terminal, and then be delivered to the location-based service application. For instance, if a user is nearby a mall, then discount coupons can be recommended to him for shopping. Henceforth, it would provide an opportunity to deliver higher value to consumers as well as the vendors.
Video Surveillance
In the recent years, video surveillance is being extended from the operations room to mobile devices, allowing the security personnel to access any feed reliably at any time and location. MEC is used for analyzing the raw video streams from surveillance cameras connected over LTE, and for forwarding the relevant incidents to the city command center. The camera streams can be broken out to the local control room to reduce the latency and relieve the burden on backhauls. MEC is expected to provide an exceptional performance and quality, while at the same time provide savings in the backhaul capacity by being able to provide content as close to the edge as possible. The biggest gains can likely be achieved in a scenario with a dense population of consumers in a small geographical area.
Unified Communication
Unified communication refers to the integration of communication tools that help people exchange ideas and do their jobs more effectively. The proliferation of mobile devices has gradually replaced fixed communications hardware and office services by leveraging native desktop interfaces and value-added applications. Thus, many devices and physical world technologies are being extensively replaced by smartphones, tablets, and cloud platforms. The presence of a mobile edge deployment of small cells on enterprise premises enables them to support the MEC technology for enterprise applications.
Optimized Local Content Distribution
The display and graphic processing technologies are evolving rapidly and high-resolution videos can be played on-the-go on handheld devices. Furthermore, with the presence of social media and viral spreading, the content is accessed several times from the same region at about the same time. A mobile edge application can store locally, the most popular content consumed in the geographical area, and once requested, it can provide the content from the local cache.
Data Analytics
The reason for the fastest growth rate of this segment is because MEC applications are specifically used for the analysis of a plethora of data due to its close proximity to the source of information. MEC may also have direct access to mobile devices, which can be easily leveraged using business-specific applications. Henceforth, if the optimization is based on rich sets of data from multiple network elements and more importantly, from intelligent network elements, the decision time is expected to be reduced considerably, thereby steering traffic on a real-time basis.
Environmental Monitoring
Environmental monitoring communicates the observations to a base station, which resides at the edge of the sensor network and acts as a gateway to analyze the data. Some of the instances include Closed-Circuit Television (CCTV) surveillance and environmental monitoring to detect wildfires, tsunamis, earthquakes, and other natural disasters.
Critical questions the report answers:
Where will all these developments take the industry in the mid to long term?
What are the upcoming industry applications for MEC?
Lack of required infrastructure and deployment capabilities is a major factor restraining the growth of the market. The MEC market is at a very early stage. It deploys cloud computing capabilities at the edge of the mobile network through the integration of application platform and MEC applications with virtualized network infrastructure. Though MNOs are eagerly adopting this technology to fulfill subscribers' bandwidth demand, they require better deployment capabilities. Technology providers are majorly focusing on R&D to improve existing and emerging applications. MNOs need 5G network at the edge to execute MEC ecosystem and 5G is still not deployed everywhere.
Key players in the market include Adlink Technology Inc. (Taiwan), Advantech Co., Ltd. (Taiwan), Artesyn Embedded Technologies Inc. (California, US), Brocade Communications Systems, Inc. (California, US), Huawei Technologies Co., Ltd. (Shenzhen, China), Juniper Networks, Inc. (California, US), Nokia Corporation (Espoo, Finland), Saguna Networks Ltd. (Israel), Vapor IO, Inc. (Texas, US), and Vasona Networks, Inc. (California, US). These players are increasingly undertaking mergers and acquisitions, and product launches to develop and introduce new technologies and products in the market.
To speak to our analyst for a discussion on the above findings, click Speak to Analyst