[154 Pages Report] The global Natural Language Generation Market is expected to grow from USD 322.1 Million in 2018 to USD 825.3 Million by 2023, at a CAGR of 20.8% during the forecast period. The increasing volume and variety of data has resulted in a complex business environment. Owing to this, businesses are facing challenges in collecting and collaborating the vast amounts of data accumulated from organizations and system landscapes. Moreover, manually documenting information is tedious and time-consuming, and incurs additional operational expenses. Regulatory disclosures carry the risk of errors while consolidating and publishing financial statements, and hence, to mitigate the human errors and other discrepancies, companies are adopting Artificial Intelligence (AI)-based solutions. These solutions can reduce the human interference in business processes. NLG is a subfield of AI, where computers use the available data to produce texts, known as narratives. The base year considered for the study is 2017, and the forecast has been provided for the period between 2018 and 2023.
Natural Language Generation Market Dynamics
Drivers
Strong need to understand customers' behavior
Proliferation of big data and the related technologies
Restraints
Lack of skilled consultants to deploy nlg solutions and services
Opportunities
Emerging options in application areas
Increasing demand for intelligent business processes
Challenges
Lack of awareness of NLG solutions
Data security and quality issues
The retail and eCommerce industry vertical is expected to dominate the Natural Language Generation Market during the forecast period
In terms of industry verticals, the retail and eCommerce industry vertical is expected to continue to have the largest market share during the forecast period. The increasing use of internet-connected devices impacted businesses, as online retailers are recreating personalized store-like shopping environments for their customers. With huge volumes of customer and product-related data, NLG software and services can generate unique content and make product-related information more narrative.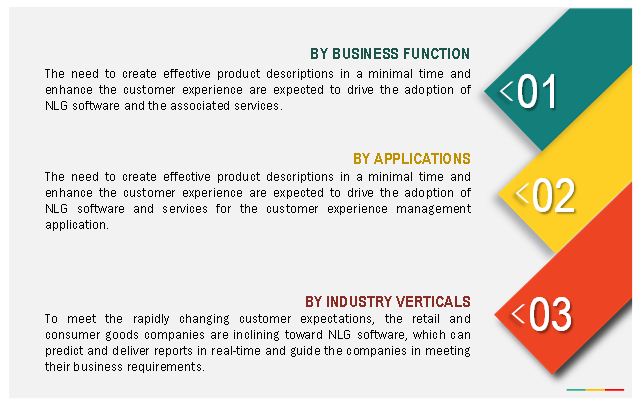 Major objectives of the Natural Language Generation Market study:
The main objective of the report is to define, describe, and forecast the global natural language generation market by component (software and services), application, business function, deployment model, organization size, industry vertical, and region. The report provides detailed information regarding the major factors (drivers, restraints, opportunities, and industry-specific challenges) influencing the growth of the natural language generation market. The report aims at strategically analyzing micromarkets with respect to the individual growth trends, prospects, and contributions to the total market. The report attempts to forecast the market size with respect to 5 main regions, namely, North America, Europe, Asia Pacific (APAC), Middle East and Africa (MEA), and Latin America. The report strategically profiles the key players of the market and comprehensively analyzes their core competencies. It also tracks and analyzes competitive developments, such as partnerships, collaborations, and agreements, mergers and acquisitions, new product launches and new product developments, and Research and Development (R&D) activities in the natural language generation market.
The research methodology used to estimate and forecast the natural language generation market began with capturing data on key vendors' revenues through secondary research that includes directories and databases (D&B Hoovers, Bloomberg Businessweek, and Factiva). Vendors' offerings are also taken into consideration to determine the market segmentation. The bottom-up procedure was employed to arrive at the overall market size of the global natural language generation market. This procedure was derived from the revenues of the key players in the market. After arriving at the overall market size, the total market was split into several segments and subsegments, which were then verified through primary research by conducting extensive interviews with key people, such as Chief Executive Officers (CEOs), Vice Presidents (VPs), directors, and executives. The data triangulation and market breakdown procedures were employed to complete the overall market engineering process and arrive at the exact statistics for all segments and subsegments. The breakdown of profiles of the primary participants is depicted in the figure below: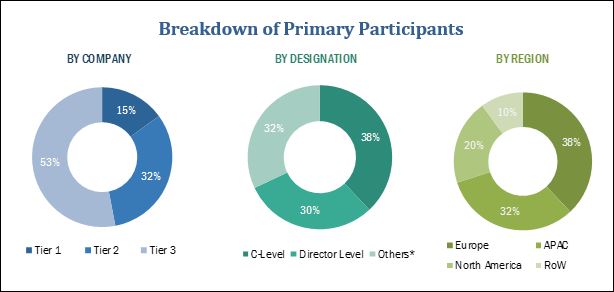 To know about the assumptions considered for the study, download the pdf brochure
The natural language generation ecosystem comprises vendors, such as Arria NLG (UK), Yseop (France), Narrative Science (US), Automated Insights (US), Retresco (Germany), CoGenTex (US), Phrasetech (Israel), Veritone (US), NewsRx (US), Conversica (US), Narrtiva (UAE), 2txt – natural language generation GmbH (Germany), AX Semantics (Germany), AWS (US), IBM (US), Narrative Wave (US), Artificial Solutions (Spain), vPhrase (India), Linguastat (US), Textual Relations (Sweden), and Phrasee (UK).
Major Natural Language Generation Market Developments
In February 2018, the WP Engine (Word Press) collaborated with AWS to launch Amazon Polly plugin, which converts texts into human-like speech.
In April 2018, Retresco partnered with Deloitte to develop AI-driven NLG solutions for financial organizations to automate their business processes. Under this partnership, both the companies developed advanced solutions for analyzing and deriving insights from texts and data, using state-of-the-art technologies.
In February 2017, Narrative Science made its Narratives available for the BI Application Programming Interface (API), which enabled the BI and analytics companies to add intelligent narratives to their platforms.
Key Target Audience for Natural Language Generation (NLG) Market
Service providers and distributors
Natural language generation application builders
Independent Software Vendors (ISVs)
Analytics consulting companies
Enterprises
End-users
Get online access to the report on the World's First Market Intelligence Cloud

Easy to Download Historical Data & Forecast Numbers
Company Analysis Dashboard for high growth potential opportunities
Research Analyst Access for customization & queries
Competitor Analysis with Interactive dashboard
Latest News, Updates & Trend analysis

Request Sample

Click on image to enlarge

Scope of the Report
By Component
Software
Services

Managed services
Professional services
Consulting services
Training and Support
By Application
Customer Experience Management (CEM)
Fraud Detection and Anti-money Laundering
Risk and Compliance Management
Performance Management
Predictive Maintenance
Others (Weather Forecasting and Forensics)
By Business Function
Finance
Legal
Operations
HR
Marketing and Sales
By Deployment Model
By Organization Size
Small and Medium-sized Enterprises (SMEs)
Large enterprises
By Industry Vertical
Banking, Financial Services, and Insurance (BFSI)
Retail and eCommerce
Government and Defense
Healthcare and Life Sciences
Manufacturing
Energy and Utilities
Telecom and IT
Media and Entertainment
Others (Research, Travel and Hospitality, and Real Estate)
By Region
North America
Europe
Asia Pacific (APAC)
Middle East and Africa (MEA)
Latin America
Critical questions which the report answers
What are new application areas which the NLG companies are exploring?
Which are the key players in the market and how intense is the competition?
Available Customizations
With the given market data, MarketsandMarkets offers customizations as per the company's specific needs. The following customization options are available for the report:
Product Analysis
Product matrix gives a detailed comparison of the product portfolio of each company
Company Information
Detailed analysis and profiling of additional market players upto 5
Globalization has led to the expansion of businesses. The businesses potential to connect to new customers result in the generation of huge business data volumes from various sources worldwide. The implementation of the NLG software and associated Artificial Intelligence (AI) tools can help manage and utilize huge volumes of data properly. Customer experience has become one of the most important priorities for organizations; these organizations focus on maintaining positive relationships with customers to understand their needs for building better NLG software and services. NLG solutions also help the service providers in sending personalized messages to their customers rather than sending the same message to thousands of customers, thus driving the process of relationship building with their customers.
NLG software and services have a huge potential to accelerate businesses. Today, companies use NLG software to automate repetitive writing tasks, summarize large data sets and dashboards, and personalize cognitive content, such as emails and advertisements. NLG software and services also help organizations in saving time and money by enabling employees to focus on value-added tasks, in other words, the software and services simply reduce the efforts of the workforce.
The adoption of NLG solutions is expected to be increasing in the APAC and MEA regions, due to the rising pressure from regulatory bodies and the increasing number of AI giants in these regions. The increasing disposable income and the increasing digitalization have resulted in higher adoption of smartphones and other mobile devices in these regions, leading to vast amounts of data being generated from these devices. This, in turn, would demand technologically advanced analytics solutions to enhance the customer experience across various industry verticals.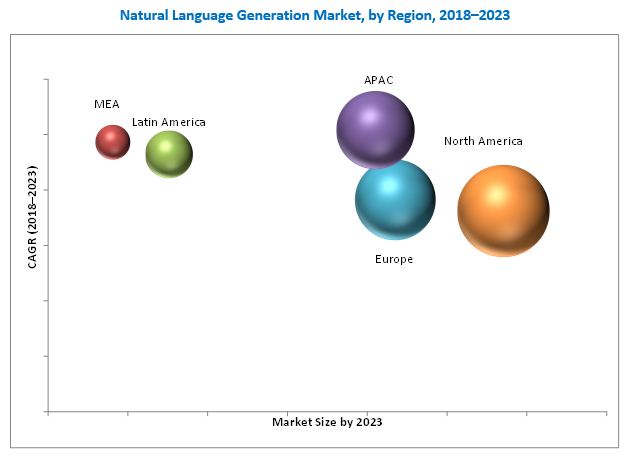 Increasing demand for fraud detection & anti-money laundering, customer experience management, and predictive maintenance applications to drive the growth of the NLG market
Fraud Detection & Anti-Money Laundering
Fraudulent incidences have been observed frequently lately, thus making fraud detection more important and applicable across all the major industry verticals, such as BFSI, retail, healthcare, manufacturing, and government. Fraud detection, through its real-time, near-real-time, and batch analysis of all users' activities, assists companies in safeguarding their customers and the enterprise information. AI and related technologies are gaining traction, as they are able to deliver results with minimum errors. While NLP is not new, NLG is a new concept, and with the increasing risks related to legal data entities, firms across the world are enforcing the use of natural languages to analyze structured data and identify hidden patterns and anomalies present in the large data sets. NLG enables compliance teams in organizations to build up situational contexts, explanations, and potential actions.
Predictive Maintenance
Predictive maintenance applications have witnessed an increase in adoption, as they assist users in extracting relevant information from the past data, which helps identify the upcoming trends and future outcomes. Predictive maintenance applications help organizations in improving their decision-making process with the help of data mining, regression, and clustering techniques. Therefore, the predictive maintenance application is expected to be adopted rapidly in the developed countries of North America and Europe. NLG software and services further help in automating the collected data and building reports, which predict the upcoming events, particularly in the production and manufacturing industry.
Customer Experience Management
CEM is an advanced and systematic analytical process, also known as customer intelligence, in which, the customers' data is used by companies to better understand the customer behavior and make strategic business decisions with the help of customer segmentation and predictive analytics techniques. CEM is a systematic analysis of customer insights, which assist organizations in identifying and targeting the customers for marketing programs from their behavioral prediction. It helps organizations retain the existing customers, maximize the customer life cycle value, and gain customer loyalty. Data optimization involves a combination of processes and technologies, such as behavioral analysis, sentiment analysis over social media, predictive modelling, segmentation, and data visualization and reporting. The analysis of such huge data offers competitive advantage to organizations.
Critical questions the report answers:
What are the potential applications of NLG in the near future?
Which development strategies companies are adopting to increase their share in the NLG market?
Major vendors offer NLG software and services include Arria NLG, Yseop, IBM Corporation, Automated Insights, Inc., Artificial Solutions, NARRATIVEWAVE, Narrative Science, Narrativa, Amazon Web Services, Inc. (AWS), Retresco, Phrasee Ltd., Conversica, Inc. (Conversica), Linguastat, NewsRx, vPhrase, Phrasetech, CoGenTex, Inc. (CoGenTex), AX Semantics, Textual Relations, and 2txt - natural language generation GmbH (2txt). These players have adopted various strategies, such as venture capital funding, new product developments, partnerships, mergers, collaborations, and business expansions, to cater to the needs of the global NLG market.
To speak to our analyst for a discussion on the above findings, click Speak to Analyst