Polyurethane Adhesives Market
Polyurethane Adhesives Market by Resin Type (Thermoset & Thermoplastic), Technology (Solvent-borne, 100% solids, Dispersion), End-use Industry (Automotive, Construction, Packaging, Footwear, Industrial, and Furniture), Region - Global Forecast to 2024
Report Code: CH 4432
Jan, 2023, by marketsandmarkets.com
[167 Pages Report] The PU adhesives market size is projected to grow from USD 7.0 billion in 2019 to USD 9.1 billion by 2024, at a CAGR of 5.6%, during the forecast period. The growth of end-use industries, such as building & construction, automotive & transportation, and packaging is driving the PU adhesives market growth.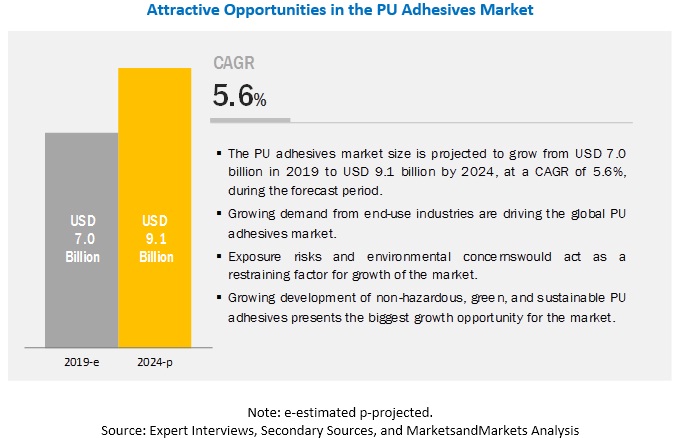 The solvent-borne segment is estimated to account for the largest share of the formulated PU adhesives market during the forecast period.
Solvent-borne PU adhesives consist of a hydroxyl terminated polyurethane, with a high molecular weight, dissolved in a solvent. As with other urethane adhesives, aromatic polyisocyanates, such as toluene diisocyanate (TDI) and diphenylmethane isocyanate (MDI) are the most commonly used isocyanates and contribute to both the discoloration and deterioration of mechanical properties of the adhesive. Solvent-borne PU adhesives are majorly available in grades, such as 1-component and 2-component. They are suitable for several different industrial and construction applications. They have good adhesion to rubber, leather, textiles, metal, paper, wood, and plastics. Solvent-borne PU adhesives are also used for a wide variety of laminating applications.
Automotive & transportation is estimated to account for the largest end-use industry of the PU adhesives during the forecast period.
PU adhesives are used extensively in this application for improving performance, developing lightweight designs, and fabricating structure using multi-materials, such as glass fiber-reinforced composite, carbon fiber composites, and aluminium. In automobile manufacturing, they are used for joining rubber, plastics, glass, metal, and various other materials. PU adhesives can easily join dissimilar substrates. They are being used in many other key components of automobile interiors, including headliners, door panels, interior pillars, instrument panels, seating, and package trays. Along with the window glass, PU-based elastic adhesives cover a long list of applications, such as tail molding, interior trims, roof panels, luggage compartment floor, front molding, sidewall assembly, and deck assembly. This has aided vehicle manufacturers to use all types of lightweight materials without compromising on safety, functionality, or comfort. Adhesives continue to be an alternative to conventional fastening technologies to achieve robust assembly.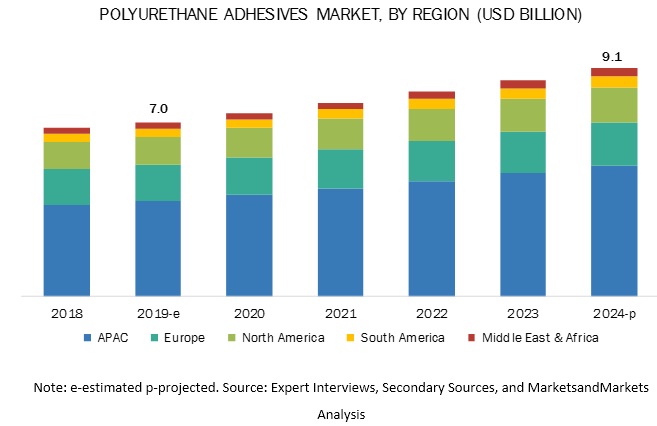 APAC PU adhesives market to outpace other regions over the next five years
The APAC PU adhesives market is segmented into China, Japan, India, Indonesia, and Rest of APAC. The APAC region is a lucrative market for PU adhesives owing to the increasing demand from automotive & transportation, and packaging industries and improving economic conditions. Product innovations, new research and development projects, and increasing demand from various end-use industries have also fueled the demand for PU adhesives in APAC.
Key Market Players
Henkel AG & CO. KGAA (Germany), H.B. Fuller Company (US), 3M Company (US), Arkema S.A. (France), and Sika AG (Switzerland) are some of the players operating in the global market.
Get online access to the report on the World's First Market Intelligence Cloud

Easy to Download Historical Data & Forecast Numbers
Company Analysis Dashboard for high growth potential opportunities
Research Analyst Access for customization & queries
Competitor Analysis with Interactive dashboard
Latest News, Updates & Trend analysis

Request Sample

Click on image to enlarge

Scope of the Report
Report Metric

Details

Years considered for the study

2017–2024

Base year

2018

Forecast period

2019–2024

Units considered

Value (USD Billion) and Volume (Kiloton)

Segments

Resin Type, Technology, and End-use Industry

Regions

APAC, North America, Europe, the Middle East & Africa, and South America

Companies

Henkel AG & CO. KGAA (Germany), H.B. Fuller Company (US), 3M Company (US), Arkema S.A. (France), and Sika AG (Switzerland)
A total of 25 players are covered.
This research report categorizes the PU adhesives market based on resin type, technology, end-use industry, and region.
Based on resin type, the PU adhesives market has been segmented as follows:
Based on technology, the PU adhesives market has been segmented as follows:
Solvent-borne
100% solids
Dispersion
Others (Hot melt and Radiation cure)
Based on end-use industry, the PU adhesives market has been segmented as follows:
Automotive & Transportation
Building & Construction
Packaging
Footwear
Industrial
Furniture & Decoration
Others (Book binding, Medical, Apparels, Fiber processing, and Paper converting)
Based on region, the PU adhesives market has been segmented as follows:
APAC
North America
Europe
Middle East & Africa
South America
Recent Developments
In June 2018, Sika AG (Switzerland) unveiled a new product for the transportation market named Sikaflex-268 PowerCure, which is a 1-component PU adhesive and sealant especially used for vehicle glass and assembly applications. The product provides a strong weathering resistance and resistivity against a wide variety of cleaning agents used in the railways.
In September 2018, Henkel AG & CO. KGAA (Germany) started the construction of its new state-of-the-art facility in Düsseldorf for Adhesive Technologies business. The company planned to invest around USD 150 million for this facility. Once completed, the facility is expected to host 350 Henkel experts to develop new technologies and applications for various industries.
In May 2017, Henkel AG & CO. KGAA (Germany) signed an agreement to acquire Sonderhoff Holding GmbH (Germany), which offers high-impact sealing solutions for industrial assembly. With this acquisition, the company will reinforce its position in the adhesive technologies business.
In February 2018, Huntsman entered into a partnership with Bodo Möller Chemie GmbH (Germany) to distribute Huntsman Advanced Materials, including its adhesives, potting & casting product lines in North America.
Key Questions Addressed by the Report
What is the mid-to-long term impact of the developments undertaken in the industry?
What are the upcoming technologies used in PU adhesives industry?
Which segment has the potential to register the highest market share?
What is the current competitive landscape in the PU adhesives market in terms of new technologies, production, and sales?
What will be the growth prospects of the PU adhesives market?
To speak to our analyst for a discussion on the above findings, click Speak to Analyst
TABLE OF CONTENTS
1 INTRODUCTION
1.1 OBJECTIVES OF STUDY
1.2 MARKET DEFINITION
1.2.1 MARKET INCLUSIONS
1.2.2 MARKET EXCLUSIONS
1.3 MARKET SEGMENTATION
1.3.1 REGIONS COVERED
1.3.2 YEARS CONSIDERED FOR STUDY
1.4 CURRENCY
1.5 UNIT CONSIDERED
1.6 STAKEHOLDERS
1.7 SUMMARY OF CHANGES
2 RESEARCH METHODOLOGY
2.1 RESEARCH DATA
2.1.1 SECONDARY DATA
2.1.1.1 Key data from secondary sources
2.1.2 PRIMARY DATA
2.1.2.1 Key data from primary sources
2.1.2.2 Key Industry Insights
2.1.2.3 Breakdown of primary interviews
2.2 MARKET SIZE ESTIMATION
2.2.1 BOTTOM-UP APPROACH
2.2.2 TOP-DOWN APPROACH
2.3 MARKET GROWTH FORECAST APPROACH
2.4 FACTOR ANALYSIS
2.5 DATA TRIANGULATION
2.6 ASSUMPTIONS
2.7 LIMITATIONS
2.8 GROWTH RATE ASSUMPTIONS/GROWTH FORECAST
2.8.1 FACTORS IMPACTING MARKET GROWTH (RECESSION IMPACT)
3 EXECUTIVE SUMMARY
4 PREMIUM INSIGHTS
5 MARKET OVERVIEW
5.1 INTRODUCTION
5.2 VALUE CHAIN ANALYSIS
5.3 MARKET DYNAMICS
5.3.1 DRIVERS
5.3.2 RESTRAINTS
5.3.3 OPPORTUNITIES
5.3.4 CHALLENGES
5.4 PORTER'S FIVE FORCES ANALYSIS
5.4.1 THREAT OF NEW ENTRANTS
5.4.2 THREAT OF SUBSTITUTES
5.4.3 BARGAINING POWER OF BUYERS
5.4.4 BARGAINING POWER OF SUPPLIERS
5.4.5 DEGREE OF COMPETITIVE RIVALRY
5.4 KEY STAKEHOLDERS & BUYING CRITERIA
5.5 MACROECONOMIC INDICATORS
5.5.1 INTRODUCTION
5.5.2 GDP TRENDS AND FORECAST
5.6 INDUSTRY TRENDS
5.6.1 TRENDS AND FORECAST IN END-USE INDUSTRY
5.7 TECHNOLOGY ANALYSIS
5.8 CASE STUDY ANALYSIS
5.9 AVERAGE PRICING ANALYSIS
5.9.1 AVERAGE SELLING PRICE TREND
5.9.2 AVERAGE SELLING PRICE OF KEY PLAYERS
5.10 TRADE DATA STATISTICS
5.11 GLOBAL ECONOMIC SCENARIO AFFECTING MARKET GROWTH
5.11.1 GLOBAL IMPACT OF SLOWDOWN/ RECESSION
5.12 ECOSYSTEM AND INTERCONNECTED MARKET
5.12.1 TRENDS/DISRUPTION IMPACTING BUYERS/CUSTOMERS
5.13 TARIFFS & REGULATIONS
5.14 PATENT ANALYSIS
5.14.1 METHODOLOGY
5.14.2 PUBLICATION TRENDS
5.14.3 TOP JURIDICTION
5.14.4 TOP APPLICANTS
5.12 KEY CONFERENCES & EVENTS IN 2023-2024
6 PU ADHESIVES MARKET, BY TYPE
6.1 INTRODUCTION
6.2 THERMOSET
6.3 THERMOPLASTIC
7 PU ADHESIVES MARKET, BY TECHNOLOGY
7.1 INTRODUCTION
7.2 SOLVENT-BORNE
7.3 100% SOLIDS
7.4 DISPERSIONS
7.5 OTHERS
8 PU ADHESIVES MARKET, BY END-USE INDUSTRY
8.1 INTRODUCTION
8.2 AUTOMOTIVE & TRANSPORTATION
8.3 BUILDING & CONSTRUCTION
8.4 PACKAGING
8.5 FOOTWEAR
8.6 INDUSTRIAL
8.7 FURNITURE & DECORATION
8.8 OTHERS
9 PU ADHESIVES MARKET, BY REGION
9.1 INTRODUCTION
9.2 ASIA PACIFIC
9.2.1 CHINA
9.2.2 INDIA
9.2.3 JAPAN
9.2.4 TAIWAN
9.2.5 THAILAND
9.2.6 MALAYSIA
9.2.7 REST OF ASIA PACIFIC
9.3 EUROPE
9.3.1 GERMANY
9.3.2 RUSSIA
9.3.3 UK
9.3.4 FRANCE
9.3.5 ITALY
9.3.6 SPAIN
9.3.7 REST OF EUROPE
9.4 NORTH AMERICA
9.4.1 US
9.4.2 CANADA
9.4.3 MEXICO
9.5 MIDDLE EAST & AFRICA
9.5.1 SAUDI ARABIA
9.5.2 SOUTH AFRICA
9.5.4 REST OF MIDDLE EAST & AFRICA
9.6 SOUTH AMERICA
9.6.1 BRAZIL
9.6.2 ARGENTINA
9.6.3 COLUMBIA
9.6.4 REST OF SOUTH AMERICA
10 COMPETITIVE LANDSCAPE
10.1 OVERVIEW
10.2 MARKET RANKING ANALYSIS
10.3 MARKET SHARE ANALYSIS
10.4 REVENUE ANALYSIS OF KEY PLAYERS IN PAST FIVE YEARS
10.5 COMPANY EVALUATION QUADRANT MATRIX, 2021
10.5.1 STAR
10.5.2 EMERGING LEADERS
10.5.3 PERVASIVE
10.5.4 PARTICIPANTS
10.6 SME MATRIX, 2021
10.6.1 PROGRESSIVE COMPANIES
10.6.2 STARTING BLOCKS
10.6.3 RESPONSIVE COMPANIES
10.6.4 DYNAMIC COMPANIES
10.7 STRENGTH OF PRODUCT PORTFOLIO
10.8 COMPETITIVE BENCHMARKING
10.9 COMPETITIVE SCENARIO
10.9.1 MARKET EVALUATION FRAMEWORK
10.9.2 MARKET EVALUATION MATRIX
10.1 STRATEGIC DEVELOPMENTS
10.10.1 DEALS
10.10.2 PRODUCT LAUNCHES
10.10.3 OTHERS
11 COMPANY PROFILES
11.1 MAJOR PLAYERS
11.1.1 HENKEL AG & CO. KGAA
11.1.2 H.B. FULLER COMPANY
11.1.3 DOW INC.
11.1.4 SIKA AG
11.1.5 3M
11.1.6 HUNTSMAN CORPORATION
11.1.7 ARKEMA (BOSTIK)
11.1.8 ILLINOIS TOOL WORKS INC.
11.1.9 JOWAT SE
11.1.10 PARKER HANNIFIN CORPORATION
11.2 OTHER COMPANIES
11.2.1 DYMAX CORPORATION
11.2.2 FRANKLIN INTERNATIONAL
11.2.3 HEXCEL CORPORATION
11.2.4 SCOTT BADER COMPANY LTD.
11.2.5 MAPEI S.P.A.
11.2.6 MASTER BOND
11.2.7 PIDILITE INDUSTRIES LIMITED
11.2.8 DELO INDUSTRIE KLEBSTOFFE GMBH & CO. KGAA
11.2.9 PERMABOND LLC
11.2.10 PARSON ADHESIVES, INC.
11.2.11 SOUDAL N.V.
11.2.12 DAUBERT CHEMICAL COMPANY
11.2.13 IMAWELL GMBH
11.2.14 AKZONOBEL N.V.
11.2.15 HELMITIN ADHESIVES
12 APPENDIX
The study involved four major activities in estimating the current market size of PU adhesives. Exhaustive secondary research was done to collect information on the market, the peer market, and the parent market. The next step was to validate these findings, assumptions, and sizing with industry experts across the value chain through primary research. Both top-down and bottom-up approaches were employed to estimate the complete market size. After that, the market breakdown and data triangulation methods were used to estimate the size of the segments and subsegments of the overall market.
Secondary Research
This research report involves the use of extensive secondary sources, directories, and databases, such as Bloomberg, BusinessWeek, Factiva, ICIS, and OneSource to identify and collect information useful for the technical, market-oriented, and commercial study of the PU adhesives market. The secondary sources included annual reports, press releases & investor presentations of companies, white papers, certified publications, and articles from recognized authors, authenticated directories, and databases.
Primary Research
The PU adhesives market comprises several stakeholders, such as raw material suppliers, processors, end-product manufacturers, and regulatory organizations. The demand side of this market is characterized by the development of the building & construction, automotive & transportation, and packaging industries. The supply side included industry experts, such as CEOs, vice presidents, marketing directors, technology and innovation directors, and related key executives from various companies and organizations operating in the market. Various primary sources from both the supply and demand sides of the market were interviewed to obtain qualitative and quantitative information.
Following is the breakdown of primary respondents: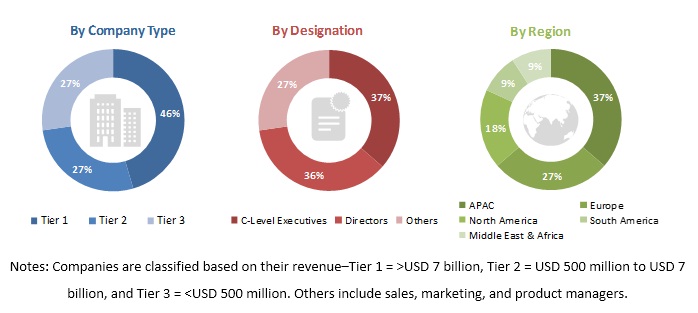 To know about the assumptions considered for the study, download the pdf brochure
Market Size Estimation
Both the top-down and bottom-up approaches were used to estimate and validate the total size of the PU adhesives market. These methods were also used extensively to estimate the sizes of various sub-segments in the market. The research methodology used to estimate the market size includes the following steps:
The key players in the industry and markets were identified through extensive secondary research.
The industry's supply chain and market size, in terms of value, were determined through primary and secondary research.
All percentage shares, splits, and breakdowns were determined using secondary sources and verified through primary sources.
Data Triangulation
After arriving at the overall market size-using the estimation processes explained above-the market was split into several segments and subsegments. The data triangulation and market breakdown procedures were employed, wherever applicable, to complete the overall market engineering process and arrive at the exact statistics of each market segment and subsegment. The data was triangulated by studying various factors and trends from both the demand and supply sides.
Report Objectives
To analyze and forecast the PU adhesives market, in terms of value and volume
To provide detailed information about the key factors (drivers, restraints, opportunities, and challenges) influencing the growth of the market
To analyze and forecast the size of the market based on resin type, technology, and end-use industry
To estimate and forecast the market size based on five regions, namely, Asia Pacific (APAC), North America, Europe, the Middle East & Africa, and South America
To estimate and forecast the PU adhesives market at the country-level in each of the regions
To analyze the market opportunities and competitive landscape of the market leaders and stakeholders
To analyze the competitive developments, such as new product launch, investment & expansion, partnership & agreement, and merger & acquisition, in the PU adhesives market
To strategically identify and profile the key market players and analyze their core competencies
Available Customizations
MarketsandMarkets offers customizations according to the specific needs of the companies with the given market data.
The following customization options are available for the report:
Product Analysis
Product matrix, which gives a detailed comparison of the product portfolio of each company
Regional Analysis
A further breakdown of the PU adhesives market, by country
Company Information
Detailed analysis and profiling of additional market players (up to five)