[157 Pages Report] The global probiotics food & cosmetics market is estimated to be valued at USD 56.6 billion in 2021. It is projected to reach USD 84.5 billion by 2026, recording a CAGR of 8.3% during the forecast period. The best probiotics skin care products promote a healthier, stronger, and calmer skin barrier, which consists of a layer of natural bacteria, making them great for combating dryness, irritation, inflammation, and damage caused by free radical exposure. Today, probiotic supplements are consumed with increasing regularity and record a rapidly growing economic value.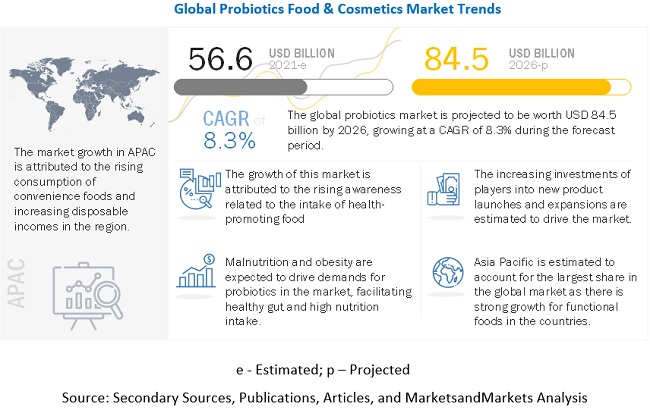 To know about the assumptions considered for the study, Request for Free Sample Report
Market Dynamics
Drivers: Increasing popularity of probiotic dietary supplements
Dietary supplements include tablets, capsules, powders, liquids, and pills, which are convenient forms of meeting the daily nutritional requirements of the body. Probiotic dietary supplements are not as popular as probiotic foods, especially in Asia Pacific, but have started gaining popularity over the past few years. North America is a huge market for probiotic dietary supplements due to the natural predisposition of consumers for taking supplements. Compared to European countries, people in the US are more willing to consume oral supplements. In the US, the FDA does not require pre-market approval of the health claims made by manufacturers of probiotic dietary supplements, which allows them to launch innovative products to cater to the increasing demand.
Restraints: International quality standards and regulations for probiotic products
International bodies, such as the National Food Safety and Quality Service, Canadian Food Inspection Agency, US FDA, WHO, and European Parliament Committee on the ENVI (Environment, Public Health and Food Safety) of the EU are associated with food safety regulations. These organizations have control over the use of different chemicals and materials during food processing, directly or indirectly. In 2001, the joint FAO of the UN/WHO Expert Consultation on Evaluation of Health and Nutritional Properties of Probiotics developed guidelines for evaluating probiotics in food that could lead to the substantiation of health claims. This was to standardize the requirements needed to make health claims related to probiotic agents. The inclusion of probiotics in cosmetics will provide regulatory challenges as it brings cosmetic products into the health realm. The products are focused on safety, clinical verification, and proof of using high standards for handling, storing, and applying products containing microbes and their metabolites or cell walls.
Opportunities: Probiotics can replace pharmaceutical agents
The increasing demand for probiotics has shown that customers prefer products with proven health benefits. The increasing evidence of health benefits associated with probiotics for health restoration has increased the customer expectations related to probiotics. This inclination toward a safe, natural, and cost-effective substitute for drugs has led to the application of probiotics as pharmaceutical agents. Beneficial effects of probiotics as pharmaceutical agents seem to be strain- and dose-dependent. Clinical trials have displayed that probiotics may cure certain disorders or diseases in humans, especially those related to the GI tract. The consumption of fermented dairy products containing probiotic cultures may provide health benefits in certain clinical conditions, such as antibiotic-associated diarrhea, rotavirus-associated diarrhea, inflammatory bowel disease, irritable bowel syndrome (IBS), allergenic diseases, cancer, Helicobacter pylori infection, and lactose-intolerance
Challenges:Intolerance of probiotics to stomach acid and bile
Probiotics is exposed to harsh conditions prevailing in the stomach and small intestine after they survive the manufacturing process and degradation with time on the shelf. According to the UK food microbiologist, only a few highly resistant bacteria such as lactobacillus and bifidobacteria can survive stomach acid. The other probiotic bacteria are expected to get destroyed by stomach acid. Mostly, the intolerance level to survive the harsh acidity in the stomach is below pH 2. For instance, Lactobacilli spp. has been observed to survive only between 30 seconds to a few minutes under such conditions. Generally, the acid is useful in killing harmful bacteria, which might be ingested with food or while drinking, but good bacteria are also killed in the process that is in the form of probiotics. However, the stomach of humans has a mucous lining, which can resist the stomach acid from digesting the food.
High-growth prospects for probiotic manufacturers in Asia Pacific
The expansion of supermarkets, especially in Asia Pacific, is expected to create high-growth prospects for probiotic manufacturers in the coming years. China is expected to create lucrative opportunities for the US yogurt manufacturers amid the rise in the demand for yogurt in the country, exceeding domestic production. Companies such as General Mills (US) and Chobani (US) can penetrate the yogurt market in the country with the launch of their product line. Consumers are willing to visit supermarkets and pay premium prices for products with nutritional benefits. The trend of leading a healthy lifestyle attracts youngsters in the country to shop in supermarkets even if it is expensive. The growing popularity of online mode of distribution channels has urged supermarkets to adopt different strategies. For instance, in-store promotions and on-site demonstrations are some of the strategies adopted by supermarkets.
Bacteria plays a major role in building immunity among people
The most widely consumed bacteria strains are Lactobacilli, Bifidobacteria, and Streptococcus Thermophilusthermophilus, among others (Enterococcus, Bacillus, and Pediococcus). The primary benefit of incorporating scientifically derived bacterial strains in probiotic foods is the balance in the host's intestinal microbiota and the subsequent enhancement of the immune system. The other advantages include balancing the pH of the large intestine, cholesterol reduction, prevention of diseases, treatment of tooth decay, and improvement in women's health.
The probiotics food & cosmetics segment, by product type is projected to be the fastest-growing during the forecast period.
Probiotics are categorized as foods & beverages based on their intended uses and benefits, which, in turn, depends on probiotic microbes. The products under this category include foods & beverages that offer distinct health benefits beyond fundamental nutrition due to their specific ingredients. Probiotic ingredients are incorporated in a wide range of food & beverage applications such as dairy products, non-dairy beverages, cereals, and infant formula. The increasing consumer awareness related to probiotics is gradually gaining pace, which is expected to drive the investments in R&D for developing new products that contain probiotic ingredients.
The Asia Pacific region dominated the probiotics food & cosmetics market
Probiotics are becoming one of the essential ingredients for various health and nutritional applications. Awareness regarding the benefits of 'good bacteria' has always been high in the European and Asia Pacific markets due to bacterially fermented milk products available in the regions. With the increase in diseases such as obesity, high blood pressure, and osteoporosis, consumers tend to maintain a healthy diet with the increased consumption of fortified foods, beverages, and dietary supplements.
To know about the assumptions considered for the study, download the pdf brochure
Key Market Players
Key players in this market include Probi AB (Sweden), Nestlé (Switzerland), ADM (US), Danone (France), DuPont (US), Yakult Honsha (Japan), Kerry (Ireland), BioGaia (Sweden), Esse Skincare (South Africa), and L'Oréal (France).
Get online access to the report on the World's First Market Intelligence Cloud

Easy to Download Historical Data & Forecast Numbers
Company Analysis Dashboard for high growth potential opportunities
Research Analyst Access for customization & queries
Competitor Analysis with Interactive dashboard
Latest News, Updates & Trend analysis

Request Sample

Click on image to enlarge

Scope of the Report
Report Metric

Details

Market size estimation

2016–2026

Base year considered

2020

Forecast period considered

2021–2026

Units considered

Value (USD)

Segments covered

By distribution channel, ingredients, product type, and region

Regions covered

North America, Asia Pacific, Europe, South America and RoW

Companies studied

Probi Ab
Nestlé
Archer Daniels Midland Company
Danone
DuPont
Yakult Honsha
General Mills
Kerry
BioGaia
Morinaga Milk Industry Co., Ltd.
Glowbiotics LLC
Eminence Organic Skin Care
Esse Skin Care
L'Oréal
Estée Lauder
TULA Skincare
Aurelia London
LaFlore Probiotic Skincare
Gallinée Microbiome Skincare
Biomilk Skincare
This research report categorizes the probiotics food & cosmetics market, based on distribution channel, ingredients, product type, and region
Probiotics Food & Cosmetics Market:
By Distribution Channel
Hypermarkets/ Supermarkets
Pharmacies/ Drugstores
Specialty stores
Online
By Ingredients
By Product Type
Probiotics food & beverages
Dietary Supplements
Cosmetics
By Product Type
North America
Europe
Asia Pacific
South America
Rest of the World (RoW)
Recent Developments
In February 2021, BioGia aims at developing next-generation probiotic products focusing on metabolic conditions with a special emphasis on diabetes and related diseases.
In December 2020, Danone launched a probiotic product for preventing lactation mastitis in breastfeeding mothers. It is sold exclusively in China.
In November 2020, Kerry acquired Bio-K Plus International, which provides a range of clinically supported probiotic beverage and supplement applications.
In May 2020, Probi AB signed a long-term R&D collaboration agreement with Competence Centre on Health Technologies (CCHT). It aims at developing novel products based on probiotics lactobacilli strains for women's health.
Frequently Asked Questions (FAQ):
Which region is projected to account for the largest share in the probiotics food & cosmetics market?
Asia Pacific account largest share in the probiotics food & cosmetics market. In the probiotic dietary supplements space, demand is expected to be large in Japan, where the older population is large in number.
What is the current size of the global probiotics food & cosmetics market?
The global probiotics food & cosmetics market is estimated to be valued at USD 56,616.1 million in 2021. It is projected to reach USD 84,515.1 million by 2026, recording a CAGR of 8.3% during the forecast period.
Which are the key players in the market, and how intense is the competition?
Key players in this market include Probi AB, Nestle, ADM, Loreal, and DuPont. Organizations are focusing on expanding their production facilities, entering into partnerships and agreements, and launching new products to grow their businesses and, in turn, their market share. .
To speak to our analyst for a discussion on the above findings, click Speak to Analyst