[222 Pages Report] The Railway Telematics Market was valued at USD 5.1 billion in 2021 and projected to reach USD 7.3 billion by 2026, growing at a CAGR of 7.5% from during forecast period.
The future of the freight rail industry is expected to rely on smart digital transportation systems that leverage technologies over larger railcar networks. New technologies such as integrated service management, asset management, and predictive analytics, shock detection, and automatic stock control are expected to help rail management companies manage optimal routes, schedules, capacities, and idle railcars in near real-time. Due to the increasing presence of smart technologies in rail transportation, the associated solutions and services markets are also expected to grow at high rates, globally. Emerging technologies such as refrigerated wagon management, estimated time of arrival of railcars are expected to enable efficient and better freight rail transportation. This is also expected to improve timely decision-making for issues such as asset deployment, utilization, and railcar maintenance.
North America accounted for the largest share of the market in 2021. The presence of OEMs such as Siemens (Germany), Bosch (Germany), Knorr-Bremse (Germany), Amsted Digital (US) and their investments in rail telematics is one of the major factors fueling the growth of railway telematics market in North America and Europe regions. For instance, in 2020, major US rail companies such as GATX corporation, Norfolk Southern, Genesee & Wyoming, Watco, and Trinity Rail announced a joint venture Rail Pulse, which is expected to accelerate the adoption of GPS and other telematics technologies in the near future across the North American railcar fleet. This is expected to enable competitiveness in the rail sector between freight transportation companies due to improvements in the location monitoring and condition monitoring of railcars. As technology evolves, the safety of railcars and other solutions are expected to be adopted by railcar fleet owners. Due to the new telematics technologies, railcar owners are expected to be able to capture data such as whether a railcar is partially or fully loaded, its onboard bearing temperature, whether doors or hatches are closed or open, wheel impact detection data, and other possible solutions to enable running railcar fleets efficiently, manage data generated through the use of technology and improvise on idle rail cars, maintenance, reduce turnaround time of railcars, control stock, and others. The rising adoption of telematics solutions by rail car leasing operators is expected to drive the railway telematics market in future.
To know about the assumptions considered for the study, Request for Free Sample Report
Driver: Government initiatives for smart railways
Increasing urbanization across the globe is resulting in the evolution of smart cities. Governments around the world are undertaking various smart city initiatives to provide better transportation infrastructure and speeding-up operational activities in public transportation services. For instance, in March 2020, the Government of India has proposed to develop 100 smart cities in the next few years. The Government of Singapore is implementing digital technology in transportation to accomplish its Smart Nation vision. Transportation is considered one of the most important pillars of a country's economic development, and hence, these smart city initiatives are expected to drive market growth.
The deployment of smart railway systems requires joint efforts from various stakeholders such as telecom operators, infrastructure providers, service providers, manufacturers, public sectors, and user groups. Government authorities are adopting Public Private Partnership (PPP) models which enable private sector companies participate in smart railways initiatives of governments for deploying and financing transportation projects.
Restraint: High development cost
One of the key restraints in railway telematics market is the high installation cost. The telematics system also requires high maintenance and data collection platforms, which further increases the expenditure. In the traditional method, the expenses are compensated either through tax payments on fuel or rubber or by budget allocations from the national income. An Automated Fare Collection (AFC) system comprises equipment and products based on advanced technologies, making the system complex and expensive. The system offers a solution for traffic congestion issues; however, it simultaneously increases the cost of the tolling process, which ultimately increases the toll price. Moreover, in the AFC system, a large, centralized Traffic Management Center (TMC) is required to be co-located with transportation managers, system operators, dispatchers, and response agencies. All these factors lead to significant initial investments.
The initial cost involved in deploying smart railway solutions is high and requires significant initial investments to set up field-level devices, replace aging infrastructure, arrange for transmission networks between end users, and manage new and existing systems within premises. High operational and maintenance costs post deployment are also a significant concern for railway authorities. Moreover, the limited budgets allocated for the railways are a restraining factor in the deployment of advanced railway technologies and solutions by governments as well as private players. Hence, the high initial cost of deploying smart railway solutions and components is expected to hamper market growth for railway telematics in the coming years.
Opportunity: Increasing need for railway telematics
The need for telematics in freight and cargo transportation by rail has increased over the years. Population is increasing annually every year all over the world. Transportation infrastructure is a significant challenge for many countries across the world. Countries which are in the developmental stage lag in terms of efficient freight transportation services. The global rail industry is undergoing continuous changes in terms of technology for higher efficiency and safety.
Several countries have realized that the development of railway infrastructure is one of the important factors driving economic development. A number of countries are investing significantly in railway infrastructure. Regions such as Europe and North America are advanced as against the other regions and are therefore able to provide advanced telematics solutions for the high interoperability of rail cars. The North American freight rail network runs almost 140,000 route miles annually and accounts for 27.9% of the total freight movement as of 2020 in the country as per the US Department of Transportation's Federal Railroad Administration. In November 2020, US operators, namely, Norfolk Southern, Genesee, Wyoming, and Watco joined the manufacturers, TrinityRail and GATX Corp as part of their joint venture for the purpose of accelerating the adoption of GPS location and other telematics solutions across the North American freight wagon fleet. As far as the European region is concerned, mandates by governments regarding smart railcars have given a boost to the railway telematics market in that region.
Challenge: Data privacy and security concerns
Railway telematics solutions are an integration of different technology elements such as hardware, software, and network elements, which can be complex to configure at times. The integration of different hardware devices along with railway software over legacy system infrastructure may become complex. Legacy systems are also not compatible with new generation smart devices due to protocol issues. Hence, traditional, and legacy systems are not capable enough to communicate efficiently with technologically advanced systems. These integration issues are projected to be one of the major challenges in the development of railway projects.
One of the major problems in implementing connected freight transport is integrating it with information technology. The implementation of several information technologies involves a process of interrelated stages. The stage of integrating several information technologies with smart transportation systems is critical. The connected transportation ecosystem integrates different technology elements such as hardware, software, and network elements. Moreover, the deployment of these elements involves more than one vendor. The implementation of updated technologies over the existing transportation architecture becomes complex. Additionally, due to the lack of open interface and protocol issues, smart devices and sensors are not able to integrate with the existing system architecture. The major difficulty of the smart transportation system is the synthesis and integration of all the data collected from these sensors. Thus, deploying a multi-sensor data fusion technology which collates all recorded signals to create a more informed environment for traffic control, and remote sensing is a major challenge. Hence, traditional legacy systems are not capable of communicating efficiently with technologically advanced systems. Upgrading these systems is expected to require high investments. These complexities are expected to hinder market growth in the coming years
Hopper railcars account for a major share of the market during the forecast period
Due to the new GSM and GPS modules, a significant cost reduction could be achieved. Interfaces for complementing sensors such as shock detection, digital/analog inputs/outputs, etc. are integrated. In addition, based on the analysis of user requirements, the development of a reliable load sensing technology for freight cars has been launched. This is a result of the fact that today most of the freight cars in operation in the railways do not use the full load capacity as cost-effective measurement of the load does not exist, especially during the filling-up process such as in the area of bulk freight. These advanced solutions are expected to support the growth of the railway telematics market.
The APAC is projected to be the fastest-growing railway telematics market, by 2026
Increasing penetration of advanced technologies, increasing GDPs of countries, steady growth, and emerging economies. The APAC region covers some of the potential markets, namely, China, India, Japan, and Rest of Asia Pacific. China is expected to lead the market followed by India, Japan, and Rest of Asia Pacific in terms of share and growth rate among all countries during the forecast period.
The APAC region is expected to offer significant growth opportunities due to the untapped market strength. Increasing awareness about driver safety and accident prevention, presence of leading OEM players, growing freight transportation and logistics industries, advent of the 4G LTE technology, and the adoption of smart railcars in North America and Europe due to the availability of embedded OEM telematics solutions are leading to market growth. The logistics sectors in India and China are on the cusp of disruption. Robust economic growth and technology improvements have led to significant developments. Despite significant country-specific trends and nuances, the underlying themes of economic growth, digital disruption and changing customer preferences prevail. These powerful themes are expected to shape the future of the logistics industry over the next few years. Based on reliable on-line telematics data, dispatchers will be able to inform their customers about changes in transport schedules earlier than is possible presently, increasing reliability and satisfying stakeholders, thus driving growth.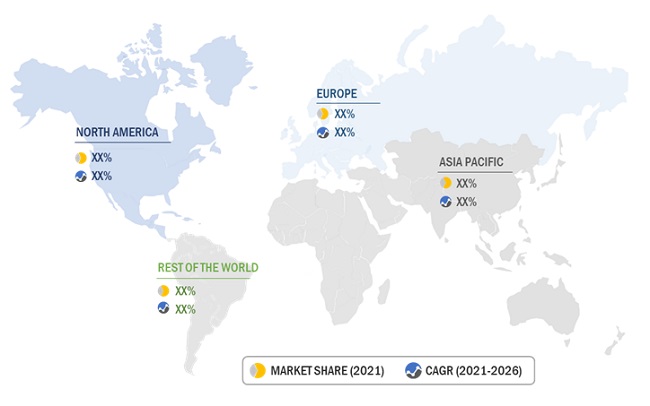 To know about the assumptions considered for the study, download the pdf brochure
Key Market Players
The key players considered in the analysis of the Railway Telematics market are Siemens (Germany), Hitachi Ltd. (Japan), Alstom (France), Knorr-Bremse (Germany), and Robert Bosch (US). These companies offer extensive products for the Railway Telematics industry and have strong distribution networks, and they invest heavily in R&D to develop new products.
Get online access to the report on the World's First Market Intelligence Cloud

Easy to Download Historical Data & Forecast Numbers
Company Analysis Dashboard for high growth potential opportunities
Research Analyst Access for customization & queries
Competitor Analysis with Interactive dashboard
Latest News, Updates & Trend analysis

Request Sample

Click on image to enlarge

Scope of the Report
Report Attributes

Details

Market size value in 2021:

USD 5.1 billion

Projected to reach by 2026:

USD 7.3 billion

CAGR:

7.5%

Base Year Considered:

2020

Forecast Period:

2021-2026

Largest Market:

Asia Pacific

Region Covered:

Asia Pacific, North America, Europe, and the RoW

Segments Covered:

by solution (fleet management, automatic stock control, shock detection, reefer wagon management, railcar tracking and tracing, remote data access, eta & others), railcar (hoppers, tank cars, well cars, boxcars, reefer cars & others), component (TCU and sensor) & Region

Companies Covered:

Siemens (Germany), Hitachi Ltd. (Japan), Alstom (France), Knorr-Bremse (Germany), and Robert Bosch (US) A total of 25 major company profiles covered and provided.
This research report categorizes the railway telematics market based on train type, application, component, cable type, voltage, material type, wire length, end use and region
By Solution
Fleet Management
Automatic Stock Control
Shock Detection
Remote data access
Railcar tracking and tracing
Reefer Wagon Management
ETA
others
By Railcar
Hoppers
Tank cars
Well cars
Boxcars
Refrigerated Boxcars
Others
By Components
By Region
Asia Pacific

China
Japan
India
Rest of Asia Pacific

North America
Europe

France
Germany
UK
Rest of Europe

RoW
Recent Developments
In April 2021, Hitachi Rail announced the acquisition of UK's Perpetuum for enhancing the company's digital rail maintenance activity. The company is expected to handle the maintenance for all rail original equipment manufacturers and operators across the global rail market.
In November 2019, Alstom and Mumbai Metro Rail Corporation (MMRC) unveiled the life-sized mock-up of the trainset for Mumbai Metro Line 3 (Aqua Line). The new, iconic, and exclusive design for Mumbai meets all technical and manufacturing parameters.
In September 2019, Wabtec launched two new offerings designed to modernize its globally installed 23,000 locomotives. Wabtec has developed FDL Advantage, which is a fuel-saving engine upgrade package for its FDL locomotive platform. Another offering is the Modular Control Architecture - Fleet Migration (MCA FM), a next-generation control system replacement that is applicable throughout Wabtec's locomotive installed base. Both solutions introduce next-generation data and software capabilities to position railroads for the future of transportation with improved fuel efficiency and reliability.
In February 2021, Trinity Rail Group launched Trinsight, which is a digital platform for providing real-time solutions such as location, condition, and status of the rail equipment. The purpose of this platform is to enhance the safety, efficiency, and management of fleet operations.
In December 2020, ORBCOMM launched ST 9100, which is a dual-mode telematics device targeted for monitoring and controlling assets in the most remote areas.
In July 2020, DB Cargo headed a consortium with five Europeans companies for the development of automatic rail coupling. The German Federal of Ministry of Transport and Digital Infrastructure awarded this project to six companies from Germany, Austria, Switzerland, and France.
In March 2021, Siemens announced the full digitalization of Finnentrop interlocking in the state of North-Rhine Westphalia. The company declared that 404 interlocking units are expected to be replaced, which include signal, switch point, and derailers. 15 level crossings are also expected to be equipped with digital interfaces and four of them are expected to receive new safety systems.
In October 2020, Robert Bosch announced the signing of supply contract with Lineas for the digitalization of Linea's wagon fleet. 2,600 wagons are expected to be installed with Bosch's Nexeed Track and Trace software part of material and asset tracking for the optimization of Linea's fleet.
Frequently Asked Questions (FAQ):
What is the current size of the Railway Telematics market?
The railway telematics market, by value, is estimated to be USD 5.1 billion in 2021 and is projected to reach USD 7.3 billion by 2026, at a CAGR of 7.5% from 2021 to 2026
Who are the STARS in the Railway Telematics market?
Siemens (Germany), Bosch (Germany), Knorr-Bremse (Germany), Hitachi Ltd. (Japan), Alstom (France), and others. They have a strong portfolio of railway telematics offerings. These vendors have been marking their presence in the railway telematics market by offering easily deployable solutions, coupled with their robust business strategies to achieve constant growth in this market. Moreover, these companies have a strong presence across the globe.
What are the new market trends impacting the growth of the Railway Telematics market?
Developed countries have initiated plans for the advancement of driverless train networks, which is expected to propel the growth of the transportation sector. Countries such as China, India, South Korea, the US, the UK, Mexico, Brazil, and South Africa are planning to revolutionize their rail networks with the introduction of driverless trains. Rail manufacturers are expanding geographically by investing in infrastructure for the manufacture of driverless trains. Developed regions like North America and Europe are improving the safety and security of railways by retrofitting trains and replacing existing systems with advanced systems.
Which countries are considered in the Asia Pacific region?
The report covers market sizing for countries such as India, China, Japan, South Korea, France, Germany, Spain, UK, US, Canada, Mexico, UAE, Egypt, South Africa, Brazil and Russia. .
To speak to our analyst for a discussion on the above findings, click Speak to Analyst