The robotic vision market is expected to grow from USD 310.3 Million in 2015 to USD 518.8 Million in 2020 at a Compound Annual Growth Rate (CAGR) of 10.8%. The base year for study is 2014 and forecast period is for 2015 to 2020. This report provides analysis of the global robotic vision market based on components, detection algorithms, technologies, industries, application, and geographies. Demand for safety, reliability, implementable and penetration are the major causes of market growth. It is estimated that APAC holds the largest market share.
The research work consists of primary as well as secondary sources. This research study involves extensive use of secondary sources, such as study of annual reports, press releases, journals, and paid databases. Primary sources include interviews with demand- and supply-side experts. The entire procedure includes the study of the financial reports of the top market players and extensive interview for key insights from industry leaders, such as CEOs, VPs, directors, and marketing executives. The figure below provides the breakdown of the primaries on the basis of companies, designations, and regions conducted during the research study.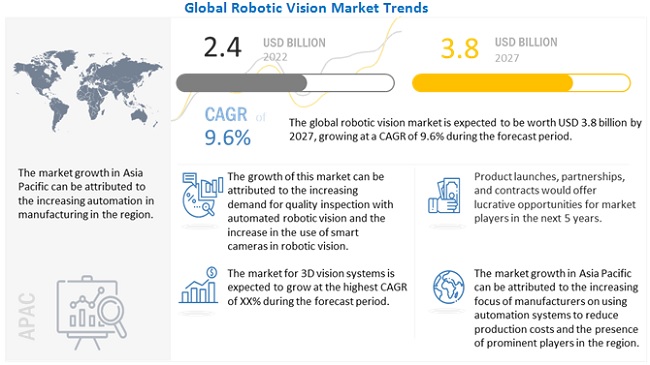 To know about the assumptions considered for the study, download the pdf brochure
The robotic vision market has a diversified and established ecosystem that includes stakeholders such as Machine Vision solution providers, Camera module provider, Robot manufacturer, Automation and instrumentation consultants, Image sensor providers, LED providers, IR/Laser providers, scanner providers, and end users from all industries.
The target audience for the report includes
Technology providers
Technology investors
Technology standards organizations
Forums, alliances, and associations
Government bodies
Venture capitalists
Private equity firms
Analysts and strategic business planners, and others.
Report include competitive landscape of global robotic vision market as well as company profiles of Adept Technology Inc, Cognex Corporation, Teledyne Dalsa, Keyence Corporation, Qualcomm Technologies Inc, Point Grey Research Inc, Tordivel As, Matrox Electronics Systems Ltd, ISRA Vision AG, MVTEC Software GmBH, Sick AG, National Instruments Corporation, Hexagon AB, Faro Technologies Inc, Nikon Metrology NV, GOM GmBH, Steinbichler Optotechnik GmBH, and Koh Young Technology.
This research study involves extensive use of secondary sources such as study of annual reports, press releases, journals, paid databases, and interviews with industry experts. The market covered under component segment includes camera, smart camera, lighting, optics, frame grabber, computers, software, and others.
Key Takeaways:
Analysis of Global robotic vision market
Market size splits by component, application, and geography
Value chain analysis by contribution of each entity
Major market trends, drivers, restraints, opportunities for global robotic vision market
Detailed competitive landscape which include key-players, in-depth market share analysis, individual revenue, and market shares
Global Robotic Vision market scope:
By Component
Camera
Smart Camera
Lighting
Optics
Frame Grabber
Computer
Software
Others
By Detection Algorithm
Contour based
Correlation based
Feature Extraction
Cloud of points
Company own development tools
Others
By Technology
By Industry
Automotive
Packaging
Aerospace
Food Processing
Metal Processing
Electrical & Electronics
By Use Case/Application
Welding
Material Handling
Packaging & Palletizing
Painting
Assembling & Disassembling
Cutting, Grinding & Deburring
Measurement, Inspection & Testing
Others
By Geography
North America
South America
Europe
Asia-Pacific
RoW
Available Customizations:
With the given market data, MarketsandMarkets offers customizations as per the client's specific needs. The following customization options are available for the report:
Regional Analysis
Further breakdown of region/country-specific analysis
Company Information
Detailed analysis and profiling of additional market players
The market for robotic vision is expected to grow from USD 310.3 Million in 2015 to USD 518.8 Million in 2020 at a CAGR of 10.8%. The base year considered for study is 2014 and forecast period is from 2015 to 2020. Increasing demand of customization and high industrial growth in the APAC region are the major drivers for the growth of the robotic vision market.
Automotive industry is expected to lead the global robotic vision market. The automotive industry is the early adopter of automated robotic arms for the manufacturing and assembling of vehicle parts. The industry is increasingly using robotic vision for inspection of parts, welding, and material handling. The electrical & electronics industry has emerged as an important sector for robotics vision, after the automotive industry.
Material handling applications is expected to dominate the global robotic vision market. Material handling and packaging & palletizing application account for a large share in the food and beverage industry. It uses robotic vision to reduce labor costs by vision-assisted packaging of food; thereby, ensuring brand quality with label verification. Robotic vision is used in these industries for improved sanitation, correct packaging, and material handling operations due to strict government regulations and increasing public awareness regarding food and beverage safety.
The robotic vision market in APAC is expected to hold the largest share by 2020 due to the major driving forces, such as industrialization, less availability of skilled labors, government initiatives, and demand for safety and accuracy. After Germany and US, China and Japan are expected to be the next emerging industrial hubs.These countries are expected to contribute vision-guided robots market with several new opportunities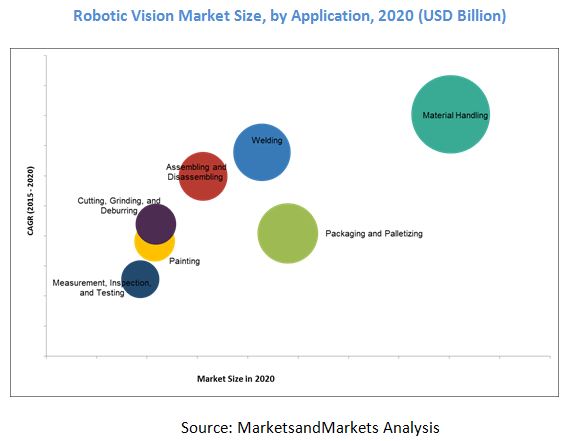 Demand for safety and quality, reliability, and ease of use, cost efficiency, benefits of 3D over 2D technology, rapid deployment, and penetration of smart camera in retrofit robotic systems are major causes of market growth. Conversely, factors inhibiting the market growth are the compatibility issues which are encountered while integrating vision systems to robot and lower penetration of robotics in the dynamic small scale industries. Robotic vision players are also facing challenge in gaining market share in the dynamic low-end market segments while maintaining sustainable profitability.
Major players for industrial robots are Yaskawa, Fanuc, ABB Ltd, KUKA Robotics, Kawasaki Robotics and Basler AG, Cognex, National Instruments, Keyence, and Sick for the machine vision system.
To speak to our analyst for a discussion on the above findings, click Speak to Analyst