Updated date -
The silicon carbide market is expected to be valued at USD 617.4 million by 2022, at a CAGR of 17.4% between 2017 and 2022. The factors such as increasing demand for motor drives, ability to reduce overall system size, and increasing application of SiC in radio frequency (RF) devices and cellular base station are driving the growth of this market
Years considered for this report
2016: Base Year
2017: Estimated Year
2022: Forecast Year
2017–2022: Forecast Period
Selected Market Dynamics in Silicon Carbide (SiC) Market
Application of SiC devices in RF and cellular base station
RF power devices have shown significant improvement against its Si and gallium arsenide (GaAs) devices counter parts. SiC diodes have 98 times higher impact ionization avalanche transit time (IMPATT) than Si diode.
The introduction of SiC RF devices offered opportunities for better functioning in high-power RF applications. The properties and characteristics such as high thermal conductivity, high electric breakdown field, and high saturated electron drift velocity make SiC distinct from other materials. Moreover, SiC RF power devices have 6 times higher breakdown field than Si and GaAS RF power devices, which is a major advantage in the power devices arena.
In addition, the application of SiC devices in the cellular base station is also on a rise. The capability of performing in high and low frequency is formed with the help of gallium nitride (GaN). GaN can be epitaxially grown on SiC owing to the latter's advantage of high thermal conductivity. Thus, the process helps in the formation of GaN on SiC RF power transistors. These RF power transistors help cellular amplifier designers to build smaller, powerful, and flexible transmitters. GaN on SiC RF power transistors are expected gain traction during the 5G introduction.
GaN is competing with SiC
Various researches are carried out for superior semiconductor materials with mechanical properties suitable for ambient and harsh environments.
SiC and GaN were found to have all the properties such as wide bandgap that permits semiconductor devices to operate at higher temperatures, higher voltages, and in higher frequencies that are required for applications in ambient and harsh environments. These properties are making GaN a tough substitute of SiC semiconductor devices. However, the material properties of both SiC and GaN are superior to Si, especially in applications such as radio frequency and switching power device. The primary motive behind the development of SiC was to replace Si. However, after the discovery of GaN, SiC- and GaN-based semiconductor devices are expected to compete with each other. Currently, GaN is used in low-power and voltage, high-frequency applications such as in hardware power modules, signal amplifiers and switching systems, wired communication devices, inverters, switch mode consumer power-supply systems, automotive sector, smart grid power systems, wind turbines and wind power systems, and in power factor correction (PFC) systems.
The objectives of the report are:
To define, describe, and forecast the overall silicon carbide market on the basis of device, wafer size, application, vertical, and geography
To strategically analyze the micromarkets with respect to individual growth trends, prospects, and contribution to the market
To provide detailed information regarding the major factors influencing the growth of the market (drivers, restraints, opportunities, and challenges)
To conduct a detailed value chain analysis of the market
To analyze the opportunities in the market for stakeholders and provide the details of the competitive landscape for the market leaders
To strategically profile the key players and comprehensively analyze their market share and core competencies
To analyze competitive developments such as expansion, mergers and acquisitions, and product launches, along with research and development (R&D) in the market
The research methodology used to estimate and forecast the market begins with capturing data on key vendor revenue through secondary sources such as Semiconductor Industry Association, Global Semiconductor Alliance, and IEEE Power Electronics Society, among others. The vendor offerings are also taken into consideration to determine the market segmentation. A combination of top-down and bottom-up procedures has been employed to arrive at the overall size of the market from the revenues of key players in the market. After arriving at the overall market size, the total market has been split into several segments and subsegments that have been verified through the primary research by conducting extensive interviews with people holding key positions such as CEOs, VPs, directors, and executives. The market breakdown and data triangulation procedures have been employed to complete the overall market engineering process and arrive at the exact statistics for all segments and subsegments. The breakdown of the profiles of primaries is depicted in the figure below: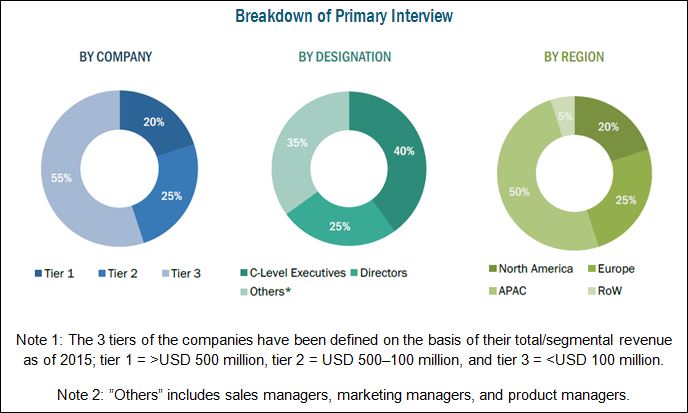 To know about the assumptions considered for the study, download the pdf brochure
This report provides valuable insights regarding the ecosystem of this market such as raw material suppliers, silicon carbide devices manufacturers, distributors, and consumers. The ecosystem of the silicon carbide market consists SiC device manufacturers such as Infineon Technologies AG; CREE Inc. (Wolfspeed); ROHM Semiconductor; STMicroelectronics N.V.; ON Semiconductor; Toshiba Corporation; General Electric; Saint-Gobain Silicon Carbide; Fuji Electric Co., Ltd.; Renesas Electronics Corporation; Dow Corning Corporation; GeneSiC Semiconductor Inc.; Global Power Technologies Group; TanKeBlue Semiconductor Co. Ltd.; Microsemi Corporation; Central Semiconductor Corporation; Sanken Electric Co., Ltd.; Bruckewell Technology Corporation; PileGrowth Tech s.r.l; Ascatron AB; Monolith Semiconductor Inc.; Graphensic AB; BASiC 3C, Inc.; Norstel AB; United Silicon Carbide, Inc.
Key Target Audience:
Electronic design automation (EDA) and design tool vendors
Original equipment manufacturers (OEMs)
Integrated device manufacturers (IDMs)
Original design manufacturers (ODMs)
Automotive ODM and OEM technology solution providers
Assembly, testing, and packaging vendors
Technology, service, and solution providers
Intellectual property (IP) core and licensing providers
Suppliers and distributors
Governments and other regulatory bodies
Technology investors
Research institutes and organizations
Market research and consulting firms
The study answers several questions for the stakeholders, primarily, which market segments to focus on in the next two to five years (depends on the range of forecast period) for prioritizing the efforts and investments.
Report Scope:
In this report, the silicon carbide market has been segmented into the following categories in addition to the industry trends, which have been detailed below:
Market, By Device
SIC discrete devices
SiC MOSFET
SiC diode
SIC module
SiC bare die
Market, By Wafer Size
2 Inch
4 Inch
6-Inch and above
Market, By Application
& RF Device and Cellular Base Station
Power Grid Device
Flexible AC Transmission Systems (FACTS)
High-Voltage, Direct Current (HVDC)
Power Supply and Inverter
Lighting Control
Industrial Motor Drive
Flame Detector
EV Motor Drive
EV Charging
Electronic Combat System
Wind Energy
Solar Energy
Others
Market, By Vertical
Telecommunications
Energy & Power
Automotive
Renewable Power Generation
Defense
Power Electronics
Others
Market, By Geographical Analysis
North America

US
; Canada
Mexico
Europe
UK
Germany
Italy
Rest of Europe

Asia Pacific

China
Japan
South Korea
Rest of APAC

Rest of the World

Middle East and Africa
South America
Competitive Landscape
Company Profiles
Detailed analysis of the major companies present in the silicon carbide market.
Available Customizations:
With the given market data, MarketsandMarkets offers customizations according to the company's specific needs. The following customization options are available for the report:
Product Analysis
Product matrix gives a detailed comparison of product portfolio of each company.
Company Information
Detailed analysis and profiling of additional market players (up to five).
The silicon carbide market size is expected to be valued at USD 617.4 million by 2022, at a CAGR of 17.4% between 2017 and 2022. The factors such as the ability of SiC devices in semiconductor to perform at high temperature and high voltage and power, increasing demand for motor drives, ability to reduce the overall system size, and increasing applications of SiC in radio frequency (RF) devices and cellular base station are expected to drive the growth of silicon carbide market.
Among all the major verticals of the silicon carbide, the power electronics vertical held the largest share of the market in 2016. The main driver for the growth of this market is owing to increasing use of SiC devices in power supply and inverter applications. The silicon carbide discrete device is expected to hold the largest share of the market during the forecast period. This is due to the high demand for SiC discrete devices that can be attributed to the fact that these devices have numerous applications including RF and cellular base station applications as well as in power supply and inverter applications.
The market for SiC diode is expected to hold the largest share, and they are also expected to grow at the moderate CAGR during the forecast period. The growth is attributed to the wide usage of SiC diode in RF and cellular base station applications. On the other hand, SiC module is expected to grow at the highest CAGR owing to increasing application of SiC MOSFETs and SiC diodes in various applications.
The SiC wafer size of 6-inch and above is expected to reach at the highest CAGR between 2017 and 2022. The demand for 6-inch and above SiC wafer is rising as these can facilitate the manufacturing of more number of devices as compared to 2 and 4 inches silicon carbide wafers.
In terms of the different geographic regions, APAC held the largest market share in 2016 and expected to grow at the second-highest CAGR in the forecast period. Growth in the APAC silicon carbide market can be attributed to the enhanced use in RF and cellular base station devices, due to the expanding 4G network, and power supply and inverter application. The Americas accounted for the second-largest share in 2016. The growth is attributed to the presence of some of the major silicon carbide device manufacturing companies. The RoW is expected to grow at highest CAGR. Exponential growth in the RoW can also be attributed to the increased use of RF and cellular base station devices due to expanding cellular network.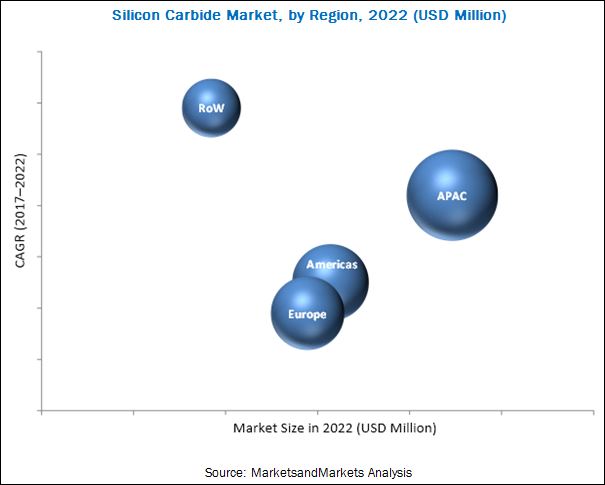 EV motor drive application is expected to grow at the highest CAGR owing to increasing silicon carbide devices penetration in electric vehicles, as silicon carbide devices reduce the size and weight of the system and overall weight of the vehicle.
Major Applications:
Cellular base station is a communication station positioned at fixed geographical locations. These base stations are used to communicate wirelessly. Base stations are majorly installed for the wireless telephone system. Cellular base stations required reliable semiconductor devices that can facilitate higher frequency operations. For these applications, previously silicon devices were used, but the ability of silicon carbide to perform at higher frequency played a dominant role, and the silicon carbide adoption is increasing day by day. Silicon carbide semiconductor is used in signal amplifiers and switching systems. The silicon carbide also facilitates fast switching in amplifiers.
Smart grid is defined as a grid that will be able to manage itself and communicate with any electrical device over protocol to foresee the potential problems in the grid network and take independent and speedy decisions with regard to the shortfalls in the network, if any. A smart grid is not just about installing smart meters across residential and commercial areas but also about the ability to control the entire energy network. Setting up a communication network is equally essential for the smart grid network, but this is only one of the major aspects of the smart grid arena.
To sustain in the competitive power industry, companies active in this field need advanced measures such as flexible AC transmission systems (FACTS) to cater to the ever-growing need for higher flexibility and reliability in existing power systems. FACTS are defined as a technology that is a combination of power electronics and other static components to increase controllability and power transfer ability of an existing network. FACTS is becoming popular among power industry players because it allows network providers to increase the power transfer capability of the existing transmission lines without building a new infrastructure, which is in alignment with the environment also.
High-voltage, direct current (HVDC) systems use direct current for bulk transmission of electrical power. HVDC systems require their electronic components to operate under a high voltage. This is possible with devices that are developed based on silicon carbide materials. The use of silicon carbide reduces power loss and helps in operating the systems efficiently.
In the IT power supply industry, silicon carbide devices are acting as game changers. Silicon carbide devices allow users to operate in the double-conversion mode and maintain higher efficiencies. Using silicon carbide devices in UPS can facilitate in size reduction, increase power quality, and reduce cost. Silicon carbide devices are providing distinct advantages compared to its silicon and hybrid counterparts. The traditional silicon insulated-gate bipolar transistor (IGBT) has no advantage against power loss, but the silicon carbide hybrid module can reduce power loss up to 45%, and full silicon carbide-based devices in UPS can reduce power loss up to 100%.
In the lighting industry, silicon carbide majorly addresses LEDs. LEDs are created with the help of Indium gallium nitride (InGaN) and the sapphire substrate; however, this combination does not work longer and provoked LED manufacturer to find some other reliable materials. Hence, silicon carbide came into existence. The inclusion of silicon carbide in LED technology promises to 2-fold the luminosity.
Industrial motor drives are expected to operate at full pace to produce maximum output in minimum time. The industrial drives facilitate heavy operations and therefore perform under high power, temperature, frequencies, and sometimes under radiation. Silicon carbide devices are therefore used in industrial motor drives.
Flame detectors are devices that identify flame radiations and activate alarms and fire suppression systems, prior to any damages. The use of flame detectors varies from application to application, depending upon factors such as the number of occupants in a building, environmental conditions, and the intensity of flames.
The silicon-based free-wheeling diode was typically used for switching in the motor drives. However, with the recent advancement in the technology and with silicon carbide-based semiconductor devices, this industry is now focusing on replacing silicon-based devices with silicon carbide-based semiconductor devices. When compared with silicon and gallium arsenide material, silicon carbide-based semiconductor provides better bandgap, breakdown field, and thermal conductivity. It has been estimated that the implementation of silicon carbide in motor drives will increase the operating frequency by 30%. The implementation of silicon carbide will help in further loss reduction during switching leading to high-density power modules. Schottky diodes are capable of operating high-speed switching, which previously was not possible with silicon-based devices.
In electric vehicle charging, high direct current (DC) is key to faster charging. High DC charges imply the need for faster and efficient AC–DC and DC–DC converters. In EV charging, silicon devices are majorly used but due to certain drawbacks such as limited voltage and power handling, silicon is going to be replaced soon. These shortcomings of silicon have given rise to wide-bandgap materials such as silicon carbide and gallium nitride. Wide-bandgap materials have properties such as high power density, high breakdown voltage, better thermal conductivity, and smaller leakage current. Additionally, wide-bandgap material results in the low heat sink that will reduce the need for external cooling and will facilitate smaller systems.
Silicon carbide has many applications in combat vehicles, especially for electronics systems operating in high temperatures. As a combat vehicle is developed to operate in military warfare, it should be capable of operating in high temperatures. It has been estimated that the use of silicon carbide will reduce the volume of the device approximately by 30%. These factors are expected to boost the demand for silicon carbide-based semiconductors in combat vehicles.
The application of silicon carbide in wind turbine and power systems is especially done in power supply modules, power inverters and drives installed in a wind turbine. The implementation of silicon carbide has helped in ensuring that the systems operate in high-voltage and high-temperature environment. It also helps reduce the power loss and the overall size.
The silicon carbide-based semiconductor has a huge application in photovoltaic inverters, because silicon carbide has the capability to withstand high frequency, reduces the loss of power, and has a high switching speed. Mitsubishi Electric (Japan) in 2011 has conducted an experiment in a photovoltaic inverter, in which they have achieved 98.0% power conversion efficiency using silicon carbide power module.
The others category for silicon carbide applications includes astronomical, pyrometer, nuclear, and atomic sciences applications.
The major players in the market include Infineon Technologies AG (Germany), CREE Inc. (Wolfspeed) (US), ROHM Semiconductor (Japan), STMicroelectronics N.V. (Switzerland), ON Semiconductor (US), United Silicon Carbide, Inc. (US), General Electric (US), GeneSiC Semiconductor Inc. (US), Fuji Electric Co., Ltd. (Japan), and Renesas Electronics Corporation (Japan). Most of the leading companies have followed the organic strategy of product launches to boost the revenue of the company.
To speak to our analyst for a discussion on the above findings, click Speak to Analyst