Starch Derivatives Market
Starch Derivatives Market by Type (Glucose Syrup, Modified Starch, Maltodextrin, Hydrolysates, Cyclodextrin), Source, Form (Dry, Liquid), Application (Food & Beverage, Industrial, Feed), Functionality and Region - Global Forecast to 2028
Report Code: FB 2338
Nov, 2023, by marketsandmarkets.com
[450 Pages Report] According to MarketsandMarkets, the global starch derivatives market size is estimated to be valued at USD 57.9 billion in 2023 and is projected to reach USD 68.4 billion by 2028, recording a CAGR of 3.4%. This growth is primarily attributed to the rising demand in the food and beverage industry for ingredients that improve texture, stability, and shelf life has driven market expansion. Furthermore, their versatile applications across various industries, including pharmaceuticals, textiles, and paper production, have contributed to market growth. The cost-effectiveness and functional benefits of starch derivatives continue to make them a preferred choice, fostering the market's expansion.
The expanding business has offered lucrative business opportunities to the players who are operating in the market segments. For instance, in April 2022, Avebe introduced Etenia ES, a versatile potato-based texturizing solution tailored for creamy dairy products. Designed to meet the demand for clean-label, delicious, and guilt-free dairy items, it serves as a process-tolerant alternative to milk protein, fat, and less label-friendly hydrocolloids. Other key players like Emsland Group have capitalized on this by making strategic partnerships. For instance, Emsland Group unveils a strategic partnership with IMPAG Group in Poland. IMPAG Poland will assume distributorship of Emsland's food industry product range, encompassing native starches, modified starch, and sustainable pea and potato-based fibers, along with potato flakes and granules. This collaboration strengthens our commitment to delivering top-tier ingredients to the Polish market.
The overall Starch derivatives market is classified as a competitive market, with the key players, namely ADM (US), Ingredion Incorporated (US), Tate & Lyle PLC (UK), AGRANA Beteiligungs-AG (Austria), and Sukhjit Starch & Chemicals Ltd. (India) occupying 30-35% of the market share.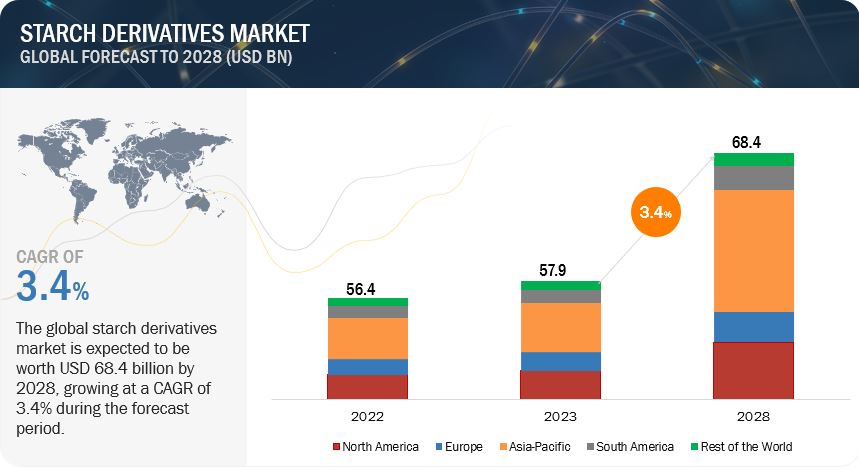 To know about the assumptions considered for the study, Request for Free Sample Report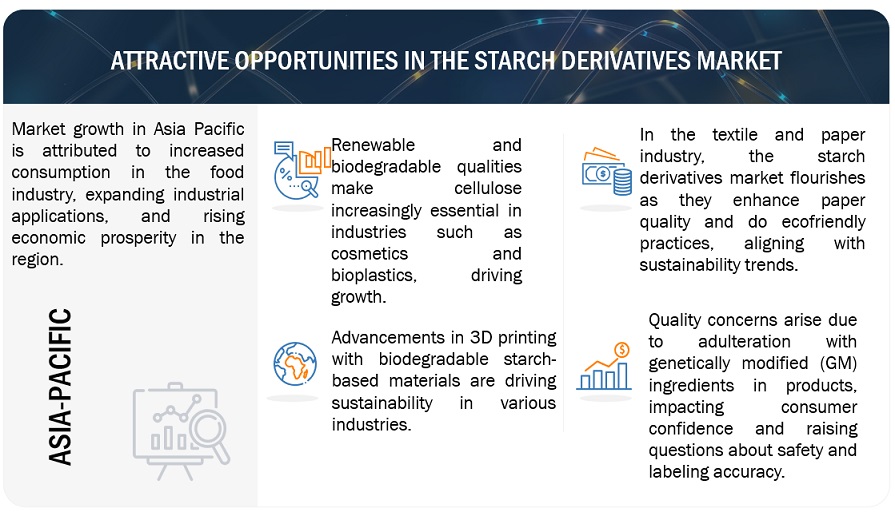 To know about the assumptions considered for the study, download the pdf brochure
The Starch Derivatives Market Ecosystem
Drivers: Functional properties of starch derivatives and their incorporation in a wide range of food applications
Starch derivatives have various functions; it is used as a thickener, texture agent, fat replacer, and emulsifier. The advanced technology used for processing these starches develops several highly functional ingredients that can be customized to meet the demand for most formulating challenges. Recently, health-conscious consumers have raised concerns about reducing the dietary caloric intake to avoid complications of obesity. Some modified starches are increasingly being used as fat replacers and substitutes. They provide the requisite mouthfeel; lend a glossy, fat-like appearance; and allow less fat pickup in fried foods. They are used in the formulation of dietary foods, such as vegetable soups and snacks. With these functional properties, the usage of starch derivatives in a wide range of applications is expected to drive the overall market.
Restraints: Limited raw material availability and price fluctuations
Starch derivatives are obtained from natural ingredients that are in limited supply and are dependent on the quality of the crops and good climatic conditions. For the past few years, the climatic conditions have changed drastically. Additionally, their production depends on the availability of raw materials. However, production is uncertain due to damage caused by sudden frost, typhoons, and other unexpected climatic conditions. Therefore, the slowly declining availability of raw materials intensifies the demand for these ingredients, thus creating a supply-demand imbalance.
Opportunities: Sustainable and eco-friendly practices in textile and paper industry
Starch derivatives are used in the textile and paper industries for sizing, coating, and binding purposes. Innovations in these industries, such as sustainable and eco-friendly production processes, offer opportunities for starch derivatives manufacturers to provide greener alternatives. Starch derivatives can serve as natural thickeners and sizing agents, reducing the need for synthetic chemicals in the textile and paper manufacturing process. This not only makes the products more environmentally friendly but also addresses concerns about chemical pollution. Starch-based derivatives, such as biodegradable plastics made from starch (bioplastics), are also gaining popularity as a more sustainable alternative to traditional plastics. This presents opportunities for manufacturers to produce biodegradable packaging materials for various industries.
Challenges: Concern over the quality of products due to adulteration of GM ingredients
Many consumers are increasingly concerned about the presence of genetically modified organisms (GMOs) in their food and are actively seeking non-GMO or organic alternatives. Adulteration or contamination with GM ingredients can lead to a loss of consumer trust and potential market backlash. Some consumers have ethical concerns about GMOs and their impact on the environment, biodiversity, and farming practices. Adulteration with GM ingredients can be seen as an unethical practice and could lead to public relations challenges for companies.
The Starch Derivatives Market Ecosystem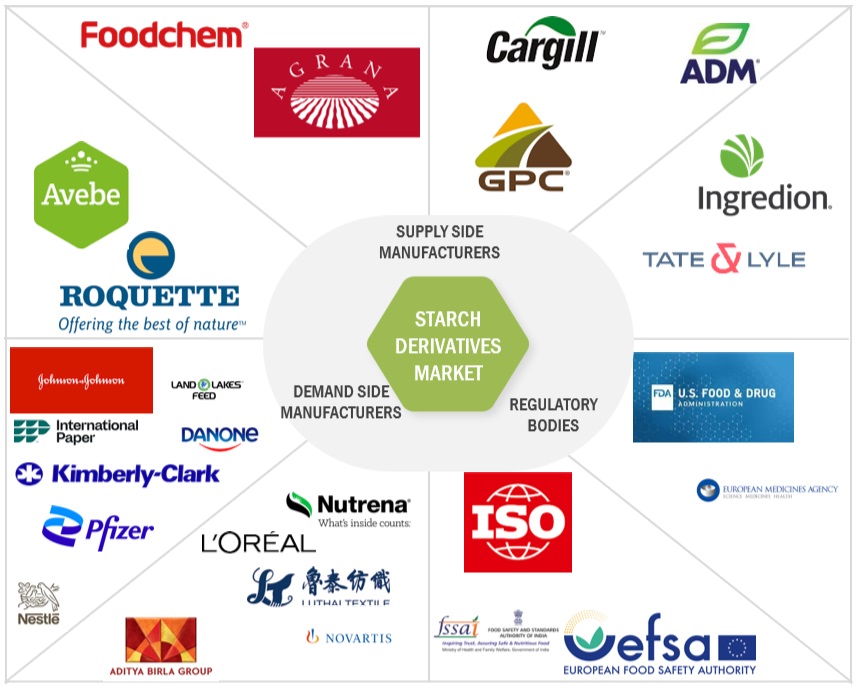 By type, the Maltodextrin segment is projected to grow with the highest CAGR in the starch derivatives market during the forecast period.
Maltodextrin serves as a crucial ingredient in the food and beverage industry due to its attributes as a thickener, binder, and stabilizer. It enhances product texture and shelf life, making it a preferred choice. Furthermore, the clean-label trend and increasing consumer awareness of ingredients have propelled the demand for non-GMO and organic maltodextrin, driving its growth. In the pharmaceutical and cosmetic sectors, maltodextrin is utilized for its film-forming and emulsifying properties, broadening its application scope. As a multi-functional starch derivative, maltodextrin is poised for sustained expansion during the forecast period, responding to the evolving needs of these diverse industries.
By source, the Tapioca segment is projected to grow with the highest CAGR in the starch derivatives market during the forecast period.
Tapioca, sourced from the cassava plant, is gaining prominence due to its inherent characteristics. It's a gluten-free and allergen-friendly alternative, aligning with the increasing consumer demand for healthier and specialized dietary options. Tapioca-based starch derivatives are used extensively in food and beverage products, including gluten-free baked goods and snacks, enhancing their texture and sensory appeal. Moreover, the clean-label trend has boosted the demand for natural and minimally processed ingredients like tapioca starch derivatives, as they align with consumer preferences for transparency and sustainability. The versatile and sustainable nature of tapioca positions it for substantial growth during the forecast period, particularly in response to evolving dietary trends and health-conscious consumer choices.
By form, the liquid segment accounts second-highest market share in the starch derivatives market.
Liquid starch derivatives offer advantages such as improved solubility, dispersion, and ease of integration into various processes, making them ideal for applications where precise mixing and homogeneity are crucial. Their liquidity is especially beneficial in the pharmaceutical industry, where they are utilized for oral liquid formulations and drug delivery systems. Additionally, liquid starch derivatives enhance the textural properties of a wide range of food products, providing the desired mouthfeel and consistency in items such as soups, sauces, and beverages. The liquid form is also favored in the production of adhesives and coatings, catering to industrial needs. The growing demand for convenient, high-quality food products and specialized pharmaceutical formulations is propelling the liquid segment to its significant market share, reflecting the adaptability and efficacy of liquid starch derivatives.
By application, the food and beverages segment accounts significant market share in the starch derivatives market.
Starch derivatives have found a broad array of applications in the industrial sector due to their diverse functionalities. They serve as binders, thickeners, and stabilizers in industrial processes, particularly in sectors like textiles, paper manufacturing, and adhesives. Starch derivatives' ability to enhance viscosity, texture, and stability makes them essential components in a variety of industrial applications. Furthermore, the industrial sector is increasingly seeking eco-friendly and sustainable alternatives, and starch derivatives, often derived from renewable sources, align with these goals. Their biodegradability and reduced environmental impact have made them attractive choices. As industrial processes continue to evolve, the demand for starch derivatives in these applications is expected to grow, driving the high CAGR in the industrial segment during the forecast period.
Asia Pacific is poised to experience the highest CAGR in the starch derivatives market during the forecast period.
The region's remarkable economic growth has led to increased consumer purchasing power, which, in turn, has boosted demand for processed foods and beverages. Starch derivatives play a crucial role in this sector as thickeners, stabilizers, and texture enhancers, driving their growth. Additionally, Asia-Pacific countries are among the world's leading producers of starch-rich crops like rice, wheat, and cassava, ensuring a stable supply of raw materials for starch extraction. This accessibility to feedstock supports the development of a strong starch derivatives market in the region. Furthermore, the region's increasing focus on sustainability and eco-friendly practices has led to the utilization of starch derivatives for their renewable and biodegradable characteristics, catering to the growing demand for green solutions. As the Asia-Pacific region continues to experience economic expansion and evolving consumer preferences, starch derivatives are poised to witness substantial growth during the forecast period, making it the region with the highest CAGR in the market.
Asia Pacific: Starch Derivatives Market Snapshot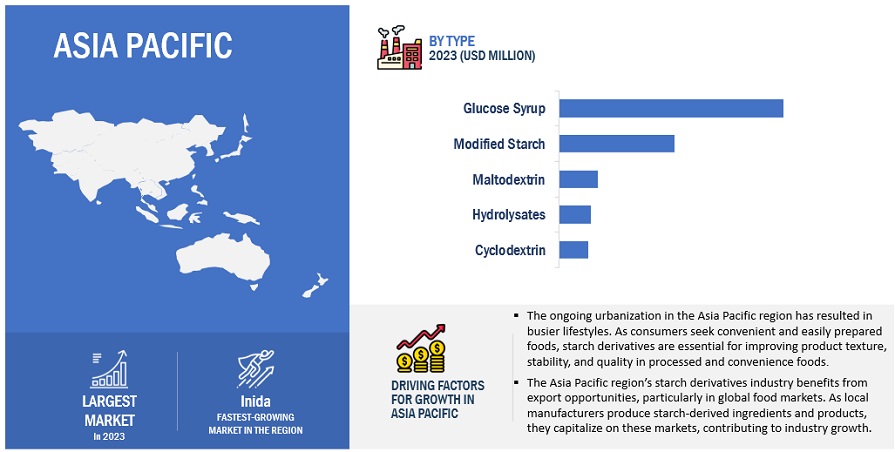 Key Market Players
Key players in this market include Cargill, Incorporated (US), ADM (US), Tate & Lyle PLC (UK), AGRANA Beteiligungs-AG (Austria), Roquette freres (France), Ingredion Incorporated (US), Green Processing Corp. (GPC) France, Avebe (Netherlands), Emsland Group (Germany), Foodchem International Corporation (China), Sukhjit Starch & Chemicals Ltd. (India), Universal Starch Chem Allied Ltd (India), Primient (US), SPAC Starch Products (India) Private Limited (India), and JP&SB International (Spain)
Get online access to the report on the World's First Market Intelligence Cloud

Easy to Download Historical Data & Forecast Numbers
Company Analysis Dashboard for high growth potential opportunities
Research Analyst Access for customization & queries
Competitor Analysis with Interactive dashboard
Latest News, Updates & Trend analysis

Request Sample

Click on image to enlarge

Scope of the Report
Report Metric

Details

Market size estimation

2023–2028

Base year considered

2022

Forecast period considered

2023–2028

Units considered

Value (USD), Volume (Ton)

Segments Covered

Type, Source, Form, Application, Functionality (qualitative), and Region

Regions covered

North America, Europe, Asia Pacific, South America, and Rest of the World

Companies studied

Cargill, Incorporated (US)
ADM (US)
Tate & Lyle PLC (UK)
Roquette freres (France)
AGRANA Beteiligungs-AG (Austria)
Ingredion Incorporated (US)
Green Processing Corp. (GPC) France
Avebe (Netherlands)
Emsland Group (Germany)
Foodchem International Corporation (China)
Sukhjit Starch & Chemicals Ltd. (India)
Universal Starch Chem Allied Ltd (India)
Primient (US)
SPAC Starch Products (India) Private Limited (India)
JP&SB International (Spain)
Matsutani Chemical Industry Co., Ltd. (Japan)
Crespel & Deiters Group (Germany)
SMSCor. (Thailand)
Manildra Group(Australia)
KMC (Denmark)
Sanstar Bio - Polymers Ltd. (India)
B Food Science Co. Ltd (Tokyo)
Specialty Enzymes & Probiotics (US)
Varun Industries (India)
Sinofi Ingredients (China)
Report Scope:
Starch Derivatives Market:
By Type
Glucose Syrup
Modified Starch
Maltodextrin
Hydrolysates
Cyclodextrin
By Source
Corn
Arrowroot
Potato
Rice
Tapioca
Wheat
Other Sources
By Form
By Application
Food & Beverages

Bakery & Confectionery Products
Processed Foods
Beverages
Other Food Applications

Industrial

Papermaking
Weaving & Textiles
Medicines & Pharmaceuticals
Cosmetics
Other Industrial Applications

Feed
By Functionality (Qualitative)
Thickening
Stabilizing
Emulsifying
Binding
Other Functionalities
By Region
North America
Europe
Asia Pacific
South America
Rest of the World
Recent Developments
In October 2023, Cargill is poised for double-digit growth in 2023, focusing on South India expansion, investing USD35 million in a Nellore manufacturing facility. Cargill emphasizes supply chain resilience and quality to navigate inflationary pressures and drive long-term sustainable growth in India's evolving food market.
In September 2023, Tate & Lyle partnered with IMCD in Finland and the Baltic region, expanding their ingredient distribution. This collaboration will help Tate & Lyle expand the geographical reach of its starch derivatives to Finland and the Baltic region thereby expanding its market share.
In June 2023, Tate & Lyle has inaugurated a Customer Innovation and Collaboration Centre in Jakarta, Indonesia. This expansion enhances their presence in the Asia Pacific, enabling food science innovation tailored to local preferences, addressing health concerns, particularly diabetes, and bolstering their global network's expertise. The opening marks an important milestone in Tate & Lyle's growth strategy to expand its presence in the Asia Pacific region, and Indonesia specifically, into which it has been supplying for over a decade.
Frequently Asked Questions (FAQ):
Which are the major starch derivatives applications considered in this study, and which segments are projected to have a promising growth rate in the future?
The major starch derivatives applications in this study include Food & beverage, Industrial, and Feed. Among these, Food & Beverage is projected to have a promising growth rate in the future.
I am interested in the Asia Pacific market for Industrial and Feed. Is the customization available for the same? What would all information be included in the same?
Yes, customization for the Asia Pacific market for various segments can be provided on various aspects, including market size, market dynamics, forecast, competitive landscape, and company profiles. Exclusive insights on below Asia Pacific countries below will be provided:
China
India
Japan
South Korea
Australia & New Zealand
Indonesia
Malaysia
Philippines
Thailand
Vietnam
Rest of Asia Pacific (Singapore and Taiwan)
Also, you can let us know if there are any other countries of your interest.
What are some of the drivers fuelling the growth of the starch derivatives market?
The global starch derivatives market is characterized by the following drivers:
Demand for Clean Label Products
Consumers are increasingly seeking clean-label, natural, and non-GMO ingredients in their food and beverages. Starch derivatives are valued for their ability to meet these preferences while providing functional attributes like thickening and stabilizing, driving their growth in the food industry.
Sustainable and Eco-Friendly Solutions
Starch derivatives, often sourced from renewable crops, are seen as environmentally responsible alternatives. As sustainability becomes a paramount concern, the biodegradable and green characteristics of starch derivatives fuel their demand in various industries, promoting market growth.
Which region is expected to hold the highest market share?
Asia Pacific is expected to have the largest market share in 2023, showcasing strong demand for starch derivatives in the market. The presence of major food & beverage manufacturers along with the presence of various key players in the starch derivatives industry makes it a significant region.
What is the total CAGR expected to be recorded for the starch derivatives market during 2023-2028?
The starch derivatives market is expected to record a CAGR of 3.4 % during the period 2023-2028.
To speak to our analyst for a discussion on the above findings, click Speak to Analyst
TABLE OF CONTENTS
1 INTRODUCTION
1.1 STUDY OBJECTIVES
1.2 MARKET DEFINITION
1.3 STUDY SCOPE
1.3.1 MARKET SEGMENTATION
1.3.2 INCLUSIONS & EXCLUSIONS
1.3.3 REGIONS COVERED
1.3.4 YEARS CONSIDERED
1.4 UNIT CONSIDERED
1.4.1 CURRENCY/ VALUE UNIT
1.4.2 VOLUME UNIT CONSIDERED
1.5 STAKEHOLDERS
1.6 SUMMARY OF CHANGES
1.6.1 RECESSION IMPACT
2 RESEARCH METHODOLOGY
2.1 RESEARCH DATA
2.1.1 SECONDARY DATA
2.1.1.1 KEY DATA FROM SECONDARY SOURCES
2.1.2 PRIMARY DATA
2.1.2.1 KEY DATA FROM PRIMARY SOURCES
2.1.2.2 KEY PRIMARY INSIGHTS
2.1.2.3 BREAKDOWN OF PRIMARY INTERVIEWS
2.2 MARKET SIZE ESTIMATION
2.2.1 BOTTOM-UP APPROACH
2.2.2 TOP-DOWN APPROACH
2.3 DATA TRIANGULATION
2.4 RESEARCH ASSUMPTIONS
2.4.1 ASSUMPTIONS OF THE STUDY
2.5 RECESSION IMPACT ANALYSIS
2.5.1 RECESSION MACROINDICATORS
3 EXECUTIVE SUMMARY
4 PREMIUM INSIGHTS
5 MARKET OVERVIEW
5.1 INTRODUCTION
5.2 MACROECONOMIC INDICATORS
5.3 MARKET DYNAMICS
5.3.1 DRIVERS
5.3.2 RESTRAINTS
5.3.3 OPPORTUNITIES
5.3.4 CHALLENGES
6 INDUSTRY TRENDS
6.1 INTRODUCTION
6.2 VALUE CHAIN ANALYSIS
6.3 TECHNOLOGY ANALYSIS
6.3.1 TECHNOLOGY ANALYSIS 1
6.3.2 TECHNOLOGY ANALYSIS 2
6.4 PATENT ANALYSIS
6.4.1 LIST OF MAJOR PATENTS PERTAINING TO THE MARKET
6.5 ECOSYSTEM AND MARKET MAP
6.5.1 DEMAND SIDE
6.5.2 SUPPLY SIDE
6.6 TRADE ANALYSIS
6.7 PRICING ANALYSIS
6.7.1 AVERAGE SELLING PRICE TREND OF KEY PLAYERS, BY SOURCE
6.7.2 AVERAGE SELLING PRICE TREND, BY SOURCE
6.7.3 AVERAGE SELLING PRICE TREND, BY REGION
6.8 TRENDS/DISRUPTIONS IMPACTING THE CUSTOMER'S BUSINESS
6.9 KEY CONFERENCES & EVENTS, 2023–2024
6.10 TARIFF AND REGULATORY LANDSCAPE
6.10.1 REGULATORY BODIES, GOVERNMENT AGENCIES, AND OTHER ORGANIZATIONS
6.10.2 REGULATORY LANDSCAPE
6.11 PORTER'S FIVE FORCES ANALYSIS
6.11.1 INTENSITY OF COMPETITIVE RIVALRY
6.11.2 THREAT OF NEW ENTRANTS
6.11.3 THREAT OF SUBSTITUTES
6.11.4 BARGAINING POWER OF SUPPLIERS
6.11.5 BARGAINING POWER OF BUYERS
6.12 KEY STAKEHOLDERS & BUYING CRITERIA
6.12.1 KEY STAKEHOLDERS IN THE BUYING PROCESS
6.12.2 BUYING CRITERIA
6.13 CASE STUDY ANALYSIS
7 STARCH DERIVATIVES MARKET, BY TYPE
7.1 INTRODUCTION
7.2 GLUCOSE SYRUP
7.3 MODIFIED STARCH
7.4 MALTODEXTRIN
7.5 HYDROLYSATES
7.6 CYCLODEXTRIN
8 STARCH DERIVATIVES MARKET, BY SOURCE
8.1 INTRODUCTION
8.2 CORN
8.3 ARROWROOT
8.4 POTATO
8.5 RICE
8.6 TAPIOCA
8.7 WHEAT
8.8 OTHER SOURCES (CASSAVA, AND OTHERS)
9.1 INTRODUCTION
9.2 DRY
9 STARCH DERIVATIVES MARKET, BY FORM
9.3 LIQUID
10 STARCH DERIVATIVES MARKET, BY FUNCTIONALITY (QUALITATIVE)
10.1 INTRODUCTION
10.2 THICKENING
10.3 STABILIZING
10.4 BINDING
10.5 EMULSIFYING
10.6 OTHER FUNCTIONS
11 STARCH DERIVATIVES MARKET, BY APPLICATION
11.1 INTRODUCTION
11.2 FOOD & BEVERAGES
11.3 INDUSTRIAL
11.4 FEED
12 STARCH DERIVATIVES MARKET, BY REGION
12.1 INTRODUCTION
12.2 NORTH AMERICA
12.2.1 NORTH AMERICA: RECESSION IMPACT ANALYSIS
12.2.2 US
12.2.3 CANADA
12.2.4 MEXICO
12.3 EUROPE
12.3.1 EUROPE: RECESSION IMPACT ANALYSIS
12.3.2 GERMANY
12.3.3 FRANCE
12.3.4 UK
12.3.5 ITALY
12.3.6 SPAIN
12.3.7 TURKEY
12.3.8 POLAND
12.3.8 NETHERLANDS
12.3.9 REST OF EUROPE
12.4 ASIA PACIFIC
12.4.1 ASIA PACIFIC: RECESSION IMPACT ANALYSIS
12.4.2 CHINA
12.4.3 INDIA
12.4.4 JAPAN
12.4.5 SOUTH KOREA
12.4.6 AUSTRALIA & NEW ZEALAND
12.4.7 INDONESIA
12.4.8 MALAYSIA
12.4.9 PHILIPPINES
12.4.10 THAILAND
12.4.11 VIETNAM
12.4.12 REST OF ASIA PACIFIC
12.5 SOUTH AMERICA
12.5.1 SOUTH AMERICA: RECESSION IMPACT ANALYSIS
12.5.2 BRAZIL
12.5.3 ARGENTINA
12.5.4 COLOMBIA
12.5.5 CHILE
12.5.6 PERU
12.5.7 REST OF SOUTH AMERICA (URUGUAY, ECUADOR, AND OTHERS)
12.6 REST OF THE WORLD
12.6.1 REST OF THE WORLD: RECESSION IMPACT ANALYSIS
12.6.2 AFRICA
12.6.2.1 SOUTH AFRICA
12.6.2.2 MOROCCO
12.6.2.3 ALGERIA
12.6.2.4 KENYA
12.6.2.5 REST OF AFRICA
12.6.3 MIDDLE EAST
12.6.3.1 SAUDI ARABIA
12.6.3.2 REST OF MIDDLE EAST
13 COMPETITIVE LANDSCAPE
13.1 OVERVIEW
13.2 MARKET SHARE ANALYSIS, 2022
13.3 KEY PLAYERS STRATEGIES/RIGHT TO WIN
13.4 REVENUE ANALYSIS
13.5 KEY PLAYERS ANNUAL REVENUE VS GROWTH
13.6 KEY PLAYERS EBIT/EBITDA
13.7 GLOBAL SNAPSHOT OF KEY MARKET PARTICIPANTS
13.8 COMPANY EVALUATION MATRIX (KEY PLAYERS), 2022
13.8.1 STARS
13.8.2 EMERGING LEADERS
13.8.3 PERVASIVE PLAYERS
13.8.4 PARTICIPANTS
13.8.5 COMPANY FOOTPRINT
13.9 START-UP/SME EVALUATION MATRIX, 2022
13.9.1 PROGRESSIVE COMPANIES
13.9.2 RESPONSIVE COMPANIES
13.9.3 DYNAMIC COMPANIES
13.9.4 STARTING BLOCKS
13.9.5 COMPETITIVE BENCHMARKING
13.10 COMPETITIVE SCENARIO AND TRENDS
13.10.1 PRODUCT LAUNCHES
13.10.2 DEALS
13.10.3 OTHERS
14 COMPANY PROFILES
14.1 KEY COMPANIES
14.1.1 CARGILL, INCORPORATED
14.1.2 ADM
14.1.3 TATE & LYLE
14.1.4 ROQUETTE FRERES
14.1.5 AGRANA BETEILIGUNGS-AG
14.1.6 INGREDION INCORPORATED
14.1.7 GREEN PROCESSING CORP. (GPC)
14.1.8 AVEBE
14.1.9 EMSLAND GROUP
14.1.10 FOODCHEM INTERNATIONAL CORPORATION
14.1.11 SUKHJIT STARCH & CHEMICALS LTD.
14.1.12 UNIVERSAL STARCH CHEM ALLIED LTD
14.1.13 PRIMIENT
14.1.14 SPAC STARCH PRODUCTS (INDIA) PRIVATE LIMITED
14.1.15 JP & SB INTERNATIONAL
14.2 OTHER PLAYERS
14.2.1 MATSUTANI CHEMICAL INDUSTRY CO., LTD.
14.2.2 CRESPEL & DEITERS GROUP
14.2.3 SMS CORPORATION
14.2.4 MANILDRA GROUP
14.2.5 KMC
14.2.6 SANSTAR BIO-POLYMERS LTD.
14.2.7 B FOOD SCIENCE CO., LTD.
14.2.8 SPECIALTY ENZYMES & PROBIOTICS
14.2.9 VARUN INDUSTRIES
14.2.10 SINOFI INGREDIENTS
15 ADJACENT & RELATED MARKETS
16 APPENDIX
This research involves the extensive use of secondary sources; directories; and databases (Bloomberg and Factiva) to identify and collect information useful for a technical, market-oriented, and commercial study of the Starch derivatives market. In-depth interviews were conducted with various primary respondents, such as key industry participants, Subject Matter Experts (SMEs), C-level executives of key market players, and industry consultants, to obtain and verify critical qualitative and quantitative information and to assess prospects.
Secondary Research
In the secondary research process, various sources, such as the Food and Agricultural Organization (FAO), United States Department of Agriculture (USDA), U.S. Food and Drug Administration (FDA) U.S. Food and Drug Administration (FDA), European Food Safety Authority (EFSA), World Health Organization (WHO), Consumer Healthcare Products Association (CHPA), European Federation of Associations of Health Product Manufacturers (EHPM), Canadian Health Food Association (CHFA), and Health Food Manufacturers' Association (HFMA), associations were referred to identify and collect information for this study. The secondary sources also include journals, press releases, investor presentations of companies, whitepapers, certified publications, articles by recognized authors and regulatory bodies, trade directories, and paid databases.
Primary Research
The Starch derivatives market encompasses various stakeholders involved in the supply chain, raw material manufacturers, raw material suppliers, regulatory organizations, and research institutions. To gather comprehensive information, primary sources from both the supply and demand sides were engaged. Primary interviewees from the supply side consisted of manufacturers, distributors, importers, and technology providers involved in the production and distribution of Precision fermentation. On the demand side, key opinion leaders, executives, and CEOs of companies in the Starch derivatives industry were approached through questionnaires, emails, and telephonic interviews. This approach ensured a comprehensive and well-rounded understanding of the Starch derivatives market from various perspectives.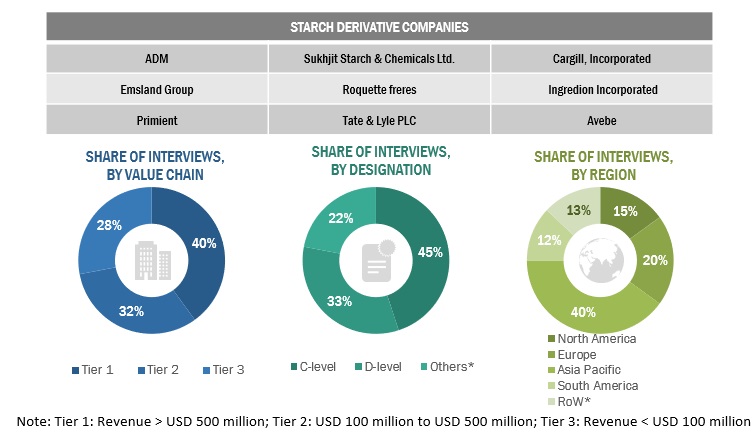 To know about the assumptions considered for the study, download the pdf brochure
Market Size Estimation
The top-down and bottom-up approaches were used to estimate and validate the market's and various dependent submarkets' size. The research methodology used to estimate the market size includes extensive secondary research of key players, reports, reviews, and newsletters of top market players, along with extensive interviews from leaders, such as CEOs, directors, and marketing executives.
Global Starch Derivatives Market Size: Bottom-Up Approach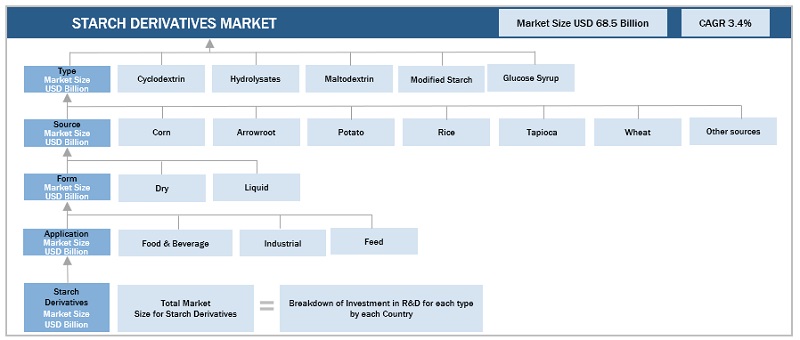 To know about the assumptions considered for the study, Request for Free Sample Report
Global Starch derivatives market Size: Top-Down Approach
Market Definition
Starch is a naturally abundant nutrient carbohydrate consisting of a large number of glucose units, mainly obtained from natural sources such as corn, potatoes, wheat, rice, and other plant sources commonly prepared as a white amorphous powder. Starch derivatives are prepared by treating starch through different processes such as hydrolysis, extraction, purification, and chemical treatment to be utilized in a wide range of food and non-food applications. Starch derivatives are used for functions such as thickening, stabilizing, binding, and emulsification.
Data Triangulation
The data triangulation and market breakdown procedures explained above were implemented, wherever applicable, to complete the overall market engineering process and arrive at the exact statistics for various market segments and subsegments. The data was triangulated by studying various factors and trends from the demand and supply sides. Along with this, the market size was validated using both the top-down and bottom-up approaches.
Key Stakeholders
Starch and starch derivative manufacturers and processors
Intermediate suppliers such as traders and distributors of starch and starch derivatives
Manufacturers of food & beverage ingredients, processed food, and feed
Other manufacturing industries such as the personal care, pharmaceutical, and papermaking industries
Government and research organizations
Associations, regulatory bodies, and other industry-related bodies:

Starch Europe
The Food and Agriculture Organization (FAO)
Food and Drug Administration (FDA)
US Department of Agriculture (USDA)
European Food Safety Agency (EFSA)
Agriculture and Agri-Food Canada
National Corn Grower Association - World of Corn
The International Food Additives Council (IFAC)
Food Processing Suppliers Association (FPSA)
Food Standards Australia New Zealand (FSANZ)
Report Objectives
To define, segment, and project the global market for Starch derivatives on the basis of type, source, form, application, functionality, and region
To provide detailed information regarding the key factors influencing the growth of the market (drivers, restraints, opportunities, and industry-specific challenges)
To strategically analyze the micro markets with respect to individual growth trends, future prospects, and their contribution to the total market
To analyze the opportunities in the market for stakeholders and provide a competitive landscape of the market leaders
To project the size of the market and its submarkets, in terms of value with respect to the regions (along with the key countries)
To strategically profile the key players and comprehensively analyze their market position and core competencies
To analyze competitive developments in the Starch derivatives market, including joint ventures, mergers & acquisitions, new product developments, and research & development activities
Available Customizations:
With the given market data, MarketsandMarkets offers customizations according to company-specific scientific needs.
The following customization options are available for the report:
Product Analysis
Product Matrix, which gives a detailed comparison of the product portfolio of each company
Geographic Analysis
With the given market data, MarketsandMarkets offers customizations according to company-specific scientific needs.
Further breakdown of the Rest of the European Starch derivatives market, by key country
Further breakdown of the Rest of the Asia Pacific Starch derivatives market, by key country
Further breakdown of the Rest of South America Starch derivatives market, by key country
Company Information
Detailed analyses and profiling of additional market players