[79 Pages Report] The US surgical procedures market is projected to reach 122,881.5 thousand procedures by 2027 from 105,814.5 thousand procedures in 2022, at a CAGR of 3.0% during the forecast period. The growth of this market is mainly attributed to the growing prevalence of cancer, growth in geriatric population, rise in chronic diseases, and technological advancements in surgical procedures. On the other hand, stringent regulations and the high cost of medical devices and shortage of surgeons is expected to restrain the growth of this market. With an aging US population and an increase in the incidence of chronic disease, patients will require more surgical procedures over their lifetime. The increasing life span of the US population is also boosting the need for surgical procedures. While the demand for surgeons is steadily increasing, the supply of future surgeons is not rising at the same rate. Therefore, this shortage is likely to reduce the number of surgeries performed per year.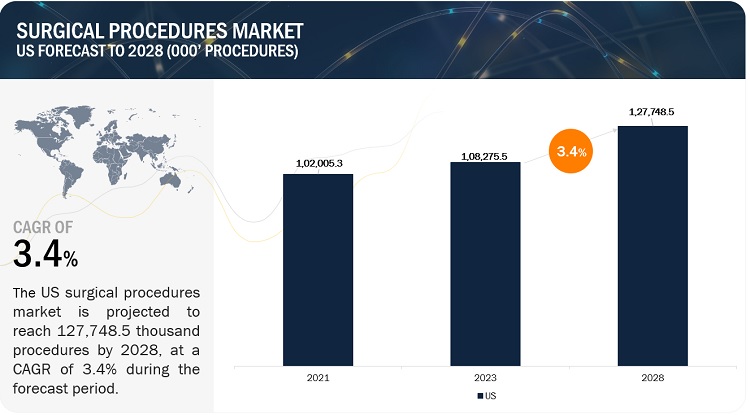 To know about the assumptions considered for the study, Request for Free Sample Report
COVID-19 Impact on the US Surgical Procedures Market
The increased pressure due to the growing rate of hospitalization of COVID-19 patients led to the re-profiling of many hospitals and departments for treating patients with COVID-19.
The provision of cardiac surgeries has been disproportionally affected due to the reallocation of intensive care resources. According to a comprehensive analysis of a Society of Thoracic Surgeons (STS) database, cardiac surgery volumes in the US fell by more than half during the COVID-19 pandemic's first wave. Cardiac surgery services have undergone structural remodeling into a centralized system to continue provisions of emergency surgery alongside hospital management of COVID-19 patients. Although these measures have been beneficial for supporting the focused management of COVID-19 patients, it is important to reflect upon the future consequences of delayed elective cardiac surgery. Patients with cardiac complications are likely to have progressive conditions.
On the other hand, the pandemic has also resulted in disruptions in the supply chain, affecting the global medical devices industry. The pandemic has adversely impacted global financial expectations, supply chain, operations, and crisis response plans. The manufacturers of surgical instruments faced the heat of the disruptions owing to the spread of COVID-19, leading to lockdowns and travel restrictions. The manufacturing of medical devices such as surgical instruments was significantly affected as major economies were severely affected due to the spread of COVID-19 infections.
US Surgical Procedures Market Dynamics
Drivers : Growing prevalence of cancer requiring surgical treatment
Surgery is a fundamental modality for the curative and palliative treatment of most cancers in countries across all income settings. In high-income countries (HICs) like the US, where the most common solid organ malignant cancers, such as breast & colon cancers, are more likely to be successfully diagnosed at early stages, surgical resection provides definitive locoregional control of the primary tumor. When combined with appropriately selected adjuvant systemic treatment and radiotherapy, this approach has significant curative potential.
In 2021, an estimated 1.9 million new cancer cases were diagnosed in the US, and 608,570 people will die from the disease—up from 1.8 million new cancer cases and 606,520 cancer deaths in 2020 (Source: American Cancer Society). The most common cancers are breast cancer, lung & bronchus cancer, prostate cancer, colon & rectum cancer, bladder cancer, and kidney & renal pelvis cancer. Prostate, lung, and colorectal cancers account for an estimated 43% of all cancers diagnosed in men in 2020. For women, the three most common cancers are breast, lung, and colorectal, and they will account for an estimated 50% of all new cancer diagnoses in women in 2020 (Source: National Cancer Institute). The removal of cancerous tissue using surgery is the preferred treatment choice in the case of solid tumors contained in one area.
Restraints : Shortage of surgeons
The growth in the geriatric population increases the burden on the medical system. Older individuals require more medical services and care as compared to younger counterparts. There will be increased demand for surgeons and a perioperative workforce with competency in senior care. The US is already experiencing shortages in nine of ten surgical specialties, with orthopedic surgery, general surgery, and urology having the largest surgeon deficits for specialties performing major surgery.
A 2019 Association of American Medical Colleges (AAMC) report predicted a shortage of 23,000 surgeons in 2032 and 28,700 by 2033 in the US. This projected shortfall range is based on a model that accounts for population projections, demand & supply projections, estimates of physician specialty choice, recently revised federal health professional shortage area designations for primary care and mental health, and lower projections of future insurance coverage expansion. More than two of every five active physicians in the US will reach 65 or older within ten years; such factors within the US population drive the need for more healthcare workers. For example, from 2019 to 2031, the population is projected to grow by 10.6%, increasing 42.4% of those aged 65 and above.
Opportunities : Increasing adoption of outpatient surgeries
Outpatient surgery, also known as ambulatory surgery, day surgery, day case surgery, or same-day surgery, is surgery that does not require an overnight hospital stay. The term outpatient means patients may enter and leave the facility on the same day. The advantages of outpatient surgery over inpatient surgery include greater convenience and reduced costs. Common procedures that are often done on an outpatient basis include:
Tonsillectomy
Hernia repair
Gallbladder removal
Some kinds of cosmetic surgery
Cataract surgery
Mole removal
Arthroscopy (provider looks inside a joint using a special camera)
Medical procedures are moving into outpatient facilities due to technological advances such as minimally invasive surgical procedures and value-based care incentives. Health plans and government program payment policies support providing services in lower-cost care settings, including outpatient facilities. Health systems have also been acquiring or partnering with physicians and physician practices, further driving the volume of services performed in outpatient settings.
Challenges : Surgical errors
Surgical errors are a serious public health problem and a leading cause of death in the US. Medical errors are a leading cause of injury and avoidable harm in health care systems. Globally, the cost associated with medication errors has been estimated at USD 42 billion annually, and unsafe surgical care procedures cause complications in up to 25% of patients. According to NCBI, at least 4000 surgical errors occur each year in the US. Some of the causes of surgical errors include the following:
Lack of adequate surgeon training and education: Inadequate skills and training are frequently the cause of surgical errors.
Insufficient planning: Occasionally, surgeons and other operating room professionals may not adequately prepare for procedures. Proper planning and preparation ensure that all necessary instruments are sterile and available for use, all required equipment is available and in working order, and that each step in the procedure has been thoroughly discussed.
Human error: Human error is one of the most frequent causes of surgical mistakes. Surgeons may make mistakes regarding incisions or using improper techniques. Additionally, nurses and anesthesiologists responsible for monitoring patients during surgery may forget to check vitals or administer too much medication.
Fatigue: Even though many hospitals place mandatory limits on the number of hours surgeons can go without rest, doctors are often overworked and exhausted. This lack of rest can result in serious errors during surgery.
Scope of the Request
| | |
| --- | --- |
| Report Metric | Details |
| Market size available for years | 2020–2027 |
| Base year considered | 2021 |
| Forecast period | 2022–2027 |
| Forecast units | Volume (Thousand Procedures) |
| Segments covered | By type and By Channel |
| Geographies covered | US |
The study categorizes the US Surgical Procedures Market based on type and channel.
US Surgical Procedures Market, by Type
Gastrointestinal Surgical Procedures
Cardiovascular Surgical Procedures
Dental Surgical Procedures
Cosmetic Surgical Procedures
Urologic Surgical Procedures
Ophthalmic Surgical Procedures
Orthopedic Surgical Procedures
ENT Surgical Procedures
Obstetric/Gynecologic Surgical Procedures
Other Surgical Procedures
Note: Other surgical procedures include procedures targeting the nervous system, the endocrine system, and the integumentary system.
US Surgical Procedures Market, by Channel
Physician Offices
Hospitals

Inpatient Surgeries
Outpatient Surgeries

Ambulatory Surgery Centre
While wrong site/wrong procedure surgery continues to be the most common basis for quality-of-care violations, cancer-related issues, neurological issues, cardiac-related issues, timely responding to complications during surgery and post-operatively, and urological-related issues have been determined as the most misdiagnosed conditions. It is challenging to uncover a consistent cause of errors and, even if found, provide a consistent, viable solution that minimizes the chances of a recurrent event.
Frequently Asked Questions (FAQ):
What are technological advancements in the surgical procedures in the US?
In recent years, the advancement of computational and automated technologies has helped surgeons and medical specialists in the operating room such as, 3D high-definition endoscope with a rotating tip named MARVEL (Multi-Angle Rear-Viewing Endoscopic tool), virtual reality, electrosurgical instruments and smart glasses.
What are emerging trends in the US surgical prcoedures market?
One of the major advances in recent years is minimally invasive surgical techniques that use small incisions, precision tools, and advanced imaging technology. This allows patients to undergo surgery in a single day and not require an overnight stay in the hospital for monitoring. In minimally invasive surgery (MIS), doctors use various techniques to operate with less damage to the body than with open surgery. MIS is associated with less pain, shorter hospital stays, and fewer complications.
Which segment of type is estimated to grow at the highest CAGR during the forecast period?
The ophthalmic surgical procedures segment is estimated to grow at the highest CAGR during the forecast period. The high growth of this segment can be attributed to the prevalence of various ophthalmic disorders such as glaucoma, cataract, and diabetic retinopathy rise in the geriatric population and the associated increase in eye diseases due to longer screen time. Ophthalmic surgery treats various conditions, including cataracts, glaucoma, detached retinas, retinal tears, diabetic retinopathy, and nearsightedness or farsightedness.
Which segment of hospitals is estimated to grow at the highest CAGR during the forecast period?
The outpatient surgeries segment is estimated to grow at the highest CAGR during the forecast period. in 2021. Growth in the outpatient surgeries segment is attributed to factors such as lower cost, low waiting time, and convenience.
Which segment has the second largest share of the US Surgical Procedures Market?
In 2021, orthopedic surgical procedures has the second largest share of the US surgical procedures market. Market growth is attributed to the rising prevalence of orthopedic disorders, increasing incidence of sports & traumatic injuries, and availability of technologically advanced orthopedic devices. .
To speak to our analyst for a discussion on the above findings, click Speak to Analyst