[291 Pages Report] The global electrophysiology market is projected to reach USD 11.6 billion by 2027 from USD 6.8 billion in 2021, at a CAGR of 9.4% during te forecast period.
The growth of the global electrophysiology market can be attributed to factors such as technological advancements; new entrants in the market; growing investments, funds, and grants; and an increased incidence of target diseases and procedures. Emerging markets are also expected to offer high growth opportunities for players operating in this market. However, factors such as the high cost of electrophysiology products, inadequate reimbursement, unfavorable healthcare reforms in the US, cost-intensive requirement for clinical data for new product launches, and the availability of alternative technologies are expected to restrain the growth of this market in the coming years. The reuse & reprocessing of devices and lack of skilled and experienced electrophysiologists are some of the challenges in this market. The growth of the market is also expected to slow temporarily during the forecast period due to the COVID-19 pandemic.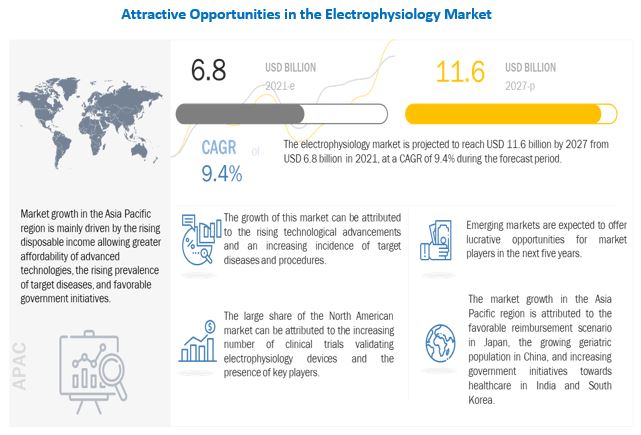 To know about the assumptions considered for the study, Request for Free Sample Report
COVID-19 Impact on the global Electrophysiology market
The impact of the COVID-19 pandemic and the lockdown it triggered is clearly visible in various industries, including the electrophysiology market. The overall growth of various sectors has been heavily impacted, specifically in countries with a high incidence rate of COVID-19, such as China, the US, and several European countries (including Russia, Italy, and Spain). While industries such as oil & petroleum, aeronautics, and mining are experiencing a steep fall in revenue, the healthcare, biotechnology, and pharmaceutical industries are optimizing this situation to serve a maximum number of patients and healthcare professionals.
The COVID-19 pandemic adversely affected the economy in 2020 and presented various challenges to clinical healthcare providers and patients across the globe. Logistical issues, managing patients with the disease, prioritizing patients with comorbidities & pre-existing conditions, and further protecting the public & hospital frontline workers from COVID-19 are major challenges healthcare systems face across the globe.
The pandemic has also impacted the buying capacity of hospitals, especially small-scale hospitals, resulting in canceled or postponed supply deals, which has impacted the overall revenue of all the major players in the electrophysiology market. Also, due to lockdowns, many people lost their jobs and livelihood, which, in turn, affected the buying pattern of patients considerably.
COVID-19 has also impacted various stages of the value chain, primarily due to strict lockdowns imposed by the governments of most countries. The turnaround time for the delivery of products and services was also affected due to newer packaging protocols and lockdown measures imposed by countries. All these factors negatively impacted the manufacturing and supply chain of the electrophysiology market.
The electrophysiology market is witnessing a loss of business, and the trend is expected to continue till December 2020. Unfavorable changes in regulations and guidelines are hampering the growth of this industry. Closed manufacturing facilities due to lockdowns, disrupted supply chains, and reduced recruitments for clinical trials have further impacted the growth of the overall electrophysiology market in 2020.
The prevalence of arrhythmias and conduction system disease (and cardiovascular disease in general) in patients with COVID-19 varies across populations. In most available reports, the specific cause of palpitations or type of arrhythmia has not been specified. Hypoxia and electrolyte abnormalities, both known to contribute to the development of acute arrhythmias, have been frequently reported in the acute phase of severe COVID-19 illness; therefore, the exact contribution of COVID-19 infection to the development of arrhythmias in asymptomatic, mildly ill, critically ill, and recovered patients is not known.
In 137 subjects from Hubei province, 10 patients (7.3%) noted palpitations as one of the initial symptoms.
In a study of 138 patients from Wuhan who were hospitalized with COVID-19-related pneumonia, arrhythmias were reported in 17% of the general cohort and in 44% of patients admitted to an intensive care unit.
To address this challenge and ensure the safety of patients, various societies and national authorities such as Heart Rhythm Society, the American College of Cardiology, and the American Heart Association have developed international guidelines to help patients, allied healthcare staff, industry representatives, and hospital administrators identify potential risks of exposure to patients and manage invasive & noninvasive electrophysiology procedures, clinic visits, and cardiac device interrogations during the COVID-19 pandemic. The important factors in the guidelines are as follows:
In hospitals, the number of individuals rounding should be minimized, and social distancing should be practiced. Many EP consults may be completed without a face-to-face visit. Non-urgent or non-emergent procedures should be postponed to a later date. Resource conservation, including personal protective equipment, is of utmost importance.
Urgent or emergent procedures should be performed based on a risk-benefit analysis.
For general anesthesia cases, elective intubation in the intensive care unit (ICU) or in a negative ventilation pressure room prior to entering the EP lab and same-day discharges after device implant should be considered to minimize the patient's risk of nosocomial infection. To minimize the transport of infected patients, direct current or chemical cardioversions can be performed at the bedside in the ICU. When feasible, patients with confirmed or suspected COVID-19 infection should be scheduled as the last case of the day and followed by extensive cleaning.
In-person clinic visits should be avoided, and instead, telehealth/virtual visits should be adopted to minimize unnecessary exposure. The majority of incision site inspections post-device implantation or catheter ablation can be managed via telehealth utilizing a video conference or a picture.
Remote device monitoring guidelines provide a Class I recommendation for routine use in patients. In-person device interrogation should be considered only in urgent or time-sensitive situations, such as a clinically actionable abnormality that requires programming changes, evaluation of symptoms suspicious for arrhythmia in patients not already enrolled in remote monitoring, and urgent or emergent magnetic resonance imaging scanning.
In the case of cardiopulmonary resuscitation, the number of personnel in the room should be minimized. All participants should wear personal protective equipment prior to entering the patient room. Early intubation and external mechanical compression devices should be considered.
Owing to the afore mentioned factors, caregivers and hospitals are expected to witness delays in elective surgeries and cardiac rhythm management & electrophysiology procedures. However, it is expected that the market will begin to gradually rise as expected from the late second half of 2020 owing to the increase in the number of electrophysiological procedures resulting from clearing backlog and new cases as well as fully re-opened healthcare services.
Thus, the electrophysiology market is expected to experience a short-term negative growth in this period, but with minimum or no change in the long-term fundamental drivers affecting the demand of the market, it could be estimated that the market will experience no significant change post the COVID-19 pandemic.
Electrophysiology Market Dynamics
Driver: Increasing incidence of target diseases and procedures
According to the WHO, CVD is the leading cause of death around the world. Major factors contributing to the rising prevalence of CVD and strokes include family history, ethnicity, and age. Other risk factors include tobacco consumption, high blood pressure (hypertension), high cholesterol, obesity, physical inactivity, diabetes, unhealthy diets, and the consumption of alcohol. Diseases such as hypertension, diabetes, dyslipidemia, and obesity are increasingly contributing to the rising incidence of CVD. According to the American Heart Association, by 2030, about 41.4% of the US adults will have hypertension (an increase of 8.4% from 2012). The organization also estimates that the global cost of CVD will reach USD 1,044 billion by 2030 from USD 863 billion in 2010. In 2016, ~17.9 million people died of CVD worldwide. It is estimated that, by 2030, this number will increase to 23.6 million (Source: WHO).
AF is the most common arrhythmia diagnosed in clinical practices, affecting over 886,000 new people each year in Europe. By 2030, the number of people with AF is expected to increase by up to 70% of the population; by 2050, Europe is expected to have the highest number of patients with AF (Source: 2018 Report on Burden of Atrial Fibrillation). In the US, AF affected between about 2.7 million to 6.1 million people in 2012; this is estimated to rise to 12.1 million by 2030 (Source: CDC). According to a study published in the Medical Journal of Australia in August 2015, the number of AF patients aged above 55 years in Australia was 328,562 in June 2014 and is estimated to reach over 600,000 cases by 2034. The rising incidence of these diseases will correspondingly drive the demand for EP procedures, which makes it a primary growth driver for the electrophysiology market. For instance, the global ablation procedure numbers are predicted to grow from 973,220 in 2017 to 1,455,000 per year by 2022; within this category, complex ablations (AF and VT) is expected to increase by 13.5% annually from 440,629 in 2017 to 830,390 in 2022 (Source: BioSig Technologies, Annual Report, 2019).
According to the American Heart Association (AHA), catheter-based ablation procedures boast a 90% success rate, have a low risk of complications, and allow patients to resume normal activities in a few days. Leading companies such as Biosense Webster, Medtronic, and Boston Scientific Corporation are increasingly investing in the development of new cardiac ablation devices to improve success rates and reduce complications during procedures.
The limited efficacy of anti-arrhythmic drugs for the treatment of arterial filtration is further driving the demand for catheter ablation. In May 2012, at the Heart Rhythm Society meeting held in Massachusetts (US), a study called Radiofrequency Ablation vs. Antiarrhythmic Drugs as First-Line Treatment of Paroxysmal Atrial Fibrillation (RAAFT 2) reported that ablation of AF, performed as a first-line strategy, was superior to rhythm-control drugs.
Restraint: High cost of electrophysiology products and inadequate reimbursement process
Currently, the electrophysiology market is extremely competitive in terms of pricing, owing to the competitive intensity among existing players. Most of these products are premium-priced, including cardiac 3D mapping systems and EP recording systems. The average list price of cardiac 3D mapping systems ranges from USD 250,000 to 800,000 (Source: APN Health). The cost of an EP recording system is USD 160,000 (Source: BioSig Technologies, Annual Report, 2019). Owing to the high capital, training, and maintenance costs, EP procedures are generally expensive. For instance, the average cost of a catheter ablation procedure ranges from USD 4,000–6,500. This, coupled with the unfavorable reimbursement scenario for these products in several countries, makes them unaffordable for a large section of the target patient population.
In August 2018, the Centers for Medicare & Medicaid Services (CMS) released the FY 2019 Final Inpatient Prospective Payment System (IPPS) Rule that reflected increased rates for ablation procedures done in conjunction with a comprehensive EP study. However, the increased reimbursement rates were below inflation rates and did not match the cost of technologies used for these procedures (Source: APN Health). Healthcare providers—particularly in developing countries such as India, Brazil, and Mexico—have low financial resources and cannot invest in such costly, sophisticated technologies. Trained staff is required for the efficient handling and maintenance of such devices, adding to the already high costs. This discourages hospitals from making substantial investments in technologically advanced electrophysiology systems, thereby further restraining the growth of the market.
The cost of building the EP laboratory has increased considerably over the years due to factors such as consolidation of healthcare providers, rising expenses owing to the use of complex medical procedures, changing government regulations, and constrained resources. This is limiting the uptake of these products even though the awareness of arrhythmia and the effectiveness of electrophysiology products to treat arrhythmia continues to increase in several countries.
Opportunity: Rising number of emerging markets
Emerging markets are expected to offer significant growth opportunities for players in the cardiac mapping systems market, mainly due to their increasing patient population, the rising adoption of cardiac mapping systems, the growing awareness of CVDs, rising disposable incomes, improving healthcare infrastructure, and comparatively lenient guidelines as compared to developed countries. The emerging countries have registered a sustained increase in the number of surgical procedures during the past decade, driven by the growing target patient population and the rising number of CVD-related deaths, along with rising medical tourism.
As of 2017, Brazil, Russia, India, China, and South Africa were among the fastest-growing economies in the world and are expected to account for one-third of the total global healthcare expenditure by 2022 (Source: World Economic Forum). According to the WHO, based on population aging and growth in China, the annual cardiovascular events are predicted to increase by 50% between 2010 and 2030. Globally, India has the second-highest number of diabetic patients at 69.2 million in 2015, which is expected to reach 190.7 million by 2030. In order to leverage the high growth opportunities for electrophysiology devices in emerging markets, manufacturers are strategically focusing on expanding their presence in developing countries. For instance, in May 2020, BIOTRONIK entered into an alliance with Acutus Medical (US) to provide a comprehensive portfolio of electrophysiology, mapping, and ablation & accessory products for the catheter-based treatment of cardiac arrhythmias across select markets, including Europe and Asia. In December 2019, MicroPort Scientific entered into an agreement with Shanghai General Hospital (China) to jointly build a Center for Research on Minimally Invasive Diagnostic and Therapeutic Technologies. In April 2019, Merit Medical Systems opened a new facility in Johannesburg, South Africa, while in May 2016, Medtronic opened its Asia Pacific headquarters in Singapore to support operations at 80 locations in the region.
During 2015–2016, the healthcare expenditure in China and India increased by 10% and 8.3%, respectively, while the US reported a 4.3% increase (Source: World Bank). With the increasing healthcare expenditure and target patient population base, the number of hospitals and surgical centers is expected to grow in emerging countries. India's healthcare sector has been growing rapidly and is estimated to reach USD 280 billion by 2020 at a CAGR of 17%, wherein hospitals will contribute around 71% of the revenue (Source: India Brand Equity Foundation). The number of private hospitals in China has also doubled from 16,900 hospitals during the period of 2011–2017. Private hospitals now account for 57.2% of Chinese hospitals.
Regulatory policies in the Asia Pacific region are more adaptive and business-friendly. Also, increasing competition in mature markets will further compel electrophysiology device manufacturers to focus on emerging markets in the coming years.
Challenge: Increasing rate of reusing and reprocessing of devices
As per the FDA and EU guidelines, ablation catheters are labeled as single-use devices (SUDs). However, the high per-unit cost of these devices and limited reimbursement has led to their reprocessing and reuse, mainly in hospitals with budget constraints. The cost incurred by a hospital/surgical center for reprocessing and reuse is less than 10% of the cost of a new ablation device, reducing the overall procedural cost by around 50%.
Owing to this, many market leaders are now promoting refurbished devices through various programs. In May 2019, Stryker's Sustainability Solutions segment, involved in reprocessing of electrophysiology (EP) catheters, EP cables, steerable introducer sheaths, and intracardiac echocardiography (ICE) catheters, sold its four-millionth reprocessed EP device. This equates to cost savings of more than USD 800 million for participating health systems. Stryker also offers educational programs that enable labs to maximize the value of SUDs and gain independence in their EP labs. Stryker's 3D Cardiac Mapping Education program helps EP labs capitalize on the use of reprocessed devices by training staff on how to operate navigational capital equipment without original equipment manufacturer (OEM) representative support, giving health systems more control over their supply chain decisions. CathRx Ltd (Australia) develops and manufactures low-cost, high-quality, modular electrophysiology Khelix re-processable catheters that can be re-used up to 20 times, making them 50% cheaper.
The increasing demand for refurbished devices poses a major challenge for market players, especially for small manufacturers. To strengthen their position in the market and create a strong user base for their electrophysiology products, market players either have to position their products at lower prices or have to develop better or more advanced technologies that can address the unmet needs in the market.
Electrophysiology Market Ecosystem: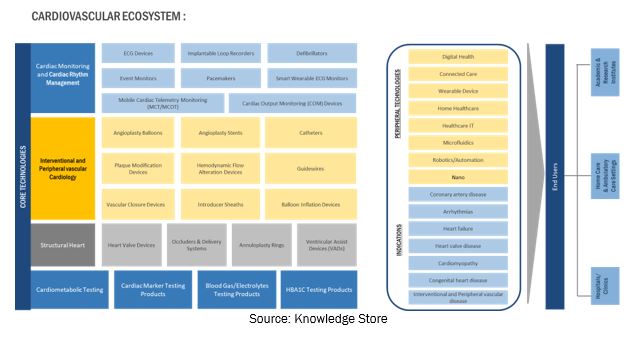 To know about the assumptions considered for the study, download the pdf brochure
The Electrophysiology Laboratory Devices segment accounted for the largest share of the global Electrophysiology market, by product type, in 2021
On the basis of product, the global electrophysiology market is broadly classified into EP diagnostic catheters, EP ablation catheters, EP laboratory devices, access devices, and other products.
The EP laboratory devices segment commanded the largest share of 57.0% of the electrophysiology market in 2021. This segment is estimated to grow at a CAGR of 10.6% during the forecast period. The large share of this segment can be attributed to the increasing focus of market players on the launch of technologically advanced 3D mapping systems, increasing public-private funding for the development of novel electrophysiology recording systems, the rising number of RF ablation procedures, the cost-effectiveness of RF ablation procedures as compared to other ablation techniques, and increasing availability of these products in major markets.
The Atrial Fibrillation segment, by indication type, accounted for the largest share of the global Electrophysiology market in 2021
On the basis of indication type, the electrophysiology market is segmented into atrial fibrillation, atrioventricular nodal reentry tachycardia (AVNRT), Wolff-Parkinson-White (WPW) syndrome, atrial flutter, and other indications.
Atrial fibrillation (AF), also known as AFib, is one of the most common types of arrhythmia, resulting in irregular and rapid heart rhythms. It occurs when rapid electric signals cause the upper chamber of the heart to contract quickly, due to which atria are unable to pump blood into the ventricles normally, resulting in blood clots. People suffering from atrial fibrillation are more prone to major heart-related complications, including strokes and heart failure. Nearly one in every six strokes is caused by AFib (Source: National Clot Alliance).
Atrial fibrillation accounted for a major share of 36.0% of the global electrophysiology market in 2021. This is mainly due to factors such as the increasing prevalence of atrial fibrillation, the growing number of ablation procedures related to atrial fibrillation, rapid growth in the aging population across the globe, and the development of advanced cardiac mapping systems for the early diagnosis of atrial fibrillation.
On the basis of End Users, hospitals & cardiac centers segment accounted for the largest share of the global Electrophysiology market, in 2021.
On the basis of the end user segment, the electrophysiology market is segmented into hospitals & cardiac centers and ambulatory surgery centers. The hospitals & cardiac centers segment holds the largest share of the market (92.53%) in 2021. The large share of this end user segment is attributed to several factors, such as the presence of big cath labs and electrophysiology labs in hospitals, a rising prevalence of CVDs, and an increased number of ablation procedures. The availability of state-of-the-art facilities for the diagnosis, treatment, and management of diseases, as well as trained personnel, has ensured demand for hospital-based care. More screening and diagnostic procedures are conducted in hospitals than in other medical facilities, contributing to the large share. The emergence of advanced electrophysiology products, coupled with the demand for minimally invasive procedures, is accelerating the adoption of electrophysiology devices in hospitals.
The hospital & cardiac centers segment includes both government & private hospitals and cardiac centers that provide treatment to patients with cardiac diseases. Almost all electrophysiology procedures are carried out in the electrophysiology (EP) laboratory or catheterization laboratory (cath lab) of hospitals or cardiac centers.
The number of cardiac centers providing treatment to patients with heart conditions is growing rapidly across the world. For instance, in June 2016, Health Sciences North (Canada) and a team of cardiologists in Greater Sudbury (Canada) joined forces to launch a new one-stop center for cardiac care. In October 2016, US-based Kare Partners Group launched a specialized heart care center in Chandigarh, India. Such launches are expected to drive the demand for electrophysiology devices.
Technological advancements and rising government funding are resulting in the installation of new tools and devices in hospitals. They have also led to the establishment of an increasing number of critical care and electrophysiology units. It is estimated that there are about 3,425 EP rooms in the US and 3,915 EP rooms outside the US (Source: Biosig Technologies, Annual Report 2019). However, the limited purchasing power of smaller hospitals and the dearth of skilled electrophysiologists to perform EP procedures in emerging markets are expected to limit the growth of the electrophysiology market in this end user segment during the forecast period.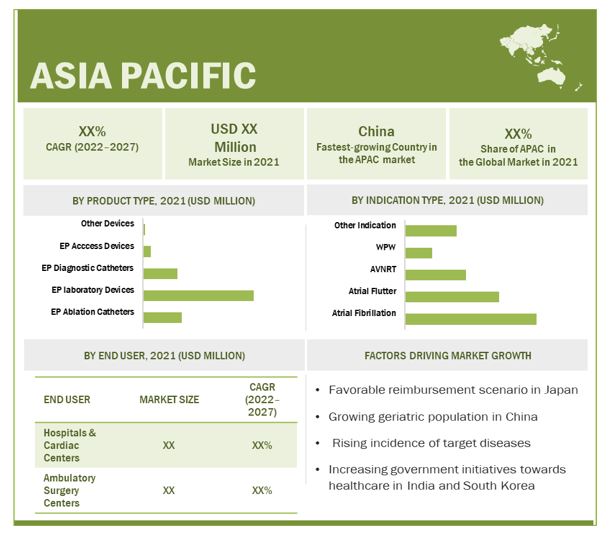 The Asia Pacific market is expected to grow at the highest CAGR during the forecast period
On the basis of region, the Electrophysiology market is segmented into North America, Europe, Asia Pacific, Latin America, and the Middle East & Africa. The Asia Pacific region is expected to register the highest growth during the forecast period. The Asia Pacific is segmented into China, India, Japan, South Korea, Australia, and the Rest of Asia Pacific, including Malaysia, Taiwan, Singapore, and New Zealand.
China and India are expected to account for the highest growth rate. Changing lifestyles and eating habits, increasing stress, and rising habitual smoking & drinking in these countries have resulted in growing health-related problems such as obesity, heart disease, and other chronic diseases. Factors such as large population, increasing geriatric population, the growing incidence of chronic diseases, rising healthcare spending, healthcare reforms for infrastructural development, increasing demand for advanced technologies, the growing emphasis of prominent players on emerging markets, and less stringent regulations are also fueling the demand for electrophysiology devices in this region.
However, the high cost of advanced products, inadequate infrastructural capabilities to comply with the latest cardiac resynchronization technologies, and a lack of awareness about health-related issues are expected to hamper the growth of this market. Many end users in this regional segment have controlled budgets and opt for low-cost products, which is another major factor limiting the market growth.
Key Market Players
Prominent players in the Electrophysiology market include Abbott (US), Medtronic (Ireland), Boston Scientific Corporation (US), Koninklijke Philips N.V. (Netherlands), GE Healthcare (US), Siemens Healthcare GmbH (Germany), Stereotaxis, Inc. (US), Merit Medical Systems (US), Atricure Inc. (US), APN Health, LLC (US), Osypka Medical (Germany), Japan LifeLine Co., Ltd. (Japan), Johnson & Johnson (US), Biotronik (Germany), MicroPort Scientific Corporation (China), and Acutus Medical, Inc. (US).
Abbott:
The electrophysiology product segment is one of the major revenue-generating segments under the Medical Devices unit of the company. The company aims to strengthen its R&D, manufacturing, quality, and regulatory assurance functions. It also invests heavily in the Medical Devices business segment to increase its overall growth potential and profitability. Sales in the electrophysiology product segment reported to be USD 1,578 million in 2020 as compared to USD 1,721 million in 2019; this drop in revenue is because of the COVID – 19 pandemic as it disturbed the distribution channel and also restricted the movement of patients to the hospitals.
Abbott's Advantage Over Other Companies: Abbott's principal competitors in the electrophysiology market are Biosense Webster, Medtronic, Boston Scientific, and MicroPort Scientific Corporation. The company offers an advanced EnSite Precision cardiac mapping system, along with sensor-enabled catheters compatible with the mapping system. The company's key advantage over its competition is that it leverages its industry scale in high-growth and emerging markets, such as China, Japan, and India.
Get online access to the report on the World's First Market Intelligence Cloud

Easy to Download Historical Data & Forecast Numbers
Company Analysis Dashboard for high growth potential opportunities
Research Analyst Access for customization & queries
Competitor Analysis with Interactive dashboard
Latest News, Updates & Trend analysis

Request Sample

Click on image to enlarge

Scope of the Report
Report Metric

Details

Market size available for years

2019–2027

Base year considered

2021

Forecast period

2022–2027

Forecast units

Value (USD Billion)

Segments covered

Product Type, Indication type, End User, and Region

Geographies covered

North America, Europe, Asia Pacific, Latin America, and the Middle East & Africa

Companies covered

Prominent players in the electrophysiology market include Abbott (US), Medtronic (Ireland), Boston Scientific Corporation (US), Koninklijke Philips N.V. (Netherlands), GE Healthcare (US), Siemens Healthcare GmbH (Germany), Stereotaxis, Inc. (US), Merit Medical Systems (US), Atricure Inc. (US), APN Health, LLC (US), Osypka Medical (Germany), Japan LifeLine Co., Ltd. (Japan), Johnson & Johnson (US), Biotronik (Germany), MicroPort Scientific Corporation (China), and Acutus Medical, Inc. (US).
Other players in the market include Lepu Medical Technology (Beijing) Co., Ltd. (China), CathRx Ltd. (Australia), Cook Medical (US), CathVision ApS (Denmark), TZ Medical (US), Teleflex Incorporated (US), Imricor (US), CardioFocus (US), Schwarzer Cardiotek GmbH (Germany), Kardium (Canada), EP Solutions SA (Switzerland), BioSig Technologies Inc. (BSGM) (US), Coremap (US), and EPMap System GmbH (Germany).
In this report, the electrophysiology market is segmented based on product type, indication type, end user and region.
Global Electrophysiology market, by Type
Electrophysiology Ablation Catheters

Cryoablation Electrophysiology Catheters
Radiofrequency (RF) Ablation Catheters
Microwave Ablation (MWA) Catheters
Laser Ablation catheters

Electrophysiology Laboratory Devices

3D Mapping Systems
Electrophysiology Recording Systems
Radiofrequency (RF) Ablation Systems
Intracardiac Echocardiography (ICE) Ultrasound Imaging Systems
Electrophysiology X-Ray Systems
Electrophysiology Remote Magnetic and Robotic Navigation Systems

Electrophysiology Diagnostic Catheters

Conventional Electrophysiology Diagnostic Catheters
Advanced Electrophysiology Diagnostic Catheters
Ultrasound Electrophysiology Diagnostic Catheters

Electrophysiology Access Devices
Other Devices
Global Electrophysiology, by Indication type
Atrial Fibrillation
Atrial Flutter
Atrioventricular Nodal Reentry Tachycardia (AVNRT)
Wolff-Parkinson-White Syndrome (WPW)
Other Indications
Global Electrophysiology market, by End Users
Hospitals and Cardiac centres
Ambulatory Surgery Centers
Global Electrophysiology market, by Region
North America
Europe

Germany
France
UK
Italy
Spain
Rest of Europe (RoE)

Asia Pacific

Japan
China
India
Australia
South Korea
RoAPAC

Latin America
Middle East & Africa
Recent Developments
2022, Abbott has received the U.S. Food and Drug Administration for its EnSite X EP System with EnSite Omnipolar Technology (OT). It is a new cardiac mapping platform available in the US and across Europe that is designed to help physicians better treat abnormal heart rhythms. The system creates highly detailed three-dimensional maps of the heart to help physicians identify and then treat areas of the heart where abnormal rhythms originate.
In October 2021, Boston Scientific Corporation has entered into a definitive agreement to acquire Baylis Medical Company Inc. for $1.75 billion. The acquisition will help Boston Scientific
In January to expand its electrophysiology and structural heart product portfolios with the radiofrequency (RF) NRG and VersaCross Transseptal Platforms as well as guidewires, sheaths, and dilators used to access the left heart.
In December 2020, Acutus has announced the launch of their AcQBlate Force Sensing Ablation System in Europe after getting the CE Mark. The AcQBlate Force Sensing Ablation System, designed with commercially available gold-tipped, irrigated, force-sensing radiofrequency ablation catheter, it is used for electrophysiology mapping and RF ablation.
Frequently Asked Questions (FAQ):
What is the expected addressable market value of global Electrophysiology market over a 5-year period?
The global Electrophysiology market is expected to reach USD 11.6 billion by 2027 from an estimated USD 6.8 billion in 2021, at a CAGR of 9.4% from 2022 to 2027.
Which segment based on product type is expected to garner the highest traction within the Electrophysiology market?
Based on product type, the Electrophysiology market is segmented into EP diagnostic catheters, EP ablation catheters, EP laboratory devices, access devices, and other products. The EP laboratory devices segment commanded the largest share of 57.0% of the electrophysiology market in 2021.
What are the strategies adopted by the top market players to penetrate emerging regions?
The key growth strategies adopted by the top players in this market include product launches and approvals; agreements and partnerships; and acquisitions.
What are the major factors expected to limit the growth of the Electrophysiology market?
Electrophysiology products and systems are priced at a premium, which slows their greater adoption. Other factors such as declining reimbursements, lack of infrastructure, particularly in developing and underdeveloped countries are also expected to hinder the growth of this market.
What is the adoption pattern for Electrophysiology across major healthcare markets?
North America dominated the Electrophysiology market with the largest market share in 2021. Growth in the North American market is primarily driven by the increasing geriatric population, high incidence/prevalence of various diseases, large number of cardiac centers and hospitals, and the rapid adoption of technologically advanced systems in this region. .
To speak to our analyst for a discussion on the above findings, click Speak to Analyst