[146 Pages Report] The global IIoT platform market size was USD 2.57 billion in 2017 and is projected to reach USD 13.82 billion by 2023, growing at a Compound Annual Growth Rate (CAGR) of 33.4% during the forecast period. The base year for this study is 2017, and the forecast period is 2018–2023.
Objectives of the Study:
The key objective of the report is to define, describe, and forecast the IIoT platform market size by platform type, application area, vertical (process industry and discrete industry), and regions. The report provides detailed information on the major factors (drivers, restraints, opportunities, and challenges) influencing the growth of the market. It forecasts the market size with respect to 5 major regions, namely, North America, Europe, Asia Pacific (APAC), Middle East and Africa (MEA), and Latin America. It strategically profiles the key market players and comprehensively analyzes their core competencies. The report also tracks and analyzes competitive developments, such as partnerships, agreements, and collaborations; mergers and acquisitions; and new product developments, in the global IIoT market.
The research methodology used to estimate and forecast the IIoT platform market size begins with the collection and analysis of the data on key vendor revenues through secondary sources such as annual reports and press releases; investor presentations of companies; conferences and associations [Internet of Manufacturing Business Conference, Industry of Things World Conference, Connected Industry: IoT Tech Expo, National Association of Manufacturers (NAM), IoT M2M Council (IMC)]; technology journals and certified publications; and articles by recognized authors, directories, and databases. The vendor offerings have also been taken into consideration to determine the market segmentations. The bottom-up procedure is employed to arrive at the overall size of the IIoT market from the revenue of key players and their market share.
The IIoT platform market expenditure across all regions, along with the geographic split in various segments, has been considered to arrive at the overall market size. After arriving at the overall market size, the total market is split into several segments and subsegments, which are then verified through primary research by conducting extensive interviews with key people such as Chief Executive Officers (CEOs), Vice Presidents (VPs), directors, and executives. The data triangulation and market breakdown procedures are employed to complete the overall market engineering process and arrive at the exact statistics for all segments and subsegments.
The figure below depicts the break-up of profiles of primary participants: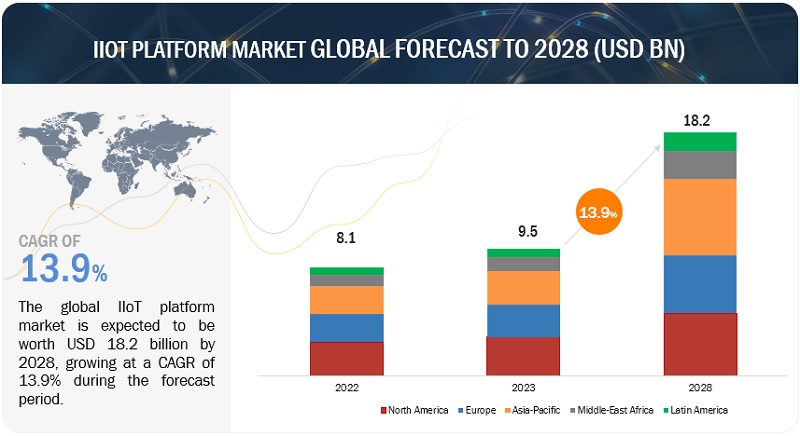 To know about the assumptions considered for the study, download the pdf brochure
The IIoT market consists of vendors providing solutions and services including predictive maintenance, business process optimization, asset tracking and management, and emergency and incident management to commercial clients across the globe.
Major players in the IIoT market include PTC (US), SAP (Germany), IBM (US), Hitachi (Japan), Accenture (US), Atos (France), Altizon (US), Flutura (US), and Oracle (US). These leading companies have adopted new product launches and partnerships, agreements, and collaborations as the key growth strategies to improve their services and provide better solutions and associated services to expand their market reach.
Key Target Audience for IIoT Platform Market
Machine-to-Machine (M2M) providers
IIoT platform providers
Technology providers
Public policymakers
IIoT infrastructure providers
Regulatory agencies
Governments
The study answers several questions for stakeholders, primarily, which market segments to focus on in the next 2 to 5 years to help them prioritize efforts and investments.
Scope of the IIoT Platform Market Report
The research report segments the market into the following sub-markets:
Market By Platform Type:
Device management platform
Application management platform
Connectivity management platform
Market By Application Area:
Predictive maintenance
Business process optimization
Asset tracking and management
Logistics and supply chain management
Real-time workforce tracking and management
Automation control and management
Emergency & incident management and business communication
By Vertical:
Process industry
Discrete Industry
By Process Industry:
Energy and utilities
Chemicals and materials
Food and beverages
Water and waste management
Others (pharmaceuticals, mining and metals, pulp and paper)
By Discrete Industry:
Automotive
Machine manufacturing
Semiconductors and electronics
Medical devices
Logistics and transportation
By Region:
North America
Europe
APAC
MEA
Latin America
Available Customizations on IIoT Platform Market Report
With the given market data, MarketsandMarkets offers customizations as per the company's specific needs. The following customization options are available for the report:
Geographic Analysis
Further breakdown of the North American market into the US and Canada
Further breakdown of the European market into the UK, Germany, and France
Company Information
Detailed analysis and profiling of additional market players
MarketsandMarkets estimates the global IIoT platform market size to grow from USD 3.27 billion in 2018 to USD 13.82 billion by 2023, at a Compound Annual Growth Rate (CAGR) of 33.4% during the forecast period. Major growth factors for the market include the need for predictive and proactive maintenance and centralized monitoring. Additionally, integrating IT and OT, and the rising adoption of next-generation technologies are expected to drive the growth of the market. There are immense new opportunities, such as the growing need for more Industry 4.0 solutions, for IIoT platform, vendors. Organizations are shifting toward outcome and pull economies, which is expected to shape the future of the market. The global IIoT platform market is segmented by platform type, application area, vertical, and region.
In the IIoT platform market, the device management platform is expected to account for the largest share. With the deployment of IoT ecosystems, a large number of devices, ranging from small sensors and single-purpose microcontrollers are being connected to powerful gateways that connect the devices from the server. These ecosystems need a single platform that manages the information and applications across various devices. The device management platform provides capabilities such as provisioning and authentication, configuration and control, monitoring and diagnostics, and software updates and maintenance. It is instrumental in offering advanced features such as activation certification, configuration, device monitoring, troubleshooting, and service and device enablement. Device management platforms assist manufacturing enterprises in effectively managing and tracking and securing devices used in an organization. With the help of these platforms, manufacturers can proactively and remotely monitor and configure their smart devices and other hardware solutions as soon as their devices and processes are connected.
The business process optimization application area is expected to witness high growth. Business process optimization offers mechanisms to monitor, manage, and communicate with the manufacturing process within an organization. Workflow optimization is an ideal opportunity to examine whether the current internal controls embedded in business processes are being handled at their best. With IIoT platforms, all devices, activities, and processes are interconnected, providing insights on the same. These platforms help optimize business processes by analyzing and streamlining various processes.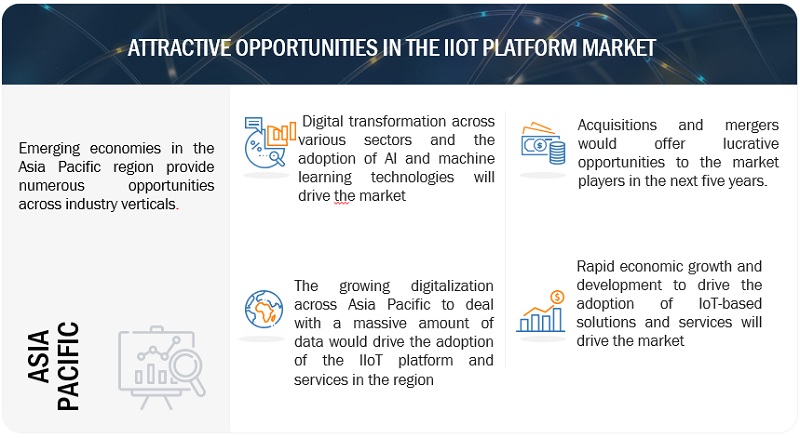 North America is the largest contributor to the IIoT platform market, among all other regions. The North American market mainly comprises the US and Canada and is expected to hold the largest share of the global IIoT platform market. These countries have sustainable and well-established economies, which empower them to strongly invest in R&D activities, thereby contributing to the development of new technologies. Owing to the early adoption of trending technologies such as IoT, big data, cloud, and mobility, manufacturers are keen to integrate IoT technologies into their processes. The startup culture in North America is growing at a higher pace as compared to the other regions. The growth of Small and Medium-sized Enterprises (SMEs) and increasing digitization in manufacturing by large organizations have also aided the growth of the North American market. SMEs are flexible in incorporating new technologies into their existing systems, whereas large manufacturers have significant budgets for digitization.
The countries in APAC are taking aggressive initiatives to upsurge the IoT infrastructure, enabling industrial users to adopt the cutting-edge technology. For Instance, the Chinese Government is working toward implementing the "Made in China 2025" strategy, to seek innovation-driven development, apply smart technologies, strengthen foundations, pursue green development, and redouble its efforts to upgrade China from a manufacturer of quantity to that of quality. In 2016, the Australian government launched its Research and Development (R&D) IoT Innovation Centre in Melbourne to provide the benefits of IIoT platform technologies to various process and discrete industries.
Implementation challenges and security concerns are the major restraining factors for the growth of the IIoT platform market. However, recent developments, such as new product launches and acquisitions, undertaken by major players are expected to boost the market growth.
This study measures and evaluates the major offerings and key strategies of the key market vendors such as PTC (US), SAP (Germany), IBM (US), Hitachi (Japan), Accenture (US), Atos (France), Altizon (US), Flutura (US), and Oracle (US). These major companies have been offering reliable IIoT platforms to commercial clients across diverse locations.
To speak to our analyst for a discussion on the above findings, click Speak to Analyst