[248 Pages Report] MarketsandMarkets projects the Location-Based Services (LBS) and Real-Time Location Systems (RTLS) market to grow from USD 17.8 billion in 2020 to USD 39.2 billion by 2025, at a Compound Annual Growth Rate (CAGR) of 17.1% during the forecast period. Major factors expected to drive the growth of the LBS and RTLS market include various applications of geospatial data; growing demand for LBS and RTLS for industry applications; proliferation of social media, smartphones, and location-based apps among consumers; and growing demand for geomarketing.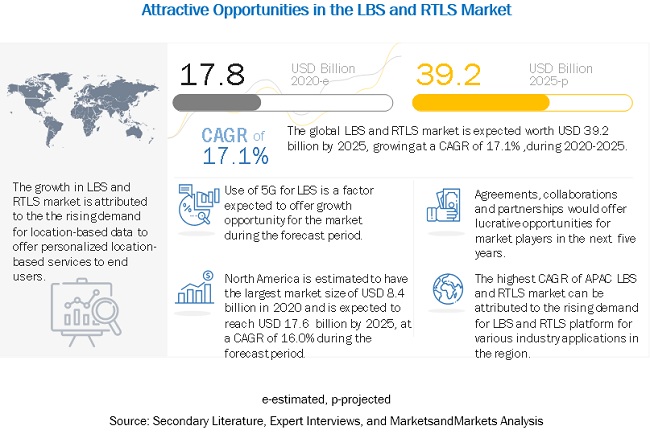 COVID-19 impact on global LBS and RTLS market:
The outbreak of the COVID-19 has medium impact on the growth of the global LBS and RTLS market. The COVID-19 pandemic has majorly impacted transportation and logistics, manufacturing, and tourism and hospitality. The retail, education, and government vertical is slightly impacted. The strict lockdown regulations and shut down in import-export activities by various countries has affected the growth of transportation and logistics, manufacturing,and retail verticals during the pandemic. On contrary, verticals such as healthcare and life sciences, energy, and utilities, are significantly adopting LBS and RTLS platform and services. With rising number of COVID-19 patients, the demand for technologically enhanced medical solutions has significantly increased in the pandemic. Along with connected wearables, robots are being used to alleviate the stress on healthcare workers and assist in treatment of patients; drones are being used to deliver medical samples and supplies to and from COVID-19 hotspots; connected thermometers are being used by hospitals (and at other public locations) to screen patients and staff.
LBS and RTLS Market Dynamics:
Driver: Various applications of geospatial data driving the LBS and RTLS market growth
Generally, spatial data represents the location, size and shape of an object present on Earth, such as a building, lake, mountain, or township. It is considered that spatial data and analysis is highly essential for companies to understand the changing business trends and challenges across regions, which significantly drives market growth. The processing time in decision-making is often long, leading to flawed assumptions, which limits the applicability of information. The increasing awareness among business executives about the benefits of LBS and RTLS analytics has further bolstered the growth of the market. LBS and RTLS solutions assist business executives in processing vast volumes of spatial data and gathering real-time insights into various business functionalities, which, in turn, helps companies in quickly tackling the changing business conditions. For example, in the retail industry, spatial data enables retailers to uncover relationships between stores, products, and customer types—across a range of different parameters or metrics—that affects sales performance.
Restraint: Stringent government rules and regulations
Stringent rules and regulations happen to be one of the biggest challenges to the growth of the LBS and RTLS market. Government rules and regulations are restricting the data collection process, location sharing, use of location-based information, and storage of information. Any country's regulations place a country's security on priority and limit the use of location-based information. The European Union (EU) GDPR is the first unified attempt by the EU that focuses on safeguarding the Personally Identifiable Information (PII) of citizens. The GDPR compliance solutions are used extensively in Europe and North America as compared to other regions, where the adoption rate of GDPR compliance solutions and services is slow. GDPR provides companies with an opportunity to build customer trust in their business, which could improve sales and business performance. It would contribute to raising business standards, becoming central to how a business operates and resonating with brand values.
Opportunity: BLE and UWB for indoor proximity services
Currently, BLE and UWB are used for indoor proximity services as they have high accuracy and high battery life. BLE is presently used in applications where short time (3–6 seconds) delay can be tolerated. Generally, BLE tags are easy to install, low-cost, offer moderate precision (around 8 meters), and are extremely portable. These are also compatible with smartphones and has range of approximately 75 meters with the battery life of 3–5 years. These can be used in indoor operations that do not require extreme precision. On the other hand, UWB is more accurate (up to 30 centimeters) compared to BLE and is used in indoor operations that need extreme precision. However, UWB can track only a small number of assets. UWB has high accuracy, even with interference, and low latency (measurements can be made up to 100 times per second). Its infrastructure is expensive and requires additional government certifications to be implemented. With the range up to 150 meters, its battery can last up to 2 weeks and is rechargeable.
Challenge: Privacy and security concerns
Misuse of location data intentionally or unintentionally can lead to serious legal consequences for both organizations and customers. Though LBS and RTLS applications have the benefit of offering location-specific information to users, it still comes at the cost of the user's privacy. As and when the user accesses LBS, they also reveal location details and personal information, such as where they live and details about their lifestyle whether visiting a hospital, restaurant, or going on vacation for a long time. When the user position is publicized, it raises the possibility for misuse of the user's location. Thieves and stalkers can take advantage of tracked information from user movements. The risk of identity theft grows whenever entities begin to collect data profiles, especially if the information is not maintained securely. The ubiquity of the location data increases the risk of stalking and domestic violence, as criminals can use LBS and RTLS to track location information about their victims. The increasing availability of location information offers innovative applications and services to users, and such easy availability of location-based information leads to different kinds of privacy concerns.
By services, application support and maintenance services segment to grow at the highest CAGR during the forecast period
Among services, the application support and maintenance segment is expected to witness the highest growth during the forecast period. Application-specific support and maintenance services are offered after the installation of the LBS and RTLS solution in an organization. These services include assistance provided during installation and maintenance activities for data and software/solutions maintenance. The services can be offered from remote places, via web conferencing, telephones, and ticketing systems or via onsite assistance. An end user may require the help of an LBS and RTLS vendor for further customization or improvement in the system, for which the vendor provides services for a predetermined duration.
By location type, outdoor segment to hold a larger market size during the forecast period, compared to indoor segment
Outdoor positioning locates data, assets, or people in an open area using Global Positioning System (GPS), satellites, Infrared radiation (IR)-based remote sensing, and other positioning technologies with style mapping, which provide navigation services. It is used to trace long-distance objects or people from any location. The major outdoor positioning technologies include Global Navigation Satellite System (GNSS), cellular networks, and wireless networks. The most popular GNSS deployed on mobile devices is the GPS. Many positioning techniques and methods have been developed based on high-accuracy GPS chips, differential GPS, and assisted-GPS. Major applications of outdoor LBS include geo-marketing and advertising, asset tracking, personal tracking, customer location tracking, fleet tracking, freight management, route optimization and planning, mapping discovery and infotainment, geographic event alerts, and defense management.
By application, tracking and navigation segment to lead the market during the forecast period
Tracking and Navigation applications of LBS and RTLS are used for driver assistance, passenger information, and vehicle management. Car navigation systems are probably the most popular LBS applications, which provide wayfinding assistance for drivers, and are still being improved with new features, such as real-time traffic information. For instance, Waze, a GPS navigation software app (owned by Google) crowdsources traffic and road information to provide drivers with a real-time navigation support. LBS and tracking techniques have now been extensively used for vehicle management and logistic tracking. In recent years, applications beyond car navigation and vehicle management have been emerging. The demand for ride sharing has also increased significantly over the past few years. The developments in autonomous cars technology is expected to create significant opportunity for tracking and navigation service providers.
By vertical, healthcare and life sciences to grow at the highest CAGR during the forecast period
Healthcare operations are unique with constant movement of people and healthcare resources, as a part of the workflow. Several hospitals across the world incur large expenses in looking for lost or missing equipment or buy 15%–20% extra equipment for efficient workflow. Better asset management practices provide equipment retrieval, in turn, contributing to significant savings. Various departments in large hospitals, such as clinical engineering and biomedical and materials management assist in initiating the investments in LBS and RTLS platforms. The major benefit in deploying Wi-Fi-based RTLS exists in the utilization of on-going Wi-Fi, without the need for a new installation. The most common use for RTLS in hospitals could be categorized into asset (equipment) tracking, patient and staff tracking, and temperature and humidity monitoring. The benefits provided for these categories include a decrease in cost savings by reduction in loss, theft, or misplaced equipment, and improved allocation of staff. Each department has specific requirements and RTLS is able to address and provide such specific benefits, equally in terms of efficiency and effectiveness. Moreover, growing demand for smart healthcare equipment and wearable devices has spurred the adoption of LBS and RTLS solutions in the healthcare and life sciences vertical.
North America to account for the largest market size during the forecast period.
North America is expected to hold the largest market size during the forecast period. The market growth in North America is attributed to continuous technological advancements in this field, increasing industry standards of LBS and RTLS, and enhanced financial support from the government. The US has emerged as the largest market for LBS and RTLS owing to the large-scale implementation of LBS and RTLS by organizations and enterprises in the country. The high pace of development of infrastructure in the US, along with the high growth of Internet of Things (IoT), Artificial Intelligence (AI), and cloud computing, can be attributed to the fast growth of the LBS and RTLS market in the US.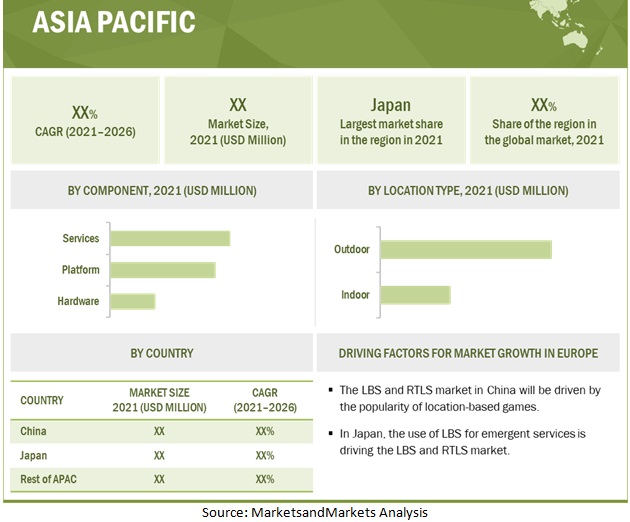 Key Market Players
Key and emerging market players include Aruba Networks (US), Cisco (US), Google (US), Esri (US), IBM (US), Microsoft (US), Oracle (US), TomTom (Netherlands), Teldio (Canda), HERE (Netherlands), Ericsson (Sweden), Foursquare (US), Navigine (US), AiRISTA Flow (US), Quuppa (Finland), Ubisense (UK), Apple (US), Qualcomm (US), STANLEY Healthcare (US), GE Healthcare (US), CenTrak (US), Spime (US), KDDI (Japan), NTT Docomo (Japan), Zebra Technologies (US), and Leantegra (US). These players have adopted various strategies to grow in the LBS and RTLS market. The companies are focused on inorganic and organic growth strategies to strengthen their market position.
Get online access to the report on the World's First Market Intelligence Cloud

Easy to Download Historical Data & Forecast Numbers
Company Analysis Dashboard for high growth potential opportunities
Research Analyst Access for customization & queries
Competitor Analysis with Interactive dashboard
Latest News, Updates & Trend analysis

Request Sample

Click on image to enlarge

Scope of the Report
| | |
| --- | --- |
| Report Metric | Details |
| Market size available for years | 2015–2025 |
| Base year considered | 2019 |
| Forecast period | 2021-2025 |
| Forecast units | Billion (USD) |
| Segments covered | Component, Location Type, Application, Vertical, and Region |
| Geographies covered | North America, Europe, APAC, and RoW |
| Companies covered | Aruba Networks (US), Cisco (US), Google (US), Esri (US), IBM (US), Microsoft (US), Oracle (US), TomTom (Netherlands), Teldio (Canada), HERE (Netherlands), Ericsson (Sweden), Foursquare (US), Navigine (US), AiRISTA Flow (US), Quuppa (Finland), Ubisense (UK), Apple (US), Qualcomm (US), STANLEY Healthcare (US), GE Healthcare (US), CenTrak (US), Spime (US), KDDI (Japan), NTT Docomo (Japan), Zebra Technologies (US), and Leantegra (US). |
Get online access to the report on the World's First Market Intelligence Cloud

Easy to Download Historical Data & Forecast Numbers
Company Analysis Dashboard for high growth potential opportunities
Research Analyst Access for customization & queries
Competitor Analysis with Interactive dashboard
Latest News, Updates & Trend analysis

Request Sample

Click on image to enlarge

Scope of the Report
The research report categorizes the LBS and RTLS market to forecast the revenues and analyze trends in each of the following subsegments:
By Component
Platform
Hardware
Services

Deployment and Integration
Application Support and Maintenance
Consulting and Training
By Location Type
By Application
Tracking and Navigation
Marketing and Advertising
Location-based Social Networks
Location-based Health Monitoring
Others (location-based gaming and emergency support)
By Vertical
Transportation and Logistics
Retail
Government
Tourism and Hospitality
Manufacturing
Healthcare and Life Sciences
Media and Entertainment
Others (Energy and Utilities, Banking, Financial Services and Insurance [BFSI], Telecom, and Education)
By Region
North America
Europe

UK
Germany
Rest of Europe

APAC
RoW

Middle East
Africa
Latin America
Recent Developments
In April 2020, Google launched community mobility reports in efforts to track the spread of COVID-19. Reports provided by Google help in determining movement trends over time by geography, across categories of places, such as retail and recreation, groceries and pharmacies, parks, transit stations, workplaces, and residential. This data can help public health officials to make key decisions during the COVID-19 lockdown.
In April 2020, TomTom collaborated with Verizon to enhance Verizon's current suite of location-based data, navigation, and intelligence. TomTom announced that Verizon will integrate TomTom's Maps APIs and SDKs into its location services offering. This collaboration will help developer community to build upon and integrate the platform.
In February 2020, Cisco featured Multiscreen-as-a-Service (MaaS) Location Based Services (LBS) app published by Phunware, Inc. in its Meraki Marketplace. The Meraki Marketplace provides customers with access to applications developed on top of Meraki platform. Phunware's MaaS LBS software offer multiple features, such as Indoor Routing and Navigation, Off-Route Notifications, and Location Sharing.
In October 2019, Qualcomm collaborated with the Indian Space Research Organization (ISRO) to enhance the geolocation capabilities of mobile, automotive, and IoT solutions in the region.
In February 2019, Microsoft partnered with TomTom to incorporate LBS in Azure solutions via TomTom's maps, traffic, and navigation software.
In March 2018, Ericsson announced the product expansion of its 4G network by the Saudi Telecom Company (STC) in Saudi Arabia, which includes the deployment of LTE Advanced and Narrow Band-Internet of Things (NB-IoT) in Radio Access Network (RAN).
Frequently Asked Questions (FAQ):
LBS can be defined as an information service provided by a device that delivers the location as and when required, and updates related information accordingly. RTLS are local positioning and tracking systems used for locating and identifying objects/people/targets automatically in real time, usually for indoor applications, within a building or other contained area. RTLS tags/badges/sensors, attached to objects or worn by people, communicate wirelessly with fixed receivers/readers/trackers/exciters/reference points/access points installed in the vicinity.
Which verticals have adopted LBS and RTLS?
LBS and RTLS are used in multiple verticals for various applications, such as mapping, discovery and infotainment, Business Intelligence (BI) and analytics, emergency support and disaster management, leisure and social networking, location-based advertising, location-based games and augmented reality, and tracking. Some of the major verticals that have adopted LBS and RTLS include transportation and logistics, retail, manufacturing, tourism and hospitality, and media and entertainment.
Which are the top industry players in the LBS and RTLS market?
Google, Apple, Esri, TomTom, HERE, Ericsson, Foursquare, and Qualcomm are some of the top industry players offering LBS and RTLS software and services.
What are the top trends in LBS and RTLS market?
Trends that are impacting the LBS and RTLS market includes:
Various applications of geospatial data
Proliferation of social media, smartphones, and location-based apps among consumers
Growing demand for geomarketing
Opportunities for the LBS and RTLS market:
BLE and UWB for indoor proximity services
Use of 5G for LBS
Opportunities and applications in Industry 4.0
To speak to our analyst for a discussion on the above findings, click Speak to Analyst