[163 Pages Report] The market size for plastic additives was USD 38.31 billion in 2015 and is projected to reach USD 50.86 billion by 2021, registering a CAGR of 4.9% between 2016 and 2021. Plastic additives are ingredients that are added in polymers to improve their strength, durability, and heat sensitivity. The day-to-day activity of an individual involves plastic goods that are made from polymer mixed with a complex blend of materials known as additives. Plastic additives are added to enhance process-ability, performance, or appearance of the polymer. Plastic additives have found widespread applications in construction, packaging, automotive, consumer goods, and other applications such as pharmaceutical, furniture, sports, and agriculture. The demand for plastic additives is estimated to grow on account of the increasing consumption of plastic and rising disposable income of consumers. In this report, 2015 is considered as the base year and forecast period is between 2016 and 2021.
Market Dynamics
Drivers
Replacement of conventional materials by plastics in several applications
Increasing disposable income and rapid urbanization
Rising demand from Asia-Pacific region
Restraints
Stringent governmental regulations govcerning the plastics additives market
Opportunities
Untappped opportunities in emerging markets for packaging
Increasing demand from agricultural and pharmaceutical applications
Challenges
Uncertain low phthalate plasticizer demand in Asia-Pacific region
Recycling of non-degradable plastics waste
Replacement of conventional materials by plastics in several applications
Plastic additives have a large number of applications such as packaging, construction, automotive, consumer goods, textile, agriculture, and medical, among others. Growth in market size of plastic additives is anticipated to be partly driven by a turnaround in these key market segments and the increasing need for additives in polymers for applications in these segments.
Plastics, especially engineering plastics, possess superior mechanical and electrical properties, superior abrasion resistance, superior chemical resistance, and other properties compared to conventional materials such as metals, glass, paper, and ceramic. Continuous innovation and need for lighter material in several applications is encouraging the replacement of these conventional materials by plastic in several applications.
In the automotive sector, plastics have contributed to a multitude of innovations regarding safety, performance, and fuel efficiency. Seat belts made from durable strands of polyester fiber have apparently helped save many lives in car accidents. In addition, airbags made from high-strength nylon fabric can reduce the risk of fatal injury in a direct, frontal car crash. Child safety seats made through numerous advancements in polymer science help protect our kids at every turn. Traditionally papers and leaves were used in food packaging. With the advent of plastic materials, the preference of consumers started shifting towards plastic packaging due to ease and convenience provided by plastics over traditional packaging methods.
The objectives of this study are:
To analyze and forecast the market size of plastic additives, in terms of value and volume
To define, describe, and segment the global plastic additives market by type, plastic, and application
To forecast the sizes of the market segments based on regions—Asia-Pacific, Europe, North America, the Middle East & Africa, and South America
To provide detailed information regarding the important factors (drivers, restraints, opportunities, and challenges) influencing the growth of the market
To strategically analyze the segmented markets with respect to individual growth trends, prospects, and contribution to the overall market
To identify and analyze opportunities for stakeholders in the market
To analyze competitive developments such as new product developments, mergers & acquisitions, agreements, and expansions in the global plastic additives market
To strategically profile key players and comprehensively analyze their core competencies
Research Methodology:
This research study involves the extensive use of secondary sources, directories, and databases (such as Hoovers, Bloomberg BusinessWeek, and Factiva) to identify and collect information useful for this technical, market-oriented, and commercial study of the plastic additives market. The primary sources mainly include several industry experts from core and related industries and preferred suppliers, manufacturers, distributors, service providers, and organizations related to all segments of the industry's supply chain. After arriving at the overall market size, the total market has been split into several segments and subsegments. The figure below illustrates the breakdown of the primary interviews based on company type, designation, and region conducted during the research study: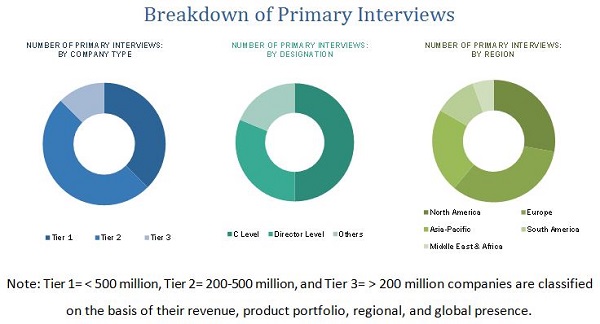 To know about the assumptions considered for the study, download the pdf brochure
The value chain of plastic additives starts with the procurement of raw materials. The key components of any type of plastics additives are additives and polymer. The raw materials are chemically synthesized to form a typical concentrate, which is then compounded by plastic additives producers. Compounding is a two-stage process; gathering ingredients and then mixing them together by applying heat and shear stress to produce a homogenized pellet. Compounders improve the properties of thermoplastic polymers by incorporating additives in molten state. A great amount of effort and expertise is required to manufacture plastic additives suitable for different end-use application. The major applications where these plastic additives are used include packaging, construction, consumer goods, automotive, and others. Some of the major players in the plastic additive market are Songwon Industrial Co. Ltd. (South Korea), Albemarle Corporation (U.S.), Clariant AG (Switzerland), BASF SE (Germany), The Dow Chemical Company (U.S.), Bayer AG (Germany), Evonik Industries AG (Germany), Kaneka Corporation (Japan), Lanxess AG (Germany), and others.
Major Market Developments
In June 2016, Lanxess AG introduced Stabaxol P 110, a new hydrolysis stabilizer. It has high performance when used in thermoplastics such as PET and PBT. With the addition of this product the company has increased its offering for hydrolysis stabilizers for various applications such as engineering injection molding, cable sheathing, and paper machine screens.
In June 2016, Songwon Industrial Co. Ltd. introduced SONGXTEND 2124, a stabilizer solution for the automotive industry. With this addition, the company has increased its offering for unfilled, talc, and glass-filled polypropylene (PP).
In May 2016, Evonik Industries AG (Germany) acquired the specialty & coating additive business of Air Products and Chemicals, Inc. (U.S.). The acquisition has helped the company to strengthen its position in the market for specialty & coating additives.
In January 2015, Songwon entered into a sales, marketing, and technical service agreement with Kumho Petrochemicals Co. Ltd. (South Korea) to market and supply their polymer and rubber additives products. Songwon is now the exclusive distributor of two of Kumho's products - 'Kumanox 5010L' and 'Kumanox 3020'.
Target Audience:
Plastic additives manufacturers
Plastic additives suppliers
Government and research organizations
Plastic additives traders, distributors, and suppliers
Investment banks and private equity firms
Raw material suppliers
Service providers
End users such as automotive, packaging, consumer good, construction, and other
Scope of the Report:
This report categorizes the global market of plastic additives on the basis of type, plastic, application, and region.
Plastic Additives Market, by Type:
Plasticizers
Stabilizers
Flame retardants
Impact modifiers
Others
Plastic Additives Market, by Plastic:
Commodity plastic
Engineering plastic
High performance plastic
Plastic Additives Market, by Application:
Packaging
Automotive
Consumer Goods
Construction
Others
Market Segmentation, by Region:
Asia-Pacific
Europe
North America
Middle East & Africa
South America
Critical questions which the report answers
What are new product plastic additives companies are exploring?
Which are the key players in the market and how intense is the competition?
Available Customizations:
Regional Analysis
Further breakdown of a region with respect to a particular country, additional application, and/or type
Country Information
Additional country information (up to 3)
Company Information
Detailed analysis and profiling of additional market players (up to 5)
The market size of plastic additives is projected to reach USD 50.86 billion by 2021, registering a CAGR of 4.9% between 2016 and 2021. The rapid growth in the packaging industry in Asia-Pacific is a key driver of the plastic additives market.
Plastics additives are used in a variety of applications ranging from construction, packaging containers to consumer & electronics appliances, business machines, and automotive parts. Plastic additives improves impact strength, chemical & heat resistance, clarity, weather resistance, and color preservation properties to base polymers. It also helps in the processing of plastics by increasing heat stability, increasing melting point, and lubrication which enables plastics manufacturers to achieve higher output rates and increased efficiency without reducing the quality of the final product.
Packaging is the dominating application segment of the plastic additives market. It is widely used for industrial and household purposes. Change in lifestyle and globalization have triggered the demand plastic additives from the packaging industry. The automotive and packaging application segments are estimated to witness strong growth during the forecast period. Some of the common end-use applications of plastic additives are roofing, storage containers, pipes, cables, electronics, toys, kitchenware, safety gear, cosmetic articles, household products, seat belts, door panels, greenhouse films, and silage sheet.
On the basis of type, plasticizers account for a major share of the plastic additives market as it is extensively used to process polymers and are less expensive than other additives. They are usually combined with PVC or other polymers to impart unique physical and technological properties for use in various applications such as cable jacketing, floor & wall coverings, and coating fabrics.
On the basis of types of plastic, commodity plastic dominates the consumption of plastic additives. Commodity plastics include polyethylene, polypropylene, polystyrene, polyvinyl chloride, polymethyl methacrylate, and others. These are used to impart specific resin properties to processed polymers. Polyethylene products are mostly used in various end-use applications such as packaging bags, general plastic films, medical packaging, mulch films, green house & tunnel films, and pipes
On the basis of region, Asia-Pacific is the largest market for plastic additives. The growing packaging industry coupled with the increased demand from the retail industry drives the market of plastic additives in the region. Polymer industries are witnessing high growth in developing nations such as India and Brazil due to their growing economies. The Middle East & Africa is projected to be the second-fastest growing market for plastic additives between 2016 and 2021. This growth is attributed to rising packaging and automotive sectors in the region.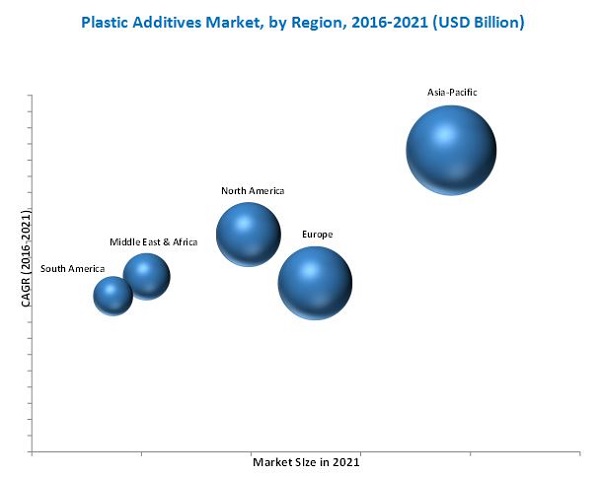 Packaging, consumer goods, and construction applications to drive the growth of plastic additives market
Packaging
Packaging is a process to preserve and protect the quality and shelf-life of different products, such as electronic goods, medicines & drugs, processed & semi-processed foods, and hardware items. The major drivers that aid the growth of the packaging industry are rapid urbanization, changing consumer lifestyle, economic trends, rising health awareness among different classes of consumers, and development in packaging material & technology. The various properties of plastics, such as durability; low cost; resistance to corrosion and water & chemicals; low thermal conductivity; and others make it suitable for use in various applications. The rise in the use of plastics in heavy and light packing drives the demand for plastic additives. The demand for plasticizers, flame-retardant, and stabilizers is growing with the increasing demand for plastics in packaging.
Consumer Goods
Consumer goods include home appliances, electronics, sports equipment, firearms, toys, footwear, kitchenware, cosmetics, furniture, and others. The different variants of plastics that are used in manufacturing consumer goods include high density polyethylene (HDPE), polypropylene (PP) fibers & filaments, and others. These plastics are used with plastic additives to enhance the chemical and physical properties of plastic products.
Construction
Plastics play a key role in the construction sector. The demand for plastics for this segment is expected to increase on account of its increasing use in several applications, including pipes, cables, flooring, domes, roofing, windows & doors, storage tanks, hardware containers, insulation materials, and others. Plastics are used in the construction industry due to their physical characteristics such as durability, cost effectiveness, recyclability, safety, light weight, easy-to-install, and corrosion resistance, among others. The various types of plastics used in manufacturing building & construction goods are acrylic (PMMA), polystyrene (PS), polycarbonate (PC), polyethylene (PE), polypropylene (PP), and polyvinylchloride (PVC). The increasing usage of plastics drives the market for plastic additives in the construction industry.
Critical questions the report answers:
Where will all these developments take the industry in the mid to long term?
What are the upcoming product type of Plastic additives?
The major factor restraining the growth of the plastic additives market is stringent government regulations against the use of environmentally harmful products. The use of innovative technology to reduce the environmental issues is expected to offer opportunities for players in the market.
Some of the key players of the plastic additives market are Songwon Industrial Co. Ltd. (South Korea), Albemarle Corporation (U.S.), Clariant AG (Switzerland), BASF SE (Germany), The Dow Chemical Company (U.S.), and others. These players offer wide range of products to meet the market requirements and compete with each other with respect to prices.
To speak to our analyst for a discussion on the above findings, click Speak to Analyst