Updated date -
The Quantum Dots Market is estimated to grow from USD 2.0 billion in 2017 to USD 8.5 billion by 2023, growing at a CAGR of 27.0% during the forecast period. The factors that will drive the quantum dot market are the increasing demand for quantum dots in high quality display devices, rising adoption of energy efficient and less toxic quantum dots in solar cell and photovoltaics, and the growing application of quantum dots in numerous application due to miniature size.
Quantum Dots Market Dynamics
Increasing demand for quantum dots in high-quality display devices
QD-LED displays offer a higher color resolution, better color purity, more immersive high dynamic range (HDR) experience, and better energy efficiency than traditional displays. Quantum dots' properties such as narrow emission spectra and wide excitation profiles have the capability to achieve more than just lightening up displays. This technology has the capability to change light into any color in a visible spectrum with greater efficiency. QD-LED displays can render colors very accurately and can be tuned to emit any color. The narrow band of the frequency spectrum of light, along with better and high-quality resolution, is emitted by the combination of varying sizes of quantum dots.
Quantum dots produce high peak brightness for many optimized devices such as smartphones, tablets, and smart TVs. Quantum dots use a pure blue backlight and accurate red and green filters to produce a true white light, which can then be filtered into better looking colors. Thus, very less compensation is required in the LCD filtering layer, so manufacturers can drive up the color brightness and gamut of the display. As a result, QD LED TVs are able to match, and sometimes even exceed, the color accuracy of OLED panels. This has led TV manufacturers to make use of quantum dots for HDR smart TVs. Thus, use of quantum dots has grown in the last several years as this technology is providing manufacturers with a cheap and efficient way of producing the next-generation of brilliant, high-definition TV screens.
Wide color gamut (WCG) and HDR display technologies, along with 4K resolutions, have alargeimpact on the viewer's experience; it brings the usercloser to reality with lifelike colors. The quantum dot TVs has potential to match or exceed the performance of OLED TVs in terms of color and price. Samsung QLED prices were low compared to OLEDs, which has compelled other OLED manufacturers, such as LG Electronics (South Korea), WINSTAR Display Co., Ltd. (Taiwan), Panasonic Corporation (Japan), and Sony Corporation (Japan) to slash down the prices of OLEDs they offer to sustain in the competition. To produce and upgrade QLEDs and compete with OLEDs, Samsung acquired QD Vision's intellectual property for USD 70 million in November 2017. This acquisition of QD Vision, a pioneer in quantum dots, is likely to help Samsung to enhance its R&D efforts to produce better quality QLEDs.
Innovations by QD manufacturers are expected to bring technological advancements in the display industry. For instance, in December 2017, Nanosys, Inc. (US), one of the leading players in the quantum dots market, announced a new technology called Electro Luminescent Quantum Dot Display (ELQD) that can dominate OLEDs by disrupting the display industry. This technology would eliminate the use of any kind of backlight by reducing the power consumption.
High demand for but limited availability of rare earth materials
Quantum dots are derived from rare earth materials such as cadmium (Cd), selenium (Se), indium (In), and zinc (Zn). Rare earth elements are generally in high demand; however, owing to their limited availability, these materials are expensive and costly.
Quantum dots are tiny semiconductor nanomaterials that are made from different synthesis and manufacturing methods. They are the class of materials having similar specific properties. Quantum dots from group III to V semiconductors are derived from the elements of main groups III (boron, aluminum, gallium, indium) and V (nitrogen, phosphorus, arsenic, antimony, bismuth) of the periodic table of the elements. Quantum dots derived from elements of the subgroup II (zinc, cadmium) and the main group VI (oxygen, sulfur, selenium, tellurium) belong to II to VI semiconductors. Most of these raw materials possess the best characteristics suitable for quantum dots but are not easily available. However, most of these materials are highly toxic and not environmentally friendly, for example, cadmium. As of now, mostly cadmium has been used as the most efficient raw material for making quantum dots. Cadmium possesses some distinct characteristics such as high brightness and intensity, which are useful in the optoelectronics application.
Cadmium, selenium, and indium are increasingly used in quantum dots. However, these materials are very rarely found in nature; therefore, it is crucial to use them optimally. The R&D efforts of quantum dots manufacturers to find alternative materials d may lower the impact of this restraint in the coming years.
Emerging new application areas of quantum dots
Apart from displays and lighting solutions, the optical properties of quantum dots can be used in various other upcoming applications. The QD technology is flexible and versatile; it can be applied in numerous fields such as optoelectronics, medical imaging, and quantum computing.
Optoelectronics is one of the promising markets for the Quantum dots technology. Massive research is going on in the field of optoelectronics. High-quality quantum dots can be useful in optical encoding and multiplexing applications owing to their narrow emission spectrums and wide excitation profiles. Several efforts have been made to make use of quantum dots for next-generation optoelectronic devices such as solar cells, lasers, photodetectors, and transistors with the emphasis on improving performance and efficiency. A solar cell is another promising application for QD technology, which is expected to be commercialized in coming years. Researchers are working on QD technology-based solar cells and paints, which will act as a solar power generator if applied on the floor or panels. Some of the universities have developed a solar cell that is 50% more efficient than a conventional solar cell. The unique features such as superior tuneability and sensitivity,due to their three-dimensional quantum confinement, make quantum dots ideal for optoelectronic applications, including lasers, solar cells, and photodetectors.
The demand for quantum dots is expected to grow steadily in biomedical, healthcare, and life sciences applications. They are widely used to study tumor targeting, intracellular processes, diagnostics and cellular imaging at high resolutions, and in vivo observation of cell trafficking and drug delivery applications. The spectral properties of quantum dots have attracted its adoption in biology and medicine field. QD lasers are poised to emerge as one of the core optical communications technologies, which is likely to aid the telecommunications industry in managing the rising tide of global data traffic.
Slow adoption of Quantum dots technologies due to the lack of awareness among consumers
A major challenge posed by the market is the lack of awareness about the advantages of quantum dot technology. Major issues that are holding back the adoption of QD products are uncertainties about the shortage of devices and lack of industrial standards. For instance, there are constant technological innovations in TV manufacturing. As TVs are available in terms of various sizes and varieties, energy consumption is increasing dramatically. Since several technology-based TVs such as LCD, 4K, HDR, OLED, QLED TVs are available in the market, it becomes difficult for consumers to make a buying decision. Though there is a wide range of energy-efficient technologies, it becomes difficult for the customers to choose the best technology. The lack of awareness and knowledge among consumers about technological advancements is the major cause that results in the slow adoption of new technology.
Presently, most consumers are unaware of QD technologies; however, there is always an on-going demand for high-resolution products from customers. QDs offer an amazingly defined viewing experience with outstanding image quality. QDs have a robust potential to be a prevailing large display format technology soon; however, it will take some time to get established in the market for small displays.
Quantum dots are expected to gain significant market acceptance, primarily because of their ability to offer the exact mix of performance compared to other similar technologies. Samsung is one of the major players in QLED business and putting all efforts to offer better quality QLEDs to their consumers.
Display to dominate the Quantum Dots market during the forecast period
A QD display device (QDD) is a type of display technology used in flat-panel displays as an electronic visual display. QD nanocrystals are a part of the light emitting technology and consist of nano-scale crystals that are used in display technologies. QDs can be incorporated into a new generation of applications such as flat-panel TV screens, digital cameras, smartphones, gaming consoles, and personal digital assistant (PDA) devices. Additionally, with quantum dots, the green and red portions of the white light have a narrow spectrum; therefore, less light gets removed by the color filter, improving both the color and the energy efficiency of the display. Further, QDs also allow thin-film deposition on displays, which saves costly techniques in display fabrication. Owing to the remarkable characteristics of quantum dots such as their ability to convert light from one color to another very efficiently and their capability to convert and tune a spectrum of light precisely their demand will be high for display application.
Cadmium-free quantum dots to dominate the market during the forecast period
Cadmium-free quantum dots offer a safer and more sustainable option for manufacturers and consumers, giving them the color benefit associated with the technology without the risks associated with toxicity or potential regulatory limitations. Cadmium-free quantum dots also open up potential not just for displays, but for many more applications that include lighting solutions, solar cells, and biomedicine. Majority of quantum dot manufacturers are switching from toxic cadmium-based QD displays to cadmium-free QD displays.
Quantum dots application in healthcare to grow at the highest CAGR during the forecast period
Quantum dots are nano-sized inorganic particles used to increase the light efficiency and color brightness of various products. Quantum dots are used in biological labeling and imaging due to their superior quality compared to traditional materials. The current development in the synthesis of biocompatible quantum dots enables the production of a large variety of semiconductor nanocrystals in terms of size, surface functionality, bio-conjugation, and targeting of facilities. Quantum dots also have a wide opportunity for growth in the vitro diagnostic and imaging applications in healthcare. In the healthcare industry, quantum dots also help in the treatment of cancer. They have the potential to change the foundation of cancer diagnosis, prognosis, and treatment. The extreme brightness of quantum dots also helps in single particle detection as the conventional particles make longitudinal tracking difficulties in healthcare applications.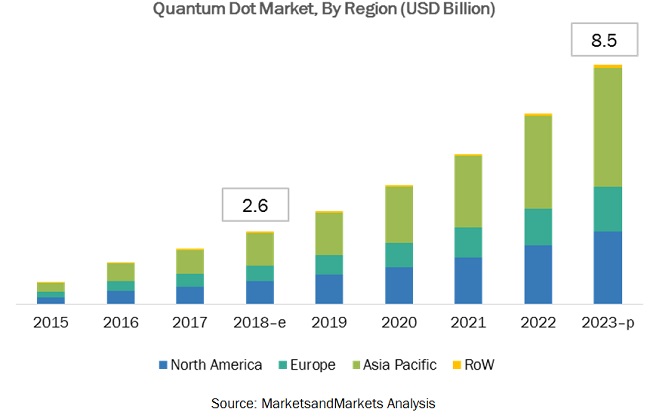 APAC to dominate to quantum dots market during the forecast period
The quantum dots market in Asia Pacific (APAC) is driven by countries such as China, Japan, South Korea, India, and Rest of APAC. APAC is estimated to be the fastest-growing markets in the world. The adoption of QD products in lighting, automotive, consumer electronics applications drives the market growth. As of now, QD is in a pre-commercialization stage; however, in the coming years, the QD will be deployed in mobile displays, batteries and energy storage systems, solar cells, medical devices, and solid-state lighting solutions. Therefore, APAC is expected to command the quantum dots market.
Some of the major players in the quantum dots market are Nanosys, Inc. (US), Nanoco Group plc (UK), QD Laser, Inc. (Japan), NN-Labs, LLC. (US), Ocean NanoTech (US), QD Vision, Inc. (US), Quantum Materials Corp. (US), Altair Nanotechnologies Inc. (US), InVisage (US), and OSRAM Licht AG (Germany).
Scope of the Report:
| | |
| --- | --- |
| Report Metric | Details |
| Report Name | Quantum Dots Market |
| Base year | 2017 |
| Forecast period | 2018–2023 |
| Forecast units | Value in terms of USD million and billion |
| Segments covered | Product, System Type, Software & Services, Function, Industry, and Region |
| Geographic regions covered | North America, APAC, Europe, and RoW |
| Companies covered | Nanosys, Inc. (US), Nanoco Group plc (UK), QD Laser, Inc. (Japan), NN-Labs, LLC. (US), Ocean NanoTech (US), QD Vision, Inc. (US), Quantum Materials Corp. (US), Altair Nanotechnologies Inc. (US), InVisage (US), and OSRAM Licht AG (Germany) |
This research report categorizes the overall quantum dot market on the basis of processing techniques, product type, material, vertical, and geography.
On the basis of Processing Techniques, the Quantum Dot market is segmented as follows:
Colloidal Synthesis
Fabrication

Lithography
Electron Beam Lithography
Soft Lithography
Stencil Lithography
Nanolithography
Photopatternable Arrays

Bio-Molecular Self-Assembly
Viral Assembly
Electrochemical Assembly
Bulk-Manufacturing
On the basis of Product type, the Quantum Dot market is segmented as follows:
QD Medical Devices
QD Displays
QD Solar cells
QD Photodetectors/ QD Sensors
QD Lasers
QD Lighting (LED) solutions
Batteries and Energy Storage Systems
QD Transistors
QD Tags
On the basis of Material, the Quantum Dot market is segmented as follows:
Cadmium-based QD

Cadmium Selenide
Cadmium Sulfide
Cadmium Telluride

Cadmium-Free QD

Indium Arsenide
Silicon
Graphene
Lead Sulfide
On the basis of Vertical, the Quantum Dot market is segmented as follows:
Consumer

Augmented and Virtual Reality
Photography

Commercial
Telecommunications
Healthcare

Biological Imaging
Cellular Labeling
DNA Labeling
QD-based Cancer Diagnosis

Defense
Others

Manufacturing
Automotive
Agriculture
On the basis of Geography, the MFA market is segmented as follows:
North America
Europe
APAC
RoW
Available Customizations:
With the given market data, MarketsandMarkets offers customizations according to the companies' specific needs. The following customization options are available for the report:
Company Information
Detailed analysis and profiling of additional market players based on various blocks of the value chain
Geographic Analysis
Further breakdown of the geographies into respective countries
Recent developments
In January 2018, Nanoco Group (UK) launched the next generation of its NANOCO CFQD FINE COLOR FILM. This launch of new films is likely to enable the company to deliver new levels of brightness and performance to empower fast-growing high-end TV display and media-centric monitor markets
In August 2017, Quantum Materials Corp. (US) launched a new Nano-Materials online store. This expansion is expected to help the company not only to introduce a wide range of quantum dots and a wide variety of nanoparticles to a much wider audience such as commercial, industrial, and academic researchers but also meet the growing demand for nanomaterials as they are becoming popular for their unique features.
In March 2017, Nanosys, Inc. (US) partnered with Exciton Technologies Inc. (Canada), a leading player in diffuser films for LCD displays, to accelerate the adoption of quantum dot technology for displays in China. This partnership aims to develop optical Quantum Dot Enhancement Films (QDEFs) using cutting-edge nanotechnology for display applications.
Key questions addressed by the report
What the emerging applications of quantum dots?
What are the key drivers, restraints, opportunities, and challenges pertaining to the quantum dot market?
Who are the leading providers of quantum dot solutions in the market?
Who are the leading end users of quantum dot solutions?
What are the recent developments in the quantum dot industry related to product launches and developments, key innovations, mergers and acquisitions, and partnerships?
To speak to our analyst for a discussion on the above findings, click Speak to Analyst