Retort Packaging Market
Retort Packaging Market by Type (Pouches, Trays, and Cartons), Material (PET, Polypropylene, Aluminum foil, PA, PE, and Paperboard), End-use (Food and Beverages), and Region - Global Forecast to 2025
Report Code: PK 3673
Mar, 2020, by marketsandmarkets.com
[190 Pages Report] The global retort packaging market size is projected to grow from USD 3.5 billion in 2020 to USD 4.5 billion by 2025, at a CAGR of 5.18% from 2020 to 2025. The demand for retort packaging can be attributed to the high growth and increase in demand for ready to eat or ready meals across the globe. Factors such as busy work life, growing single households, and increasing spending power have boosted the market of readymade food hence driving the market of retort packaging.
For a World leader in Food Packaging, we helped the client plan their global pricing strategy, with a projected revenue of USD 40 million in next 3 years
Client's Problem Statement
Our client, a global leader in food packaging, was keen to understand the pricing strategies that they should adapt for retort packaging to compete with retort cans, pouches, and glass jars in the market. They wanted to understand how the prices would differ country wise and application wise. The senior management needed to understand the key parameters the customers consider for making the purchase decision (examples being credit period, customizing capacity, prices, quality etc.)
MnM Approach
We identified the key applications in the specified countries (Germany, UK, Spain, Russia, Italy, US, Brazil, Japan and Thailand) and provided information on the prices paid for retort packaging by the food fillers. We also provided the price changes observed over previous years. This helped the client plan their sales and marketing strategies in each country. With this study, the client was able to strategize their pricing to be competitive in the market considering both medium and large fillers.
Revenue Impact (RI)
Our findings helped the client plan their global pricing strategy, with a projected revenue of USD 40 million in the next 3 years.
In terms of value and volume, the pouches segment is projected to lead the retort packaging market from 2020 to 2025.
Based on type, the pouches segment is projected to be the largest market for retort packaging. The dominant market position of the pouches can be attributed to its durability. The growth of this segment is attributed to its increasing demand from food and beverage industry for the packing of their products. Properties of retort pouches such as lightweight, less spacing consuming more shelf life makes it a suitable alternative to tin cans.
In terms of value and volume, the food end-use segment of the retorts packaging market is projected to be the largest market.
Food includes ready to eat meals, meat poultry & seafood, pet food, baby food, soups & sauces, and others. It is a significant contributor to the growth of retort packaging. Retort packaging has revolutionized the food industry. It has contributed to the development of food supply channels that have helped in making seasonal foods available all year. Due to changing demographics, consumers are looking for more convenient ways to eat their food without much of a hassle.
In terms of both value as well as volume, the APAC region is estimated to account for the highest share in the global retort packaging market during the forecast period.
In terms of value, the APAC region is projected to lead the global market from 2020 to 2025 due to the strong demand from countries such as China, Australia, South Korea, and Japan. The region has more half of the world's population and there has been an increase in the demand for convenient products due to hectic work life and increasing per capita income. Consumers in the region are looking for ready meal products that can be consumed without much work; hence the demand for retort packages is growing in the region.
Key Market Players
Key players, such as Amcor PLC (Australia), Berry Global Inc. (US), Sonoco (US), Coveris (US) Mondi Group (South Africa), and Huhtamaki Oyj (Finland) have adopted these strategies to strengthen their product portfolios, expand their market presence, and enhance their growth prospects in the retort packaging market.
Amcor, formerly known as APM-Australian Paper Manufacturers, is a global packaging manufacturer that offers innovative packaging solutions to the customers. Amcor designs highly versatile packaging solutions that are innovative, available with a one-way integrated valve, and offer ease of disposal. Innovation, excellence in manufacturing, and a broad range of technologies are the key strengths of the company. The company is one of the key leaders in the retort packaging market; faces intense competition from the global as well as the regional players.
Get online access to the report on the World's First Market Intelligence Cloud

Easy to Download Historical Data & Forecast Numbers
Company Analysis Dashboard for high growth potential opportunities
Research Analyst Access for customization & queries
Competitor Analysis with Interactive dashboard
Latest News, Updates & Trend analysis

Request Sample

Click on image to enlarge

Scope of the Report
| | |
| --- | --- |
| Report Metric | Details |
| Market size available for years | 2018–2025 |
| Base year considered | 2019 |
| Forecast period | 2020–2025 |
| Forecast units | Value (USD) and Volume (Million Unit) |
| Segments covered | Type, Material, End-Use, and Region |
| Geographies covered | North America, Asia Pacific, Europe, South America, and the Middle East & Africa |
| Companies covered | Amcor PLC (Australia), Berry Global Inc. (US), Sonoco (US), Huhtamaki Oyj (Finland), Mondi Group (South Africa), Otsuka Holdings Co. Ltd (Japan), Tredegar Corporation (US), Coveris (Austria), Clondalkin (Netherlands), Sealed Air Corporation (US) are the top 10 manufacturers are covered in the retort packaging market. |
This research report categorizes the cosmetic packaging market based on type, material, application, and region.
Cosmetic Packaging Market, By Type
Pouches
Trays
Cartons
Others (metal cans, plastic and glass bottles)
Cosmetic Packaging Market, By Material
PET
Polypropylene
Aluminum foil
Polyethylene
Polyamide
Paperboard
Others (EVOH, EVA, PVdC)
Cosmetic Packaging Market, By End-use
Food
Beverages
Others (pharmaceutical and personal care products)
Cosmetic Packaging Market, By Region
North America
Europe
Asia Pacific
South America
Key Questions Addressed by the Report:
What are the global trends in the retort packaging market? Would the market witnessed an increase or decline in the demand in the coming years?
What is the estimated demand for different types of retort packaging?
Where will the strategic developments take the industry in the mid to long-term?
What are the upcoming industry applications and trends for retort packaging?
Who are the major players in the retort packaging market globally?
To speak to our analyst for a discussion on the above findings, click Speak to Analyst
Table of Content
1 Introduction
1.1 Objective of the Study
1.2 Market Definition
1.3 Study Scope
1.3.1 Regional Scope
1.3.2 Years considered for the study
1.4 Currency
1.5 Units
1.6 Stakeholders
1.7 Limitations
2 Research Methodology
2.1 Research Data
2.2 Market Size Estimation
2.2.1 Approach 1
2.2.2 Approach 2
2.3 Data Triangulation
2.4 Research Assumptions and Limitations
2.4.1 Assumptions
2.4.2 Limitations
3 Executive Summary
4 Premium Insights
5 Market Overview
5.1 Introduction
5.2 Market Evolution
5.3 Market Dynamics
5.3.1 Market Drivers
5.3.2 Market Restraints
5.3.3 Market Challenges
5.3.4 Market Opportunities
5.4 Yc, Ycc Drivers
5.5 Covid-19 Impact
6 Industry Trends
6.1 Introduction
6.2 Market Trends Analysis
7 Global Retort Packaging Market, By Type, 2018-2025 (value/volume)
7.1 Introduction
7.2 Pouches
7.3 Trays
7.4 Cartons
7.5 Others (if any)
8 Global Retort Packaging Market, By Materials, 2018-2025 (value/volume)
8.1 Introduction
8.2 PET
8.3 Polypropylene
8.4 Aluminium Foil
8.5 PA
8.6 Paperboard
8.7 Any Others (EVOH, EVA, PVdC, others)
9 Global Retort Packaging Market, By End-Use, 2018-2025 (value/volume)
9.1 Introduction
9.2 Food
9.2.1 Ready to Eat
9.2.2 Meat, Poultry & Seafood
9.2.3 Pet Food
9.2.4 Baby Food
9.2.5 Soups and Sauces
9.3 Beverage
9.3.1 Soft Drink
9.3.2 Tea & Coffee
9.3.3 Alcohol Drinks
9.4 Others
10 Global Retort Packaging Market, By Geography, 2018-2025 (value/volume)
10.1 Introduction
10.2 North America
10.2.1 US
10.2.2 Canada
10.2.3 Mexico
10.3 Europe
10.3.1 Germany
10.3.2 France
10.3.3 UK
10.3.4 Russia
10.3.5 Spain
10.3.6 Italy
10.3.7 Rest Of Europe
10.4 Asia-Pacific
10.4.1 China
10.4.2 India
10.4.3 Australia
10.4.4 Japan
10.4.5 South Korea
10.4.6 Rest of Asia-Pacific
10.5 Middle East & Africa
10.5.1 UAE
10.5.2 Turkey
10.5.3 Saudi Arabia
10.5.4 South Africa
10.5.5 Rest of Middle East & Africa
10.6 South America
10.6.1 Brazil
10.6.2 Argentina
10.6.3 Rest of South America
11 Global Competitive Landscape
11.1 Overview
11.2 Competitive Mapping
11.2.1 Leaders
11.2.2 Emerging Companies
11.2.3 Innovators
11.2.4 Strategic Players
11.3 Competitive Scenario
11.3.1 Mergers & Acquisitions
11.3.2 Expansions & Investments
11.3.3 New Product Develoment
11.3.4 Partnerships, Agreements and Joint ventures
12 Company Profiles
12.1 Introduction
12.2 Amcor Limited
12.3 Berry Plastics Corporation
12.4 Mondi Group
12.5 Sonoco
12.6 Coveris
12.7 Clondalkin Industries BV
12.8 Sealed Sir Corporation
12.9 ProAmpac LLC
12.10 Huhtamaki Group
12.11 Constantia Flexibles
12.12 Flair Flexible Packaging Corporation
12.13 DNP America
12.14 Clifton Packaging Company
12.15 Fujimori Kogyo Co. Ltd
12.16 Sopakco Packaging
12.17 HPM Global Inc.
12.18 Floeter India Retort Pouches
12.19 Lithotype
12.20 Technipak
12.21 Pyramid Packaging
12.22 Toyoseikan
12.23 Fuji Tokushi
Note:
1) The above list is tentative and may change as per research progress
2) Details on Business Overview, Products Offered, Recent Developments, SWOT Analysis, Winning Imperatives, and Right to Win Might Not Be Captured in Case of Unlisted Companies.
3) The report will cover 25 global manufactures
13 Appendix
13.1 Key Industry Insights
13.2 Discussion Guide
13.3 Knowledge Store: MarketsandMarkets' Subscription Portal
13.4 Introducing RT: Real Time Market Intelligence
13.5 Available Customization
13.6 Related Reports

The study involved four major activities for estimating the current global size of the retort packaging market. The exhaustive secondary research was carried out to collect information on the market, the peer market, and the parent market. The next step was to validate these findings, assumptions and sizes with the industry experts across the value chain of retort packaging through primary research. Both the top-down and bottom-up approaches were employed to estimate the overall size of the retort packaging market. After that, market breakdown and data triangulation procedures were used to determine the size of different segments and sub-segments of the market.
Secondary Research
In the secondary research process, various secondary sources such as Hoovers, Factiva, Bloomberg BusinessWeek, and Dun & Bradstreet were referred to, to identify and collect information for this study on the cosmetic packaging market. These secondary sources included annual reports, press releases & investor presentations of companies, white papers, certified publications, articles by recognized authors, regulatory bodies, trade directories, and databases.
Primary Research
Various primary sources from both the supply and demand sides of the cosmetic packaging market were interviewed to obtain qualitative and quantitative information. The primary sources from the supply-side included industry experts, such as Chief Executive Officers (CEOs), vice presidents, marketing directors, sales professionals, and related key executives from various leading companies and organizations operating in the cosmetic packaging industry. The primary sources from the demand-side included key executives from banks, government organizations, and educational institutions. The breakdown of the profiles of primary respondents is as follows: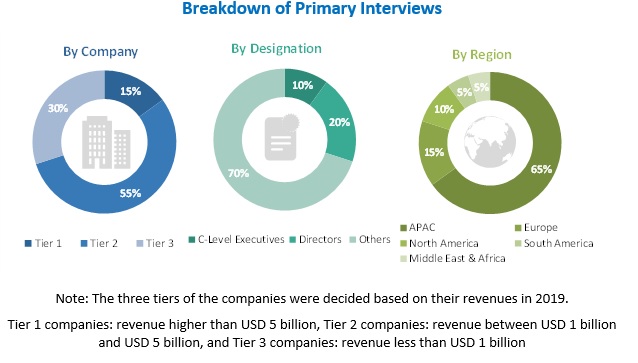 To know about the assumptions considered for the study, download the pdf brochure
Market Size Estimation
Both the top-down and bottom-up approaches were used to estimate and validate the global size of the retort packaging market. These approaches were also used extensively to estimate the size of various dependent segments of the market. The research methodology used to estimate the market size included the following details:
The key players were identified through extensive secondary research.
The industry's supply chain and market size, in terms of value, were determined through primary and secondary research processes.
All percentage shares, splits, and breakdowns were determined using secondary sources and verified through primary sources.
Data Triangulation
After arriving at the overall market size from the estimation process explained above, the total market was split into several segments and sub-segments. The data triangulation and market breakdown procedures were employed, wherever applicable, to complete the overall market engineering process and arrive at the exact statistics for all segments and sub-segments of the retort packaging market. The data was triangulated by studying various factors and trends from both the demand- and supply-side.
Research Objectives
To define, analyze, and project the size of the retort packaging market in terms of value and volume based on type, material, end-use, and region
To project the size of the market and its segments in terms of value and volume, with respect to the five main regions, namely, North America, Europe, Asia Pacific, the Middle East & Africa, and South America
To provide detailed information about the key factors, such as drivers, restraints, opportunities, and challenges influencing the growth of the market
To strategically analyze the micromarkets with respect to individual growth trends, prospects, and their contribution to the total market
To analyze the opportunities in the market for stakeholders and provide a detailed competitive landscape of the market leaders
To analyze the competitive developments, such as new product launches, expansions, and acquisitions, in the retort packaging market
To strategically profile the key players operating in the market and comprehensively analyze their market shares and core competencies
Middle East & Africa
Available Customizations
With the given market data, MarketsandMarkets offers customizations according to client-specific needs.
The following customization options are available for the cosmetic packaging report:
Product Analysis
Product matrix, which offers a detailed comparison of the product portfolio of companies
Regional Analysis
Further analysis of the cosmetic packaging market for additional countries
Company Information
Detailed analysis and profiling of additional market players (up to five)