[104 Pages Report] The thin-film encapsulation (TFE) market for materials was valued at USD 13.1 Million in 2017 and is expected to reach USD 101.1 Million by 2023, at a CAGR of 26.1% during the forecast period. The base year considered for the study is 2017, and the forecast period is between 2018 and 2023. The objective of the report is to define, describe, and forecast the thin-film encapsulation (TFE) material market segmented on the basis of application and geography. Major factors driving the growth of the TFE Market include need for thin-film barrier in flexible and organic devices, the trend of thin-film encapsulation using inkjet printing technology, rapid adoption of flexible OLED displays for smartphones and smart wearables, and advantages of thin-film encapsulation.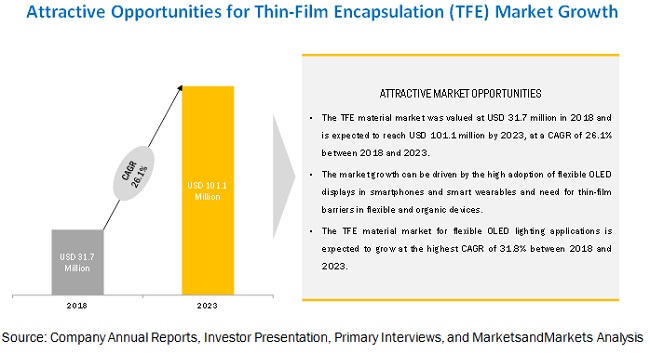 By application, flexible OLED display panels to hold largest size of TFE material market during forecast period
Flexible OLED displays accounted for the largest share of more than 60% of the TFE material market, in terms of value, in 2017. Samsung SDI and LG Chem develop TFE materials for flexible OLED displays. These companies are also working with TFE equipment suppliers, such as Kateeva and Applied Materials. The TFE material market for flexible OLED lighting applications is expected to grow at the highest CAGR of 31.8% during the forecast period. The growing flexible OLED lighting market is an opportunity for the suppliers of thin-film encapsulation material, equipment, and technology. Currently, high cost and low efficacy of the OLED technology are the major challenges; owing to this, the penetration rate of this technology in lighting market was low in the past. The increasing use of flexible OLED lighting solutions for automotive applications is expected to boost the demand for TFE technologies and materials in the coming years. The growing use of thin-film photovoltaic solar cells in consumer electronic devices (radios and calculators), solar lanterns, and backup power systems for mobiles will drive the growth of TFE material market. The key manufacturers of CIGS cells include Miasole (US) and Solar Frontier (Japan).
TFE material market in APAC expected to grow at highest CAGR during forecast period
The TFE material market has been segmented into 4 main regions—North America, Europe, Asia Pacific, and RoW. Various players in the APAC region have a positive outlook for the TFE market due to the presence of industry-leading customers, such as Samsung and LG Display. Several OLED lighting manufacturing companies are present in Europe, while various cell developers are based in North America.
APAC comprises developed and developing economies, such as Japan, South Korea, China, and Taiwan. Major display panel and brand product manufacturers are based in China, Japan, Taiwan, South Korea, and Hong Kong. South Korea accounted for 74.2% of TFE material market in APAC in 2017 owing to the presence of industry leaders, such as Samsung and LG Display in the country. South Korea is a major country in terms of the development and commercialization of OLED technology. Samsung and LG Display have developed the technology, increased their manufacturing capabilities, and adopted this technology for their own products such as smartwatches, smartphones, and TVs, which, in turn, is likely to boost the demand for TFE materials in South Korea in the next few years.
Further, the demand for TFE materials from China is expected to increase rapidly during 2018–2023 as various Chinese players such as BOE Technology and CSOT are planning to construct facilities to manufacture flexible OLED panels. The Chinese government is also supporting such initiatives and these companies. The major customers of TFE materials in Japan include Japan Display (JDI & JOLED) and Sharp. These companies have traditionally focused on LCD displays; however, they have decided to invest in the fast-growing OLED display panel market. AU Optronics, Hon Hai Precision Industry, and Innolux Corporation have announced their OLED production capabilities, with partial production in 2016 and mass production by 2018. These players from Taiwan are expected to adopt the TFE process for encapsulation.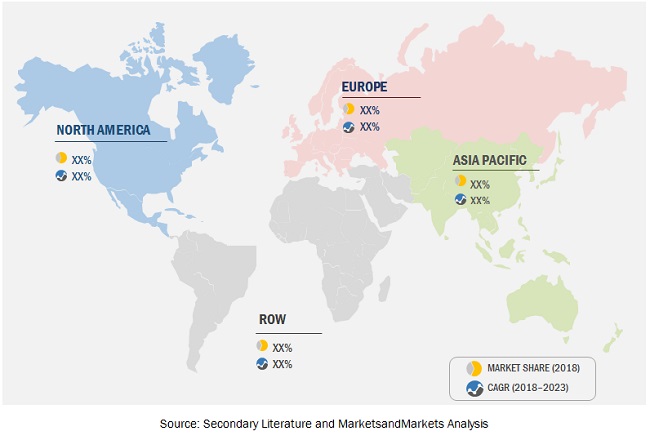 Market Dynamics
Driver: Advantages of thin-film encapsulation
TFE is essential not only to prevent water and oxygen permeation into the flexible OLED device but also to keep OLEDs thin and flexible. By using TFE, the original thickness of a display can be restored. TFE is a structure formed by laminating thin inorganic and organic materials and keeps the device as thin as a single substrate sheet. In the early stages of development, the thin-film encapsulation process involved deposition of around 11 layers of complex organic and inorganic materials, which resulted in low yield. However, it now has been reduced to 3 layers; has greatly improved productivity, yield, and cost; and is being applied to almost all flexible OLEDs. Compared to the conventional "glass can" encapsulation method, thin-film encapsulation substantially reduces the product costs by eliminating expensive parts such as glass cans, getters, and epoxies. The 3 layers are deposited at 3 different radio frequency power levels. Furthermore, TFE allows flexible OLED display applications to become more flexible.
Restraint: Development of flexible glass
Flexible glass can be an effective barrier, which meets the stringent requirements of a hermetic barrier and free of defects. OLEDs are fabricated on ultra-thin glass and encapsulated with an ultra-thin glass foil. To get OLEDs emit, a highly conductive transparent oxide layer with good light coupling properties is required, and reliable electrical contacts to the emitting layers with low contact resistance is essential. In May 2016, Fraunhofer Institute for Organic Electronics, Electron Beam, and Plasma Technology FEP demonstrated the fabrication of large-area OLEDs using ultra-thin glass foils both as a substrate and a protection barrier through single roll-to-roll manufacturing. Moreover, Corning, an American multinational technology company that specializes in specialty glass, ceramics, and related materials and technologies including advanced optics, primarily for industrial and scientific applications, promotes the development of Willow glass, an ultra-slim (50 um and 100 um) flexible glass that can be used as the barrier layer material for solar cells and OLEDs in roll-to-roll production processes and can withstand temperatures up to 500 degrees Celsius.
Opportunity: Heavy investments in OLED technology and manufacturing facilities
OLED is a new and exciting technology providing thin, efficient, and bright displays and lighting systems. Many industry experts believe that OLEDs are set to replace the existing technologies in the display and lighting industries. Therefore, many companies have started investing heavily in R&D of OLED technology. Several players are involved in the OLED value chain, including companies researching on OLEDs and acquiring important patents pertaining to OLED materials; chemical companies involved in the OLED material production; OLED panel manufacturers, and companies or resellers that use OLEDs in their mobile phones, TVs, and other products. Various display panel manufacturers are investing in the construction of new OLED manufacturing facilities. For instance, in October 2016, Tianma Micro-Electronics announced its plans to construct a 6-Gen AMOLED fab in Xiamen, China. The fab is intended to produce rigid and flexible AMOLED panels based on LTPS backplanes. Moreover, in February 2015, LG Display announced its plan to invest USD 915 million for the OLED TV production capacity expansion. This expansion enabled LG Display to produce 0.6 and 1.5 million panels in 2015 and 2016, respectively. Companies such as BOE Technology, Tianma, Truly Semiconductors, AU Optronics, EverDisplay, GoVisionox, Hon Hai, Innolux, Sharp, and Japan Display have already announced the OLED production capabilities with partial production in 2016 and mass production by 2018.
Challenge: Requirement for technical knowhow and protection of intellectual properties
There have been tremendous advancements in the technologies used for manufacturing thin-film barrier in the last 5 years. Companies such as Samsung SDI and LG Chem are planning to commercialize barrier films that are deposited based on the ALD technology. Kateeva commercialized its inkjet printing equipment for thin-film encapsulation in 2014. Companies such as Samsung and Veeco have made strategic investments in Kateeva
It is necessary for a manufacturer to precisely analyze the market condition and challenges in the highly competitive scenario before investing a huge amount in establishing or upgrading a production plant. Companies have to come up with a sophisticated strategy, based on various thin-film encapsulation technologies, to enter the market for flexible and organic devices successfully. The demand for thin-film barrier and emergence of deposition technologies, such as inkjet printing and ALD, have intensified the research activities related to flexible organic devices.
Exclusivity of TFE technologies and barrier formation processes have posed a challenge for market growth and are restricting the entry of new players into the market. Emerging technologies such as inkjet printing and ALD are expected to be exclusive to major customers in the market for years to come.
Get online access to the report on the World's First Market Intelligence Cloud

Easy to Download Historical Data & Forecast Numbers
Company Analysis Dashboard for high growth potential opportunities
Research Analyst Access for customization & queries
Competitor Analysis with Interactive dashboard
Latest News, Updates & Trend analysis

Request Sample

Click on image to enlarge

Scope of the Report
| | |
| --- | --- |
| Report Metric | Details |
| Market size available for years | 2016–2023 |
| Base year considered | 2017 |
| Forecast period | 2018–2023 |
| Forecast units | Million (USD) |
| Segments covered | Application and Region |
| Geographies covered | North America, Europe, APAC, and RoW |
| Companies covered | Samsung SDI (Novaled) (South Korea), LG Chem (South Korea), Universal Display Corp. (UDC) (US), Applied Materials (US), 3M (US), Veeco Instruments (US), Kateeva (US), Toray Industries (Japan), BASF (Rolic) (Germany),; Meyer Burger (Switzerland), Aixtron (Germany), Bystronic Glass (Germany), AMS Technologies (Germany), and Angstrom Engineering (Canada). |
The research report segments the thin-film encapsulation market into the following subsegments:
Deposition Technologies Used in Thin-Film Encapsulation
Organic Layers
Inorganic Layers
TFE Material Market, by Application
Flexible OLED Display
Flexible OLED Lighting
Thin-Film Photovoltaics
Others
TFE Material Market, by Region
North America
Europe
APAC
RoW
Key Market Players
Samsung SDI (Novaled) (South Korea), LG Chem (South Korea), Universal Display Corp. (UDC) (US), Applied Materials (US), 3M (US), Veeco Instruments (US), Kateeva (US), Toray Industries (Japan), BASF (Rolic) (Germany),; Meyer Burger (Switzerland), Aixtron (Germany), Bystronic Glass (Germany), AMS Technologies (Germany), and Angstrom Engineering (Canada).
Samsung SDI has dedicated product offerings in the TFE market for OLED displays, especially for flexible panels. Samsung Group is focused on expanding its footprints throughout the value or supply chain of OLED displays. This led to the acquisition of Novaled and few other companies involved in the OLED value chain. Samsung SDI has made significant investments in R&D activities related to OLED displays. The company has grown through organic as well as inorganic strategies such as strategic investment in Kateeva and acquisition of Cheil Industries. A diverse client base for the company also helps in maintaining stability in the highly dynamic market.
Recent Developments
In July 2017, LG Chem collaborated with Idemitsu Kosan to share the patents related to OLED technology. The companies mutually utilize the OLED materials, technology and expertise they possess, and cooperate in the development of new materials and material evaluation. They also jointly use their evaluation facilities and production facilities. This is done in consideration to the high growth of OLED display market.
In August 2016, Universal Display Corp., signed an OLED Technology License Agreement and Supplemental Material Purchase Agreement with Tianma Micro-electronics Co. Ltd., a leading player in AMOLED technology and small- and medium-sized display panel manufacturer in China. It is a 5-year agreement that will help Tianma to advance its commercial OLED product pipeline with UDC's proprietary OLED technologies and materials. Under the license agreement, Universal Display granted Tianma non-exclusive license rights for various patents owned or controlled by the company to manufacture and sell OLED displays. Additionally, Universal Display will supply phosphorescent OLED materials to Tianma to use them in its licensed products.
In July 2017, Veeco Instruments delivered 500 ALD systems to North Carolina State University. Advanced thin-film next-generation ALD systems are capable of performing thermal and plasma-enhanced deposition in a modular, high-vacuum, flexible architecture that accommodates a wide range of deposition modes using multiple configurations of precursors and plasma gases.
In November 2017, Kateeva comprises a portfolio of 648 patents and one pending application covering inkjet equipment and related processes used to manufacture OLEDs and flat-panel displays (FPDs). The portfolio includes patents issued in China, Japan, Korea, Taiwan, and the US.
In February 2017, BASF acquired Rolic, a Switzerland-based manufacturer of light management products for advanced LCD/OLED displays. This acquisition helped the company to strengthen its presence in the display industry.
Key Questions Answered:
Where will all these developments take the industry in the long term?
What are the upcoming trends for the Thin-Film Encapsulation Market?
Which segment provides the most opportunity for growth?
Who are the leading vendors operating in this market?
What are the opportunities for new market entrants?
To speak to our analyst for a discussion on the above findings, click Speak to Analyst