[145 Pages] MarketsandMarkets expects the global property management market size to grow from USD 14.47 billion in 2018 to USD 22.04 billion by 2023, at a Compound Annual Growth Rate (CAGR) of 8.8% during the forecast period. The base year for this study is 2017, and the forecast period is 2018–2023.
Objectives of the Study:
The key objective of the report is to define, describe, and forecast the property management market size by component (solutions and services), deployments, end-users, applications, and regions. The report provides detailed information on the major factors (drivers, restraints, opportunities, and challenges) influencing the growth of the market. The report forecasts the market size with respect to 5 major regions, namely, North America, Europe, Asia Pacific (APAC), Middle East and Africa (MEA), and Latin America. It strategically profiles the key market players and comprehensively analyzes their core competencies. The report also tracks and analyzes competitive developments, such as partnerships, agreements, and collaborations; mergers and acquisitions; and new product developments, in the global market.
The research methodology used to estimate and forecast the property management market size begins with the collection and analysis of the data on key vendor revenues through secondary sources, including annual reports and press releases; investor presentations of companies; conferences and associations (Real Estate REvive Conference and Expo, Apartment Internet Marketing Conference, NMHC Apartment Strategies Outlook Conference, IntelliEvent Profitability Summit 2017); technology journals and certified publications; and articles from recognized authors, directories, and databases. The vendor offerings have also been taken into consideration to determine the market segmentations. The bottom-up procedure is employed to arrive at the overall market size of the market from the revenue of the key players and their market shares. The market expenditures across all regions, along with the geographic split in various segments, are considered to arrive at the overall market size. After arriving at the overall market size, the total market is split into several segments and sub segments, which are then verified through primary research by conducting extensive interviews with key people, such as Chief Executive Officers (CEOs), Vice Presidents (VPs), directors, and executives. The data triangulation and market breakdown procedures are employed to complete the overall market engineering process and arrive at the exact statistics for all segments and sub segments.
The figure below depicts the break-up of profiles of primary participants: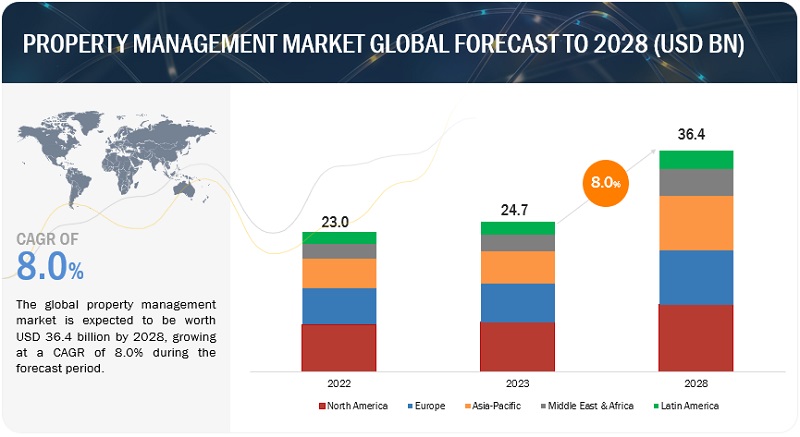 To know about the assumptions considered for the study, download the pdf brochure
The property management market consists of vendors providing solutions and services including real estate and asset management, leasing management, asset maintenance, and support services to commercial clients across the globe.
Major players in the property management market include IBM (US), Hitachi Vantara (US), JLL (US), Oracle (US), SAP (Germany), Trimble (US), RealPage (US), AppFolio (US), Yardi (US), MCS Solutions (Belgium), and ARCHIBUS (US). The other players include FSI (UK), Planon (Netherlands), Accruent (US), Entrata (US), iOFFICE (US), Indus Systems (US), Total Management (US), Rentec Direct (US), PMX Dynamics (Canada), Hemlane (US), Property Boulevard (US), OfficeSpace (US), CIC (US), Archidata (Canada), and Buildium (US). These leading companies have adopted new product launches and partnerships, agreements, and collaborations as the key growth strategies to improve their services and provide better solutions and associated services to expand their market reach.
Key Target Audience:
Property management software providers
Facility management solution providers
Property managers
Integration service providers
Governments
Architects, engineers, and contractors
Consultancy firms and advisory firms
Regulatory agencies
Technology consultants
The study answers several questions for the stakeholders, primarily, which market segments focus in the next 2 to 5 years for prioritizing efforts and investments.
The property management market is gaining traction as property management solutions and associated services empower property managers and allied individuals to manage and maintain property related operations efficiently and cost-effectively. Traditionally, property owners or landlords either hire third-party property managers or manage their property themselves, which requires high time and manpower investment. Nowadays, the easy availability of reliable online as well as standalone property management software has simplified and automated the tasks of property managers and owners.
The solutions segment of property management market includes lease accounting and real estate management, asset maintenance management, workspace and relocation management, and reservation management. These solutions are instrumental in offering reliable, cost-efficient, time-saving, and scalable property management features to end-users and enterprises. The overall services segment is expected to play a vital role in the market growth, and is broadly categorized into 3 segments, namely, deployment and integration; consulting, support and maintenance; and SLA management.
The deployment segment comprises cloud and on-premises. The cloud segment is expected to hold a significant share and gain traction, as most end-users and enterprises opt for the cloud deployment as it is scalable and cost-effective. The end-users segment includes property managers and housing associations. The property managers segment is expected to hold a larger market size, owing to an increasing number of real estate and commercial property developments. The availability of simple and comprehensive property management software solutions in the market encourage property managers to adopt them. The housing associations segment is expected to witness steady growth, as apartments and townships are facing challenges, such as tracking tenants, receiving payments, and leasing agreements. The property management market by application covers commercial (construction and real estate, government, retail, hospitality, and others) and residential.
North America is estimated to hold the largest market size in 2018, whereas APAC is projected to grow at the highest CAGR in the global property management market as the region is witnessing advanced and dynamic adoption of new technologies in real estate projects. Moreover, APAC is a lucrative market for the vendors of property management solutions and associated services. SMEs' budget constraints for the adoption of technological solutions could restrain the growth of property management market.
Market Dynamics
Drivers:
Increasing demand for SaaS model of property management
The advent of cloud technology is one of the major breakthroughs in the software industry. The cloud technology has greatly affected the way software applications are run and delivered to clients. This change has enabled software developers to focus more on the technology aspect of software while outsourcing the management aspect to cloud service providers. SaaS software enables the user to pay per use and cancel services whenever they want. SaaS software enables the big multifamily property management organizations to easily integrate different kinds of software across the portfolio. Moreover, SaaS model is instrumental in supporting multi-vendor software compatibility with legacy systems. In addition, SaaS platforms are allowing property managers to integrate their property management solutions with advanced payment solutions for easy and seamless transactions.
Evolving trend of workplace mobility
In the current scenario, many people prefer to work from home rather than from a local office, head office, or global branch of an organization and therefore require mobility in terms of access to office resources and data. Moreover, some organizations are considering the use of virtual workplaces for their employees to keep their physical infrastructure needs to a bare minimum, which will further assist these organizations in becoming more flexible and utilizing the office space in a better way. Organizations are increasingly employing the current generation of youngsters who are technology-savvy and believe in the use of various technological devices at the workplace. To keep the flow and speed of work uninterrupted and manage such a workforce, many organizations are looking for management solutions such as workplace management, project management, and other integrated facility management. These solutions help associated property managers and real estate agents to keep a track of all the properties they manage and all the maintenance work necessary for these properties. Thus, the evolving trend of workplace mobility is driving the growth of the property management market.
Restraints: Budget constraints for technological solutions
In recent years, the real estate industry has witnessed high fluctuation across the world. The impact of the global slowdown of 2008 has lasted for many years, especially on the real estate industry. Though the market has seen some stability and rise since 2012, it is still highly fluctuating due to the high imbalance in population versus real estate index. These factors are restraining investors from investing in property management market.
Opportunities:
Integration of BIM with property management solutions
The primary goal of property managers is to make their properties and facilities more energy efficient and productive for users and operators. Property management vendors can integrate BIM with their management solutions to enhance the property life cycle. BIM is a way of designing, constructing, running and maintaining a building as a collaborative process using a single comprehensive and updated system of computer models, rather than several sets of different tools and documents. When BIM is paired with property management solutions, it acts as a database of building information that can be used by multiple departments. Moreover, BIM enables simulated testing and analysis of building systems before construction. It can also be used in the existing facilities, even if the facilities are built using an integrated legacy three-dimensional model.
Rising demand for outsourcing services
As organizations are evolving, complexities related to property and facility management are also increasing. To face these complexities, companies need advanced technology solutions such as cloud-based and AR-based solutions. However, managing them in-house would be a big challenge for the company as this involves a high cost for hiring technically aware staff and spending on their training for the respected software and their updates time to time. To save the cost, most of the organizations are outsourcing these services to property management service providers. Moreover, challenges related to regulatory compliance can also be tackled with the help of an outsourced agency, shifting the liabilities associated with environmental compliance and healthcare coverage to the outsourcing firm.
Challenges:
Integration of property management solutions with legacy systems
Property management solutions cannot be used as standalone software in the facility architecture of an organization. The property software includes different applications such as accounting, leasing, contract management, and payment. These applications should be integrated with the company's Enterprise Resource Planning (ERP) and Customer Relationship Management (CRM) systems, as these need company data for processing different applications. For instance, rental management applications need the data related to property from the date it was rented and the updates about the regular payments so that it can provide a solution for the payment options and regulatory updates in the rent policies. However, the integration of property management solutions with ERP and CRM systems is a complicated task, as the integration is done in different stages.
Lack of technical skills
Although the property management market is witnessing huge adoption of property management solutions, there is still a lack of technical expertise required to operate and maintain these solutions. Large properties, both commercial and residential, need highly skilled technical managers to manage advanced software such as surveillance systems, leasing, workplace, and contract management. However, organizations have not been proactive in recognizing property management as a separate profession. This has led to a lack of professionals in workplace and property management.
Scope of the Property Management Market Report
| | |
| --- | --- |
| Report Metrics | Details |
| Market size available for years | 2017–2023 |
| Base year considered | 2017 |
| Forecast period | 2018–2023 |
| Forecast units | Billion (USD) |
| Segments covered | Component, Solution, Service, Deployment, End-User, Application and Region |
| Geographies covered | North America, Europe, APAC, Latin America, and MEA |
| Companies covered | IBM (US), Hitachi Vantara (US), JLL (US), Oracle (US), SAP (Germany), Trimble (US), RealPage (US), AppFolio (US), Yardi (US), MCS Solutions (Belgium), and ARCHIBUS (US). The other players include FSI (UK), Planon (Netherlands), Accruent (US), Entrata (US), iOFFICE (US), Indus Systems (US), Total Management (US), Rentec Direct (US), PMX Dynamics (Canada), Hemlane (US), Property Boulevard (US), OfficeSpace (US), CIC (US), Archidata (Canada), and Buildium (US). |
The research report segments the market into the following submarkets:
Property Management Market By Component:
Market By Solution:
Lease accounting and real estate management
Asset maintenance management
Workspace and Relocation management
Reservation management
Property Management Market By Service:
Deployment and integration
Consulting
Support and maintenance
Service level agreement management
Market By Deployment:
Property Management Market By End User:
Property managers
Housing associations
Market By Application:
Property Management Market By Commercial Application:
Construction and real estate
Government
Retail
Hospitality
Others (Education and industrial)
Market By Region:
North America
Europe
APAC
MEA
Latin America
New Product Launches and Product Enhancements
| | | |
| --- | --- | --- |
| Date | Company Name | Description |
| May 2018 | Oracle (US) | Oracle announced an update for Oracle Property Manager. The updated product features new contract abstraction and migration, lease accounting transformation, global lease management, and enhanced reporting, and it is compatible with the IFRS 16 and ASC 842 accounting standards. |
| May 2018 | Trimble (US) | Trimble announced version 35 of the Manhattan IWMS software. The new update includes a new User Interface (UI), designed for better efficiency, ease of use, and user productivity. |
Partnerships, Collaborations, and Agreements
| | | |
| --- | --- | --- |
| Date | Company Name | Description |
| June 2018 | Yardi (US) and Liberty Property Trust (US) | Yardi partnered with Liberty Property Trust. As per the partnership, Yardi would deliver its Voyager software to Liberty Property Trust to provide solutions for invoice processing, purchasing, and vendor management. |
| June 2018 | RealPage (US) and Princeton Property Management (US) | RealPage partnered with Princeton Property Management. As per the partnership, Princeton Property Management would use multiple RealPage solutions to manage its own 190 properties. |
Mergers and Acquisitions
| | | |
| --- | --- | --- |
| Date | Company Name | Description |
| July 2018 | Trimble (US) and Viewpoint (US) | Trimble acquired Viewpoint, which offers a market-leading, scalable construction management software that integrates contractors' financial and resource management processes with project operations, and job site and field tasks. |
| June 2018 | Accruent (US) and Maintenance Connection (US) | Accruent announced the acquisition of Maintenance Connection, a leading Computerized Maintenance Management System (CMMS) provider. The acquisition would accelerate Accruent's predictive and preventive maintenance capabilities. |
Available Customizations
With the given market data, MarketsandMarkets offers customizations as per the company's specific needs. The following customization options are available for the report:
Geographic Analysis
Further breakdown of the North American market into the US and Canada
Further breakdown of the European market into the UK, Germany, and France
Company Information
Detailed analysis and profiling of additional market players
To speak to our analyst for a discussion on the above findings, click Speak to Analyst