Updated As on-
MarketsandMarkets forecasts the Smart Greenhouse market to grow from USD 1.3 billion in 2018 to USD 2.3 billion by 2023, at a Compound Annual Growth Rate (CAGR) of 12.6% during the forecast period. The major factors that are expected to be driving the smart greenhouse market are trend of indoor farming due to changing consumer preference, high demand for food due to enormously growing population and favorable government regulations and incentives pertaining to smart greenhouse lighting technology. The objective of the report is to define, describe, and forecast the smart greenhouse market size based on type, technology, and region.
By type, the non-hydroponic segment is expected to grow at the highest growth rate during the forecast period
Among the type segment, the non-hydroponic segment is expected to grow at the highest CAGR during the forecast period. In non-hydroponic (soil-based) greenhouses, proper analysis of the soil needs to be done to determine the type of plants to grow. This helps in achieving increased yields from soil-based greenhouses, which, in turn, will boost the demand for non-hydroponic during the forecast period.
By technology, the LED grow lights holds the largest share of the market
The LED grow lights segment is expected to hold the largest market share. By deploying LED grow lights, growers can achieve operational efficiencies, reduce energy consumption, and improve production of warm-season crops such as tomatoes, lettuce, and cucumbers. LED technologies are gaining rapid acceptance all over the world as they are more energy-efficient and long-lasting than conventional lighting technologies such as HID, CFL, and plasma lighting.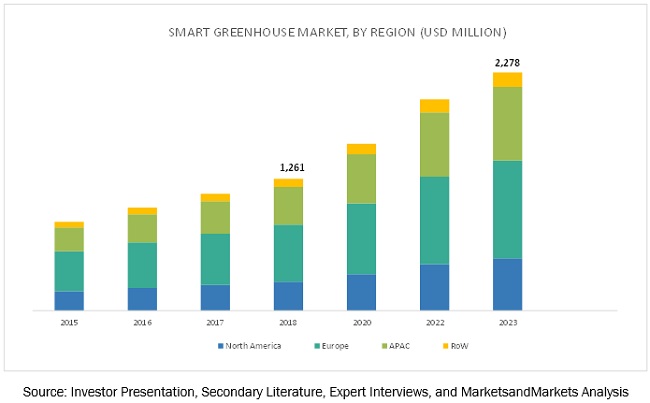 Europe to account for the largest market size during the forecast period.
Europe is expected to hold the largest market size in the smart greenhouse market during the forecast period, followed by the APAC region. Europe has traditionally been at the forefront of implementing advanced techniques in greenhouse horticulture. Countries such as the Netherlands, Spain, and Italy have large areas under greenhouse cultivation. However, in Spain, growers mostly cultivate their plants in simple tunnel-like greenhouses without the use of climate control technologies. CEA has mostly flourished in the Netherlands and the Scandinavian countries where growth is nearly impossible during the winter season. Recently, the population in Europe has expanded rapidly, and countries are importing fruits and vegetables in a frozen form from markets in Africa and Asia. Indoor horticulture is gaining rapid momentum in some of the major countries in this region to obtain fresh produce from locally cultivated farms. This factor is expected to generate a huge demand for controlled-environment agriculture in the near future.
Market Dynamics
Driver: Trend of indoor farming due to changing consumer preferences
An indoor farming technique, which includes greenhouses, shipping containers, vertical farming, has been gaining popularity due to the customers' preference for fresh, highly nutritious, and high-quality local food. Indoor farming makes it possible to grow products using fewer resources. Indoor growers are highly dependent on innovative technologies, such as lighting solutions, controllers, and material handling equipment, because they have to control the environment. In addition, indoor farmers often forego pesticides entirely, thereby producing organic products.
Cultivators can use specially designed lighting systems to facilitate uniform crop production while keeping the electricity consumption at a minimum level. Also, as the distance between cities and farms increases, the logistics costs drive the prices of fresh vegetables. To counter all these effects, plants can be grown within the cities in a controlled environment. Lighting technology manufacturers have started collaborating with commercial growers to set up industrial-scale indoor farms in cities. GE (US) is providing LED lighting systems to Mirai, Inc. (Japan) for its plant factory in the Miyagi Prefecture, Japan. Royal Philips Electronics N.V. (Netherlands) is working with the growers in the Netherlands and Japan for the development of full-scale indoor greenhouse production facilities. These developments are driving the demand for indoor plants, thereby increasing the growth of the smart greenhouse market.
Restraint: High cost of smart greenhouse
Smart greenhouses are more expensive because they consist of many high-cost technologies, such as HVAC systems, control systems, automated logistics, LED grow lights, and sensors. The LED grow light is one of the major technologies used in smart greenhouses. This is mainly because each LED grow light unit contains an array of LEDs, especially designed for greenhouse applications, which increases the overall cost. Often, these units contain different types of LEDs having variations in watts and wavelengths, with a spectrum tailored for optimal plant growth in specific plant species. High-powered LED grow light systems are available in the market with prices ranging from USD 500 to USD 2,000. However, a high-quality full-spectrum LED grow light suitable for indoor growing can cost around USD 2,000 or more, depending on the power output and other features. Thus, the high capital cost of LED lighting systems is an important aspect delaying the establishment of LED technology in greenhouse lighting.
Also, the HVAC technology comes with a high cost and is based on the area on which the technology needs to be deployed. Per hectare cost of HVAC is around USD 3050; larger the greenhouse, costlier the HVAC deployment. Combining the costs of all these technologies, the overall cost of a smart greenhouse is very high, which acts as a restraint for market growth.
Opportunity: Emerging vertical farming technology
Vertical farming is the recent trend in the agriculture industry, especially in urban areas. Vertical farms are indoor farms in which plants are grown in stacks one above the other, like a multi-storied building. These are highly optimized plant factories that make use of artificial lighting as the only source of light for plants. Vertical farms are designed for producing maximum yields all year-round in limited space environments and make use of climate control systems for maintaining optimum temperature to stimulate plant growth, so they will be safe from extreme weather occurrences, such as droughts and floods, and chemical pesticides. Moreover, the vertical farming technology includes hydroponics, which uses 70% lesser water than normal agriculture. In addition, growing crops indoor reduces the use of mechanical plows and other equipment, thereby lowering the combustion of fossil fuel. As a result, there will be a significant reduction in air pollution and CO2 emission that cause climatic change.
Hence, to make these vertical farms cost-effective, smart greenhouses are used for their energy-efficiency, longer lifespan, and desired light intensity for photosynthesis. The population in major cities across the world is increasing at a rapid rate, which, in turn, is fueling the demand for fresh fruits and vegetables.
Challenge: Integration of greenhouse technologies
Smart greenhouses are a combination of technologies such as HVAC, material logistics, sensors, and LED grow lights. The integration of all technologies in greenhouses is a challenge because different companies provide different attributes for a controlled environment. Hence, to make a smart greenhouse, companies need to work together and provide a controlled environment to produce maximum yields. Some companies such as Certhon (Netherlands) and Nexus Corporation (US) provide commercial greenhouses. Other companies such as Logiqs B.V. (Netherlands) provide material handling logistics for smart greenhouses. While companies such as LumiGrow Inc. (US) and Heliospectra A.B. (Sweden) are engaged in the LED grow light business. It becomes challenging for commercial growers to receive components from all companies, integrate their technologies, and build smart greenhouses for high-yield production.
Scope of the Report
| | |
| --- | --- |
| Report Metric | Details |
| Market size available for years | 2015–2023 |
| Base year considered | 2017 |
| Forecast period | 2018–2023 |
| Forecast units | Million (USD) |
| Segments covered | Type, Technology, Crop Type, Component and Region |
| Geographies covered | North America, Europe, APAC, RoW (South America, Middle East, and Africa) |
| Companies covered | Heliospectra AB (Sweden), Lumigrow (US), Rough Brothers (US), Nexus Corporation (US), Argus Control Systems (Canada), Certhon (Netherlands), Logiqs (Netherlands), Greentech Agro LLC (US), Netafim (US), International Greenhouse Company (US), Sensaphone (US), Cultivar (UK), Desert Growing (Riyadh), Kheyti (Hyderabad), Growlink (US), Prospera Technologies (Israel), Motorleaf (Canada), Pure Harvest (Abu Dhabi). |
The research report categorizes the smart greenhouse to forecast the revenues and analyze the trends in each of the following sub-segments:
Smart Greenhouse Market, By Type
Hydroponic
Non-Hydroponic
Smart Greenhouse Market, By Technology
HVAC Systems
LED Grow Lights
Irrigation Systems
Material Handling Equipment
Valves and Pumps
Control Systems
Sensors and Cameras
Other Technologies
Smart Greenhouse Market, By Component
Hardware
Software
Services
Smart Greenhouse Market, By Crop Type
Vegetables
Floriculture
Tree Seedlings
Others
Smart Greenhouse Market, By Region
North America
Europe
Asia Pacific (APAC)
RoW
Key Market Players
Heliospectra AB (Sweden), Lumigrow (US), Rough Brothers (US), Nexus Corporation (US), Argus Control Systems (Canada), Certhon (Netherlands), Logiqs (Netherlands), Greentech Agro LLC (US), Netafim (US), International Greenhouse Company (US), Sensaphone (US), Cultivar (UK), Desert Growing (Riyadh), Kheyti (Hyderabad), Growlink (US), Prospera Technologies (Israel), Motorleaf (Canada), Pure Harvest (Abu Dhabi).
Certhon held a leading position in the smart greenhouse market in 2016. Certhon is an expert in greenhouse construction to meet the requirements of commercial growers. It also provides HVAC technologies for maintaining temperatures and control systems for regulating the conditions in a greenhouse. Certhon has been using its experience and expertise in the horticultural industry to provide most of the solutions demanded from the growers. It partnered with Philips Lumileds (Netherlands) to provide LED grow lights to growers. Certhon also focuses on innovations to stay competitive in the market. It has opened its own innovation center in the Netherlands.
Recent Developments
In August 2017, Agrus Control Systems introduced a new software called Titan Operator ProgramBuild 900 (B900), which allows the end user/customers to access the Argus System from a remote PC or the PC where the core server is located. The look and feel of B900 have been refreshed with more efficient use of colors, fonts, and layouts as it builds a better user experience by incorporating any of the available add-ons to match customers' specific needs.
In December 2017, Heliospectra signed an agreement with Revered—a leader in medicinal and adult use cannabis in Colorado. Revered is focused on premium cannabis flower cultivation for which the company selected the Heliospectra's horticultural lighting products, including conventional HPS and metal halide fixtures.
In April 2016, Heliospectra launched a new water-cooled high-intensity version of its LX60 LED grow light. The new light solution not only has all benefits of the LX60 Series, such as wireless monitoring and spectral tuning control system; a wide, uniform light distribution pattern; and low heat emissions, but it also comes in a more compact form factor. These lights enable growers to grow crops in a more environmentally friendly way by reusing the heat from the light and reducing the demand for HVAC systems
In July 2016, Logiqs signed an agreement with OK Plants (Northlands), an innovative grower that constantly develops new and sustainable products to meet and surpass customers' expectations. Under this agreement, 2D-shuttle systems and automatic transport lines and containers of Logisqs were installed in the greenhouse of Ok Plants.
Critical questions the report answers:
Where will all these developments take the industry in the long term?
What are the upcoming trends for the smart greenhouse market?
Which segment provides the most opportunity for growth?
Who are the leading vendors operating in this market?
What are the opportunities for new market entrants?
To speak to our analyst for a discussion on the above findings, click Speak to Analyst