The smart greenhouse market was valued at USD 1.12 Billion in 2017 and is expected to reach 2.28 Billion by 2023, at a CAGR of 12.6% between 2018 and 2023.
The years considered for the study are as follows:
Base Year: 2017
Estimated Year: 2018
Projected Year: 2023
Forecast Period: 2018–2023
Smart Greenhouse Market Dynamics
High demand for food due to enormously growing population
The increasing population is a major concern for every industry; the agriculture sector is also affected by this. The growing population is resulting inthe increase in food demand. According to the United Nations, the world population is expected to reach 9.6 billion by 2050. Therefore, farmers are likely to witness immense pressure in increasing crop production either by making the land arable to grow crops or by adopting emerging techniques such as smart greenhouse and vertical farming. Wireless sensor technology offers the best solutions to make agriculture more intelligent and more connected which is referred as smart farming.
Smart farming is already in use through smart greenhouses, commercial growing techniques, and rooftop planting. Smart farming uses sensors, HVAC systems, irrigation and control systems, and logistics, among others, to track the growing stages of plants and provide them light and water accordingly. The use of technologies such as LED indoor farming creates a nature-like condition that enables farmers to meet the swelling demand for food.
Furthermore, according to the World Health Organization (WHO), 80% of the global population resides in urban cities. The prevailing scarcity of land in urban cities has compelled growers to adopt new solutions such as smart greenhouse and vertical farming for developing fresh produce.
Also, due to constant changes in the climate seasonal growers need to find an alternative and use smart farming for agriculture.
High cost of smart greenhouses
Smart greenhouses are more expensive because they consist of many high-cost technologies, such as HVAC systems, control systems, automated logistics, LED grow lights, and sensors. The LED grow light is one of the major technologies used in smart greenhouses. This is mainly because each LED grow light unit contains an array of LEDs, especially designed for greenhouse applications, which increases the overall cost. Often, these units contain different types of LEDs having variations in watts and wavelengths, with a spectrum tailored for optimal plant growth in specific plant species. High-powered LED grow light systems are available in the market with prices ranging from USD 500 to USD 2,000. However, a high-quality full-spectrum LED grow light suitable for indoor growing can cost around USD 2,000 or more, depending on the power output and other features. Thus, the high capital cost of LED lighting systems is an important aspect delaying the establishment of LED technology in greenhouse lighting.
The objectives of the study of this report
To define, describe, and forecast the smart greenhouse market segmented on the basis of technology, type, and geography
To forecast the market size of various segments with regard to 4 main regions:
North America, Europe, and Asia Pacific, and RoW
To provide detailed information regarding the major factors influencing the growth of the market (drivers, restraints, opportunities, and industry-specific challenges)
To analyze the value chain and market roadmaps to study the evolution
To strategically analyze the micromarkets1 with regard to individual growth trends, prospects, and contributions to the total market
To analyze the opportunities in the market for stakeholders by identifying high-growth segments in the market
To strategically profile the key players, comprehensively analyze their market share and core competencies, and detail the competitive landscape of the market
To analyze growth strategies such as contracts, agreements, acquisitions, product launches and developments, business expansions, and research and development (R&D) activities in the market
This research involves extensive use of secondary sources, directories, and databases (such as Hoovers, Bloomberg BusinessWeek, Factiva, and OneSource) to identify and collect information useful for this technical, market-oriented, and commercial study of the market. To find the overall market size, top-down and bottom-up approaches have been used to estimate the sizes of other individual markets by using percentage splits from secondary sources such as Hoovers, Bloomberg BusinessWeek, Factiva, and OneSource as well as with the help of primary research. The entire procedure includes the study of the annual and financial reports of the top market players and extensive interviews of industry leaders such as CEOs, VPs, directors, and marketing executives for key insights (both qualitative and quantitative) pertaining to the market.
The figure below shows the breakdown of the primaries based on company type, designation, and region, conducted during the research.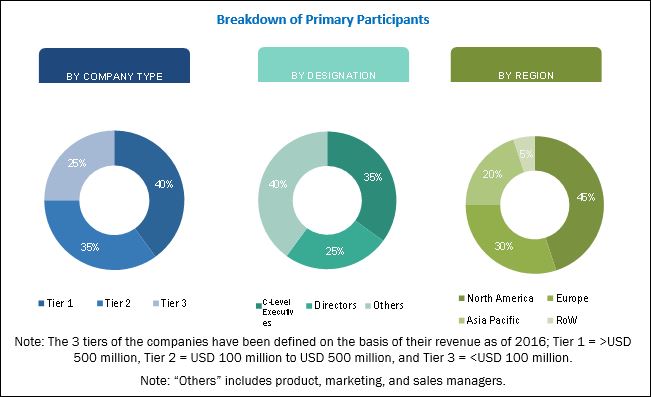 To know about the assumptions considered for the study, download the pdf brochure
Market Ecosystem:
The smart greenhouse market comprises key technology providers such as Heliospectra (Sweden), LumiGrow (US), Rough Brothers (US), Nexus Corporation (US), Argus Control Systems (Canada), Certhon (Netherlands), Logiqs (Netherlands), Greentech Agro (US), Netafim (US), and International Greenhouse Company (US).
Target Audience:
Small and commercial growers
Raw material and manufacturing equipment suppliers
Original equipment manufacturers (OEMs)
Material suppliers (glass and aluminum)
ODM and OEM technology solution providers
Research organizations
Technology standards organizations, forums, alliances, and associations
Technology investors
Governments, financial institutions, and investment communities
Analysts and strategic business planners
End users of greenhouse solutions
"Study answers several questions for the target audiences, primarily which market segments to focus in the next 2 to 5 years for prioritizing the efforts and investments."
Scope of the Report:
In this report, the overall market has been segmented on the basis of type, technology, and geography.
By Type:
Hydroponic
Non-Hydroponic
By Technology:
HVAC Systems
LED Grow Lights
Irrigation Systems
Material Handling Equipment
Valves & Pumps
Control Systems
Sensors and Cameras
Others
By Geography:
North America
Europe

UK
Germany
Netherlands
Scandinavia
Rest of Europe

APAC

Japan
China
Australia
Rest of APAC

RoW

Middle East
South America
Africa
Available Customizations
With the given market data, MarketsandMarkets offers customizations according to the company's specific needs. The following customization options are available for the report:
Geographic Analysis
Further breakdown of the geography segment, by application and country
Company Information
Detailed analysis and profiling of additional market players on the basis of various blocks of the value chain
Get more insight on other verticals of Semiconductor and Electronics Market Research Reports & Consulting
The market is expected to grow from USD 1.26 Billion in 2018 to USD 2.28 Billion by 2023, at a CAGR of 12.6% between 2018 and 2023. The trend of indoor farming due to changing consumer preferences, favorable government regulations and incentives pertaining to smart greenhouse lighting technology, and high demand for food due to enormously growing population are the key factors driving the smart greenhouse market growth.
This market is segmented on the basis of type, technology, and geography. Among all technologies, the market for LED grow light is expected to grow at the highest CAGR during the forecast period. LED grow lights are proving to be the best lighting systems owing to their compact design, adjustable light spectrum, and cool and directional emission of light. LED grow light systems also have a long operational life of 30,000 to 50,000 hours and consume considerably less energy.
On the basis of type, the smart greenhouse market has been segmented into hydroponic and non-hydroponic greenhouses. Controlled-environment agriculture (CEA) and hydroponics have gained popularity due to advancements in greenhouse structures and affordability of technologies that support plant growth. Hydroponics offers several advantages over soil-based horticulture, such as lower water consumption, no need of soil, better use of space and location, effective use of nutrients, and requirement for fewer pests.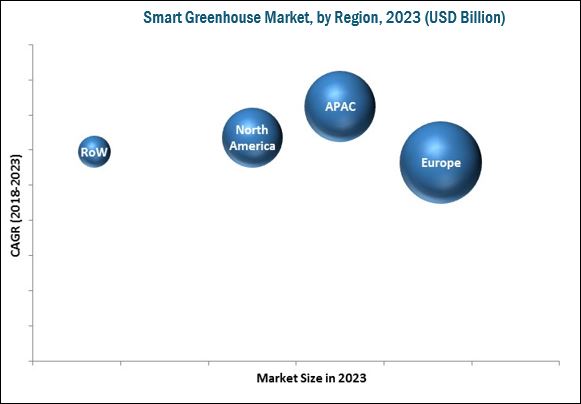 To request to know about sample pages on the above findings, click Request Sample
Europe was the leading market for smart greenhouses in 2017. The population growth, which consequently is likely to lead to the increase in the global demand for food, is the key driver for the market growth. The emergence of controlled-environment agriculture (CEA) and smart greenhouses in Europe due to the favorable environment for the adoption of greenhouse automation technologies and initiatives taken by the government due to growing population are the other factors that are expected to boost market growth in Europe.
Smart greenhouses are a combination of technologies such as HVAC, material logistics, sensors, and LED grow lights. The integration of all technologies in greenhouses is a challenge because different companies provide different attributes for a controlled environment. Hence, to make a smart greenhouse, companies need to work together and provide a controlled environment to produce maximum yields. This is the major constraint which hinders the growth of the market.
Certhon held a leading position in the market in 2017. Certhon is an expert in greenhouse construction to meet the requirements of commercial growers. It also provides HVAC technologies for maintaining temperatures and control systems for regulating the conditions in a greenhouse. The company has adopted contracts, agreements, and expansions as key strategies to increase its business in the market. In September 2017, it signed a contract with Poumo d'Amour (France) to build a SuprimAir greenhouse for Poumo d'Amour for growing tomato. With this development, the company will increase its business in the market.
To speak to our analyst for a discussion on the above findings, click Speak to Analyst