HOME › Press Releases › Oil Country Tubular Goods market worth $59 Billion by 2019
Oil Country Tubular Goods market worth $59 Billion by 2019
The report "Oil Country Tubular Goods Market by Grade (API, Premium), by Product (Seamless, ERW), & by Geography (North America, South America, Europe, Asia-Pacific, Africa, and Middle East) - Global Trends & Forecast to 2019" defines and segments the global oil country tubular goods market with analysis and forecasts of the global revenue. The OCTG market is estimated to grow from over $41.8 billion in 2014 to nearly $59 billion by 2019, at a CAGR of over 7%.
Browse more than 93 market data tables with 48 figures spread through 362 pages and in-depth TOC on "Oil Country Tubular Goods Market by Grade (API, Premium), by Product (Seamless, ERW), & by Geography (North America, South America, Europe, Asia-Pacific, Africa, and Middle East) - Global Trends & Forecast to 2019"
https://www.marketsandmarkets.com/Market-Reports/oil-country-tubular-goods-octg-market-5108819.html
Early buyers will receive 10% customization on reports.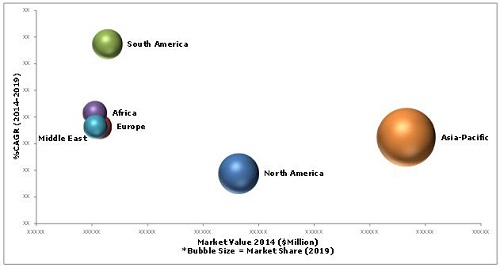 Source: Secondary Research and MarketsandMarkets Analysis
The increase in demand for energy drives the need for exploration activities and investments which further leads to the demand of OCTG, which is the major unit of infrastructure for the production of the oil and gas from the reserves.
The OCTG market is a highly competitive market and with the increase in the number of exploration activities in unconventional reserves, the competition has moved to a higher level. An increase in more complex horizontal and directional drilling has led to increase in OCTG demand, especially among high strength grades and premium connections.
Asia-Pacific is the largest market and China held the maximum share in demand of OCTG products. Globally, China was the biggest market and contributed to half of the share for demand of API OCTG in Asia-Pacific, by market size in 2013. After China, the North American market was the most influential market with U.S. being the epicenter of OCTG demand due to the abundant shale reserve, which drives the demand for directional and horizontal drilling.
The golden triangle of Brazil, U.S. Gulf of Mexico, and West Africa, which have large scale offshore drilling activities, are some of the key markets for OCTG. Consequently, the demand of premium OCTG grades will increase in the above regions.
The report analyzes and projects the oil country tubular goods market by grade, product type, and geography. The OCTG market, by grade type, includes premium and API grades. By product type, the report includes seamless and ERW, while the market by geography includes Asia-Pacific, Europe, Africa, the Middle East, North America, and South America. Furthermore the demand of OCTG according to the major countries in the above region is also presented in the report.
This report also includes market share, supply chain and value chain analyses, Porters Five Force Analysis, and market metrics such as drivers, restraints, burning issues, winning imperative, and opportunities. In addition, it presents a competitive landscape and company profiles of 10 key players in the market that include major companies which manufacture oil country tubular goods.
About MarketsandMarkets
MarketsandMarkets is a global market research and consulting company based in the U.S. We publish strategically analyzed market research reports and serve as a business intelligence partner to Fortune 500 companies across the world.
MarketsandMarkets also provides multi-client reports, company profiles, databases, and custom research services. M&M covers thirteen industry verticals, including advanced materials, automotives and transportation, banking and financial services, biotechnology, chemicals, consumer goods, energy and power, food and beverages, industrial automation, medical devices, pharmaceuticals, semiconductor and electronics, and telecommunications and IT.
We at MarketsandMarkets are inspired to help our clients grow by providing apt business insight with our huge market intelligence repository.
Contact:
Mr. Rohan
North - Dominion Plaza,
17304 Preston Road,
Suite 800, Dallas, TX 75252
Tel: +1-888-600-6441
Email: sales@marketsandmarkets.com
We will organize an analyst call and demonstrate the latent opportunities and threats which will likely impact your business, at no cost.
US : 1-888-600-6441
Search reports