Advanced functional materials are a sustainable solution for reducing energy consumption in almost all industries. However incorporating them in certain industries has yielded better results than others. These are specialty chemicals, electronics, aviation, healthcare and energy.
AFM: Global Market By Geography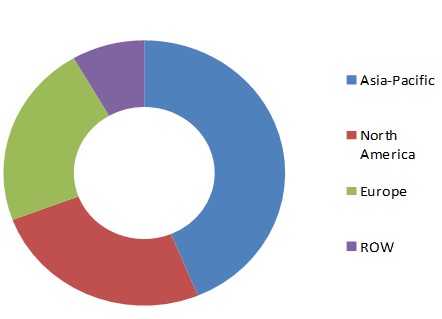 Source: Marketsandmarkets Analysis
Asia-Pacific is the largest and a CAGR of 9.0% makes it the fastest growing market for AFMs.
This report estimates and forecasts five different categories of AFMs. These are advanced functional ceramics, composites, nanomaterials, energy materials and conductive polymers.
AFM: Global Market By Categories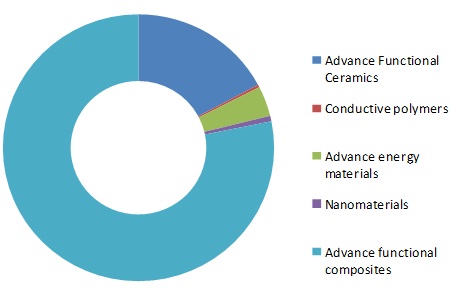 Source: Marketsandmarkets Analysis
Advanced functional composites with a current market of $22.0 billion is the largest category of AFM. Nanomaterials with a CAGR of 18.0% are the fastest growing category of AFMs. Electro-magnetic, optical, catalytic, and electronic properties of nanomaterials makes it an interesting feed material for industries such as electronics, cosmetics, energy, medicine, chemicals, coatings, and catalysts. For instance, a nanoparticle incorporated coating will be anti corrosive, impart electrical conductivity to the surface as well as enhance the appearance of the surface. This earlier would have required a coating, aswell as a conductor. Such multi functionality of nanomaterials increases its industrial significance.
AFM: Global Market By Applications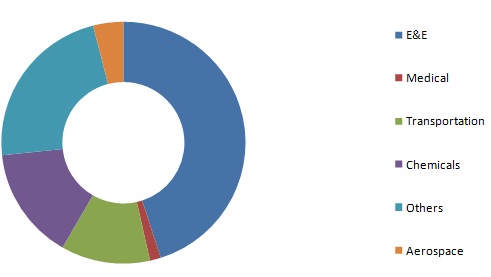 Source: Marketsandmarkets Analysis
Electrical and electronics industry is the largest consumer of AFMs. Advanced functional ceramics, nanomaterials and conductive polymers are the three categories of AFMs that are major contributors to the electrical & electronics industry. For instance, advanced functional ceramics have properties like conducting, semiconducting, piezo-electric, and magnetic, which make them appropriate for use in several electronic products, such as mobiles, computer, and other consumer durables. Currently, advanced functional ceramics are used as components of capacitors, integrated circuits, transducers, and insulators.
However transportation and aviation industries are substituting conventional materials with AFMs at a brisk pace and these industries are expected to drive the demand for AFMs in near future.
This report also profiles major manufacturers of AFMs such as 3M Company, Applied Materials Inc., Ceradyne Inc., DuPont, Momentive Performance Materials Inc. etc. The report also enlists the patents filed by these manufacturers in their particular segments and also presents a geo-specific patent analysis of the global AFM market.
Related Reports:
Advanced Functional Material Market For Low Carbon Applications By Categories (Ceramics, Composites, Energy Materials, Conductive Polymers & Nanomaterials), Applications (Chemicals, Electronics, Healthcare & Transportation) & Geography - Global Trends & Forecasts To 2018
https://www.marketsandmarkets.com/Market-Reports/advanced-functional-material-1221.html
Contact:
Mr. Rohan
North - Dominion Plaza,
17304,Preston Road,
Suite 800, Dallas, TX 75252
Tel: +1-888-600-6441
Email: [email protected]