The primary function of an automotive spark plugs is to ignite the air/fuel mixture in the combustion chamber of a gasoline engine. A glow plug, on the other hand, is responsible for providing additional heat energy for starting cold diesel engines. The quality of ignition has a great impact not only on the environment but also on the driving operations, influencing factors such as efficiency, performance, smooth running of the engine, and release of harmful exhausts. The need for an improved fuel economy, the introduction of stringent environmental norms and regulations, and the demand for an enhanced driving experience are some of the factors that have steered market players towards extensive research and development activities.
The automotive spark and glow plugs market is dominated by a few major players—including many local as well as international players. Some of the major players in the market are BorgWarner Inc. (U.S.), NGK Spark Plugs Co. Ltd. (Japan), Denso Corporation (Japan), Robert Bosch GmbH (Germany), and Federal-Mogul Corporation (U.S.) among others. The key players accounted for about 92.88% share of the market in 2013. The market leader is NGK Spark Plugs Co. Ltd., which holds around 31.05% of the market share.
NGK Spark Co. Ltd operates through four divisions, namely, automotive components, semiconductor division, ceramics division, and others. The automotive components division engages in the production of spark and glow plugs. The company has established nine domestic and 25 international subsidiaries. The company has prominence in regions such as Asia, North America, Latin America and Europe. It is strengthening its business through the expansion of its sales network. It has signed several agreements for supply contracts with Fiat, BMW, Audi, Mercedes-Benz, Volkswagen, and other such major automotive OEMs. The company is also attempting to expand its business in Asian countries. For instance, anticipating the rise in the global spark plugs demand by 2020, it has recently established new plants in Nino, Kani-shi, and Gifu in Japan. NGK Spark Co. Ltd invested around $4,332 million in the development of the facilities. Automotive components are the main source of revenue for the company. Additionally, it is gaining traction in the automotive spark and glow plugs market by introducing new products incorporated with the latest technology for its local as well as international customers.
In terms of value, the automotive spark plugs market is estimated to grow at a CAGR of 5.26% whereas the glow plugs market is anticipated to grow at a CAGR of 7.85% during the considered review period. According to the study, Asia-Oceania is estimated to dominate the spark and glow plugs market. Regarding the type of plugs, hot spark plugs and metal glow plugs are estimated to hold the largest share in the automotive spark and glow plugs markets respectively.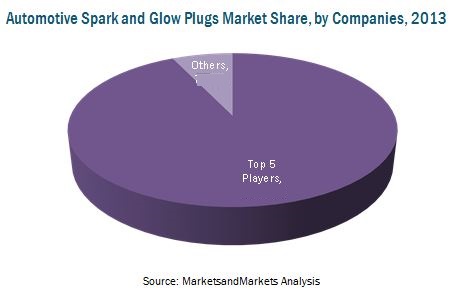 Related Reports:
Spark Plugs Market by Product Type (Spark plugs-Hot & Cold, Glow plug-Metal & Ceramic), Engine Layout (L3, L4, L5, L6, V6, H6, V8, V10, V12), Market (OE & Aftermarket), Vehicle Type (Passenger Car, LCV & HCV), & Region - Trends & Forecast to 2019
Contact:
Mr. Rohan
Markets and Markets
UNIT no 802, Tower no. 7, SEZ
Magarpatta city, Hadapsar
Pune, Maharashtra 411013, India
1-888-600-6441
Email: [email protected]