The global market for carbohydrase was estimated to grow at a rate of 6.6% from 2014 to 2019. North America acquires a majority share in the global carbohydrase market. The region is industrially developed, thereby finding an increased application of carbohydrases. The major application that utilizes carbohydrases is in the food and beverage industry. Asia-Pacific is expected to experience high growth with increasing application of carbohydrases in the region.
Taking into consideration the types of carbohydrases, both amylases and cellulases are expected to acquire a large market share together. The type's lactase, pectinases, and others (mannanases and pullulanases) are projected to experience a lower growth. This is because enzymes such as lactase and pectinases, find application only in specific industries such as dairy and wine making respectively, whereas amylases and cellulases are utilized in multiple industries/sectors.
There are more than 750 registered carbohydrase manufacturers around the world. But the market is dominated by few large players and then comprises many small- and medium-scale players. The major players identified in the carbohydrase industry are Novozymes (DENMARK) AB Enzymes (Germany), DSM (The Netherlands), and DuPont (U.S.), Amano Enzymes (Japan), and Dyadic International Inc.(U.S.).
Carbohydrase: Market Share, 2012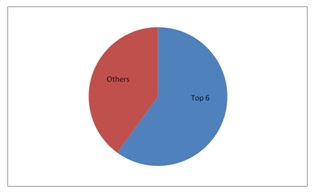 Novozymes (DENMARK) is identified as the major player among all carbohydrase manufacturers. Its wide product portfolio and tendency to serve a majority of applications makes it an important player in the baking enzymes industry.
Related Reports:
Carbohydrase Market by Applications (Food & Beverage, Animal Feed, Pharmaceuticals and Others), by Type (Amylases, Cellulases, and Others), Source (Microorganisms, Animals, and Plants) and by Geography - Global Trends & Forecasts to 2019

Contact:
Mr. Rohan
North - Dominion Plaza,
17304 Preston Road,
Suite 800, Dallas, TX 75252
Tel: +1-888-600-6441
Email: [email protected]