Air pollution has become a significant threat to sustainable development and the life expectancy of human beings. Industries contribute to over 21% of harmful emissions. Hence, governments of different nations are imposing stringent regulations on industries for emissions of certain harmful gases such as sulfur dioxide, nitrogen oxides, mercury, and also of particulate matter. Therefore, to keep the emissions below permissible limits, industries are mandated to install and operate flue gas treatment systems. The key end-user industries of these systems and the associate services include, power generation, cement manufacture, and metal processing units.
India is one of the fastest growing economies,and has rising concerns on the ambient air quality. According to the recent assessment by Yale University, India stood among the last five countries in terms air quality, among the total of 178 nations assessed, only to be placed above Pakistan, China, Nepal and Bangladesh. The power generation sector, which is one of the largest contributors to air pollution, is primarily dependent on coal. India is the fifth-largest country in terms of installed power generation capacity, only after China, the U.S., Japan and Russia. The current power generation capacity of the country is 233,929.9 MW; of which,approximately 138,213.89 MW is generated from coal-firing. According to the 12thFive-Year Plan (2012-2017), the country is targeting to expand its power generation capacity by almost over 100,000 MW to overcome the current supply and demand deficit. Of this total targeted expansion, at least 70% is coal-fired power generation. Apart from this, the industrial captive power generation is expected to expand by 13,000 MW in this period.
India: Power Generation Share, by type,2013*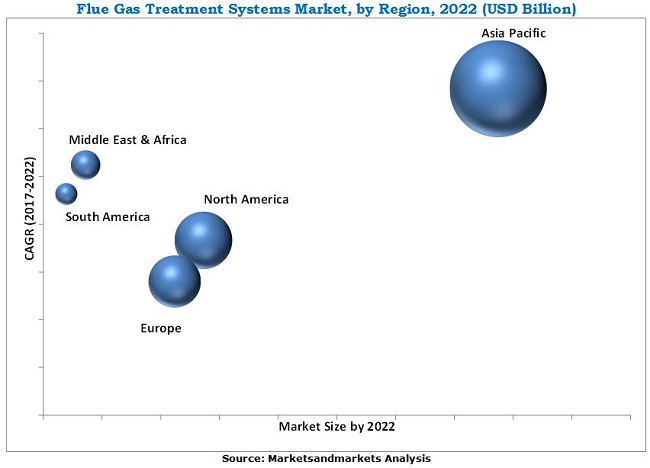 Source: Secondary Research and MarketsandMarkets Analysis
*31st December, 2013
The 12thFive-Year Plan of steel sector is also targeting for capacity expansion to produce 142.3 million tons (MT) by 2017 from the current production capacity of 90 MT. In this period, reasonably good growth is projected in other sectors such as cement manufacture, chemical industry, and non-ferrous metal processing sector. Currently, there are regulations on emissions of particulate matter only, from these industries. Hence, any new plant coming up will have to haveESPs or bag filters installed to control the emission of particulate matter. Therefore, India is projected to be one of the biggest market places for sales of particulate control systems and services in the next five years.
Typically, the coal extracted in India has very low sulfur content (<0.5%). Hence, there are no direct regulations on sulfur dioxide emissions in the country. The Central Pollution Control Board (CPCB),which operates under the Ministry of Environment and Forests, is mandating the industries to build high stacks so as to discharge the exhaust gas over large area in order to minimize the impact on ambient air quality. However, the board is insisting that the upcoming coal-fired power plants provide space provisions to accommodate flue gas desulfurization units in the future, in case regulations are legislated. Regulations are expected to be in place at least for the plants that burn imported coal from countries such as Australia and Indonesia, and those that are close to densely populated areas, after the formation of stable government in 2014 general elections in India. Similar regulations are anticipated on nitrogen oxide emissions as well.
Thus, with regulations on sulfur dioxide, nitrogen oxides, and mercury in place, India will be huge market for sales of these industrial flue gas treatment systems and services. The country has the potential to surpass China, as the Chinese market is projected to attain saturation by 2020.
Related Reports:
Industrial Flue Gas Treatment Systems & Services Market by Pollutant Control System (FGD, DeNOx, Particulate Control, Mercury Control) by Application (Power Generation, Cement, Iron & Steel, Chemical & Others) - Global Trends & Forecasts to 2019
https://www.marketsandmarkets.com/Market-Reports/flue-gas-treatment-systems-market-214992664.html
Contact:
Mr. Rohan
North - Dominion Plaza,
17304 Preston Road,
Suite 800, Dallas, TX 75252
Tel: +1-888-600-6441
Email: [email protected]