The nut ingredients market is projected to reach a value of $22,642.1 Million by 2019, at a CAGR of 5.8% from 2014 to 2019. In 2013, the European region accounted for the largest share in the market, followed by North America and Asia-Pacific in terms of value. In terms of volume, North America dominated the nut ingredients market. The Asia-Pacific region is projected to be the fastest-growing market, with China and India exhibiting strong growth opportunities for nut ingredients.
The key players identified in this report are Archer Daniels Midland Company (U.S.), Olam International Limited (Singapore), Barry Callebaut Group (Switzerland), Kerry Group (Ireland), and Kanegrade (U.K.).
The key players adopted organic & inorganic growth strategies such as acquisitions and expansions to increase their scope in the market. Maximum companies adopted the acquisition strategy to increase their technology & product portfolio and expand their product offerings. These companies are working to strengthen their position in the developed markets of Europe and North America and also focus on entering emerging and untapped markets in the Asia-Pacific region.
The Archer Daniels Midland Company (U.S.) has the largest market share and a strong geographic presence in North America, Latin America, and Europe. The company has maintained its leading position through expansions, agreements, joint ventures, and acquisition.
Nut Ingredients Market Share Analysis, (2013)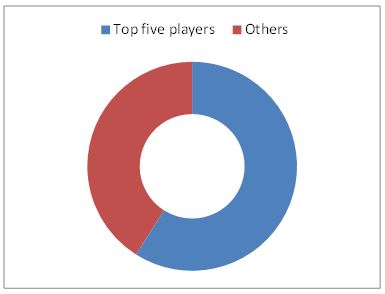 Source: Company Annual Reports, Company Website, and MarketsandMarkets Analysis
Related Reports:
Nut Ingredients Market by Type (Almonds, walnuts, Hazelnut, cashews), by Application (Confectioneries, Dairy products, Bakery products, Snacks & bars, Desserts, Cereals, Beverages & Region - Global Forecast to 2019
Contact:
Mr. Rohan
North - Dominion Plaza,
17304 Preston Road,
Suite 800, Dallas, TX 75252
Tel: +1-888-600-6441
Email: [email protected]