Specialty films such as EVOH, PLA, PVDC, and Polyamide are increasingly used in a number of applications and expected to generate new revenue pockets. Better barrier properties, mechanical strength, and chemical resistance of such films are making it popular in a number of packaging and non-packaging applications. Moreover, biodegradable and re-usable specialty films are presently preferred over conventional resin-based films in food and pharmaceutical packaging, especially in North America and Europe. The rising environmental concerns and new stricter regulations in North America and Europe against usage of non-biodegradable petroplastics are driving the growth for specialty films.
Barrier films are slowly becoming the preferred material for a number of packaging applications such as meat and poultry products packaging. The worldwide expansion in packaging industry requires high barrier packaging products for a number of applications. This in turn is expected to generate new revenue pockets for specialty films. In the matured markets such as North America and Europe, the demand for specialty films is increasing at a faster rate than the other polymer films. In North America, water-soluble and biodegradable films are expected to grow at a rapid rate as a number of stricter environmental regulations are passed in this region against the use of conventional petrochemical-based polymers.
Polyester is the most preferred material for specialty and high-performance films. Other materials used for production of such films and sheets include nylon, polycarbonate, fluropolymers and others.
Specialty and High Performance Plastic Films and Sheets, ay Type, 2012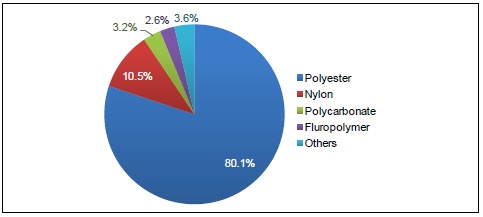 Related Reports:
Plastic Films & Plastic Sheets Market by Application (Flexible & Non-Flexible Packaging, & Non-Packaging) & Type (LDPE, LLDPE, HDPE, CPP, BOPP, Polyester, PVC, Polyamide, EVOH, PLA, PVDC, PVOH, Polycarbonate & Others) — Global Trends & Forecasts to 2018
Contact:
Mr. Rohan
North - Dominion Plaza,
17304 Preston Road,
Suite 800, Dallas, TX 75252
Tel: +1-888-6006-441
Email: [email protected]