[180 Pages Report] The global food encapsulation market is estimated to account for USD 9.9 billion in 2020 and is projected to reach USD 14.1 billion by 2025, recording a CAGR of 7.5% during the forecast period. The market is primarily driven by the increasing use of encapsulated flavors in the food and beverage industry and the rising adoption of microencapsulation for functional ingredients.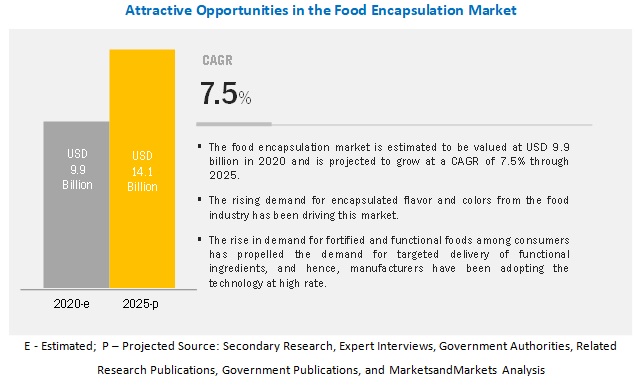 Vitamins and minerals are the most common ingredients encapsulated for functional food and dietary supplements.
Vitamins are functional ingredients that are used in food owing to their specific nutritional properties for varied human body parts. Thus, a targeted and controlled release of vitamins often becomes important, when added as a food ingredient. Thus, encapsulation is majorly adopted for vitamins for its targeted effect. Following vitamins, there has been a growing trend in the encapsulation of flavors to achieve controlled and prolonged release of taste and fragrance of the ingredient.
The market for dietary supplements is projected to record the highest CAGR during the forecast period.
The demand for dietary supplements is on the rise in developed and developing countries among the millennial population. Vitamins, enzymes, and minerals are some of the major constituents of dietary supplements, which require targeted delivery. Also, industry experts foresee the adoption rate for dietary supplements to rise the highest in the coming five years.
Polysaccharides are the most preferred shell phase for food encapsulation.
The polysaccharides segment accounted for the largest market for shell material in 2018 and is projected to follow the same trend through 2025. Polysaccharides are a composition of repeating monosaccharide units connected by glycoside bonds. Polysaccharides are easily chemically modifiable and provide numerous textures and viscosities. Owing to their enormous molecular structure and ability to entrap bio-actives, polysaccharides are considered the most-suitable building blocks for delivery systems.
In terms of method of encapsulation, ingredients encapsulated through a physical method accounted for the major market share.
Food encapsulation demand is targeted by a few ingredient manufacturing companies, such as functional food ingredients, flavors, and colors. With the use of advanced technology, the price of the ingredient rises, and hence, the manufacturers prefer low cost-efficient encapsulation methods. Thus, the physical methods are the most demanded method used for encapsulation of food ingredients.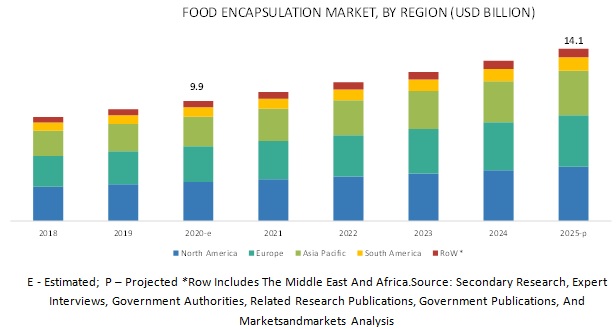 The food encapsulation market in the Asia Pacific region is projected to grow at the highest CAGR from 2019 to 2026.
Factors driving the growth of the Asia Pacific market include the increasing adoption of encapsulated flavors and colors in the beverage and premium food industry. With the rising awareness about the benefits of functional food and dietary supplements among consumers and rising disposable income, consumers have been willing to pay a premium price for value-added products. Thus, manufacturers have been grabbing this opportunity in countries such as China and India to expand their business in the encapsulation market. Also, small enterprises have been delivering generic encapsulated products in the market at competitive prices, which has been further boosting awareness.
Key Market Players
Many domestic and global players provide food encapsulation of various ingredients across the world. Few players offer encapsulated ingredients, while few companies offer encapsulation as an extended service for their clients. Major players have their presence in the North American and European countries. Key players operating in this market include FrieslandCampina (Netherlands), DSM (Netherlands), Ingredion Incorporated (US), Kerry Group (Ireland), Cargill (US), Lycored Group (Israel), Balchem Corporation (US), Firmenich Incorporated (Switzerland), BASF SE (Germany), International Flavors and Fragrances Inc. (US), DuPont (US), Symrise AG (Germany), Sensient Technologies Corporation (US), Aveka Group (US), Advanced Bionutrition Corp (US), Encapsys (US), Tastetech Encapsulation Solutions (UK), Sphera Encapsulation (Italy), Clextral (France), and Vitasquare (Netherlands).
Scope of the Report
Report Metric

Details

Market size estimation

2018–2025

Base year considered

2018

Forecast period considered

2020–2025

Units considered

Value (USD)

Segments covered

Shell material
Core phase
Method
Technology
Application
Region

Regions covered

North America
Asia Pacific
Europe
South America
Rest of the World (RoW)

Companies studied

FrieslandCampina (Netherlands)
DSM (Netherlands)
Ingredion Incorporated (US)
Kerry Group (Ireland)
Cargill (US)
Lycored Group (Israel)
Balchem Corporation (US)
Firmenich Incorporated (Switzerland)
BASF SE (Germany)
International Flavors and Fragrances Inc. (US)
DuPont (US)
Symrise AG (Germany)
Sensient Technologies Corporation (US)
Aveka Group (US)
Advanced Bionutrition Corp (US)
Encapsys (US)
Tastetech Encapsulation Solutions (UK)
Sphera Encapsulation (Italy)
Clextral (France)
Vitasquare (Netherlands)
Target Audience
Supply-side: Food encapsulation service providers, encapsulated ingredient manufacturers, raw material suppliers, importers, and exporters
Demand-side: Retailers, distributors, and wholesalers of encapsulated food
Regulatory side: Concerned government authorities, commercial research & development (R&D) institutions, and other regulatory bodies
Associations and industry bodies: Food and Agriculture Organization (FAO), Food and Drug Administration (FDA), European Food Safety Authority (EFSA), United States Department of Agriculture (USDA), and Food Standards Australia New Zealand (FSANZ)
Report Scope
Shell Material
Polysaccharides
Emulsifiers
Lipids
Proteins
Method
Physical

Atomization
Spray drying
Spray chilling
Spinning disk
Fluid bed
Extrusion
Other physical methods (freeze-drying, pan coating, and electro-spraying)

Chemical

Polymerization
Sol-gel method

Physico-chemical

Coacervation
Evaporation-solvent diffusion method
Layer-by-layer encapsulation
Cyclodextrins
Liposomes
Other physico-chemical methods& (co-crystallization and micelles)
Technology
Microencapsulation
Nanoencapsulation
Hybrid encapsulation
Application
Dietary supplements
Functional food products
Bakery products
Confectionery
Beverages
Frozen products
Dairy products
Core Phase
Vitamins and minerals
Vitamin A
Vitamin D
Vitamin E
Vitamin K
Vitamin B complex
Vitamin C
Enzymes

Carbohydrase
Protease
Lipase
Other enzymes (isomerase and transferase)

Organic acids

Citric acid
Acetic acid
Lactic acid
Fumaric acid
Propionic acid
Malic acid
Ascorbic acid
Other organic acids (gluconic acid, succinic acid, and butyric acid)

Probiotics
Sweeteners
Nutritional lipids
Prebiotics

Oligosaccharides
Inulin
Polydextrose
Other prebiotics (lactitol, lactulose, lactosucrose, fructans, soy oligosaccharides, xylooligosaccharides)

Preservatives

Antimicrobials
Antioxidants
Other preservatives (chelating agents and enzyme inhibitors)

Colors
Amino acids
Proteins
Flavors

Chocolate & browns
Vanilla
Fruits & nuts
Dairy
Spices
Other flavors (tea, meat flavors, and fish oil)

Other core materials (salts, fats, and phytochemicals)
Region
North America
Europe
Asia Pacific
South America
Rest of the World (RoW)
Recent Developments
In July 2019, DSM (Netherlands) entered into a joint venture with Evonik (Germany) to produce encapsulated omega-3 fatty acids, reducing the pressure on fish stocks, and supporting the aquaculture industry.
In May 2017, Lycored (Israel) entered into a joint venture with a biotechnology company, Algatechnologies (Israel), to distribute Algatech's AstaPure in the form of beadlets, which will help in increasing the brand's commercial reach for this product range in the North American market.
In January 2017, DSM (Netherlands) launched a new product, MEG-3, with new encapsulation technology.
Key questions addressed by the report:
Which region will account for the largest share in the food encapsulation market?
What are the trends and factors responsible for influencing the adoption rate of food encapsulation in key emerging countries?
What is the level of support offered by governments across these countries to the ingredient manufacturers for food encapsulation?
Which are the key players in the market, and how intense is the competition?
What are the major restraints in the adoption of food encapsulation among ingredient manufacturers?
To speak to our analyst for a discussion on the above findings, click Speak to Analyst