Simulators Market
Simulators Market Size, Share & Industry Growth Analysis Report by Application (Commercial Training, Military Training), Solution (products, Services), Platform (Airborne, Land, Maritime), Technique (Live, Virtual & Constructive, Synthetic Environment, Gaming), Type, Region - Global Forecast to 2027
Report Code: AS 6018
Jun, 2022, by marketsandmarkets.com
[280 Pages Report] A Simulator is a system that combines software and hardware to simulate training. The market for simulators includes the airborne, land, and maritime platforms used to train commercial and military crew members. Training through simulators is provided via three techniques: live, virtual & constructive simulation, synthetic environment simulation, and gaming simulation. The Simulators Industry size is projected to grow from USD 25.5 Billion in 2022 to USD 34.9 Billion by 2027, at a CAGR of 6.5% from 2022 to 2027. The need to train pilots to cater to the increase in air travel is fueling the demand for flight simulators. Training pilots via simulators enables them to handle various flight operations while eliminating the risks that could otherwise be involved. The increasing acceptance of virtual pilot training to ensure aviation safety is another significant factor expected to contribute to the growth of the simulators market.
To know about the assumptions considered for the study, Request for Free Sample Report
Simulators Market Dynamics:
Driver: Growing demand for pilots in aviation industry
According to the Boeing Pilot Outlook 2021, around 612,000 new commercial pilots will be required to manage and fly the global commercial fleet over the next two decades, mostly in the Asia Pacific and the Middle East regions. The growing middle-class population and the increase in trade, tourism, and disposable income in economies such as India, China, and the UAE have increased the need for aircraft and, thereby, pilots.
Mature markets such as North America and Europe are seeing a gradual revival in demand for pilots due to recruitment initiatives by legacy carriers. Pilots not only require extensive training to handle aircraft operations under unusual situations but also need to obtain adequate knowledge about new features in aircraft. Using flight simulators to train pilots avoids damage to expensive aircraft while ensuring the public's safety.
The aviation industry faces a shortage of skilled pilots and thus requires recruitment. These recruited pilots need training, which, in turn, leads to increased demand for simulators. Various airlines and pilot training institutes are being established to offer training courses for pilots, which is another factor expected to drive the demand for simulators..
Restraint: Longer product lifecycle
According to CAE, Inc., the leading manufacturer and supplier of simulators globally, the average lifecycle of a full flight simulator is almost 25 years. However, this lifecycle can easily be extended by software and hardware upgrades. As civil and military aircraft are updated, simulator software is upgraded and modified to provide a more realistic training experience. Periodic modifications to simulator systems to elongate their lifecycle and provide training on the latest aircraft models is the major factor restraining the market's growth.
Opportunity: Development of simulators for unmanned aerial systems
The increasing demand for unmanned systems for defense and commercial applications is expected to drive the demand for simulators. Companies such as AEgis Technologies Group (US) and Havelsan Inc. (US) are introducing highly sophisticated unmanned simulators independent of hardware configurations to simulate any unmanned aerial system (UAS) with the help of any sensor operator and payload suite. These simulators can create a virtual battlefield in real-time, enabling ab-initio training, basic payload and flight operations, mission rehearsal, and mission planning. These simulators, however, need to be cost-effective, capable of precise simulation of flight dynamics, have an error-tolerant control system design, and multi-vehicle simulation with interoperability.
Challenge: Minimization of weight and size to maintain advanced features
Simulator products and solutions find applications in various systems for different combat operations. Soldiers also use these military simulator products during critical missions to gain an advantage over their enemies. However, heavy batteries increase the weight of products, hampering the soldier's performance.
Reducing the size of military simulators is also difficult, owing to the requirement for several components to perform vital functions. The complexity of reducing the size and weight is expected to make the manufacturing process more expensive. Industry players must install sophisticated machinery and invest in R&D activities to increase device efficiency. Trying to minimize devices' associated weight and size while maintaining their advanced features may create a barrier to the market's growth.
Simulators Market Ecosystem
Prominent companies and start-ups that provide simulators and their services, distributors/ suppliers/ retailers, and end customers are the key stakeholders in the simulators market ecosystem. Investors, funders, academic researchers, distributors, service providers, and industries serve as the major influencers in the market.
To know about the assumptions considered for the study, download the pdf brochure
The air traffic control simulators segments projected to register highest growth rate during forecast period
Based on type, the air traffic control simulators segment is projected to register the highest growth rate during the forecast period. Air traffic control towers house major equipment, resulting in the highest growth rate for the air traffic control simulators segment. Regions such as North America and Europe are also focusing on the modernization of equipment to improve the efficiency of their air traffic, thereby contributing to the growth of the aforementioned segment.
The maritime segment projected to lead simulators market during forecast period
Based on platform, the maritime segment is projected to lead the simulators market during the forecast period. This segment has been further segmented into military, commercial, and unmanned maritime vehicles. There is a huge demand for new ships, owing to the rise in seaborne trade across the globe. The deployment of new ships will lead to a requirement for new ship crew members, in turn, fueling the demand for simulators to train them.
Asia Pacific is expected to account for the largest share in 2021
Asia Pacific accounted for the largest market share in 2021, and North America is projected to witness the highest CAGR during the forecast period. Improving lifestyles, an expanding number of metro cities and a continually growing population have all contributed to the increased manufacturing and sales of passenger automobiles in the Asia Pacific region. A few Asia Pacific countries, such as Japan and South Korea, have safety rules in place, and the demand for passenger vehicles in these countries is expected to expand over the next five years. With rising population and car demand, China, South Korea, India, and Japan are expected to implement stringent vehicle and road safety laws. Factors such as limited infrastructure and a growing number of road accidents are projected to increase the demand for skilled drivers, subsequently increasing the need for training simulators.
Simulators Industry Companies: Top Key Market Players
The Simulators Companies are dominated by globally established players such as CAE Inc. (Canada), L3Harris Technologies, Inc. (US), Thales SA (France), Saab AB (Sweden), Indra (Spain), Flight Safety International(US), The Boeing Company (US), Airbus S.A.S. (Netherlands), Tru Simulaion + Training Inc. (US), and Raytheon Company (US).
Get online access to the report on the World's First Market Intelligence Cloud

Easy to Download Historical Data & Forecast Numbers
Company Analysis Dashboard for high growth potential opportunities
Research Analyst Access for customization & queries
Competitor Analysis with Interactive dashboard
Latest News, Updates & Trend analysis

Request Sample

Click on image to enlarge

Scope of the Report
| | |
| --- | --- |
| Report Metric | Details |
| Estimated Market Size | $ 25.5 Billion |
| Projected Market Size | $ 34.9 Billion |
| Growth Rate | 6.5% |
| Market Size Available for Years | 2019-2027 |
| Base Year Considered | 2021 |
| Forecast Period | 2022-2027 |
| Forecast Units | Value (USD Million/ Billion) |
| Segments Covered | By Type, Platform, Technique, Application, Solution and By Region |
| Geographies Covered | North America, Asia Pacific, Europe, the Middle East, and Rest of the World |
| Companies Covered | CAE Inc. (Canada), L3Harris Technologies, Inc. (US), Thales SA (France), Saab AB (Sweden), Indra (Spain), Flight Safety International(US), The Boeing Company (US), and among others |
This research report categorizes the Simulators Market based on Type, Platform, Technique, Application, Solution and Region
Simulators Market, By Platform
Simulators Market, By Type
Full Mission Bridge Simulators
Full Flight Simulators
Driving Simulators
Fixed Base Simulators
Flight Training Devices
Vessel Traffic Control Simulators
Land Forces Training Simulators
Full Mission Flight Simulators
Air Traffic Control Simulators
Simulators Market, By Solution
Simulators Market, By Technique
Live, Virtual, & Constructive (LVC) Simulation
Synthetic Environment Simulation
Gaming Simulation
Simulators Market, By Application
Simulators Market, By Region
North America
Europe
Asia Pacific
Middle East
Rest of the World
Recent Developments
In May 2022, Thales acquired RUAG Simulation & Training, which employs 500 people and has annual revenues of USD 93.81 million.
In February 2022, Kongsberg Digital (KDI), a division of Kongsberg Gruppen, was awarded a major contract to provide a wide variety of marine simulator systems to the South Metropolitan TAFE (Technical and Further Education) college in Fremantle, Western Australia.
In March 2019, CAE entered into a five-year agreement with AirAsia (Malaysia) to provide CAE Rise, a full flight simulator for initial training of AirAsia's pilots. This helped the company in expanding its customer base in Malaysia.
In March 2019, Thales received a contract from Caverton Helicopters (Africa) to provide Thales' Reality-H Full Flight Simulator to train the pilots of Caverton Helicopters for the AW139 aircraft platform. This helped the company in expanding its customer base in Africa.
Frequently Asked Questions (FAQ):
What is the current size of the Simulators market?
The Simulators market size is projected to grow from USD 25.5 billion in 2022 to USD 34.9 billion by 2027, at a CAGR of 6.5% from 2022 to 2027.
Who are the winners in the Simulatorsmarket?
CAE Inc. (Canada), L3Harris Technologies, Inc. (US), Thales SA (France), Saab AB (Sweden), Indra (Spain), Flight Safety International(US), and The Boeing Company (US)are some of the winners in the market.
What are some of the technological advancements in the market?
Haptic technology, reconfigurable flight simulation and training, inculcation of AI across simulation and training systems, 3D printing, Internet of Things, and Big data analytics are some of the technological advancements in the market. .
To speak to our analyst for a discussion on the above findings, click Speak to Analyst
TABLE OF CONTENTS
1 INTRODUCTION
1.1 OBJECTIVES OF THE STUDY
1.2 MARKET DEFINITION
1.3 MARKET SCOPE
1.3.1 REGIONAL SCOPE
1.3.2 YEARS CONSIDERED FOR THE STUDY
1.4 CURRENCY
1.5 MARKET STAKEHOLDERS
1.6 SUMMARY OF CHANGES
2 RESEARCH METHODOLOGY
2.1 RESEARCH DATA
2.1.1 SECONDARY DATA
2.1.1.1 Key data from secondary sources
2.1.2 PRIMARY DATA
2.1.2.1 Key data from primary sources
2.1.2.2 Breakdown of primaries
2.2 MARKET SIZE ESTIMATION
2.2.1 BOTTOM-UP APPROACH
2.2.2 TOP-DOWN APPROACH
2.3 DATA TRIANGULATION
2.4 RESEARCH ASSUMPTIONS
2.5 LIMITATIONS
3 EXECUTIVE SUMMARY
4 PREMIUM INSIGHTS
5 MARKET OVERVIEW
5.1 INTRODUCTION
5.2 MARKET DYNAMICS
5.2.1 DRIVERS
5.2.2 RESTRAINTS
5.2.3 OPPORTUNITIES
5.2.4 CHALLENGES
5.3 VALUE CHAIN ANALYSIS
5.4 TRENDS/DISRUPTION IMPACTING CUSTOMERS BUSINESS
5.5 PRICING ANALYSIS
5.6 USECASE ANALYSIS
5.7 TRADE ANALYSIS
5.8 SIMULATORS MARKET ECOSYSTEM
5.9 TARIFF AND REGULATORY LANDSCAPE
5.10 RANGES & SCENARIOS
5.11 PORTER'S FIVE FORCES ANALYSIS
5.12 TECHNOLOGICAL ANALYSIS
5.13 KEY CONFERENCES & EVENTS IN 2022-2023 ANALYSIS
5.14 KEY STAKEHOLDERS & BUYING CRITERIA
6 INDUSTRY TRENDS
6.1 INTRODUCTION
6.2 TECHNOLOGY TRENDS
6.3 PATENT ANALYSIS
7 SIMULATORS MARKET, BY SOLUTION
7.1 INTRODUCTION
7.2 PRODUCTS
7.2.1 HARDWARE
7.2.2 SOFTWARE
7.3 SERVICES
7.3.1 HARDWARE UPGRADES
7.3.2 SOFTWARE UPGRADES
7.3.3 MAINTENANCE & SUPPORT
8 SIMULATORS MARKET, BY PLATFORM
8.1 INTRODUCTION
8.2 AIRBORNE
8.2.1 COMMERCIAL
8.2.1.1 Narrow body aircraft (NBA)
8.2.1.2 Wide body aircraft (WBA)
8.2.1.3 Extra wide body (EWB)
8.2.1.4 Regional transport aircraft (RTA)
8.2.2 MILITARY
8.2.2.1 Helicopters
8.2.2.2 Combat aircraft
8.2.2.3 Training aircraft
8.2.2.4 Transport aircraft
8.2.3 UAVS
8.3 LAND
8.3.1 COMMERCIAL
8.3.1.1 Trucks
8.3.1.2 Buses
8.3.1.3 Trains & trams
8.3.1.4 Cars
8.3.1.5 Airports
8.3.2 MILITARY
8.3.2.1 Reconnaissance vehicles
8.3.2.2 Infantry carrier vehicles
8.3.2.3 Tanks
8.3.2.4 Infantry weapons
8.3.3 UGVS
8.4 MARITIME
8.4.1 COMMERCIAL
8.4.1.1 Bulk carriers
8.4.1.2 Container ships
8.4.1.3 Fishing vessels
8.4.1.4 Rescue boats
8.4.1.5 Passenger cruises
8.4.1.6 Ports
8.4.2 MILITARY
8.4.2.1 Frigates
8.4.2.2 Submarines
8.4.2.3 Corvettes
8.4.2.4 Destroyers
8.4.2.5 Amphibious assault ships
8.4.3 UMVS
9 SIMULATORS MARKET, BY TYPE
9.1 INTRODUCTION
9.2 FLIGHT TRAINING DEVICES
9.3 FULL FLIGHT SIMULATORS
9.4 FULL MISSION FLIGHT SIMULATORS
9.5 FIXED BASE SIMULATORS
9.6 AIR TRAFFIC CONTROL SIMULATORS
9.7 DRIVING SIMULATORS
9.8 LAND FORCE TRAINING SIMULATORS
9.9 FULL MISSION BRIDGE SIMULATORS
9.10 VESSEL TRAFFIC CONTROL SIMULATORS
10 SIMULATORS MARKET, BY APPLICATION
10.1 INTRODUCTION
10.2 COMMERCIAL TRAINING
10.3 MILITARY TRAINING
11 SIMULATORS MARKET, BY TECHNIQUE
11.1 INTRODUCTION
11.2 LIVE, VIRTUAL & CONSTRUCTIVE (LVC) SIMULATION
11.3 SYNTHETIC ENVIRONMENT SIMULATION
11.4 GAMING SIMULATION
12 REGIONAL ANALYSIS
12.1 INTRODUCTION
12.2 REGIONAL CONTRACT MAPPING FOR THE SIMULATORS MARKET
12.3 NORTH AMERICA
12.3.1 US
12.3.2 CANADA
12.4 EUROPE
12.4.1 UK
12.4.2 FRANCE
12.4.3 GERMANY
12.4.4 ITALY
12.4.5 RUSSIA
12.4.6 SWEDEN
12.4.7 REST OF EUROPE
12.5 ASIA PACIFIC
12.5.1 CHINA
12.5.2 JAPAN
12.5.3 INDIA
12.5.4 SOUTH KOREA
12.5.5 AUSTRALIA
12.5.6 REST OF APAC
12.6 MIDDLE EAST & AFRICA
12.6.1 SAUDI ARABIA
12.6.2 ISRAEL
12.6.3 TURKEY
12.6.4 UAE
12.6.5 SOUTH AFRICA
12.6.6 REST OF MIDDLE EAST & AFRICA
12.7 LATIN AMERICA
12.7.1 BRAZIL
12.7.2 MEXICO
13 COMPETITIVE LANDSCAPE
13.1 INTRODUCTION
13.2 COMPETITIVE ANALYSIS
13.3 MARKET RANKING ANALYSIS
13.4 BRAND ANALYSIS
13.5 COMPANY EVALUATION QUADRANT
13.5.1 STAR
13.5.2 EMERGING LEADERS
13.5.3 PERVASIVE
13.5.4 PARTICIPANT
13.5.5 COMPETITIVE BENCHMARKING
13.6 START-UP/SME EVELUATION QUADRANT
13.6.1 PROGRESIVE COMPANIES
13.6.2 RESPONSIVE COMPANIES
13.6.3 STARTING BLOCKS
13.6.4 DYNAMIC COMPANIES
13.7 COMPETITIVE SCENARIO
13.7.1 CONTRACTS
13.7.2 NEW PRODUCT LAUNCHES
13.7.3 AGREEMENTS, ACQUISITIONS, COLLABORATIONS, PARTNERSHIPS, AND JOINT VENTURES
13.7.4 OTHERS
14 COMPANY PROFILES
14.1 KEY PROFILES
14.1.1 CAE INC.
14.1.2 SAAB AB
14.1.3 RAYTHEON TECHNOLOGIES
14.1.4 ST ENGINEERING
14.1.5 TRU SIMULATION +TRAINING INC.
14.1.6 THALES SA
14.1.7 RHEINMETALL AG
14.1.8 FLIGHTSAFETY INTERNATIONAL
14.1.9 L3HARRIS TECHNOLOGIES.
14.1.10 INDRA SISTEMAS SA
14.1.11 FRASCA INTERNATIONAL, INC.
14.1.12 THE BOEING COMPANY.
14.1.13 ECA GROUP
14.1.14 KONGSBERG MARITIME
14.1.15 AIRBUS S.A.S
14.1.16 ELITE SIMULATION SOLUTIONS
14.1.17 SIMCOM AVIATION TRAINING
14.2 KEY PROFILES
14.2.1 VIRTRA.
14.2.2 ARI SIMULATION
14.2.3 VSTEP BV
14.2.4 AVION GROUP
14.2.5 PRECISION FLIGHT CONTROLS, INC.
14.2.6 BOHEMIA INTERACTIVE SIMULATIONS
14.2.7 AVT SIMULATION
14.2.8 OKTAL SYDAC
15 APPENDIX
15.1 DISCUSSION GUIDE
15.2 KNOWLEDGE STORE: MARKETSANDMARKETS' SUBSCRIPTION PORTAL
15.3 INTRODUCING RT: REAL-TIME MARKET INTELLIGENCE
15.4 AVAILABLE CUSTOMIZATION
15.5 RELATED REPORTS
15.6 AUTHOR DETAILS
The study involved four major activities in estimating the current market size for the simulators market. Exhaustive secondary research was carried out to collect information on the market, the peer markets, and the parent market. The next step was to validate these findings, assumptions, and sizing with industry experts across the value chain through primary research. Both top-down and bottom-up approaches were employed to estimate the complete market size. Thereafter, market breakdown and data triangulation procedures were used to estimate the market size of segments and subsegments.
Secondary Research
In the secondary research process, various secondary sources, such as D&B Hoovers, Bloomberg, BusinessWeek, and different magazines were referred to identify and collect information for this study. Secondary sources also included annual reports, press releases & investor presentations of companies, certified publications, articles by recognized authors, and simulators databases.
Primary Research
The simulators market comprises several stakeholders, such as software and hardware providers, airborne, land and maritime simulator manufacturers and suppliers, and regulatory organizations in the supply chain. The demand side of this market is characterized by various end users, such as hardware manufacturers as well as facility providers and OEMs. The supply side is characterized by technological advancements in simulators. Various primary sources from both the supply and demand sides of the market were interviewed to obtain qualitative and quantitative information. Following is the breakdown of primary respondents: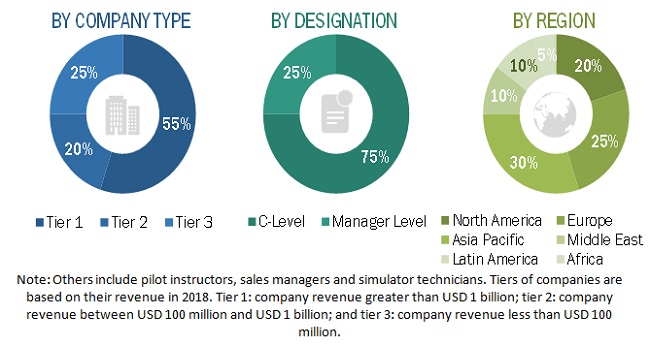 To know about the assumptions considered for the study, download the pdf brochure
Market Size Estimation
Both top-down and bottom-up approaches were used to estimate and validate the total size of the simulators market. These methods were also used extensively to estimate the size of various subsegments of the market. The research methodology used to estimate the market size includes the following:
Key players in the industry and markets were identified through extensive secondary research.
The industry's supply chain and market size, in terms of value, were determined through primary and secondary research processes.
All percentage shares, splits, and breakdowns were determined using secondary sources and verified through primary sources.
Market size estimation methodology: Bottom-up approach
Market size estimation methodology: Top-down approach

Data Triangulation
After arriving at the overall market size—using the market size estimation process explained above—the market was split into several segments and subsegments. Data triangulation and market breakdown procedures were employed, wherever applicable, to complete the overall market engineering process and arrive at the exact statistics of each market segment and subsegment. The data was triangulated by studying various factors and trends from both the demand and supply sides of the simulators market in the aviation industry.
Growth Drivers in the: Constructive Simulation in Simulators Market
Constructive simulation is a type of simulation used in military and defense applications to model and simulate scenarios and operations in a virtual environment. It involves creating virtual models of different components of the system and simulating their behavior and interactions to explore different scenarios, test strategies, and evaluate the effectiveness of systems and processes. Constructive simulation is one of the key technologies driving growth in the simulator market as the demand for advanced and realistic simulations increases. Manufacturers are expected to develop and produce new and innovative simulation technologies to meet this demand.
The simulator market includes a wide range of simulation technologies used in various applications, such as aviation, military, and healthcare. The demand for simulators has been increasing due to the benefits they offer in terms of training, safety, and cost savings. Constructive simulation is expected to drive growth in the simulator market as a whole as it plays a crucial role in creating advanced and realistic simulations. This will lead to the development of new and innovative simulation technologies to meet the demand, and as a result, drive growth in the simulators market.
Benefits of Constructive Simulation and its Impact on the Simulation Market
The benefits of constructive simulation are expected to drive growth in the simulation market. Constructive simulation can reduce costs by allowing users to test scenarios and strategies in a virtual environment, thus reducing the need for expensive equipment and resources. Constructive simulation can also be used for training purposes, allowing users to improve their skills in a safe and controlled environment. Additionally, constructive simulation can help identify potential safety issues and risks, which can be addressed before they become a problem. Furthermore, constructive simulation can improve decision-making by providing a better understanding of different scenarios and their potential outcomes. Lastly, constructive simulation can drive innovation by allowing users to test new technologies and strategies in a virtual environment.
The above benefits of constructive simulation are expected to increase demand for simulation technologies, leading to the development of new and innovative simulation solutions and driving growth in the simulation market. As a result, the simulation market is expected to continue to grow in the coming years.
Report Objectives
To identify and analyze key drivers, restraints, challenges, and opportunities influencing the growth of the simulators market
To analyze the impact of macro and micro indicators on the market
To forecast the market size of segments for five regions, namely, North America, Europe, Asia Pacific, the Middle East, and the Rest of the World, along with major countries in each of these regions
To strategically analyze micromarkets with respect to individual technological trends, prospects, and their contribution to the overall market
To strategically profile key market players and comprehensively analyze their market ranking and core competencies
To provide a detailed competitive landscape of the market, along with an analysis of business and corporate strategies, such as contracts, agreements, partnerships, expansions, and new product developments
To identify detailed financial positions, key products, unique selling points, and key developments of leading companies in the market
Available Customizations
Along with the market data, MarketsandMarkets offers customizations as per the specific needs of companies. The following customization options are available for the report:
Product Analysis
Product matrix, which gives a detailed comparison of the product portfolio of each company
Regional Analysis
Further breakdown of the market segments at country-level
Company Information
Detailed analysis and profiling of additional market players (up to 5)