[197 Pages Report] The smart retail market is projected to reach USD 38.51 billion by 2023 from USD 10.35 billion in 2017, at a CAGR of 24.12% during the forecast period. The base year considered for the study is 2017 and the forecast period is 2018–2023.
Study Objectives:
To describe and forecast the smart retail market, in terms of value and volume, by application
To describe and forecast the market, in terms of value, by region - North America, Europe, Asia Pacific (APAC), and Rest of the World (RoW)
To provide detailed information regarding major factors governing market growth (drivers, restraints, opportunities, and challenges)
To strategically analyze micromarkets with respect to individual growth trends, prospects, and contributions to the total market
To strategically profile key players and comprehensively analyze their market ranking and core competencies, along with detailing competitive landscape for market leaders
To analyze strategic approaches such as joint ventures, collaborations, agreements, contracts, partnerships, mergers and acquisitions, product launches and developments, and research and developments (R&D) in the smart retail market
Research Methodology:
This research study incorporates the use of secondary sources, directories, and databases, such as D & B Hoovers, Bloomberg Businessweek, Factiva, and OneSource, to identify and collect information useful for the extensive technical, market-oriented, and commercial study of the smart retail market. Primary sources mainly comprise several experts from core and related industries, along with preferred suppliers, manufacturers, distributors, service providers, technology developers, alliances, and standards and certification organizations related to various parts of this industry's value chain. In-depth interviews with various primary respondents, including key industry participants, subject matter experts (SMEs), C-level executives of key companies, and consultants have been conducted to obtain and verify critical qualitative and quantitative information, as well as assess prospects. The breakdown of the profiles of primaries has been depicted in the following figure: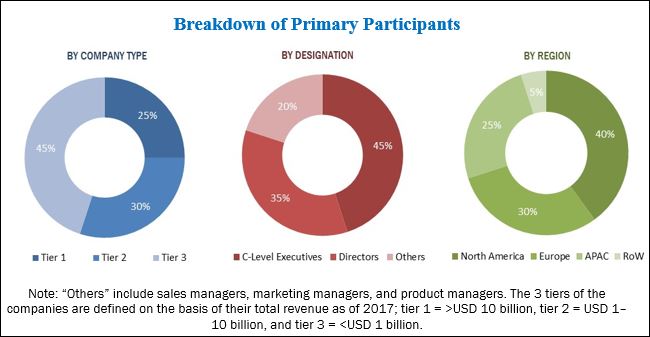 To know about the assumptions considered for the study, download the pdf brochure
This report provides valuable insights of the smart retail market ecosystem. Major players in this market include Intel (US), IBM (US), NVIDIA (US), Samsung Electronics (South Korea), Microsoft (US), Google (US), PTC (US), Amazon (US), Cisco System, (US), NXP Semiconductors (Netherlands), Par Technology Corporation (US), SoftBank Robotics Holdings Corp. (Japan), Ingenico Group (France), Verifone Holdings, Inc. (US), First Data Corporation (US), NCR Corporation (US), and, EVRY ASA (Norway).
Product Launches
---
| | | |
| --- | --- | --- |
| Month & Year | Company | Description |
| March 2018 | Verifone | Verifone launched Carbon Mobile 5, a commerce solution that brings mobility, payment, and commerce into one powerful, portable device. Carbon Mobile 5 enables checkout and the ability to run Android apps, such as point-of-sale, loyalty, and inventory management. |
| March 2018 | NCR Corporation | NCR Corporation launched NCR WinEPTS payment solution developed specifically for retailers and restaurants in Europe. The product can be integrated with instant payments solutions of European banks. |
---
Agreements, Partnerships, Collaborations, & Contracts
---
| | | |
| --- | --- | --- |
| Month & Year | Company | Description |
| March 2018 | Verifone | Verifone entered into a partnership with Ezetap (India), a software and payment-processing player to meet the needs of India's rapidly evolving and growing payments technology landscape. This partnership enables merchants to quickly and easily adopt both instore and online payments. |
| February 2018 | Par Technology | Par Technology Corporation (US) entered into a partnership with Workpop (US). The technology partnership will now enable PAR's cloud-based Brink POS Software to seamlessly connect with Workpop's Applicant Hiring System. Shared customers will benefit from a seamless integration designed to help restaurants and retail businesses maintain up-to-date employee data via Brink software. |
---
Acquisitions
---
| | | |
| --- | --- | --- |
| Month & Year | Company | Description |
| April 2018 | EVRY | EVRY acquired Findwise AB, a leading Nordic provider of advanced search, advanced analytics and big data services. EVRY and Findwise will jointly expand their capabilities to support their customers in unlocking new intelligence and insight as they seek faster and more precise decision-making. This deal helps them to accelerate its development of new industry-specific solutions, such as APIs for financial services, the public sector, healthcare sector, retail and logistics, and the automotive industry. |
| December 2017 | Ingenico | Ingenico acquired Airlink (Taiwan), one of the leading value-added resellers. The acquisition has helped Ingenico expand its footprint in Asia. |
---
Expansion
| | | |
| --- | --- | --- |
| Month & Year | Company | Description |
| December 2017 | Amazon | Amazon Web Services launched AWS in Paris to serve customers in the European Union. The advantage of the Paris Region is that it makes it easier for tech companies in France to comply with its data privacy regulations. The Paris Region also enables AWS customers to store user data in France with the reassurance that it will not be moved unless they do so. |
| August 2017 | Par Technology | Par Technology Corporation (US) announced the expansion of EverServ 8000 portfolio. The new peripherals and accessories include 2x20 customer display, POP display, barcode scanner, and pole mounted payment device. |
---
Key Target Audience:
Original equipment manufacturers (OEMs)
Semiconductor component manufacturers and distributors
Technology consultants and system integrators
Equipment distributors and suppliers
Suppliers of related accessories for smart retail devices
Suppliers of standard devices and technologies to system integrators
Research organizations and consulting companies
Government bodies such as regulating authorities and policymakers
Venture capitalists and private equity firms
Associations, organizations, and alliances related to smart retail
Scope of the Report:
The research report segments the smart retail market into the following subsegments:
Smart Retail Market, by Application
Visual Marketing
Smart Label
Smart Payment System
Intelligent System
Robotics
Analytics
Smart Retail Market, by Region
North America
Europe
APAC
RoW
Available Customizations:
With the given market data, MarketsandMarkets offers customizations according to the company's specific needs. The following customization options are available for the report.
Company Information
Detailed analysis and profiling of additional market players (up to 10)
The smart retail market is projected to reach USD 38.51 billion by 2023 from USD 13.07 billion in 2018, at a CAGR of 24.12% during the forecast period. Growth in this market is mainly driven by factors such as increasing adoption of smartphones, growing need for better customer service and shopping experience, decreasing cost of electronic components, and emerging new technologies creating new revenues for retailers. The major restraint for the market is data security and privacy concern with advanced technologies.
In this report, the size of the smart retail market has been arrived based on segments such as application and region. The smart retail market, by application, is segmented into visual marketing, smart label, smart payment system, intelligent system, robotics, and analytics. The market for robotics is growing at a significant rate. A robot makes the shopping experience easier for consumers as it simplifies the process of finding the product one is looking for, as well as manages back-end and shelf-keeping inventory up-to-date for a retailer. Also, the robot uses inventory scanning and auditing software with autonomous navigation capabilities and uses voice recognition software.
Retailers are able to target customers through various technologies, such as Bluetooth and NFC. These technologies can be used for various purposes, such as providing information related to products, price, and location within the retail store, as well as enable self-checkouts by communicating with store's payment systems to facilitate the payment process. These can also map shopping behavior, preferences, and drive targeted promotions. Furthermore, various smartphone-compatible technologies, e.g., beacon technology, also help retailers promote their products.
Also, the current and future expectations of consumers, in terms of retailing, can be met with the help of advanced automated machines, such as kiosk and intelligent trolley. Throughout the process of consumer product purchase, automation helps in meeting the demands of customers by providing error-free services. Unattended terminals, such as self-service kiosks, are also a smart way for retailers to be more visible in busy locations such as airports, malls, and big stores. Interactive kiosks deployed at the entrance of several sections of retail stores are extremely useful smart solutions for customers.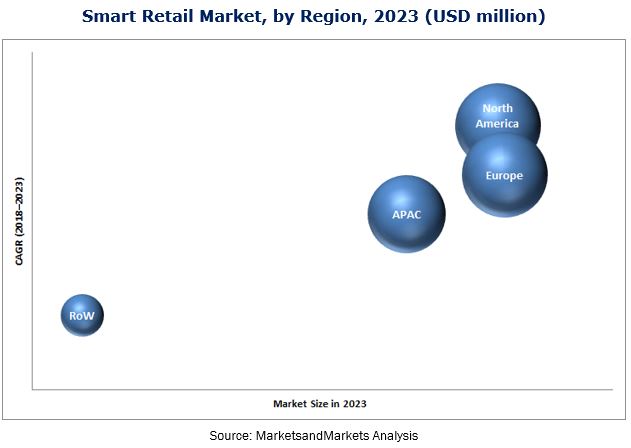 The smart retail market has been segmented into North America, Europe, APAC, and RoW. The smart retail market in North America is expected to grow at the highest CAGR during the forecast period. Market growth can be attributed to customers' need for sophisticated and efficient retail services, the need to save time, need for accuracy and high living standards. Moreover, the presence of major players in the smart retail ecosystem results in the increasing adoption of smart retail in North America.
However, data security and privacy concerns with new advanced technologies for smart retail is a major factor restraining the growth of the market. Key players in this market focus on organic strategies, such as product launches, to expand their business and related offerings. Intel (US), NVIDIA (US), IBM (US), Samsung Electronics (South Korea), Google (US), Microsoft (US), Amazon (US), Par Technology Corporation (US), SoftBank Robotics Holdings Corp. (Japan), Ingenico Group (France), Verifone Holdings, Inc. (US), First Data Corporation (US), NCR Corporation (US), and, EVRY ASA (Norway) are among the players in the smart retail market.
Drivers
Increasing adoption of smartphones
Smartphones have witnessed tremendous growth in the past decade owing to the declining cost, improved standard of living, and Internet ubiquity. The worldwide smartphone shipment reached 1.52 billion units in 2017 from 1.47 billion units shipped in 2016. The rising acceptance of smartphones has led to a variety of new smartphone applications play an integral role, with retail being among the top applications in smartphones.
Growing need for better customer services and shopping experience
Over the past few years, retailers have started acknowledging the importance of customer services and response. Customer service has evolved from addressing customers' queries to understanding customer needs and preferences. The rising demand for high-quality retail services significantly drives the growth of the smart retail market. The emergence of advanced technologies, such as IoT, augmented and virtual reality (AR&VR), radio-frequency identification (RFID) tags, and near-field communication (NFC) devices, has raised the expectations of customers in terms of highly efficient services.
Opportunities
Increasing investment in retail industry
Investments in retail owing to the leading and innovative technologies such as AR, VR, artificial intelligence, smart beacons, and IoT have witnessed huge growth over the past few years. Companies such as Facebook, Intel, Qualcomm, Alphabet/Google Ventures, Comcast Ventures, and Samsung Group are investing heavily in these technologies. For instance, a number of research institutes are carrying out research in the AR application market for various products and applications. There are schools of applications available with respect to AR. Some research institutes are being funded by companies and some by governments. The companies such as Amazon, Ikea, Sephora, and Victoria Secret have invested heavily in AR and VR technology.
Directly connect with end users
One of the biggest hurdles of getting customers to buy online is that many shoppers prefer to hold, touch, or try on their purchase in real life. Both virtual reality (VR), and augmented reality (AR) are helping to close this gap by empowering consumers to "experience" the object without holding in their hands. While many consumers still lack access to VR or AR technology, it is clear that the technology holds tremendous potential, especially for those who are unable to reach physical stores to purchase products.
To speak to our analyst for a discussion on the above findings, click Speak to Analyst