System-on-a-Chip (SoC) technology, as the name suggests, is basically an integration of several electronic components on a single IC chip to form an electronic system. A standard SoC design consists of IP cores and peripherals. The SoC IP consists of Processor IP, Analog IP, Digital IP, Memory IP, (ASIC) Application Specific IP, (FPGA & PLD) Programmable IP, and Data Converter IP. Mixed Signal SoC (MxSoC, in short) is a relatively new category in SoC, which is designed for mixed signal (handling both analog and digital purposes). Today the application area of mixed signal technology has spread across all the end-user sectors; right from Computers & ICT sectors to Consumer Electronics, Industrial, Medical, and others. Technological advancements in IC technology have enabled a system level integration on a System-on-a-Chip making Mixed Signal SoC; a suitable and efficient solution for large scale integrated circuit applications in the semiconductors & electronics industries. The greatest advantage offered by the MxSoC over traditional mixed signal IC system is its smaller form factor and higher efficiency as a complete system in digital and mixed signal electronics.
This research study gives detailed insights into the Mixed Signal SoC design, development, and establishment; mainly focusing on its present market and its forecast till 2016. It provides in-depth research into the dynamics of the landscapes of allied industry segments of Mixed Signal SoC industry; such as Foundries, Fabless, IDM, WLP, EDA, ATP, IP, and others. It also provides in-depth research and analysis on various above mentioned IPs (can be termed as SoC IPs) in a mixed signal SoC. It entails the markets by various classifications such as SoC design types, SoC processor types, and SoC architecture strategies. Several other concepts related to the Mixed Signal SoC's market and industries have been covered extensively in this research study.
The report on this research study analyzes in detail, the global Mixed Signal SoC market and all its market segments and sub-segments. All important classifications of the Mixed Signal SoC market have been considered.
This report discusses the market drivers, restraints, and opportunities with respect to the Mixed Signal SoC market from a global perspective and gives an impact analysis of each influential factor on the market. Applications of two rapidly growing product segments; namely Smart Sensors and Smart Fusion SoCs in several end-user verticals have been exclusively covered. Also, an in-depth geographic analysis has been done, covering the major regional and geographical market segments of the MxSoC market.
Since the report mainly covers the MxSoC market whose parent market is the global System-on-Chip (SoC) market, the report also includes various aspects related to the overall semiconductor and SoC industries in several instances throughout the report in various chapters. A comparison of various aspects, of each market segment with its parent market (for example, the MxSoC market with overall SoC market) is done at every possible level to give an idea about the total addressable markets for each market segment and the market penetrations.
The leading players in this market have been profiled with their recent developments and the other strategic industry activities. Key participants in the global Mixed Signal System-on-a-Chip market include Apple Inc., Intel Corp., Samsung Electronics Inc., Qualcomm Inc., Texas Instruments, Freescale Semiconductor, NVIDIA Corp., STMicroelectronics N.V, NXP Semiconductors N.V, Broadcom Corp., Infineon Technologies A.G, Elpida Memory Inc., Fujitsu Limited and ARM Holdings Plc. A complete competitive landscape, along with key growth strategies and market share analysis of the key industry players of this market globally is also given.
Get online access to the report on the World's First Market Intelligence Cloud
Easy to Download Historical Data & Forecast Numbers
Company Analysis Dashboard for high growth potential opportunities
Research Analyst Access for customization & queries
Competitor Analysis with Interactive dashboard
Latest News, Updates & Trend analysis
Request Sample
Click on image to enlarge
Scope of the Report
The scope of this research study includes the market for Mixed Signal System-on-Chips only and not the complete System-on-Chips market.
In this report, the global MxSoC market and industry is fully covered and segmented into/by the following categories and aspects:
Allied Industry Segments & Value Chain: MxSoC Industry Value Chain Analysis, Dynamics of EDA & Design Tool, IP, Foundry, Fabless, Fab (Fabrication) and Assembly, Testing & Packaging (ATP) vendors and their impact on the MxSoC market.
Markets by Intellectual Property: Memory IP, (ASIC) Application Specific IP, (FPGA & PLD) Programmable IP, Analog IP, Digital IP, Data Converter IP, Processor IP (further segmented into Applications Processor IP & Graphics Processor IP, with special focus on ARM Processor IP) markets.
Markets by Product Segments: Standard cell-based MxSoCs, embedded design-based MxSoCs (further segmented into embedded memory and embedded micro-logic MxSoC markets).
Markets by Fabrication Technology: Semi-custom and full-custom mixed signal SoC markets.
Markets by Processor Types: Soft instruction processor SoCs, configurable processor SoCs, ARM processor SoCs, multi-core processor SoCs, digital signal processor SoC markets.
Markets by Technology (Process) Nodes: Mature processes (350 nm and 150 nm), Deep Sub-Micron (250 nm and 180 nm), Advanced Deep Sub-Micron (65 nm, 45 nm, 40 nm, 32 nm, 28 nm, 22 nm) technology nodes based MxSoC markets.
Markets by Application: "Computers" sector (microprocessors, microcontrollers, computer peripherals), "ICT" sector (wireless communication equipment, smart sensors in "ICT" sector), consumer electronics (smartphones, portable media players, set-top boxes, digital TVs, DVD, and Blu-ray players, video coders and decoders, smart sensors in consumer electronics, power management chips), "Automotive" sector (smart sensors in automotive sector, automotive body electronics, infotainment applications), "Industrial" sector (SmartFusion cSoC, solid-state & electro-mechanical systems, industrial automation), "Military & Aerospace" sector (field programmable arrays, Rad-Hard mixed signal FPGAs & ASICs), "Medical" sector (ECG telemetry devices, high & low voltage medical devices, smart sensors in medical sector, implantable medical devices, SmartFusion cSoC, SoC-equipped Nanorobots), "RF and Others" sector (RF SoCs, Bi CMOS SoCs, RADAR communication applications) application markets of the global MxSoC market.
Markets by Geography: Global Market Perspective, North American, European, Japan, APAC (Excluding Japan) and Rest of the World (ROW) markets for MxSoCs.
Competitive Landscape & Company Profiles: Global competitive landscape, market shares and analysis, market share rankings, recent industry activities such as agreements, technology licenses, partnerships, collaborations, JVs, mergers & acquisitions and new product launches; company profiles of the industry's key players.
KEY TAKE AWAYS
Estimated total MxSoC and overall SoC and semiconductor market sizes in 2010 and 2011 and forecasts till 2016
Classification of the global MxSoC market with detailed segmentation by intellectual property, form factor, design architecture, fabrication technology, technology (process) node, product segments with estimates and forecasts of revenue and volume of all sub-markets
The future of the MxSoC technologies and market from both, technical and market-oriented perspectives
Identification of the major driving factors and inhibitors for the global MxSoC market and their impact analysis
Analytical growth trends of the MxSoC market and its individual market segments and the potential revenue bases
The dynamics of the industry segments in the value chain, effect of changes in landscapes of value chain segments such as IP, EDA & Design Tools, Foundry, Fab, Fabless, IDM, ODM, OEM and ATP on the MxSoC market
The global consumption of MxSoCs in several end-user verticals and their application segments and the revenue generated from each of the application segments
Major stakeholders in the market and complete competitive landscape of the market leaders, key player market shares and rankings added with detailed analysis
Analytical trends and forecasts of the MxSoC market specific to various geographical regions across the globe
Special focus on the MxSoC IP market segment, with dynamics and influential factors of the MxSoC IP market and its sub-market segments mentioned above.
SoC technology has proven itself to be one of the most revolutionary technologies in semiconductor and electronics sectors over the last decade. Yet, this technology has led to the emergence of several issues and announced big challenges for the researchers and engineers. SoCs are the result of consolidation of advanced microprocessors, memories, buses systems, communications systems, standards, protocol processors, interfaces, and the other intellectual property components into a single system. As of today, the System-on-Chip is the biggest revolutionary aspect in the field of semiconductor chips, and considered to be the most successful next generation semiconductor chip technology after the traditional integrated circuits, with explosive penetration in the digital semiconductors & electronics world.
The demand for System-on-Chips has been tremendously highly in the world of digital electronics, which sufficiently boosts the overall market for SoC. The global SoC market is a fast growing one and expected to transcend all the barriers owing to the huge revenue potential for digital SoCs and the robust demand. However, a digital SoC cannot have similar scenario in the Analog & Mixed Signal applications field of Semiconductors & Electronics, where an upcoming robust demand for advanced semiconductor chips (which have surpassed Mixed Signal ASICs and FPGAs) exists.
The Mixed Signal SoC or MxSoC in short, is a System-on-a-Chip that has mixed signal design (an ability to handle both analog and digital signals). An MxSoC is designed with the concept of embedded system that is capable of handling both digital and analog signals with more advanced functionalities incorporated on a single chip, thereby producing a system that can be placed in any environment – analog, digital or both, which acts as a smaller, faster, and more efficient semiconductor chip system. As of today, an MxSoC serves as the best option for advanced electronic systems of the Analog & Mixed Signal world, specifically the upcoming mixed signal electronic applications. Convergence of the "Analog" and the relatively new "Mixed Signal" concepts in Semiconductors & Electronics, will prove to have a positive impact on the global MxSoC market and industry, from both, market and technological perspective, due to changes in required chip specifications & features from end-user applications, which affect the demand for MxSoCs. Since an MxSoC can handle digital signals as well, MxSoCs have an edge over pure digital SoCs, even in advanced application segments of the digital electronics world, where the ability to handle mixed signals also plays in an important role these days, such as smartphones and hand-held gadgets.
Due to the advancements in the end-user applications across several end-user verticals in today's fast-changing electronics market, most of the SoCs manufactured are MxSoCs. The percentage share of MxSoCs in the global SoCs was about 84% in 2011. This report mainly focuses on the global MxSoC market and its related industry, with an extensive classification to cover all its sub-markets and sub-segments. As all the advanced SoCs are MxSoCs in the present era, the report study would also cover the entire SoC market indirectly. The percentage share of Mixed Signal in the overall System-on-a-Chip market is growing rapidly as more advanced versions of SoCs are manufactured with mixed signal design incorporated in them to offer the additional functionality of handling both analog & digital signals.
The global System-on-a-Chip market is estimated to grow at a CAGR of 21.24% from 2011 to 2016. The increasing use of SoCs in several applications spanning all the end-user verticals is one of the reasons for such an outstanding growth. The continuous launch of several end-user applications using SoCs in computing, information technology, and consumer electronics sectors (such as Smartphones, Tablets, Laptops, Hand-held and portable gadgets) is another reason for the demand for SoCs, leading to healthy revenue growth in the SoC market. The Mixed Signal System-on-a-Chip market is estimated to be $72.16 billion in 2011. This market is expected to grow at a CAGR of 24.14% from 2011 to 2016, reaching $212.69 billion by 2016.
The MxSoC market is segmented into geographical markets in North America, Europe, Japan, APAC (excluding Japan), and Rest of the world in the report. The following figure shows the overall Mixed Signal SoC market revenue by geography in 2011.
GLOBAL MIXED SIGNAL SOC MARKET REVENUE BY GEOGRAPHY, 2011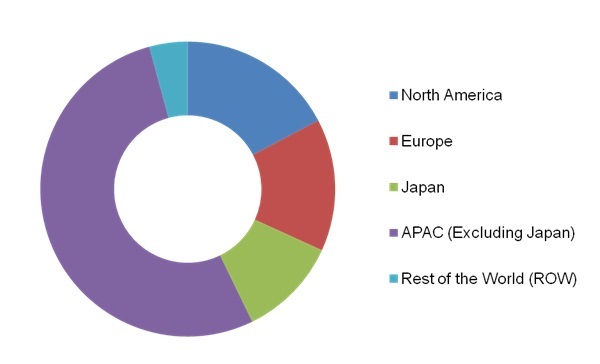 Source: MarketsandMarkets