Volumetric Video Market
Volumetric Video Market by Volumetric Capture (Hardware, Software, Service), Content Delivery, Application (Sports, Events & Entertainment, Medical, Education & Training, Signage & Advertisement) and Region - Global Forecast to 2028
Report Code: SE 6262
May, 2023, by marketsandmarkets.com
[223 Pages Report] The global volumetric video market is expected to be valued at USD 2.2 billion in 2023 and is projected to reach USD 7.6 billion by 2028; it is expected to grow at a CAGR of 28.6% from 2023 to 2028. The volumetric video market holds immense untapped potential, particularly in teleconferencing and the commercialization of 5G technology. The advent of 5G brings forth the advantages of low latency and high bandwidth speed, facilitating the seamless delivery of volumetric video content.
Furthermore, the expanding range of applications for volumetric videos, such as advanced medical imaging and image-guided surgery, presents promising growth opportunities for the market. However, the market also needs help, including complex software solutions for image processing and the absence of standardization in 3D content creation. To navigate these challenges, partnerships, product developments, technological advancements, and prototyping have emerged as widely adopted strategies within the market. Both startups and established industry leaders are actively engaged in research and development efforts related to volumetric video technology, contributing to the market's growth prospects in the forecast period. Additionally, expansions and acquisitions are prominent strategies market players employ to enhance their market presence and offerings further.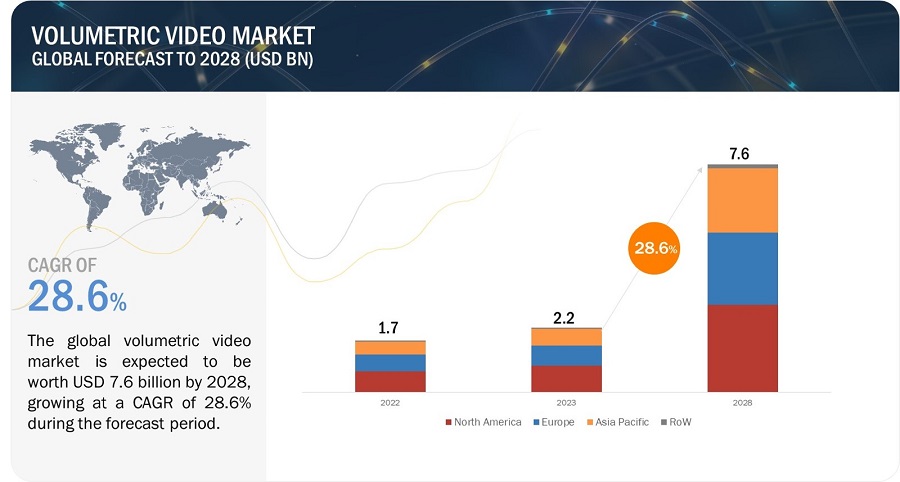 Volumetric Video Market Forecast to 2028
To know about the assumptions considered for the study, Request for Free Sample Report
Volumetric video market dynamics
Driver: Increasing use of volumetric video in the entertainment industry
Volumetric video is an advanced technology that captures objects or individuals in three dimensions, resulting in an immersive and interactive viewing experience. Its adoption has been swift within the entertainment industry, as it finds applications in films, gaming, and live events. The growing demand for 3D/360° content in the entertainment sector and the desire for enhanced viewing experiences drive the expansion of the volumetric video market.
Diego Prilusky, the former head of Intel Studios, is a prominent advocate for incorporating volumetric video in filmmaking. Prilusky believes this technology can expedite production schedules and redefine various entertainment forms. Notably, volumetric video has already been utilized in notable projects, including HBO's "Watchmen" and "Westworld," as well as in the creation of digital doubles for "Star Wars: The Rise of Skywalker." Companies operating in the volumetric video domain, such as Avatar Dimension and Holo-Light, continually push the boundaries of what can be achieved with this technology. For instance, volumetric video enables the creation of immersive experiences for live events like concerts and sports games, enabling viewers to feel fully engaged in the heart of the action.
Restraint: High maintenance cost of equipment and software
Volumetric video technology is a cutting-edge technology used in various fields, including entertainment, education, and healthcare. However, it comes with certain restraints, such as high maintenance, equipment, and software costs. Regarding maintenance costs, software maintenance for volumetric video can cost up to two-thirds of the entire software process cycle or more than 50% of the SDLC processes. Additionally, software maintenance costs can be as high as $5,000 per month or $60,000 per year. It's essential to remember that the prices involved in software maintenance can vary depending on multiple factors.
Opportunity: Growing applications of volumetric video for progressive medical imaging and image-guided surgery
Volumetric video is a technology that captures images in three dimensions (3D) and creates a fully immersive experience for the viewer. Advanced medical imaging involves using cutting-edge technology to generate ideas of the human body that are more detailed and precise than traditional imaging techniques. On the other hand, image-guided surgery uses real-time imaging to guide surgical procedures and enhance their accuracy. The volumetric video has the potential to revolutionize both of these fields by creating 3D models of patients' organs or body parts that can be manipulated and viewed from any angle. This could enable surgeons to plan and carry out procedures more effectively, improving patient outcomes and reducing recovery times.
Challenge: Lack of standardization for 3D content creation
The lack of standardization in 3D content creation is a significant issue because it can lead to compatibility issues between different systems, which can cause errors and additional costs for content creators. For example, a content creator may create a 3D model in one software package that cannot be imported into another, requiring them to recreate the model from scratch. This can be time-consuming and expensive, leading to delays in the production process.
Volumetric Video Market Ecosystem
The volumetric video market is dominated by established and financially sound manufacturers with extensive experience in the industry. These companies have diversified product portfolios, cutting-edge technologies, and strong global sales and marketing networks. The volumetric video market comprises hardware manufacturers, content creators, system integrators, and content delivery. Volumetric video end users include sports, events and entertainment, consumer electronics, defense, military, healthcare, education and training, signage, and advertisement.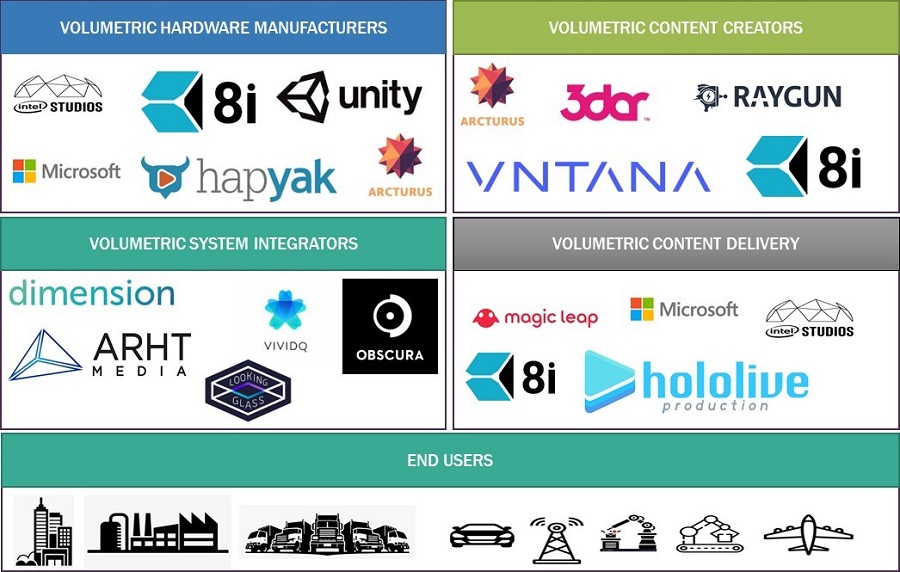 Based on volumetric capture, the volumetric video market for service to hold the highest CAGR during the forecast period
Various vendors offer a range of services encompassing cloud services, streaming, and sharing. Companies utilize cloud servers to deliver enormous amounts of data to content delivery devices. This involves storing or processing volumetric video on the cloud, which is then compared with a relevant database to extract necessary information and subsequently sent back to mobile devices. The content delivery device then undertakes image processing tasks such as detection, resizing, and generating 3D volumetric images. The market for volumetric video services is expanding within the video production industry, providing businesses and individuals with access to advanced technologies for capturing and rendering immersive 3D video content. These services typically entail the usage of specialized cameras, software, and processing units dedicated to capturing and creating immersive 3D video content.
Signage & advertisement application to hold the highest CAGR during the forecast period.
The volumetric video has emerged as a groundbreaking technology that is revolutionizing the market for signage and advertisement. This technology enables advertisers to create compelling and interactive visuals seamlessly integrated into various signage and advertising platforms. With volumetric video, brands can now showcase their products and services more engagingly and dynamically, effectively grabbing the attention of potential customers. Whether it's a life-sized holographic display or an interactive augmented reality experience, volumetric video enables advertisers to bring their campaigns to life in ways that were previously unimaginable. As a result, the market for signage and advertisement is experiencing a significant boost as businesses recognize the immense potential of this technology in driving customer engagement, brand recognition, and, ultimately, sales. The demand for volumetric video solutions is rapidly growing, and it is poised to become a dominant force in the future of signage and advertising.
Volumetric video market in Asia Pacific to hold the highest CAGR during the forecast period
The Asia Pacific region is experiencing substantial gains in adopting and utilizing volumetric video technology, resulting in a significant boost to various industries. With its vast population and rapidly growing economies, the region has become a hotbed for technological innovation, and volumetric video is no exception. Asia Pacific countries leverage this advanced technology to enhance their signage and advertising sectors. By incorporating volumetric video, businesses in the region can create captivating and immersive experiences that resonate with their target audience. Whether in shopping malls, airports, or even on digital billboards, volumetric video offers a unique and attention-grabbing approach to signage and advertisement. Additionally, Asia Pacific has a thriving entertainment industry, including film, gaming, and virtual reality experiences, where volumetric video has found extensive applications. The region's solid creative talent and growing immersive content demand further contribute to volumetric video technology adoption.
Volumetric Video Market by Region
To know about the assumptions considered for the study, download the pdf brochure
Key Market Players
The volumetric video Companies is dominated by players such as Microsoft Corporation(US), Intel Corporation (US), Unity Technologies (US), Alphabet Inc. (US), Sony Corporation (Japan), and others.
Get online access to the report on the World's First Market Intelligence Cloud

Easy to Download Historical Data & Forecast Numbers
Company Analysis Dashboard for high growth potential opportunities
Research Analyst Access for customization & queries
Competitor Analysis with Interactive dashboard
Latest News, Updates & Trend analysis

Request Sample

Click on image to enlarge

Scope of the Report
Report Metric

Details

Market size available for years

2019-2028

Base year considered

2022

Forecast period

2023-2028

Forecast units

Value (USD Billion)

Segments Covered

By Volumetric Capture, Application

Geographies covered

North America, Europe, Asia Pacific, and RoW

Companies covered

The major market players include Microsoft Corporation(US), Intel Corporation (US), Unity Technologies (US), Alphabet Inc. (US), Sony Corporation (Japan), and others. (Total of 34 players are profiled)
Volumetric Video Market Highlights
The study categorizes the volumetric video market based on the following segments:
Segment

Subsegment

By Volumetric Capture

Hardware
Software
Service

By Content Delivery

Projectors
AR/VR HMDs
Smartphones
Volumteric Displays

By Application

Sports, events, & entertainment
Medical
Education & training
Signage & advertisement
Others

By Region

North America
Europe
Asia Pacific
RoW
Recent Developments
In January 2023, Unity and Google expanded their partnership across their ecosystems to support studios in accelerating live game growth and development. Together, Unity, a global platform for creating and growing real-time 3D (RT3D) content, and Google are simplifying ways for developers to create multiplayer experiences by offering two solutions from Unity Gaming Services (UGS), Game Server Hosting (Multiplay) and Voice and Text Chat (Vivox), on Google Cloud Marketplace.
In November 2022, Intel deployed 20 Intel RealSense depth-sensing cameras to capture 360-degree action for "volumetric capture." The footage from each camera is sent to a computer powered by an Intel Xeon processor that runs Evercoast's cutting-edge software to convert billions of pixels into a 3D immersive virtual environment that the viewer can manipulate to see from nearly any angle.
In November 2022, Intel announced the launch of its streamlined artificial intelligence (AI) benefits within Intel Partner Alliance. With the debut of these benefits, Intel will better serve ecosystem partners by helping independent software vendors (ISV), original equipment and device manufacturer, and system integration (SI) partners connect with new opportunities, drive innovation, and accelerate business growth.
In August 2022, Unity announced a new partnership with Mercedes-Benz. The Unity engine will power the infotainment domain of the Mercedes-Benz operating system. It will be rolled out to the first vehicles in 2024. Mercedes uses Unity Industrial Collection to create the UI for the in-car cockpit. Unity's tech will power everything from 3D navigation software to virtual avatars and augmented reality experiences. This would include local weather and traffic data, streamed entertainment, or mixed-reality experiences using the car's smart glass.
Frequently Asked Questions (FAQ):
What are the major driving factors and opportunities in the volumetric video market?
Some of the major driving factors for the growth of this market include increasing demand for virtual reality (VR) and augmented reality (AR) applications, increasing use of volumetric video in the entertainment industry, advancements in camera and display technologies, and rising investments in the AR/VR ecosystem. Moreover, the growing use of volumetric video in e-commerce, increasing use of volumetric video in education and training, and growing applications of volumetric video for advanced medical imaging and image-guided surgery are some of the critical opportunities for the volumetric video market.
Which region is expected to hold the highest market share?
The market in Asia Pacific will dominate the market share in 2023, showcasing strong demand for volumetric video in the region. Creative agencies and media companies have used extended reality technology for branding and marketing campaigns. This, in turn, drives the growth of the volumetric video market in China. The country is projected to witness the highest adoption of mobile-based AR and VR devices during the forecast period, thereby fueling the growth of the volumetric video market in the Asia Pacific. The massive base of mobile users, high mobile Internet penetration, and the vast population are expected to be the key growth drivers for the market in China.
Who are the leading players in the global volumetric video market?
Companies such as Microsoft Corporation(US), Intel Corporation (US), Unity Technologies (US), Alphabet Inc. (US), and Sony Corporation (Japan) are the leading players in the market. Moreover, these companies rely on strategies that include new product launches and developments, partnerships and collaborations, and acquisitions. Such advantages give these companies an edge over other companies in the market.
What are some of the technological advancements in the market?
One notable advancement in volumetric video is the improvement in capturing and processing techniques. Earlier methods required complex setups, such as using an array of cameras and depth sensors, to capture volumetric data. However, advancements in computer vision and depth-sensing technology have enabled capturing high-quality volumetric video with fewer cameras and sensors.
What is the impact of the global recession on the market?
The volumetric video market will likely experience several impacts during the ongoing recession. Reduced investment becomes a common occurrence as caution prevails among companies and investors. The uncertainty and financial constraints associated with a downturn may lead to a slowdown in funding for research and development in the volumetric video field, potentially hindering innovation. Moreover, businesses facing budget constraints during an economic downturn may delay their adoption of volumetric video solutions, as the necessary investments in infrastructure and equipment could be perceived as non-essential. Instead, organizations may prioritize more essential areas for cost-saving measures and efficiency improvements. Consequently, the market demand for volumetric video might decrease as businesses adjust their priorities during the recession.
To speak to our analyst for a discussion on the above findings, click Speak to Analyst
TABLE OF CONTENTS
1 Introduction
1.1. Study Objectives
1.2. Market Definition and Scope
1.2.1. Inclusions and Exclusions
1.3. Study Scope
1.3.1. Markets Covered
1.3.2. Geographic Segmentation
1.3.3. Years Considered for the study
1.4. Currency
1.5. Limitations
1.6. Stakeholders
1.7. Summary of Changes
1.8. Recession Analysis
2 Research Methodology
2.1. Research Data
2.1.1. Secondary Data
2.1.1.1. Major Secondary Sources
2.1.1.2. Key Data from Secondary Sources
2.1.2. Primary Data
2.1.2.1. Primary Interviews with Experts
2.1.2.2. Key Data from Primary Sources
2.1.2.3. Key Industry Insights
2.1.2.4. Breakdown of Primaries
2.2. Market Size Estimation
2.2.1. Bottom-Up Approach
2.2.1.1. Approach for Capturing Market Share by Bottom-Up Analysis (Demand Side)
2.2.2. Top-Down Approach
2.2.2.1. Approach for Capturing Market Share by Top-Down Analysis (Supply Side)
2.3. Market Breakdown and Data Triangulation
2.4. Research Assumptions
2.5. Risk Assessment
2.6. Assumptions Regarding Recession
2.7. Limitations of Research
3 Executive Summary
3.1. Growth Rate Assumptions
4 Premium Insights
5 Market Overview
5.1. Introduction
5.2. Market Dynamics
5.2.1. Drivers
5.2.2. Restraints
5.2.3. Opportunities
5.2.4. Challenges
5.3. Value Chain Analysis
5.4. Ecosystem Analysis
5.5. Technology Analysis
5.6. Patent Analysis
5.7. Case Study Analysis
5.8. Trends Impacting Businesses of Market Players and Raw Material Suppliers
5.9. Trade Analysis
5.10. Porters Five Force Analysis
5.10.1. Threat from New Entrants
5.10.2. Threat of Substitutes
5.10.3. Bargaining Power of Suppliers
5.10.4. Bargaining Power of Buyers
5.10.5. Intensity of Competitive Rivalry
5.11. Tariff and Regulatory Landscape
5.11.1. Regulatory Bodies, Government Agencies, and Other Organizations
5.12. Key Stakeholders and Buying Criteria
5.12.1. Key Stakeholders in Buying Process
5.12.2. Buying Criteria
5.13. Pricing Analysis
5.13.1. Average Selling Prices of Key Players, By Application
5.13.2. Average Selling Price Trend
5.14. Key Conferences and Events (2022-2024)
6 Volumetric Market, By Volumetric Capture
6.1. Introduction
6.2. Hardware
6.3. Software
6.4. Services
7 Volumetric Video Market, By Vertical
7.1. Introduction
7.2. Sports, Events, and Entertainment
7.3. Medical
7.4. Signage & Advertisement
7.5. Education & Training
7.6. Others
8 Volumetric Video Market, By Content Delivery
8.1. Introduction
8.2. Projectors
8.3. AR/VR HMDs
8.4. Smartphones
8.5. Volumetric Displays
9 Volumetric Video Market, By Region
9.1. Introduction
9.2. North America
9.2.1. North America: Impact of Recession
9.2.2. US
9.2.3. Canada
9.2.4. Mexico
9.3. Europe
9.3.1. Europe: Impact of Recession
9.3.2. UK
9.3.3. Germany
9.3.4. France
9.3.5. Rest of Europe
9.4. Asia Pacific
9.4.1. Asia Pacific: Impact of Recession
9.4.2. China
9.4.3. Japan
9.4.4. South Korea
9.4.5. Australia & New Zealand
9.4.6. Rest of Asia Pacific
9.5. RoW
9.5.1. RoW: Impact of Recession
9.5.2. Middle East & Africa
9.5.3. South America
10 Volumetric Video Market, Competitive Landscape
10.1. Introduction
10.2. Market Evaluation Framework
10.3. Market Share Analysis, 2022
10.4. Five-Year Company Revenue Analysis
10.5. Company Evaluation Quadrant
10.5.1. Star
10.5.2. Pervasive
10.5.3. Emerging Leader
10.5.4. Participant
10.6. Startups/Small and Medium-Sized Enterprises (SME) Evaluation Quadrant
10.6.1. Progressive Company
10.6.2. Responsive Company
10.6.3. Dynamic Company
10.6.4. Starting Block
10.7. Competitive Benchmarking
10.8. Company Footprint
10.9. Competitive Situation and Trends
11 Volumetric Video Market, Company Profiles
11.1. Key Players
11.1.1. Microsoft Corporation
11.1.2. Intel Corporation
11.1.3. 4DViews
11.1.4. 8I
11.1.5. Unity Technologies
11.1.6. Alphabet
11.1.7. IO Industries
11.1.8. Scatter
11.1.9. StereoLabs
11.1.10. Metastage
11.1.11. Mark Roberts Motion Control
11.2. Other Players
11.2.1. Meta Platforms
11.2.2. Mod Tech Labs
11.2.3. Capturing Reality
11.2.4. Sony Corporation
11.2.5. Verizon Communications
11.2.6. Cannon
11.2.7. Dimension
11.2.8. Evercoast
11.2.9. VividQ
11.2.10. Coretec Group
12 Appendix
12.1. Discussion Guide
12.2. Knowledge Store: MarketsandMarkets' Subscription Portal
12.3. Available Customizations
12.4. Related Reports
12.5. Author Details
Note: The current table of contents is tentative and is subject to change as we progress with our research.
The study involved four major activities in estimating the current size of the volumetric video market. Exhaustive secondary research was done to collect information on the market, peer, and parent markets. The next step was to validate these findings, assumptions, and sizing with industry experts across the value chain through primary research. Both top-down and bottom-up approaches were employed to estimate the total market size. After that, market breakdown and data triangulation were used to estimate the market size of segments and subsegments.
Secondary Research
Secondary sources for this research study included corporate filings (such as annual reports, investor presentations, and financial statements); trade, business, and professional associations; white papers; certified publications; articles by recognized authors; directories; and databases. The secondary data was collected and analyzed to determine the overall market size, further validated through primary research.
List of Primary and Secondary Sources
SOURCE

WEB LINK

CIPA - Camera & Imaging Products Association

Digital Advertising Alliance

Volumetric Format Association

IDEA - Information Display & Entertainment Association

VR/AR Association
Primary Research
Extensive primary research was conducted after gaining knowledge about the current scenario of the volumetric video market through secondary research. Several primary interviews were conducted with experts from the demand and supply sides across four major regions—North America, Europe, Asia Pacific, and RoW. This primary data was collected through questionnaires, emails, and telephonic interviews.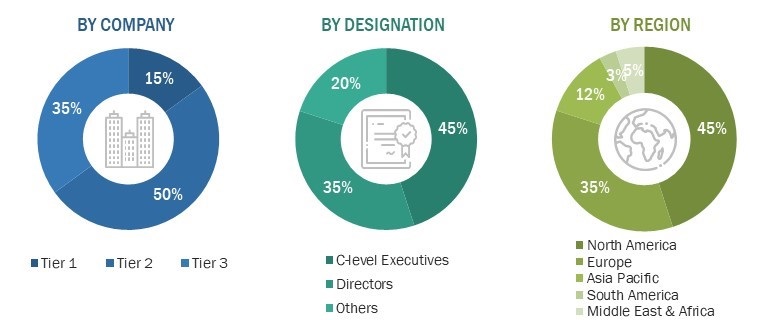 To know about the assumptions considered for the study, download the pdf brochure
Market Size Estimation
Both top-down and bottom-up approaches were used to estimate and validate the size of the volumetric video market and its various dependent submarkets. The key players in the market were identified through secondary research, and their market share in the respective regions was determined through primary and secondary research. This entire procedure involved the study of annual and financial reports of top players and extensive interviews with industry leaders such as chief executive officers (CEOs), vice presidents (VPs), directors, and marketing executives. All percentage shares and breakdowns were determined using secondary sources and verified through primary sources. All the possible parameters that affect the markets covered in this research study were accounted for, viewed in extensive detail, verified through primary research, and analyzed to obtain the final quantitative and qualitative data. This data was consolidated and supplemented with detailed inputs and analysis from MarketsandMarkets and presented in this report.
Bottom-Up Approach
The bottom-up approach was used to determine the overall size of the volumetric video market from the revenues of the key players and their shares in the market. The overall market size was calculated based on the gains of the key players identified in the market.
Identifying various applications using or expected to implement the volumetric video solutions
Analyzing each application, along with the significantly related companies and volumetric video hardware and software providers, and identifying service providers for implementing 3D technologies.
Estimating the volumetric video market for applications
Understanding the demand generated by companies operating across different applications.
Tracking projects' ongoing and upcoming implementation based on the volumetric video by applications and forecasting the market based on these developments and other critical parameters.
Studying various paid and unpaid sources, such as annual reports, press releases, white papers, and databases
Tracking ongoing and upcoming developments in the market, such as investments, R&D activities, product launches, collaborations, and partnerships, and forecasting the market based on these developments and other critical parameters
Carrying out multiple discussions with key opinion leaders to understand the volumetric capture technologies, related raw materials, and products designed and developed, thereby analyzing the break-up of the scope of work carried out by major volumetric video device manufacturers and software solution providers.
Verifying and cross-checking the estimates at every level via discussions with key opinion leaders, such as CXOs, directors, and operations managers, and finally with the domain experts at MarketsandMarkets

Top-Down Approach
In the top-down approach, the overall market size has been used to estimate the size of the individual markets (mentioned in the market segmentation) through percentage splits from secondary and primary research.
The most appropriate immediate parent market size has been used to implement the top-down approach to calculate the market size of specific segments. The top-down approach was implemented for the data extracted from the secondary research to validate the market size obtained.
Each company's market share was estimated to verify the revenue shares used earlier in the top-down approach. The data triangulation method and data validation through primaries determined and confirmed the overall parent and individual market sizes in this study. The data triangulation method in this study is explained in the next section.
Arriving at market estimates by analyzing the revenues generated by volumetric video hardware manufacturers in different countries
Focusing on the top-line investments and expenditures in the ecosystem of the volumetric video market
Calculating the market size considering the revenue generated by market players through the sale of volumetric video devices for the hardware market and through apps for the software market
Identifying further splits considering R&D activities and prominent developments in key market areas
Gathering and analyzing the information related to the revenue generated by players offering volumetric capture hardware equipment
Conducting multiple on-field discussions with key opinion leaders across the major companies involved in the development of volumetric capture
Estimating the geographic split using secondary sources—based on factors such as the number of players in a specific country as well as region and types of products used in application areas such as medical, sports, events, and entertainment; signage & advertisement; education & training; and others

Data Triangulation
After arriving at the overall size of the volumetric video market from the market size estimation process explained above, the total market was split into several segments and subsegments. Data triangulation procedures were employed wherever applicable to complete the overall market engineering process and arrive at the exact statistics for all parts and subsegments. The data was triangulated by studying various factors and trends from both the demand and supply sides. In addition to this, the market size was validated using top-down and bottom-up approaches.
Market Definition
A volumetric video is a technique used to capture and display three-dimensional (3D) video content of real-world objects or people. It aims to provide a more immersive and realistic viewing experience by capturing not only the surface appearance of the subjects but also their depth and volumetric details. Traditionally, video is captured using cameras that record a two-dimensional scene representation. In contrast, volumetric video involves using an array of cameras or specialized sensors to capture multiple viewpoints simultaneously, covering an entire 360-degree field of view. These cameras capture the subject from different angles, allowing for the reconstruction of a 3D representation of the issue.
Key Stakeholders
Developers/vendors of AR/VR devices
Content creators
Suppliers of raw materials and manufacturing equipment
Semiconductor foundries
Original equipment manufacturers (OEMs)
Product manufacturers
Solution providers of ODM and OEM technologies
Research organizations
Technology standards organizations, forums, alliances, and associations
Technology investors
Governments, financial institutions, and investor communities
Analysts and strategic business planners
Report Objectives
To describe and forecast the volumetric video market size, in terms of value, by volumetric capture, and application
To define and forecast the market size, in terms of value, across four key regions: North America, Europe, Asia Pacific (APAC), and the Rest of the World (RoW)
To describe and forecast the market for volumetric capture hardware in terms of volume
To provide detailed information regarding the drivers, restraints, opportunities, and challenges of the market
To strategically analyze micro markets with respect to the individual growth trends, prospects, and their contributions to the overall market
To strategically profile key market players and comprehensively analyze their market share and core competencies
To provide a detailed overview of the market's value chain and ecosystem
To provide a detailed overview of technology trends, average selling price trends, regulations, and trade analysis about the market
To analyze competitive developments such as contracts, acquisitions, product launches and developments, collaborations, partnerships, and research & development (R&D) activities in the market
To analyze the impact of the recession on the volumetric video market
Available Customizations
With the given market data, MarketsandMarkets offers customizations according to the specific requirements of companies. The following customization options are available for the report:
Detailed analysis and profiling of additional market players (up to 5)
Further country-level analysis of the volumetric video market
Product Analysis
Product matrix, which provides a detailed comparison of the product portfolio of each company in the volumetric video market.