The report "Food Diagnostics Systems Market [by Type (Hybridization, Chromatography, Spectrometry, Biosensor, Immunoassay, Testing Kit)], Consumables Market [by Type (Reagents, Disinfectants, Test Accessories)] & by Geography - Global Trends & Forecast to 2018" defines the food diagnostics market and segments it into systems and consumables with analyses and projections of the market size of each of these segments, in terms of value. It also identifies the driving and restraining factors for the food diagnostics market with analyses of trends, opportunities, burning issues, and winning imperatives.
Browse 108 market data tables and 48 figures spread through 290 Pages and in-depth TOC on "Food Diagnostics Systems Market [By Type (Hybridization, Chromatography, Spectrometry, Biosensor, Immunoassay, Testing Kit)], Consumables Market [By Type (Reagents, Disinfectants, Test Accessories)] & By Geography – Global Trends & Forecast To 2019"
https://www.marketsandmarkets.com/Market-Reports/food-diagnostics-systems-225194671.html
Early buyers will receive 10% customization on reports.
The food diagnostics market is driven by the increase in food trade, further implementation of stringent food safety and disease prevention regulations, and the availability of a wide range of food diagnostic systems in the market. The key market players adopt new product launches as their preferred strategy to sustain the competition in the market. The application of advanced diagnostic technologies in food testing to detect the contaminants and adulterants present in the products has further driven the market.
Food Diagnostic Systems & Food Diagnostic Consumables Market Size, by Geography, 2013 ($Million)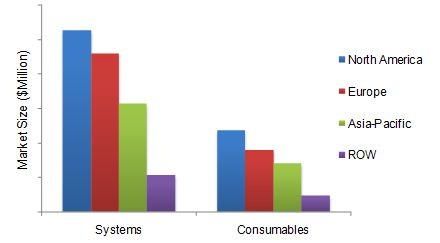 Source: MarketsandMarkets Analysis
In 2013, North America was the largest food market for both, diagnostic systems and consumables. The Asia-Pacific market for diagnostic systems and consumables is projected to grow at the highest CAGR due to the emerging food testing markets such as China and India. The market is estimated to grow with the increase in demand for food testing.
The report includes development strategies and product portfolio of the leading companies. The company profiles of leading companies such as the 3M Company (U.S.), bioMeuriex (France), and DuPont (U.S.) have been included in the report. Players in the food diagnostics market constantly invest in R&D to introduce new diagnostic solutions to gain a competitive edge over others in the market.
About MarketsandMarkets
MarketsandMarkets is a global market research and consulting company based in the U.S. We publish strategically analyzed market research reports and serve as a business intelligence partner to Fortune 500 companies across the world.
MarketsandMarkets also provides multi-client reports, company profiles, databases, and custom research services. M&M covers thirteen industry verticals, including advanced materials, automotives and transportation, banking and financial services, biotechnology, chemicals, consumer goods, energy and power, food and beverages, industrial automation, medical devices, pharmaceuticals, semiconductor and electronics, and telecommunications and IT.
We at MarketsandMarkets are inspired to help our clients grow by providing apt business insight with our huge market intelligence repository.
Contact:
Mr. Rohan
North - Dominion Plaza,
17304 Preston Road,
Suite 800, Dallas, TX 75252
Tel: +1-888-600-6441
Email: sales@marketsandmarkets.com