According to a research report "US Essential Oils Market by Product Type, Application (Food & beverages, Cosmetics & Toiletries, Aromatherapy, Home Care, and Health Care), Source (Fruits & Vegetables, Herbs & Spices, Flowers), Method of Extraction and Region - Global Forecast to 2027", published by MarketsandMarkets, US Essential Oils Market to Grow at a CAGR 12.7% from 2022 to 2027.
Expanding end-use applications to propel the growth
The essential oils market in the US is witnessing remarkable growth driven by its diverse range of end-use applications across various industries. Essential oils demonstrate exceptional versatility, finding utility in sectors such as cosmetics, personal care, food and beverages, aromatherapy, cleaning products, and more. This extensive applicability contributes significantly to the rising demand for essential oils, fueling the expansion of the market. In the cosmetics and personal care industry, essential oils are harnessed for their captivating aromas and potential benefits for skin and hair. Renowned beauty brands incorporate essential oils into skincare products, hair care formulations, perfumes, and other beauty offerings, delivering delightful natural scents and potentially therapeutic effects.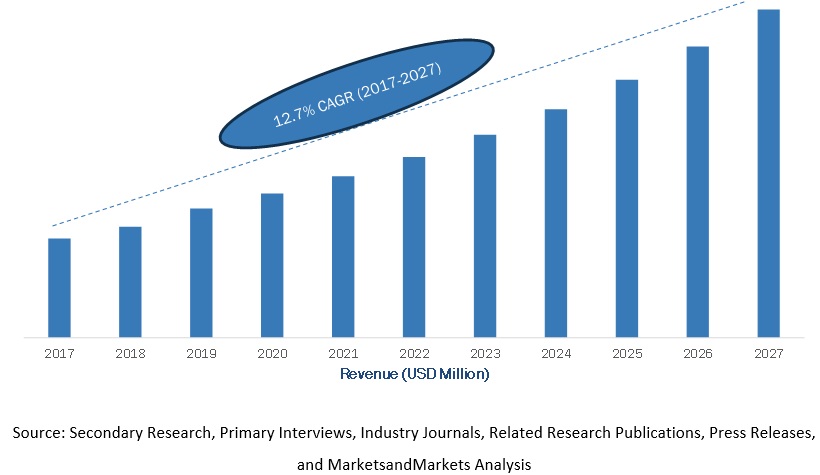 The food and beverages industry capitalizes on essential oils as all-natural flavoring agents, elevating the taste and aroma of diverse products. From baked goods and confectionery to beverages and culinary creations, essential oils impart distinctive flavors, catering to evolving consumer preferences for natural and flavorful experiences. Aromatherapy emerges as a pivotal application for essential oils, leveraging their aromatic properties to facilitate relaxation, alleviate stress, and enhance overall well-being. These oils are skillfully blended into diffusers, massage oils, bath products, and other aromatherapy essentials, creating soothing and invigorating experiences. Furthermore, essential oils find extensive application in the cleaning and household products industry as eco-friendly alternatives to synthetic fragrances and harsh chemicals. Their incorporation in air fresheners, detergents, and other cleaning formulations offers pleasant scents while potentially providing antimicrobial properties, aligning with the increasing demand for safer and greener solutions.
Don't miss out on business opportunities in US Essential Oils Market. Speak to our analyst and gain crucial industry insights that will help your business grow.
About MarketsandMarkets™
MarketsandMarkets™ is a blue ocean alternative in growth consulting and program management, leveraging a man-machine offering to drive supernormal growth for progressive organizations in the B2B space. We have the widest lens on emerging technologies, making us proficient in co-creating supernormal growth for clients.
The B2B economy is witnessing the emergence of $25 trillion of new revenue streams that are substituting existing revenue streams in this decade alone. We work with clients on growth programs, helping them monetize this $25 trillion opportunity through our service lines - TAM Expansion, Go-to-Market (GTM) Strategy to Execution, Market Share Gain, Account Enablement, and Thought Leadership Marketing.
Built on the 'GIVE Growth' principle, we work with several Forbes Global 2000 B2B companies - helping them stay relevant in a disruptive ecosystem. Our insights and strategies are molded by our industry experts, cutting-edge AI-powered Market Intelligence Cloud, and years of research. The KnowledgeStore™ (our Market Intelligence Cloud) integrates our research, facilitates an analysis of interconnections through a set of applications, helping clients look at the entire ecosystem and understand the revenue shifts happening in their industry.
To find out more, visit www.MarketsandMarkets™.com or follow us on Twitter, LinkedIn and Facebook.
Contact:
Mr. Aashish Mehra
MarketsandMarkets™ INC.
630 Dundee Road
Suite 430
Northbrook, IL 60062
USA : 1-888-600-6441
[email protected]