Updated on : June 7, 2023
Prebiotic ingredients market size was estimated to be valued at USD 6.3 billion in 2022 and is expected to reach USD 10.9 billion by 2027 with a CAGR of 11.7%. Prebiotic ingredients are beneficial for treatment of inflammatory bowel disease, diarrhea, colon cancer, for calcium absorption, and to maintain bone health, skin health, immunity, and obesity. Awareness about prebiotics has gained popularity in recent years, stimulating scientific as well as industrial interest.
The prebiotic ingredients market consists largely of globally established players such as Beneo (Germany), ADM (US), DuPont (US), Friesland Campina (Netherlands), Ingredion (US), Samyang Corp (South Korea), Beghin Meiji (France), Tate & Lyle PLC (UK), Yakult (Japan), Kerry PLC (Ireland), Fronterra Ltd. (New Zealand), Royal Cosun (Netherlands), Roquette Frères (France), and Cosucra Groupe Warcoing SA (Belgium). New product launches was the dominant strategy adopted by the key players, followed by expansions. These strategies have helped them to increase their presence in different regions and industrial segments in the prebiotic ingredients market .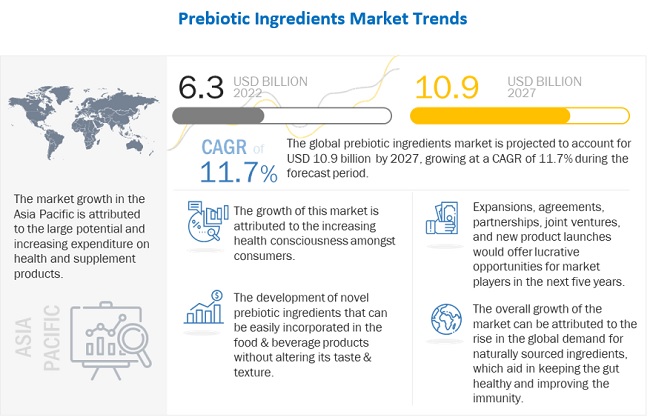 To know about the assumptions considered for the study download the pdf brochure
Beneo engages in developing and producing functional ingredients from natural sources of food, feed, and pharmaceutical products. The products have health benefits, such as weight and energy management, as well as technical benefits, such as prolonged shelf life or a stable structure. The company is present in more than 80 countries and has seven local offices with five production sites in Germany, Belgium, Italy, and Chile. The company is a member of Sudzucker Group, which provides plant-based sweetening solutions. Beneo has seven approved EU health claims and two FDA health claim approvals. Beneo's chicory root fibers and functional carbohydrates are approved in more than 80 countries providing benefits globally.
Beneo also invests in R&D and has recently invested in expanding capacity in Chile and Belgium. Beneo has developed a new product called Orafti inulin, which is sourced naturally through chicory root fiber and is used in a wide range of food and beverage applications.
Royal Cosun is an agro-industrial group in prebiotic ingredients market that produces a wide range of ingredients and intermediate products for the food industry. The company operates through its subsidiaries in the Netherlands, such as Aviko, Duynie Group, Sensus, Suiker Unie, SVZ, and Cosun Biobased Products.
Sensus produces inulin, a dietary fiber that reduces the sugar and fat content of foodstuffs from chicory. The Cosun Food Technology Centre (CFTC) is the R&D center of the company, located in the Netherlands, which focuses on the innovation of products used in a wide range of applications. It has production facilities in Roosendaal and Zwolle and distributors across 45 countries. It operates through its regional branches- Sensus Inc. in North America and Sensus Asia in the Asia Pacific.
Royal Cosun has made two major investments; one in Roosendaal to increase the storage capacity for liquid inulin products and another in Zwolle, a new spray-dry plant taken into operation, to increase the capacity for production of inulin powders.
Cosucra Groupe Warcoing SA operates as the manufacturer in prebiotic ingredients market of naturally sourced ingredients from peas and chicory roots. Its ingredient portfolio includes chicory root fiber, pea protein, pea fiber, and pea starch, which are used in dietary supplements, and finished products, such as granola bars, baked goods, plant-based and savory products, non-dairy applications, and beverages.
The company has three processing plants, among which one is dedicated to chicory roots and the other two for pea processing. It has a sales office in China and distributes its products through its subsidiary Gillico Ingredients in North America. On the strength of its subsidiary in the US, it has a presence in North America and the Caribbean. Through its sales office in China and Taiwan, it has an expanded presence in the Asia Pacific. The regional presence has enabled the company to adapt and cater to local needs.
Prebiotic Ingredients Market Report Segmentation:
This research report categorizes the prebiotic ingredients market based on type, application, source, and region.
By Type

By Application

By Source

By Region

Oligosaccharide
Inulin
Polydextrose
Other Types

Food & Beverage
Dietary Supplements
Animal Feed

Roots
Grains
Vegetables
Other sources

North America
Europe
Asia Pacific
South America
Rest of the World (ROW)
Recent Developments
In November 2022, ADM completed its acquisition of Georgia, US-based Deerland Probiotics and Enzymes. Deerland Probiotics and Enzymes provides probiotic and dietary supplements using probiotic, prebiotic, and enzyme technology. It operates five manufacturing facilities, one fermentation facility, and eight global R&D and quality control laboratories.
In December 2020, DuPont merged with IFF; this merger would help DuPont become a global leader in high-value ingredients and solutions for global food & beverage, home & personal care, and health & wellness industries.
In February 2021, GrupoArcor and Ingredion Incorporated entered into a joint venture to integrate the combined operations to market, sell, and manufacture ingredients within Argentina, Chile, and Uruguay. The manufacturing facilities will produce value-added ingredients such as glucose syrups, maltose, fructose, starch, and maltodextrins. Maltodextrins are prebiotics with proven health properties.
In November 2021, Nexira acquired Swiss-based Unipektin Ingredients AG, which manufactures 'Vidofibers,' which are plant fibers. Vidofiber GF 25A is a soluble dietary fiber made from de-polymerized guar gum. This powder can be easily added to various foods, beverages, and supplements.
In November 2022, Kerry PLC launched Emugold Fiber for the fortified white bread manufacturer. This will promote a high fiber claim in the white bread without affecting the taste, texture, and other sensory aspects.
In July 2021, Roquette launched Nutriose soluble fiber sourced from yellow peas in the US market. The product offers the same functional benefits as the fibers sourced from wheat and corn. It also includes stronger and more consumer-friendly labeling because pea is not an allergen.
In March 2021, Taiyo International expanded its Sunfiber product portfolio by launching Sunfiber GI, a synbiotic manufactured by combining probiotic and prebiotic properties. It targeted the women's demo graph suffering from gut health issues.
In October 2022, Prenexus Health announced a partnership with Aloha Medicinals, a cultivator of bulk medicinal mushrooms and mushroom grain spawn ingredients, to bring the novel mushroom-based prebiotic, MyceliaGI to market.
Frequently Asked Questions (FAQ):
Who are some of the key players operating in the prebiotic ingredients market, and how intense is the competition?
Key players in this market include Beneo (Germany), ADM (US), DuPont (US), Friesland Campina (Netherlands), Ingredion (US), Samyang Corp (South Korea), Beghin Meiji (France), Tate & Lyle PLC (UK), Yakult (Japan), Kerry PLC (Ireland), Fronterra Ltd. (New Zealand), Royal Cosun (Netherlands), Roquette Frères (France), Cosucra Groupe Warcoing SA (Belgium), Taiyo International Inc. (US), and Alland & Robert (France). Companies such as Nexira(France) have done exceedingly well in their product portfolio and business strategy. Companies such as Clasado(UK) are constantly seeking to tap opportunities in this market.
What are the potential challenges to the prebiotic ingredients market?
Consumers are often confused between these two ingredients due to the similarity of names and lack of information about prebiotics. The market for prebiotic ingredients as a dietary supplement in food & beverage is still to flourish, and there is less awareness regarding incorporating prebiotic ingredients in food & beverage items. However, these ingredients are growing gradually in the nutraceutical and pharmaceutical industries.
What are the key market trends in the prebiotic ingredients market?
A shift in lifestyle toward the work-from-home regime has increased the snacking trend. It has further encouraged the retail sales of healthy packaged food products, supporting the growth of prebiotic ingredients.
Today's well-informed consumers prefer products that have science-backed benefits. They increasingly prefer solutions, such as prebiotics, that support a holistic approach to health and gut-related concerns. As a result, the demand for chicory root fiber was already high, which has accelerated, meaning supply can be tight.
What companies in the prebiotic ingredients market undertake key development strategies?
Strategies such as new product launches, investments into expansion and development, and research initiatives are the key strategies used by large players to achieve differential positioning in the global market. .
To speak to our analyst for a discussion on the above findings, click Speak to Analyst
Related Reports:
Prebiotic Ingredients Market with Covid-19 Impact by Type (Oligosaccharides, Inulin, & Polydextrose), Application (Food & Beverage, Dietary Supplements, & Animal Feed), Source, Brand, Functionality, Bacterial Activity and Region - Global Forecast to 2027
Contact:
Mr. Aashish Mehra
MarketsandMarkets™ INC.
630 Dundee Road
Suite 430
Northbrook, IL 60062
USA : 1-888-600-6441
[email protected]