The global starch derivatives market is expected to reach $58.2 billion by 2019. Asia-Pacific acquires the maximum share in the global starch derivatives market. Both China and India are highly populated emerging economies, with a rapidly growing industrial sector, and hence the demand for starch derivatives is the highest in these countries.
The applications of starch derivatives are vast, primarily being in the food & beverage industry. The demand for convenience foods has been growing at a very high rate in China and India. The APAC region is also expected to experience the highest growth from the year 2014 to 2019.
Considering the applications of starch derivatives, the food & beverage segment accounts for the maximum share in terms of revenue, globally. The pharmaceutical segment is expected to have the highest growth in the concerned period of time. This is because of the increasing number of research and developments taking place in the pharmaceutical industry.
The starch derivatives market is acquired by a large number of players: a few big and many small & medium-scale players. However, the major players in the starch derivatives industry are identified are Cargill Inc. (U.S.), ADM (U.S.), Ingredion (U.S.), Tate & Lyle (U.K.), and Roquette (France).
Starch Derivatives Market Leaders: 2012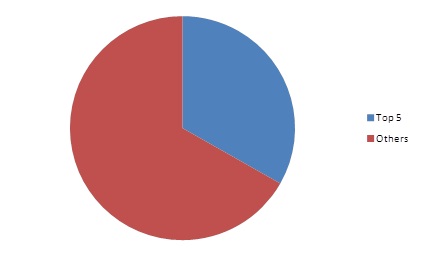 Source: MarketsandMarkets Analysis
The top five players in the starch derivatives industry capture a significant share of the entire market. These companies are focusing on the strategy of new product launch in expanding their businesses. Companies attract more customers by providing them with a variety of products, with specific properties. Expansions and investments are also followed as a key strategy for many big players in the industry. Expansion of existing utilities or building new ones, investments in other company products, etc., have helped the top players maintain their hold on the market.
The other players, including small, medium, and large scale players, hold a large share in the industry as well. This is due to the wide end-use product portfolio that exists in the market and industry-specific products. These medium and small players manufacture products tailored to the needs of the customer. The starch derivative industry is gradually growing with the introduction of new and innovative products. These products are differentiated on the basis of their functionality, and are made to perform a specific function.
Related Reports:
Starch Derivatives Market by Type (Maltodextrin, Cyclodextrin, Glucose Syrup, Hydrolysates And, Modified Starch) & by Application (Food & Beverage, Feed, Paper, Cosmetics, Pharmaceutical, Bioethanol And Other Industrial Applications) - Global Trends & Forecast To 2019
https://www.marketsandmarkets.com/Market-Reports/starch-derivatives-market-116279237.html
Contact:
Mr. Rohan
North - Dominion Plaza,
17304 Preston Road,
Suite 800, Dallas, TX 75252
Tel: +1-888-600-6441
Email: [email protected]