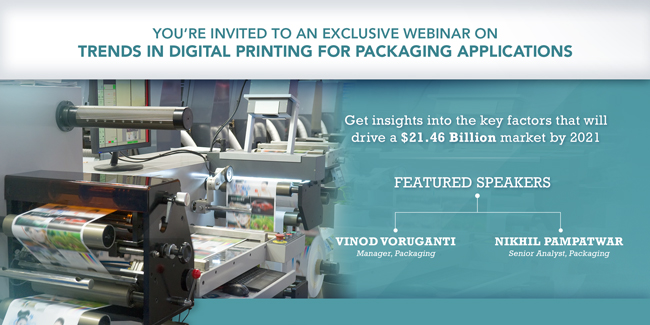 With the increase in packaging activity, there are more stakeholders across the supply chain, which has intensified the challenges of the packaging printing industry. Digital printing, the most advanced printing technology, not only has the ability to print on various substrates, but also offers a wide range of benefits, such as photo-realistic illustrations, aesthetic appeal, better communicability, quicker turnaround time, and lower cost than other conventional printing techniques. In addition, an increase in the demand for variable data printing is an opportunity for the digital printing packaging market, as there is a rise in demand for economical, sustainable, and innovative printing technologies in different application areas.
MarketsandMarkets™ is delighted to invite you to an exclusive webinar titled "Trends in Digital Printing for Packaging Applications", which will be hosted on September 26, 2017 from 11:00 am to 12:00 pm (EST). Please join our industry experts – Vinod Voruganti, Manager and Nikhil Pampatwar, Senior Analyst with our Packaging Practice as they discuss the key market trends in digital printing for packaging applications that drive the business transformation that organizations are looking for today.
Specific insights you will get:
What are the key trends in digital printing for packaging applications that are impacting businesses, globally?
What are the major developments in digital printing for packaging applications across industries and how are these developments impacting the market?
How will the increasing adoption of digital printing for packaging applications increase revenues for companies?
Register now and get an opportunity to learn from leading industry analysts. The event would be concluded with a one-on-one Q&A with our industry experts.
EVENT DETAILS

Webinar

Online

Tuesday, September 26, 2017

11:00 am to 12:00 pm (EST)
KEY SPEAKERS

Vinod Voruganti
Manager, Packaging Construction and Mining

Nikhil Pampatwar
Sr. Analyst, Packaging Construction and Mining
Serving over 5,000 companies across 35,000 niche markets
Coverage of the top 40 high growth niche opportunities valued at US$ 3.7 trillion and growing at CAGR of 17%
Get insights into disruptive technologies that comprise 20% business today but will contribute 80% business in the next five years
Register Now