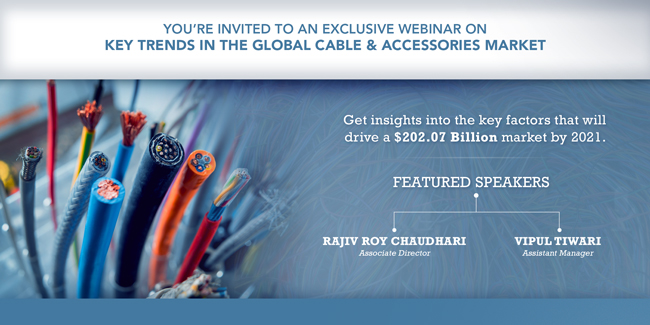 The global transition towards modernization and the need for efficient and improved electrical networks across industries is driving the cable & accessories market. The medium voltage power cables market is led by Asia Pacific and Europe because of the expansion of distribution network and the upgradation of existing electrical infrastructure in these regions. Growing investments in the transmission and distribution sectors led by various infrastructure developments is expected to lead to a higher market growth rate in the Middle East & Africa for high voltage range power cables.
The growing need to reduce technical and commercial losses and to increase efficiency, along with the increased adoption of Gas Insulated Switchgear (GIS), is leading to growth in the cable & accessories market. Furthermore, the growing demand is driving increased R&D spending among suppliers for the continued development of new effective and efficient products in the cable & accessories market, especially in the low voltage segment.
MarketsandMarkets™ is delighted to invite you to an exclusive webinar titled "Key Trends in the Global Cable & Accessories Market for 2017" which will be hosted on October 26, 2017 from 11:00 am to 12:00 pm EST. Join our experts Rajiv Roychaudhuri, Associate Director, and Vipul Tiwari, Assistant Manager, with our Energy & Power practice, as they discuss the key trends that will drive end-user demand in the cable & accessories market.
Specific insights you will get from this webinar include:
1. What are the current market trends?
2. What are the major market developments & market dynamics?
3. Key factors of this market that are impacting the value chain
4. Where is the market heading and what are the corresponding quantitative dynamics at a global and regional level?
Register now and get an opportunity to learn from leading industry analysts.
The event would be concluded with a one-on-one Q&A session with our experts.
EVENT DETAILS

Webinar

Online

Thursday, October 26, 2017

11:00 am to 12:00 pm (EST)
KEY SPEAKERS

Rajiv Roychaudhuri
Associate Director, Energy and Power

Vipul Tiwari
Assistant Manager, Energy and Power
Serving over 5,000 companies across 35,000 niche markets
Coverage of the top 40 high growth niche opportunities valued at US$ 3.7 trillion and growing at CAGR of 17%
Get insights into disruptive technologies that comprise 20% business today but will contribute 80% business in the next five years
Register Now