Disruption – Evs, FCvs, flying taxi and growing demand for fuel efficient vehicles will disrupt the material market and pave the way for lightweighting materials to grow to US$130 Billion revenue Opportunities
Evs, FCvs, flying taxi and growing demand for fuel efficient vehicles will disrupt the material market and pave the way for lightweighting materials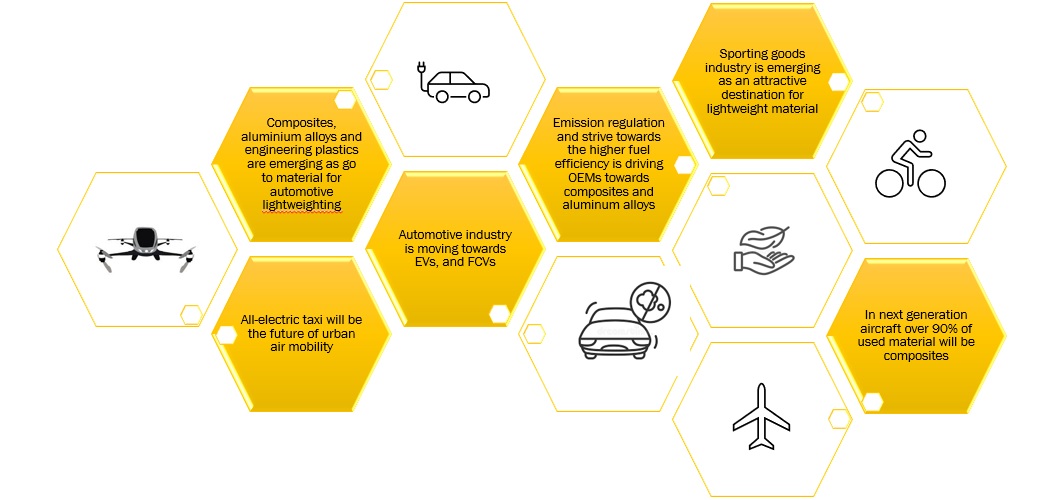 Growing Environment concern and demand for fuel efficient vehicles and alternative source of energy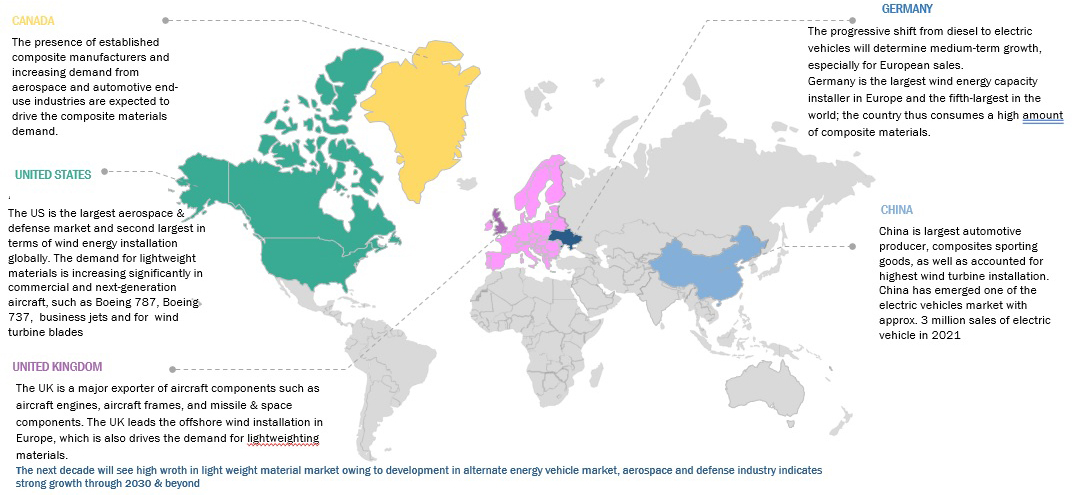 Lightweighting: Changes in Landscape of Future Composites Application Market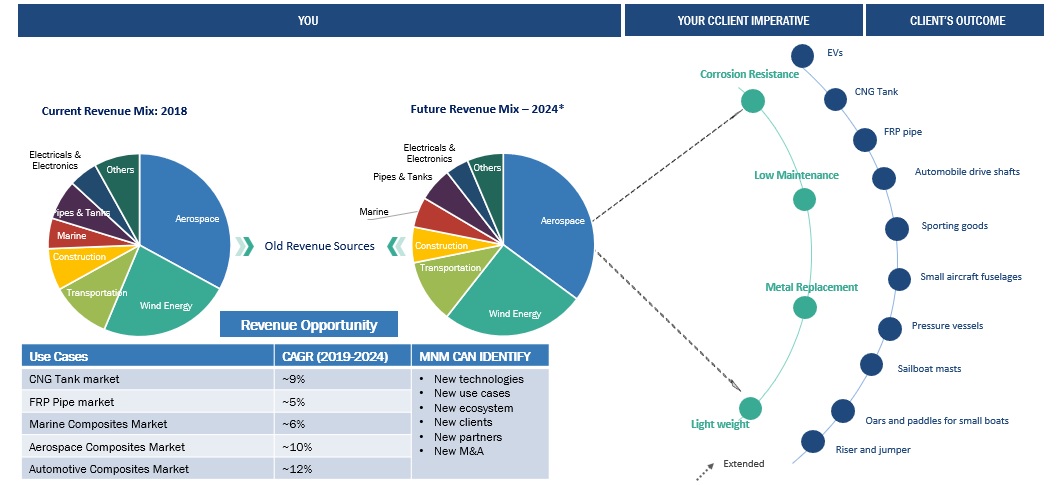 Lightweighting: Changes in Landscape of Future Composites Application Market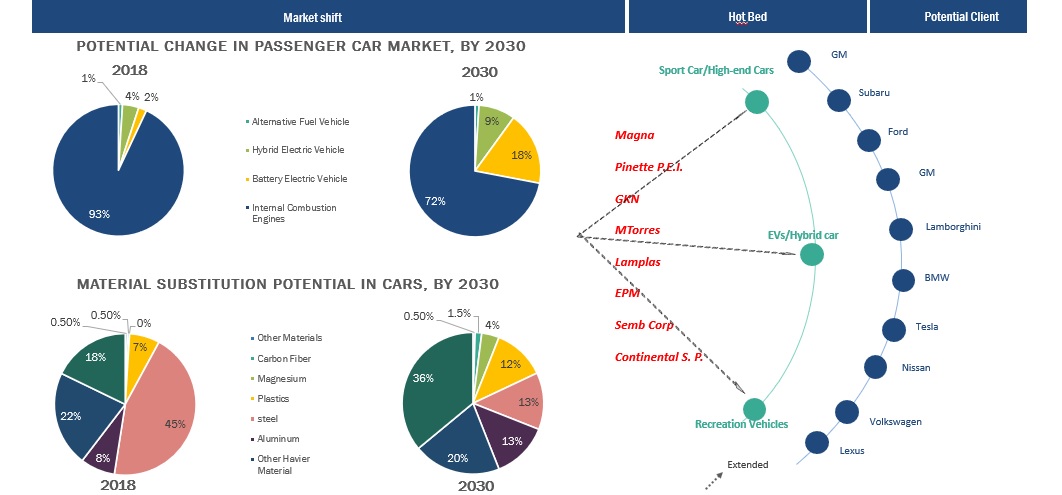 TOP Lightweighting GROWTH STORIES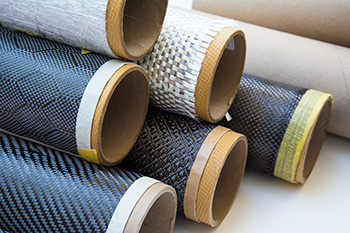 MNM helped a multinational corporation and a leader in COMPOSITES materials markets to accelerate market capture by 10-12 months in lightweighting Market
Download PDF
MNM helped a leadng player in Carbon Fiber Market to identify a revenue opportunity of >US$300 Million in 4-5 years in Carbon Fiber Composites Market
Download PDF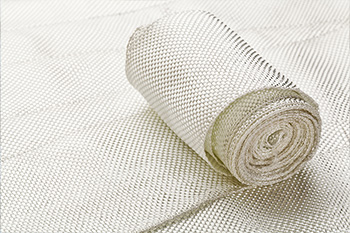 MNM helped a leading player in Basalt Fiber Market to identify a revenue opportunity of >US$100 million in 2-3 years in Basalt Fiber Composites Market
Download PDF
THERE IS USD 130 Bn MARKET OPPORTUNITY WITHIN lightweighing market, major OF WHICH IS CONTRIBUTED BY final PROCESSING AND others processes of value of composites materials
Lightweighting MARKET IS ESTIMATED TO GROW AT A HEALTHY CAGR OF 7%-8% IN THE COMING 5 YEARS, DRIVEN BY INCREASING DEMAND FROM VARIOUS END USE INDUSTRIES INCLUDING, AUTOMOTIVE, WIND ENERGY, a&d, Pipe & Tank etc.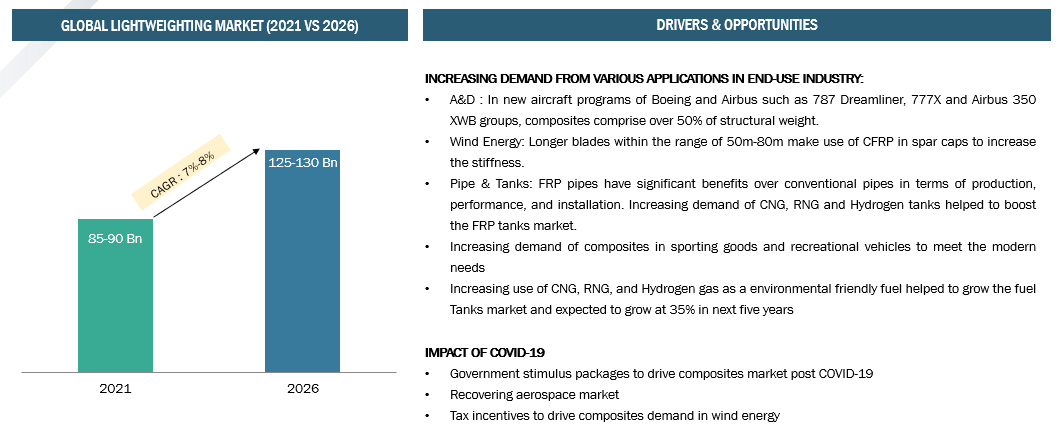 THERE IS USD 130 Bn MARKET OPPORTUNITY WITHIN lightweighing market, major OF WHICH IS CONTRIBUTED BY final PROCESSING AND others processes of value of composites materials

ADJACENT END USE INDUSTRY MARKETS HOLD A POTENTIAL OF OVER USD 1400 BILLION IN LIGHTWEIGHTING MARKET

WE HAVE ASSISTED A HOST OF CLIENTS TAP HIGH GROWTH OPPORTUNITIES ACROSS EMERGING APPLICATIONS, COMPETITION AND END-USE INDUSTRIES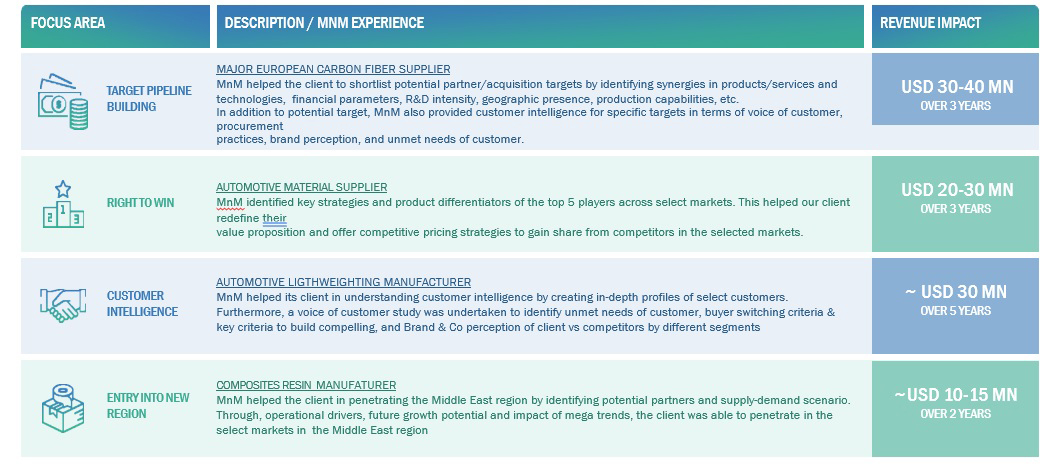 WHY DO COMPANIES NEED HELP TO GROW?
ABSENCE OF ORIGINAL RESEARCH:
Complex and overlapping markets for composites, high strength alloys, engineering plastics material, intermediate product, and component hence difficult to calculate market potential and TAM
Insufficient secondary research for strategic decisions
INTELLIGENCE IS NOT DEMOCRATISED:
Client unmet needs need to be understood by all market facing employees for new product development and vendor selection.
Bleak knowledge about upcoming technologies and growing applications such as UAVs, EVs, Hydrogen fuel vehicles and non-transport applications
GROWTH PROGRAM DESIGN AND EXECUTION:
Lack of GTM knowledge and practice in competitive intel, pricing and product features, especially in bioinformatics
SOME UNKNOWNS & ADJACENCIES
Electric vehicle to autonomous car new and old ecosystem is evolving like never before, composites alloys, additive are at the center of this change
Wind energy sector is expected to replace automotive in terms of carbon fiber composites consumption owing to growth in offshore wind turbine installation
With development in battery technology and charging infrastructure adoption of EVs. This is expected drive the demand of lightweigting material in coming 5 years
Aggressive clean energy Policies adopted by China and India is paving the way for high growth of composites market in these countries.
Defence and civil UAVs market is expected to grow multifold in next 10 years, thus will be one of the key market for lightweighting material
GROWTH PROBLEMS ENCOUNTERED BY Lightweighting COMPANIES
Customer prioritization and assessing unmet needs:
What are the disruptions in our clients' businesses? How can we support them for our own growth?
Who are the most potential customers going forward? Should we Aerospace, UAVS, and defense companies or EVs & FCVs?
What are the key unmet needs of customers? Who are the key stakeholders in different settings? Do vendor selection criteria differ by settings? Which new product features should be added to the existing products?
Where to Play:
Which applications, material, and Industry areas should we focus on? Should it be composites material, aluminum alloys, engineering plastics or any other?
Which regions should we place our bets on? Should we continue with developed countries or do developing countries offer more growth opportunities?
Building a compelling Right to Win (RTW):
For M&A, which are the right targets for us? Should we target raw material companies, intermediate material or component manufacturers? Should we enter new markets directly or through partners?
How can we differentiate from top players? What is their right-to-win vs ours?
OBSTACLES TO GROWTH FOR CURRENT PLAYERS
Not able to keep pace with fast evolving lightweighting material industry - New technologies are emerging leading to decreasing cost of material
Many start-ups and emerging companies eating up market share of established companies
Limited clarity on unmet needs, hence requirements for product features
Limited clarity on relevant vs redundant material and technology for the future
Unclear picture about the regulatory and reimbursement scenario
KEY UNCERTAINTIES/ PERSPECTIVES WHICH INDUSTRY LEADERS SEEK ANSWERS TO:
KEY QUESTIONS OF Lightweighting COMPANIES
What material will be relevant and redundant in the next 5 years?
Can Carbon fiber composites become affordable for mass application, or will it continue being used for high-end application?
What is the level of awareness that will be required for lightweighting material?
How can companies optimize the manufacturing processes to reduce cost to achieve a mass adoption of lightweighting material such as composites and alloys?
What regulatory policies can help strategize and achieve volumetric scale-up?
What can be done to achieve higher market share in particular market?
KEY QUESTIONS OF COMPANIES IN ADJACENT MARKETS
What are the recycling policy that might impact demand of lightweighting material?
What is Emission & environment policies of different countries? How it will impact lightweighting material demand
What will be scenario of aerospace industry, how it will impact demand of composites material and lightwighting alloys?
What will be the impact of automation on Lightweighting Material market?
LEADERS ACROSS Lightweighting Materials Industry NEED HELP IN TACKLING BELOW INTERCONNECTED REVENUE RELATED PROBLEMS (1)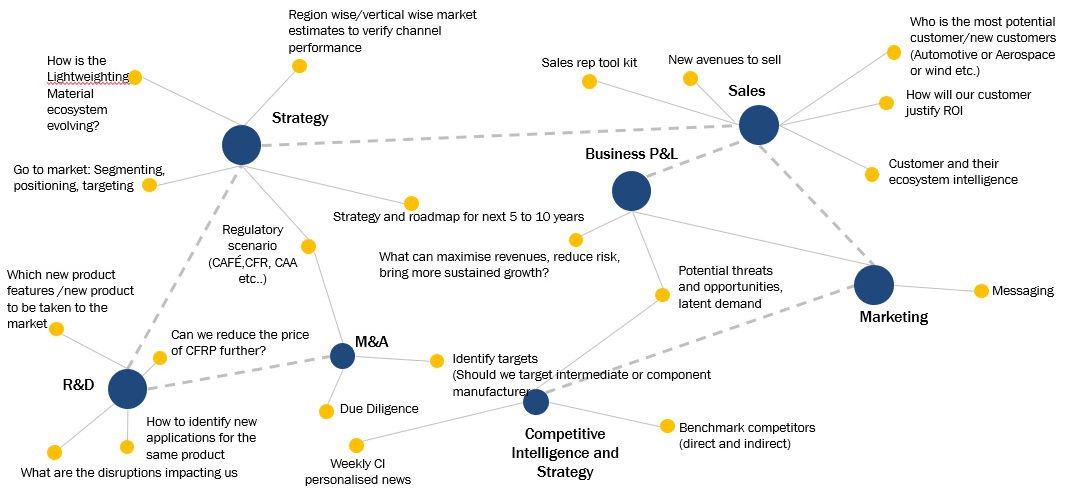 LEADERS ACROSS Lightweighting Materials Industry NEED HELP IN TACKLING BELOW INTERCONNECTED REVENUE RELATED PROBLEMS (2)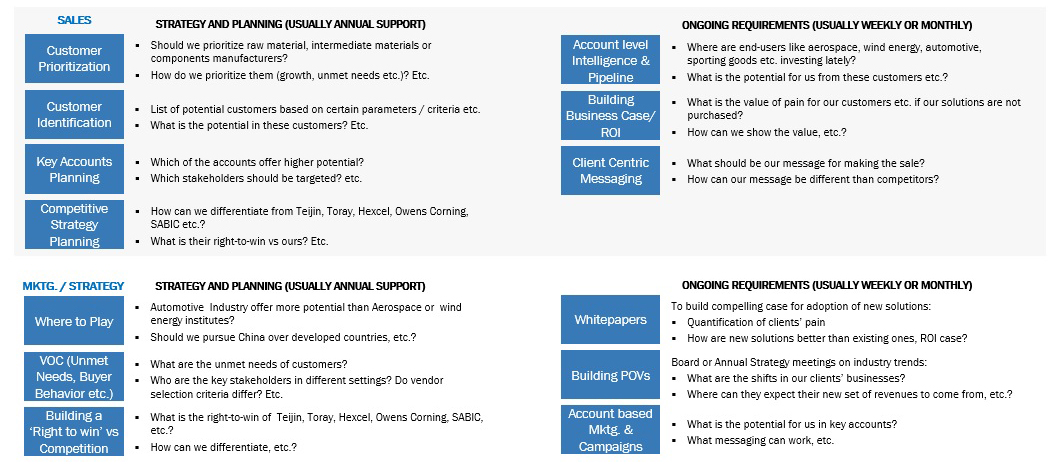 LEADERS ACROSS Lightweighting Materials Industry NEED HELP IN TACKLING BELOW INTERCONNECTED REVENUE RELATED PROBLEMS (3)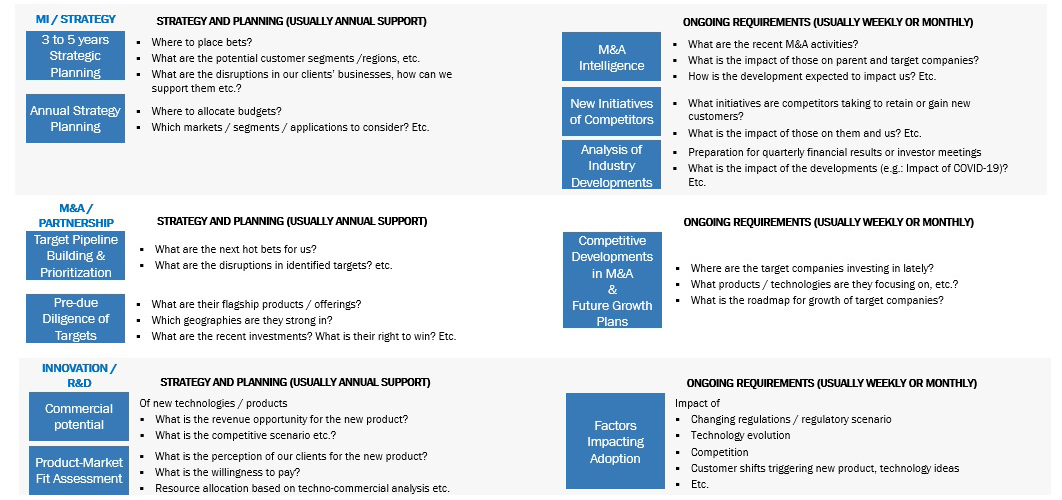 What is driving change
in your business
Product life cycles getting shorter.
Ecosystems getting converged.
Newer technologies and new use-cases disrupting.
New markets, new geographies, new clients, competition and partners.
Are changes only impacting you or your clients and their clients as well?
The trial will be a guided tour by our representative to help you discover the shift in revenue sources of your clients and clients' clients that will impact your revenue. This is your opportunity to unlock the research IP worth $100 million
REVENUE IMPACT STORY OF LEADING ORGANIZATIONS ENTERING THE Lightweighting MARKET
Ri story: for A multinational corporation and a leader in COMPOSITES materials markets, we helped client to accelerate market capture by 10-12 months IN lightweighting MARKET

RI STORY: FOR A LEADING PLAYER IN Carbon Fiber MARKET, WE HELPED THE CLIENT IDENTIFY A REVENUE OPPORTUNTITY OF >US$300 MILLION IN 4-5 YEARS IN carbon fiber composites MARKET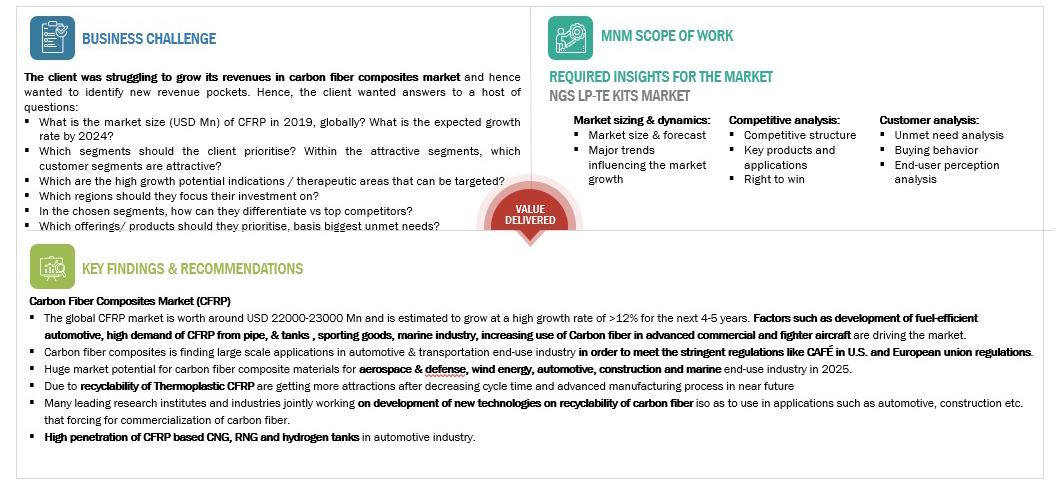 RI STORY: FOR A LEADING PLAYER IN basalt fiber MARKET, WE HELPED THE CLIENT IDENTIFY A REVENUE OPPORTUNTITY OF >US$100 MILLION IN 2-3 YEARS IN Basalt Fiber Composites MARKET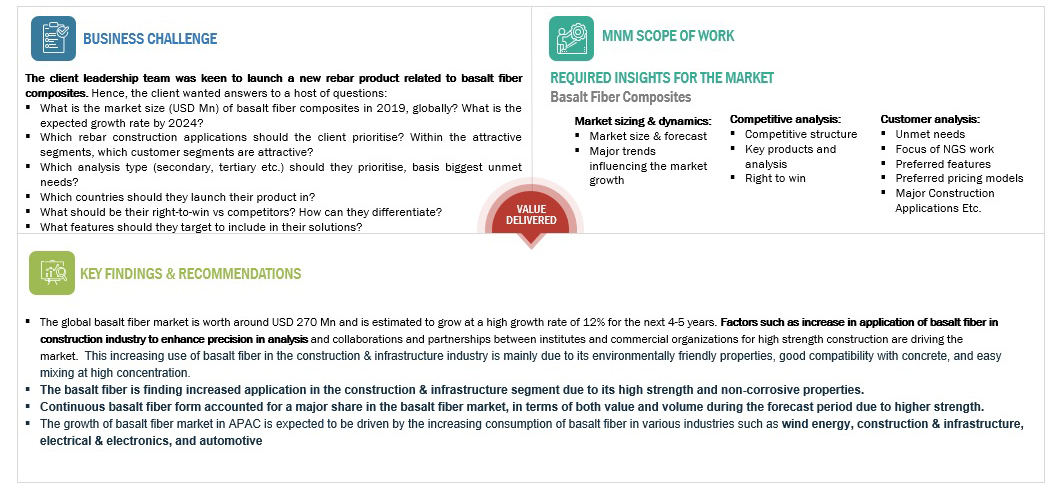 OTHER KEY REVENUE IMPACT STORIES
MNM RESEARCH FOCUSES ON HIGH GROWTH & NICHE MARKETS - SUCH AS GRAPHENE, CARBON FIBER, MEDICAL COMPOSITES, SIC FIBER, CMC AND RELATED MARKETS
INDICATIVE LIST OF OTHER PROJECTS EXECUTED FOR Lightweighting COMPANIES:
Composites Market
Aramid Fiber Market
Tow Prepreg Market
Aerospace Materials Market
Geosynthetics Market
Carbon Fiber Market
Construction Repair Composites Market
Unidirectional Tapes (UD Tapes) Market
Aerospace Composites Market
Prepreg Market
Automotive Composites Market
FRP Vessels Market
Metal Matrix Composite Market
String Wound Filter Materials Market
Antimicrobial Hospital Textiles Market
CF & CFRP Market
Aramid Honeycomb Core Materials Market
Transportation Composites Market
Ceramic Matrix Composites Market
Carbon Nanotubes (CNT) Market
Medical Composites Market
SiC Fibers Market
Construction CFRP Market
Graphene Market
Fiberglass Market
Thermoplastic Composites Market
Carbon Fiber Tape Market
WE HAVE A COMPREHENSIVE UNDERSTANDING OF THE LIGHTWEIGHTING MATERIAL ECOSYSTEM THROUGH OUR PROPRIETARY PLATFORM 'KNOWLEDGESTORE'.
*Below diagram indicates MarketsandMarkets™ coverage on Lightweighting value chain. KnowledgeStore provides strategic insights on each of the nodes present in this ecosystem through cloud based, highly interactive market intelligence platform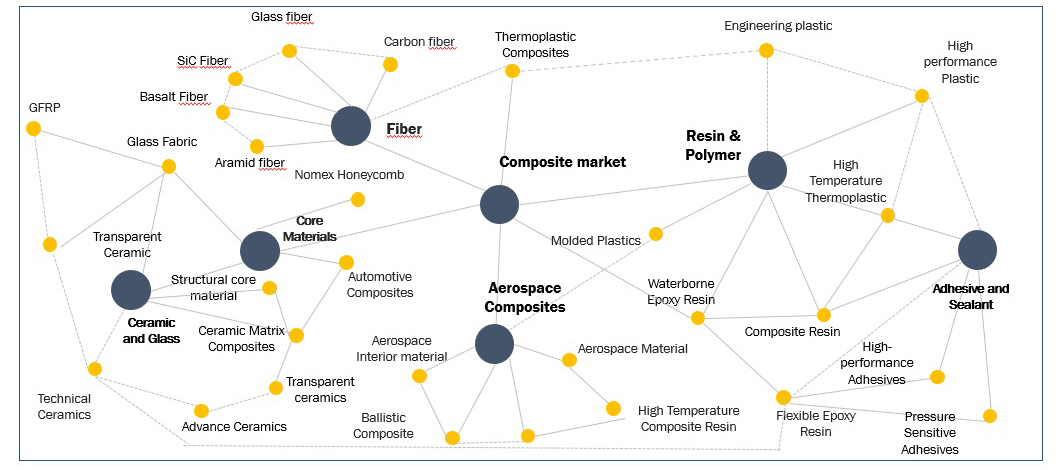 AND BELOW IS AN EXAMPLE OF Light weighting material ECOSYSTEM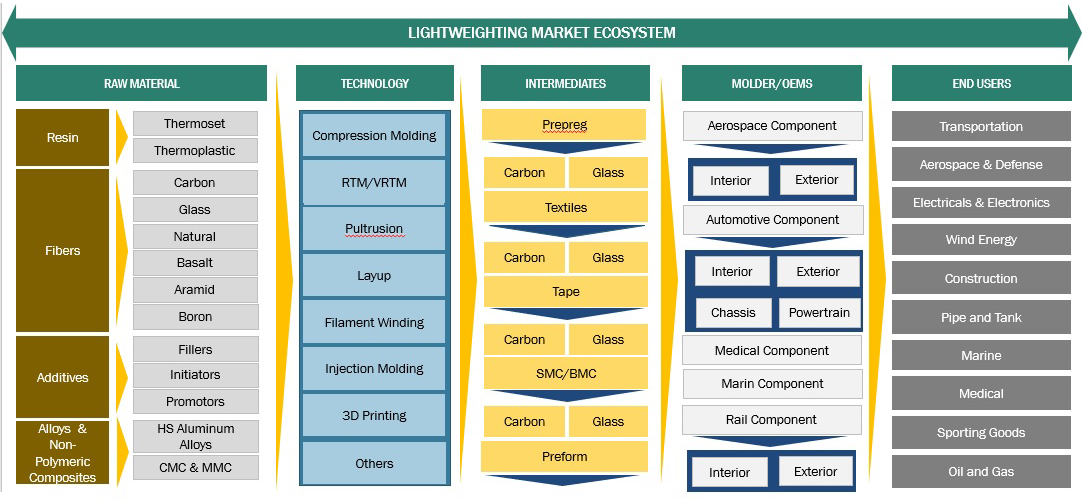 UNDERSTANDING THE CONNECTED ECOSYSTEM: CONNECTING THE DOTS Competitors and partners of the future may emerge from the most unlikeliest of places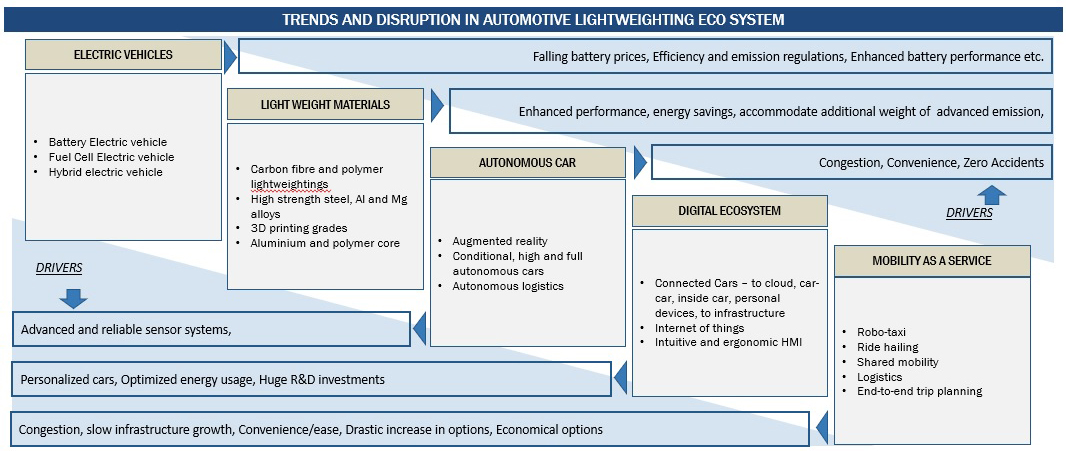 UNDERSTANDING THE CONNECTED ECOSYSTEM: CONNECTING THE DOTS Competitors and partners of the future may emerge from the most unlikeliest of places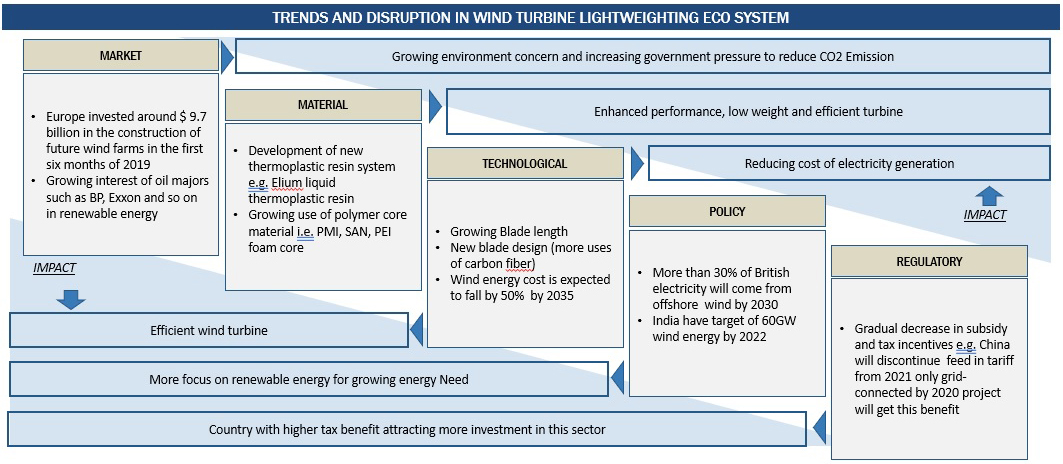 Find blind spots
impacting you and
your clients
Let our Analysts find blind spots in your revenue decisions because of inter-connected unknowns impacting your Clients, Clients' clients, Vendors, Vendors' vendors.
CLIENT TESTIMONIALS
Lightweighting COMPANIES

TOSHIO KINOSHITA
Senior Chif Consultion Research & Consulting Division
---
Mitsubishi Chemical Research Corporation,
Leading Manufacturer of Chemical Products
---
www.mitsubishichem-res.co.jp/en/

We recently engaged with MarketsandMarkets for a study, the team not only clearly understood our business objectives but was also extremely professional in the way they handled the entire project. The study was efficiently conducted in a phase-wise manner, and the engagement model furnished us with high-quality business insights that far exceeded our expectations at each phase. We were especially happy that MarketsandMarkets could provide us with both, an English as well as a Japanese version of the study. A special thanks to the Analyst Team and Client Services Team, whose fluency in Japanese enhanced our comfort level, as we could converse with them in our preferred language.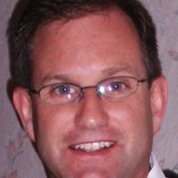 ROBERT LOVEGROVE
Vice President, Corporate Strategy
---
Milliken & Company
Leading Chemical Industry company
---
milliken.com
We started working with MarketsandMarkets 3 years ago. We see them as a trusted partner, providing key market insights that support our broad portfolio of businesses. We appreciate their professionalism and the ability of their Research & Client Services team's engagement with our C-suite.