DISRUPTION - Blockchain solutions for innovative applications beyond cryptocurrencies is OPENING UP A HUGE OPPORTUNITY worth $67+ BN that is set to transform the IT infrastructure
Disruptive blockchain solutions for innovative applications beyond cryptocurrencies is OPENING UP A HUGE OPPORTUNITY worth $67+ BN that is set to transform the IT infrastructure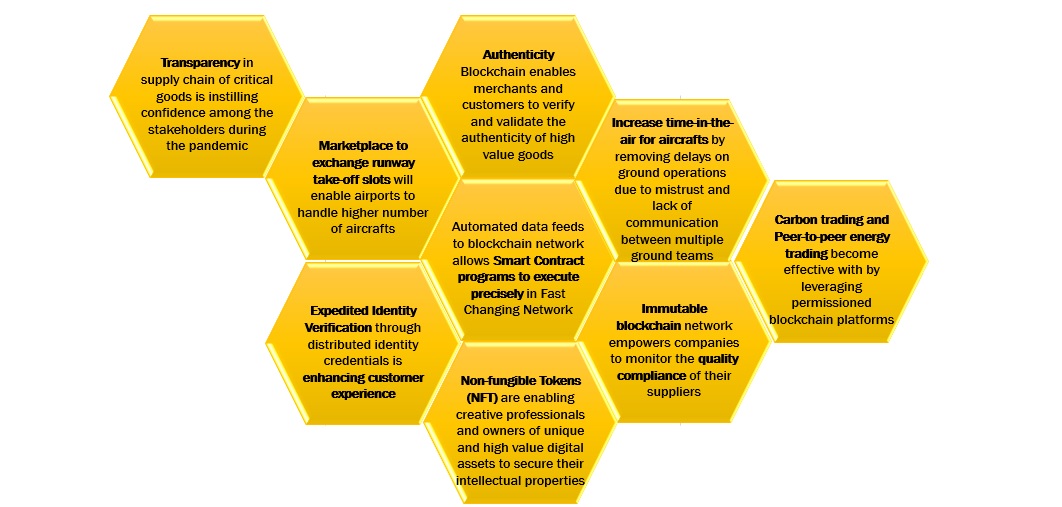 Blockchain adoption in government sector by developed economies is set to boost the confidence on the technology for companies in regulated industries worldwide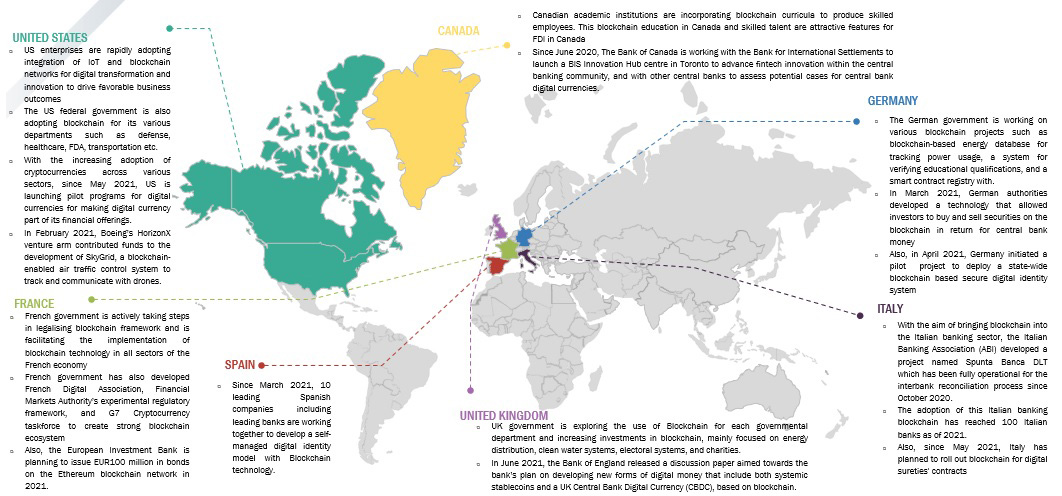 TOP BLOCKCHAIN GROWTH STORIES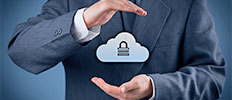 How MarketsandMarkets helped client to capture an incremental revenue of USD 100-150 Million over a period of 4 years?
Download PDF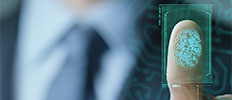 How MnM helped the client to tap into a market worth USD 50 Million which is projected to grow USD 80 Million in the two years?
Download PDF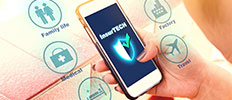 How MarketsandMarkets helped the client to identify high growth verticals that offered USD 20-30 Million incremental revenue?
Download PDF
THERE IS ~USD 43 BN POTENTIAL WITHIN BLOCKCHAIN APPLICATIONS, IN WHICH 40% IS CONTRIBUTED BY BFSI VERTICAL
BLOCKCHAIN MARKET IS ESTIMATED TO GROW AT A CAGR OF 68.4% IN THE COMING 5 YEARS, DRIVEN BY LOWER OPERATIONAL COSTS, TRANSPARENCY AND IMMUTABLITY TRANSACTIONS AND INFORMATION EXCHANGES , SECURITY AND PRIVACY FOR CRITICAL DATA LOGS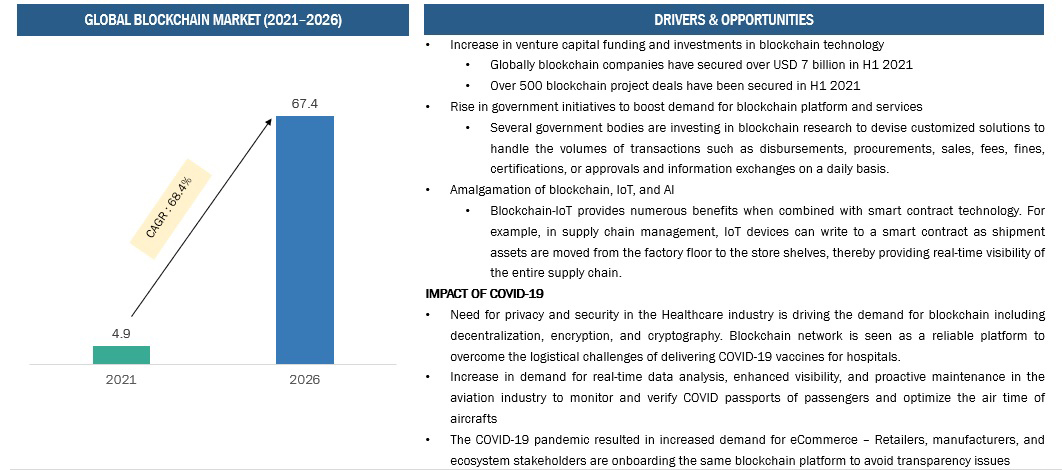 BLOCKCHAIN APPLICATIONS OPEN UP OPPORTUNITY WORTH ~USD 43 Bn IN WHICH ABOUT 40% IS CONTRIBUTED BY bfsi VERTICAL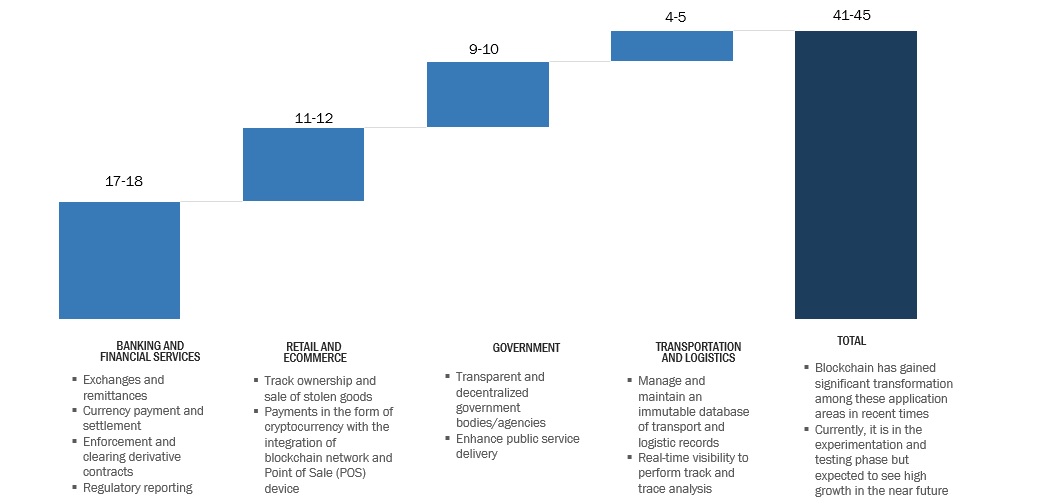 ADJACENT TECHNOLOGIES HOLD A POTENTIAL OF USD 14+ BILLION IN BLOCKCHAIN MARKET; MORE THAN 75% OF WHICH WILL BE CONTRIBUTED BY BLOCKCHAIN AS A SERVICE (baas)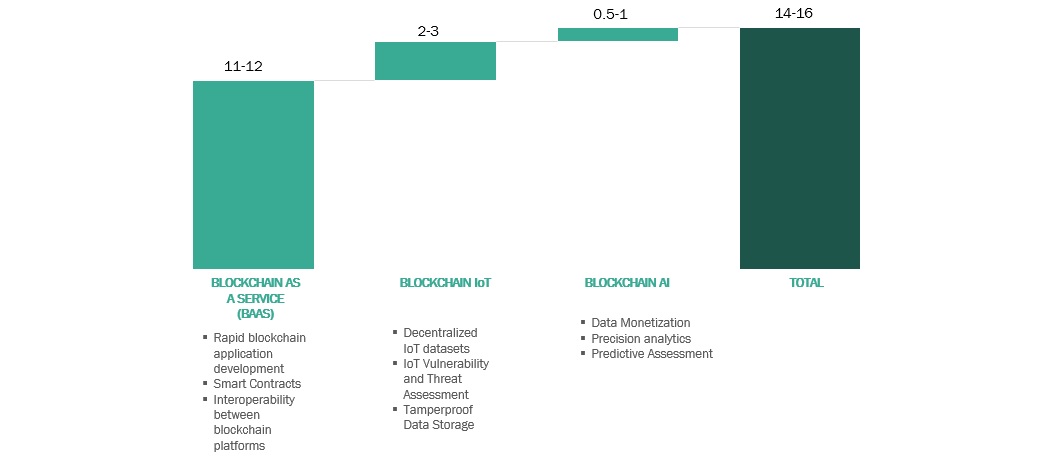 WE HAVE ASSISTED A HOST OF CLIENTS TAP HIGH GROWTH OPPORTUNITIES ACROSS EMERGING APPLICATIONS, COMPETITION AND END USE INDUSTRIES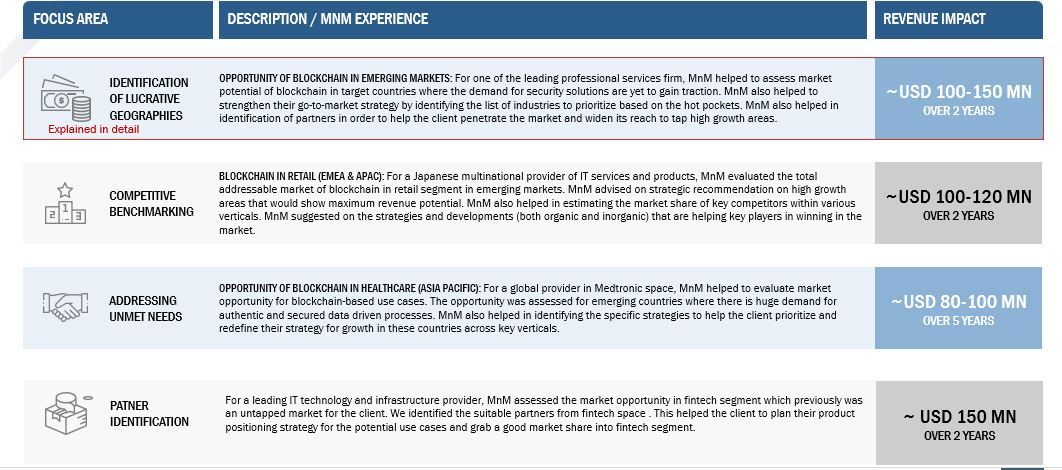 WHY DO COMPANIES NEED
HELP TO GROW ?
ABSENCE OF ORIGINAL RESEARCH:
Complex and overlapping markets for library prep and target enrichment kits, hence difficult to calculate market potential and TAM
Insufficient secondary research for strategic decisions
INTELLIGENCE IS NOT DEMOCRATISED:
Client unmet needs need to be understood by all market facing employees for new product development and vendor selection.
Bleak knowledge about upcoming technologies and growing applications such as identity management, NFT, CBDC
GROWTH PROGRAM DESIGN AND EXECUTION:
Lack of GTM knowledge and practice in competitive intel, pricing and product features
SOME UNKNOWNS & ADJACENCIES
Blockchain is gaining traction for innovative use cases such as OEM assembly line, fintech solutions, identity verification, financial track record verification, sovereign identity, and ground operations optimization in airports.
Technologies such as AI, IoT, Automation, and Analytics enable blockchain to widen its horizon by leveraging blockchain's capabilities to develop unique and unconventional solutions for the industry problems.
Luxury brands such as Louis Vuitton (LVMH) developed, AURA - a Ethereum blockchain-based platform, a unique identifier tagged to each of the luxury product enables the customer to access its online certificate which has been cryptographically signed by the brand and all those involved in its supply chain (design, raw materials, manufacturing, distribution).
IBM developed the TrustChain Initiative with Helzberg Diamond and Richline Group. TrustChain blockchain solution is used to trace jewels from mines to retailers. This solutions enables jewellers to certify their products as ethically sourced jewels and not through illegal means.
40+ BLOCKCHAIN COMPANIES GROWING THEIR REVENUES WORTH >USD 5 BN ARE RELYING ON MARKETSANDMARKETS
GROWTH PROBLEMS ENCOUNTERED BY Blockchain COMPANIES
Customer prioritization and assessing unmet needs:
What are the disruptions in our clients' businesses? How can we support them for our own growth?
Who are the most potential customers going forward? Should we prioritize innovative unique use cases from Automotive, Aerospace, Luxury Goods, etc. over conventional use cases from BFSI, Healthcare, and Supply Chain?
What are the key unmet needs of customers? Who are the key stakeholders in different verticals? Do vendor selection criteria differ by vertical? Which new product features should be added to the existing products?
Where to Play:
Which applications and use cases should we focus on? Should it be decentralized identity, carbon credit management, NFT, CBDC, or any other?
Which regions should we place our bets on? Should we continue with developed countries or do developing countries offer more growth opportunities?
Building a compelling Right to Win (RTW):
For M&A, which are the right targets for us? Should we target adjacent technology companies or customer companies? Should we enter new markets directly or through partners?
How can we differentiate from top players? What is their right-to-win vs ours?
OBSTACLES TO GROWTH FOR CURRENT PLAYERS
Predicting competition and customer preference in the non-regulated blockchain space
Innovative solutions from start-ups and emerging companies are acting as threat for established technology providers in sustaining leadership positions
Converting pilot / BAAS-based blockchain projects into full-fledged blockchain deals
Limited clarity on pricing models for complex scenarios
KEY UNCERTAINTIES/ PERSPECTIVES WHICH INDUSTRY LEADERS SEEK ANSWERS TO:
KEY QUESTIONS OF BLOCKCHAIN COMPANIES
Will blockchain replace traditional banking systems as the primary form of financial systems?
Can blockchain become an alternative and possibly eventually replace internet giants with a decentralized peer to peer network architecture?
Will there be a significant shift in opportunity for blockchain in areas such logistics and healthcare sectors, especially in the post COVID-19 scenario, over the next 5 to 10 years? If yes, what will be the market potential in these sectors over the same period?
Will blockchain as a technology sustain itself or live up to its potential opportunity hype in-stated currently?
KEY QUESTIONS OF COMPANIES IN ADJACENT MARKETS
What are the regulations surrounding data privacy and security?
Will there be data loss / privacy issues while interoperating between different blockchain platforms ?
What will be the impact of automation and analytics on Blockchain market?
How to tackle the privacy violations in decentralized data node-based environment ?
LEADERS ACROSS VARIOUS FUNCTIONS IN BLOCKCHAIN COMPANIES NEED HELP IN TACKLING BELOW INTERCONNECTED REVENUE RELATED PROBLEMS (1)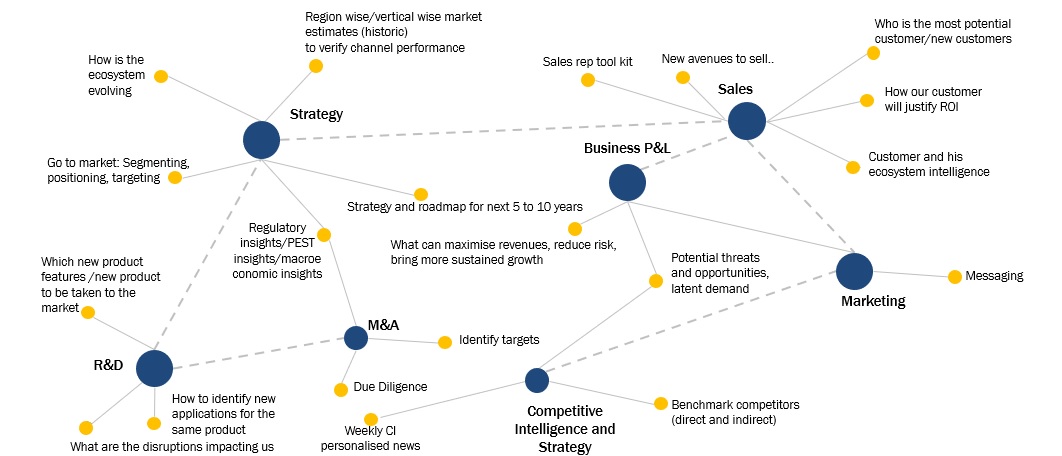 LEADERS ACROSS VARIOUS FUNCTIONS IN BLOCKCHAIN COMPANIES NEED HELP IN TACKLING BELOW INTERCONNECTED REVENUE RELATED PROBLEMS (2)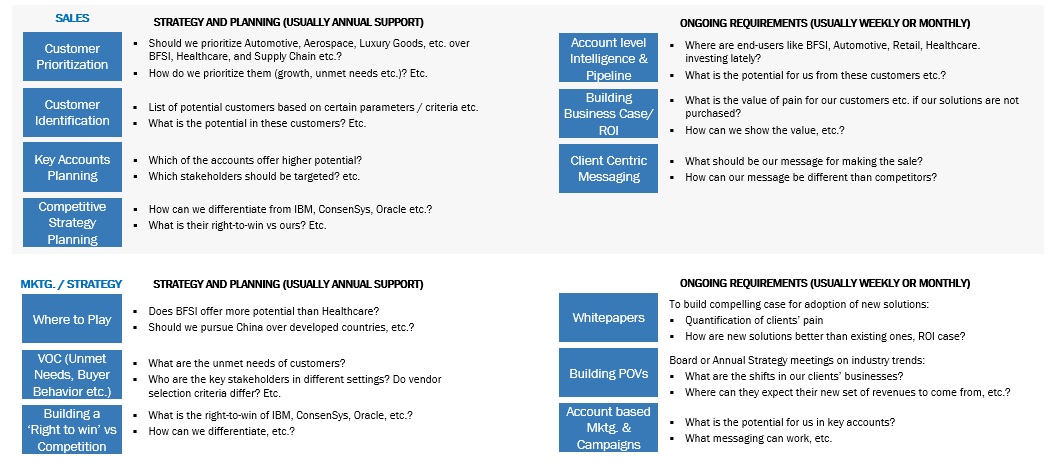 LEADERS ACROSS VARIOUS FUNCTIONS IN BLOCKCHAIN COMPANIES NEED HELP IN TACKLING BELOW INTERCONNECTED REVENUE RELATED PROBLEMS (3)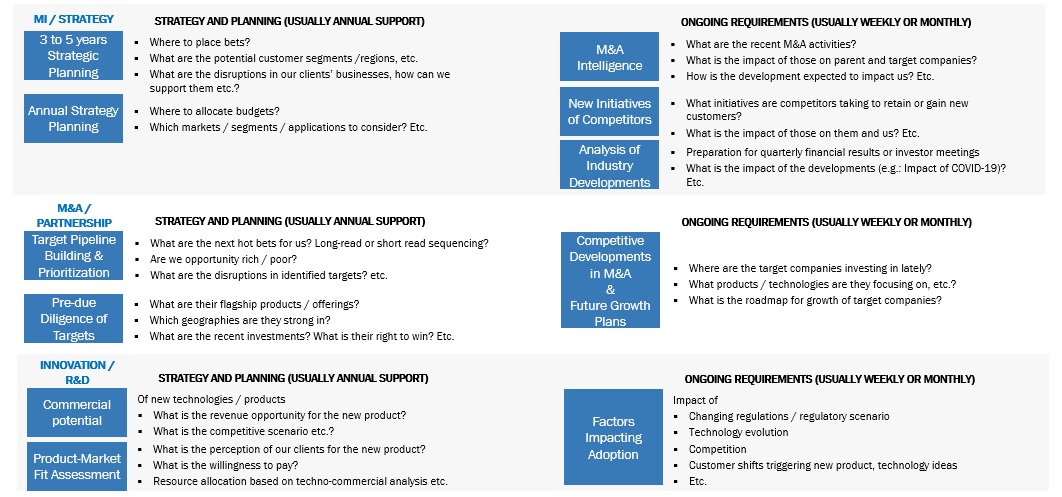 What is driving change
in your business
Product life cycles getting shorter.
Ecosystems getting converged.
Newer technologies and new use-cases disrupting.
New markets, new geographies, new clients, competition and partners.
Are changes only impacting you or your clients and their clients as well?
The trial will be a guided tour by our representative to help you discover the shift in revenue sources of your clients and clients' clients that will impact your revenue. This is your opportunity to unlock the research IP worth $100 million
RI STORY ON A PROFESSIONAL SERVICES PLAYER TO TAP INTO THE KSA BLOCKCHAIN MARKET
MNM ASSISTED A LEADING PROFESSIONAL SERVICE FIRM TO TAP INTO THE BLOCKCHAIN MARKET-ALLOWING IT TO CAPTURE AN INCREMENTAL REVENUE OF USD 100-150 MILLION OVER A PERIOD OF 4 YEARS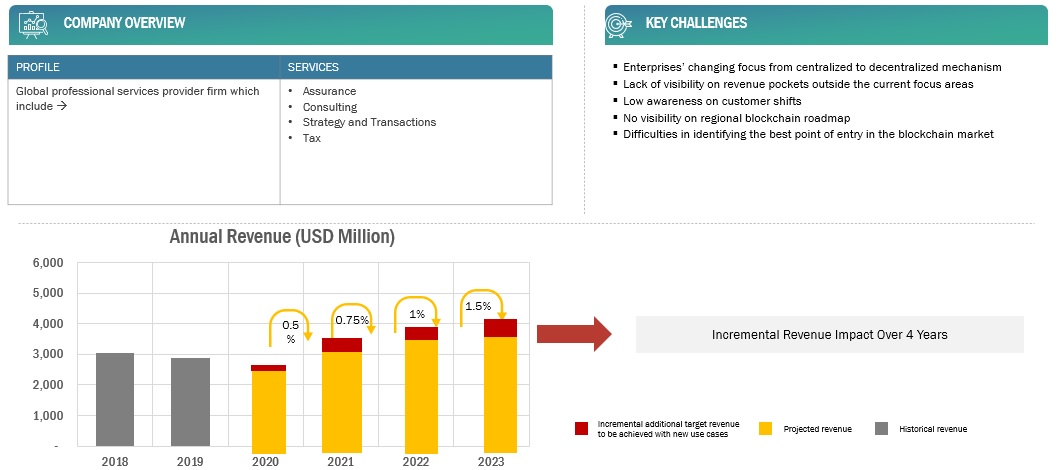 WE IDENTIFIED KSA BLOCKCHAIN use cases and customer segments. Market DRIVERS IN THE high growth verticals OFFERED USD 20-30 MILLION INCREMENTAL REVENUE TO THE CLIENT

OTHER KEY REVENUE IMPACT STORIES
RI STORY: FOR A Japanese financial firm, MNM helped Identify~USD 10 million revenue by tapping into the BLOCKChAIN market globally.
RI STORY: FOR A Japanese financial firm, MNM helped Identify ~USD 10 million revenue by tapping into the BLOCKChAIN market globally.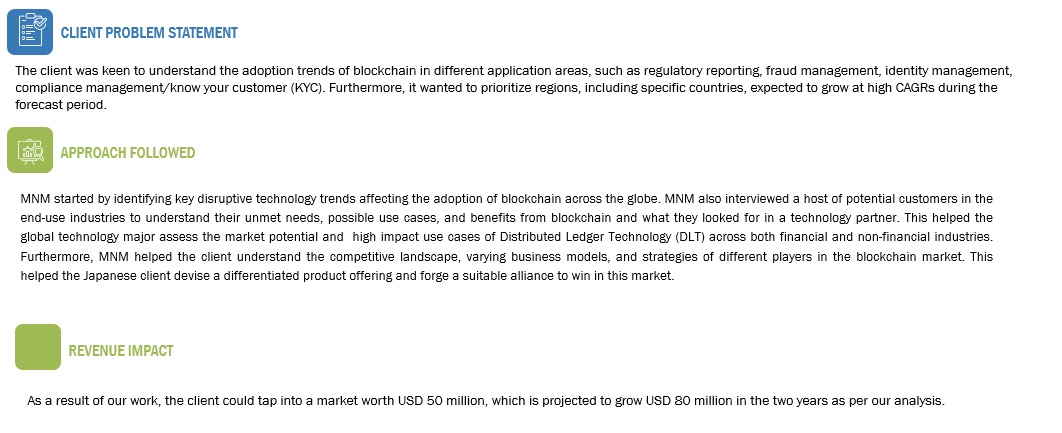 RI STORY: FOR A Private Equity player, assessed the market opportunity in SMART CONTRACTS, to help them make an investment decision.

RI STORY: FOR ONE OF THE NETWORKING GIANTS, ASSESSED THE POTENTIAL OPPORTUNITY IN BLOCKCHAIN TECHNOLOGY IN TERMS OF NETWORK AND SECURITY INFRASTRUCTURE

RESEARCH STUDIES PUBLISHED
THE FOCUS OF MNM RESEARCH IS ON HIGH-GROWTH MARKETS AND EMERGING TECHNOLOGIES, WHICH WILL BECOME ~80% OF THE REVENUES OF BLOCKCHAIN PLAYERS FROM EV ECOSYSTEM IN THE NEXT 5-10 YEARS
MARKETSANDMARKETS' COVERAGE OF HIGH-GROWTH NICHE MARKETS (NON-EXHAUSTIVE)

INDICATIVE LIST OF OTHER PROJECTS EXECUTED FOR Blockchain COMPANIES:
STUDY
Blockchain Market
Blockchain as a Service (BaaS) Market
Blockchain Devices Market
Crypto Asset Management Market
WE HAVE A COMPREHENSIVE UNDERSTANDING OF THE BLOCKCHAIN ECOSYSTEM THROUGH OUR PROPRIETARY PLATFORM 'KNOWLEDGESTORE'.
*Below diagram indicates MarketsandMarkets coverage on Blockchain value chain. KnowledgeStore provides strategic insights on each of the nodes present in this ecosystem through cloud based, highly interactive market intelligence platform.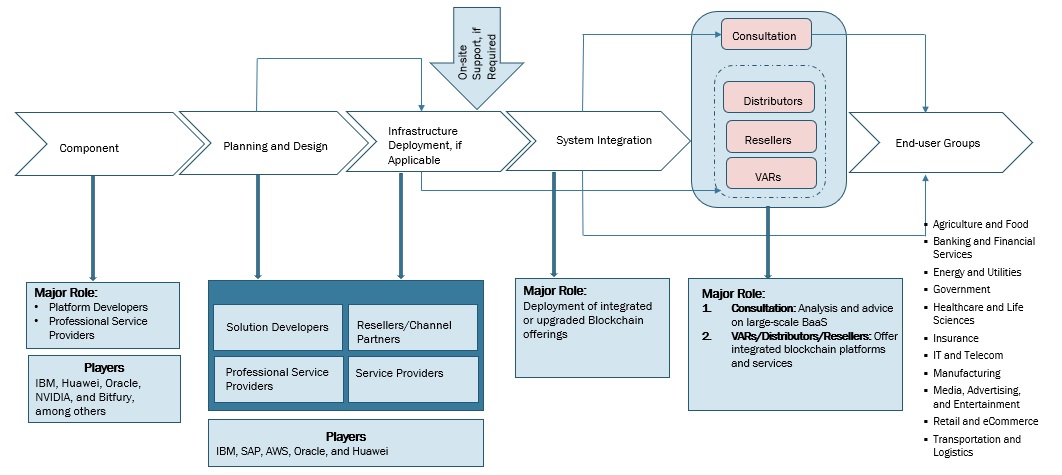 BLOCKCHAIN MARKET ADJACENCIES AND INTERCONNECTIONS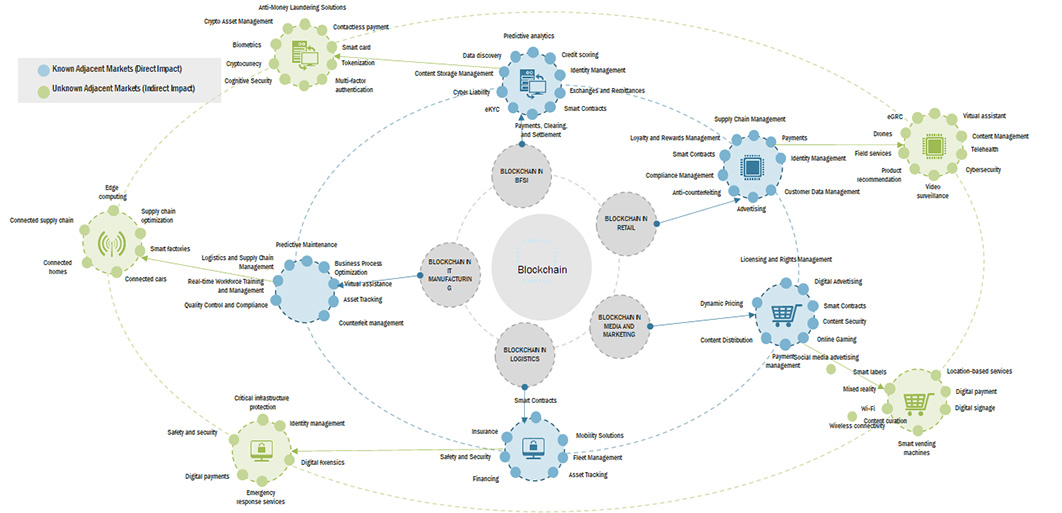 MarketsandMarkets'S UNIQUENESS IS THE ABILITY TO HAVE A CASCADED VIEW OF REVENUE SHIFT ACROSS THE VALUE CHAIN.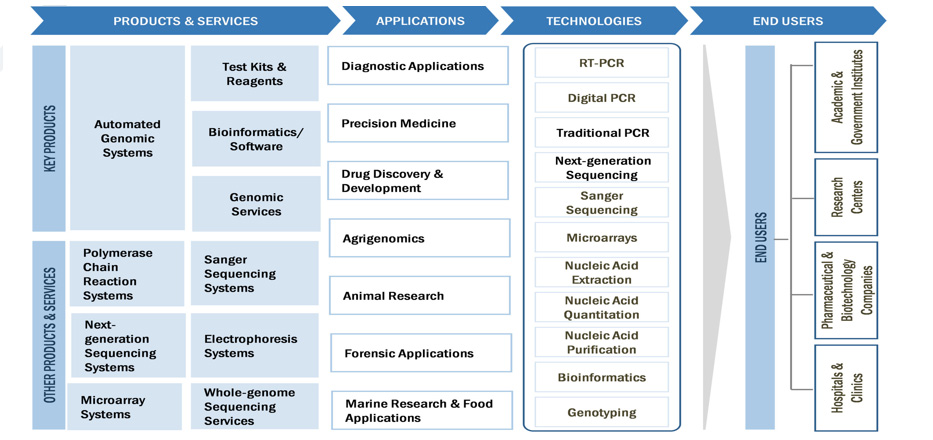 Find blind spots
impacting you and
your clients
Let our Analysts find blind spots in your revenue decisions because of inter-connected unknowns impacting your Clients, Clients' clients, Vendors, Vendors' vendors.
CLIENT TESTIMONIALS
Blockchain COMPANIES
---
Leading IT Company in US
---
The research and discussions with the MarketsandMarkets team were insightful and influential towards driving our team's strategic direction. After engaging with the analyst team, we were able to have focused use cases, a targeted market segment, and strategic partners to consider as part of our GTM. The insights shared by MarketsandMarkets captured some useful information that we could leverage to develop our point of view for the next steps. The market reports were a great start for the project, but the analyst hours made a rough diamond turn into a polished gem of a project