As battery Technology is evolving, the Energy Storage market is growing, USD 12.1 BN of potential opportunity is opening up by 2025-27
TOP Energy Storage GROWTH STORIES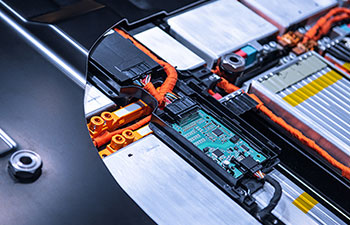 MNM helped an energy utility company and a leader in renewable powers markets in GTM to accelerate market capture through partnership in battery energy storage Market
Download PDF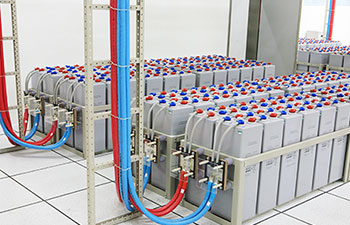 MNM helped a LEADING player in Energy Storage MARKET, to IDENTIFY A REVENUE OPPORTUNITY OF >USD100 MILLION IN 4–5 YEARS
Download PDF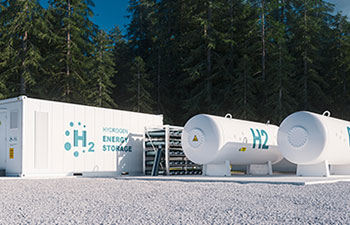 MNM helped a LEADING player in Energy Storage MARKET, to IDENTIFY A REVENUE OPPORTUNITY OF >USD100 MILLION IN 4–5 YEARS
Download PDF
HERE ARE SOME OF THE OPPORTUNITIES for chemical players in Battery ENERGY STORAGE
WE HAVE ASSISTED A HOST OF CLIENTS TAP HIGH GROWTH OPPORTUNITIES ACROSS the ENERGY STORAGE VALUE CHAIN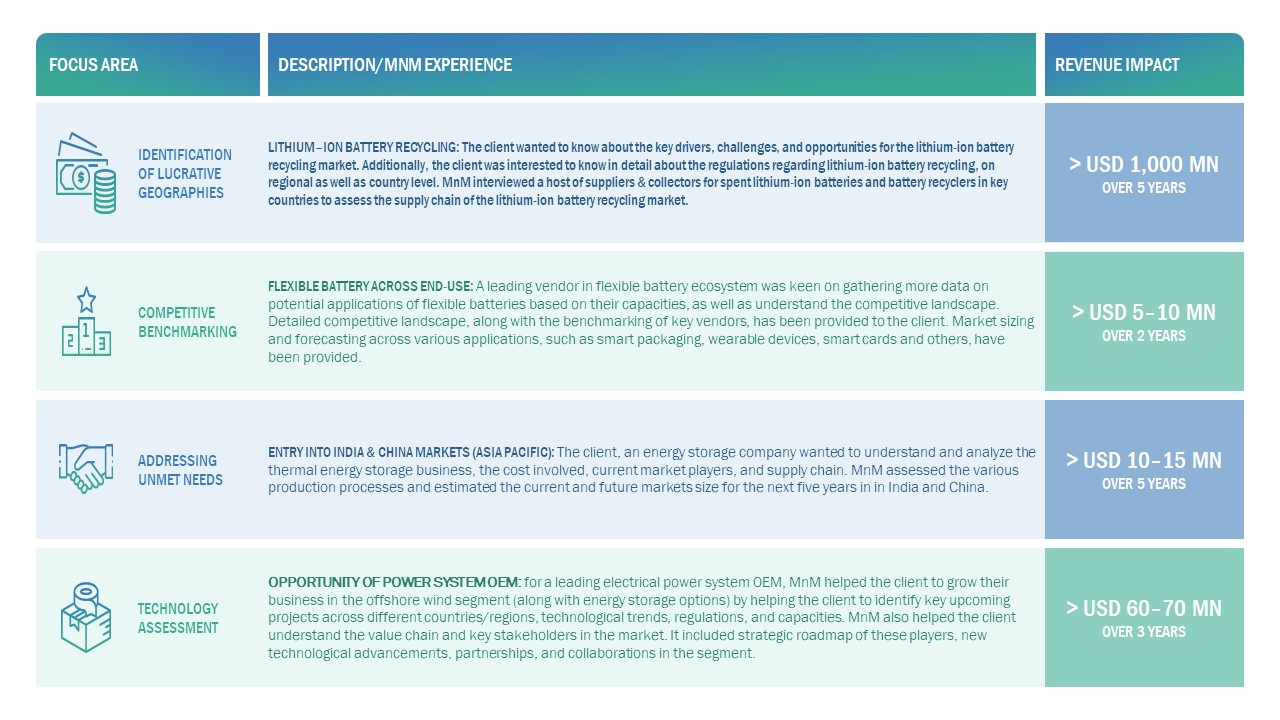 WHY DO COMPANIES NEED HELP TO GROW?
ABSENCE OF ORIGINAL RESEARCH:
Complex and overlapping markets for library prep and target enrichment kits, hence difficult to calculate market potential and Total Addressable Market (TAM)
Insufficient secondary research for strategic decisions
INTELLIGENCE IS NOT DEMOCRATISED:
Client unmet needs should be understood by all market facing employees for new product development and vendor selection
Bleak knowledge about upcoming technologies and growing markets
GROWTH PROGRAM DESIGN AND EXECUTION:
Lack of GTM knowledge and practice in competitive intel, pricing, and product features
SOME UNKNOWNS & ADJACENCIES
Battery-based energy storage is growing at a significant pace. Factors such as an increasing energy density of batteries, increasing penetration of EVs, the second life of LiBs batteries as an energy storage device to give a significant boot to the energy storage market.
Energy storage as a service to grow significantly in future. The advantage of energy storage for balancing demand–supply, avoid electric fluctuations, blackouts during peak hours, decrease environmental impact, and increase grid efficiency & stability to drive the overall market. These factors would be better quantified in future to drive the direct economic benefit from energy storage business models. AI, IOT, and Smart/Digitalization to play a key role in shaping energy storage business or energy storage as a service.
GROWTH PROBLEMS ENCOUNTERED BY Energy Storage COMPANIES
Customer prioritization and assessing unmet needs:
What are the disruptions in our clients' businesses? How can we support them for our own growth?
Who are the most potential customers going forward? Which energy storage technology to be prioritized?
What are the key unmet needs? Who are the key stakeholders in different settings?
Where to Play:
Which end-use we should focus on?
Which regions should we place our bets on? Should we continue with developed countries or do developing countries offer more growth opportunities?
Building a compelling Right to Win (RTW):
For M&A, which are the right targets for us? Should we enter new markets directly or through partners?
How can we differentiate from top players? What is their right-to-win vs. ours?
OBSTACLES TO GROWTH FOR CURRENT PLAYERS
Not able to keep pace with fast think on the how to grow the current revenue in energy storage market—new technologies are offering decreasing cost
Many start-ups and emerging companies eating up market share of established companies
Limited clarity on unmet needs
Unclear picture about the regulatory and its impact on businesses
Will any technology be able to bring in the necessary profitability and viability?
KEY UNCERTAINTIES/ PERSPECTIVES WHICH INDUSTRY LEADERS SEEK ANSWERS TO:
KEY QUESTIONS OF Energy Storage COMPANIES
What would be most relevant for energy storage in the next 5 years?
How can companies optimize the manufacturing processes to be more agile and efficient to achieve a seamless workflow?
What regulatory policies can help strategize and achieve volumetric scale-up?
What regulatory policies can help strategize and achieve volumetric scale-up?
KEY QUESTIONS OF COMPANIES IN ADJACENT MARKETS
What are the regulations driving this market?
How the AI, IOT, and machine learning will impact and shape this business?
How are companies handling machine bias?
What will be the impact of automation on the energy storage market?
What is driving change
in your business
Product life cycles getting shorter.
Ecosystems getting converged.
Newer technologies and new use-cases disrupting.
New markets, new geographies, new clients, competition and partners.
Are changes only impacting you or your clients and their clients as well?
The trial will be a guided tour by our representative to help you discover the shift in revenue sources of your clients and clients' clients that will impact your revenue. This is your opportunity to unlock the research IP worth $100 million
REVENUE IMPACT STORY OF LEADING ORGANIZATIONS ENTERING THE Energy Storage MARKET
REVENUE IMPACT story: for An energy utility company and a leader in renewable powers markets, we helped client in the GTM to accelerate market capture through partnership in battery energy storage Market
REVENUE IMPACT STORY: FOR A LEADING player in Energy Storage MARKET, WE HELPED THE CLIENT IDENTIFY A REVENUE OPPORTUNITY OF >USD100 MILLION IN 4–5 YEARS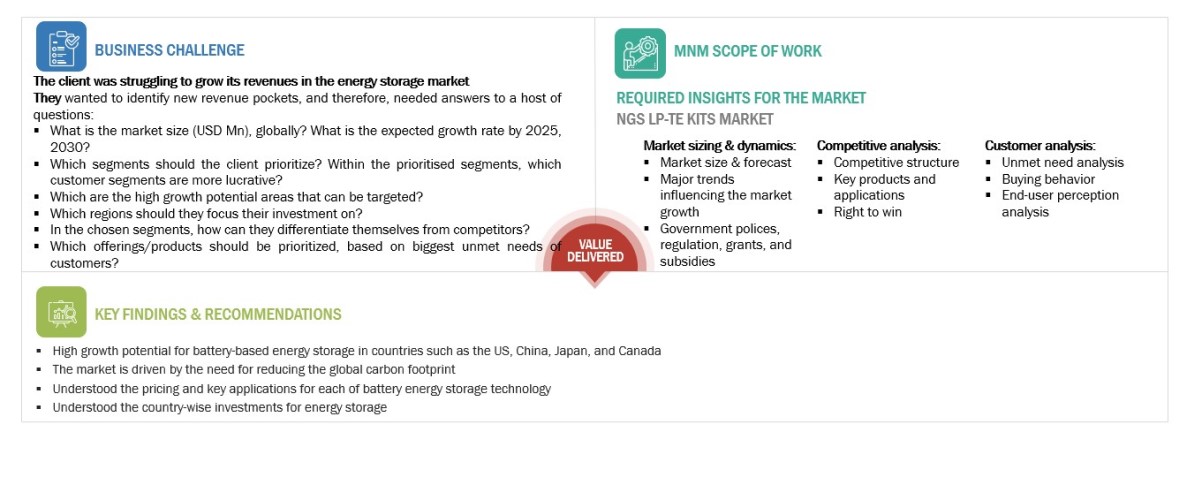 REVENUE IMPACT STORY ADJACENT MARKET: MNM HELPED A MULTINATIONAL INDUSTRIAL GASES AND ENGINEERING COMPANY TO PENETRATE IN THE HYDROGEN GENERATION MARKET WORTH USD 31.4 BILLION IN EUROPE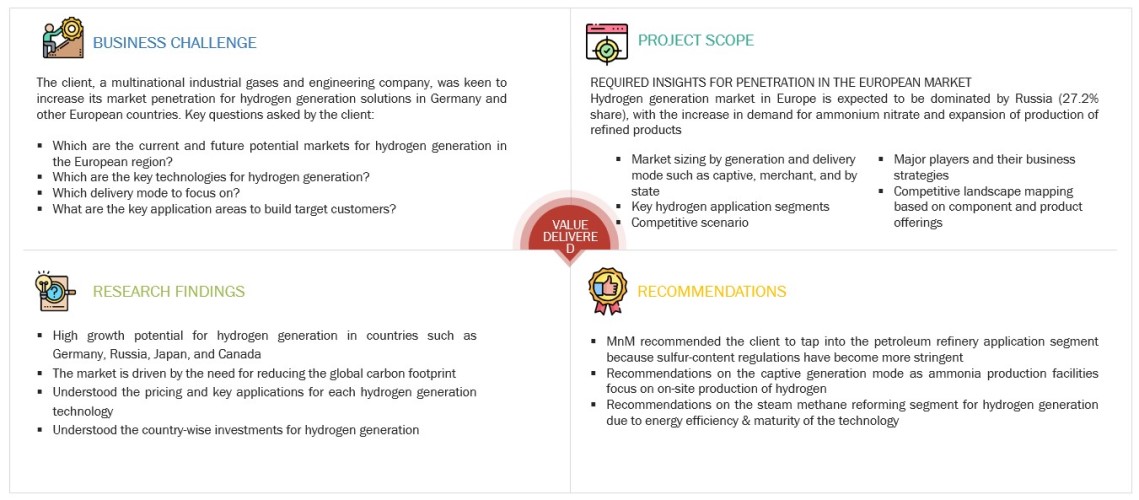 OTHER KEY REVENUE IMPACT STORIES
Test
INDICATIVE LIST OF OTHER PROJECTS EXECUTED FOR Energy Storage COMPANIES:
Battery Recycling Market
Lithium-ion Battery Recycling Market
Battery Energy Storage System Market
EV Battery Market
Battery Management System Market
Flexible Battery Market
Battery Additives Market
Battery Technology Market
Flow Battery Market
Lithium-Ion Battery Market
Thin Film and Printed Battery Market
Covid-19 Impact on Renewable Energy Market
Electrical Digital Twin Market
Distributed Generation Market
Energy and Utilities Analytics Market
Energy Harvesting System Market
Hydrogen Generation Market
Advanced Energy Storage Systems Market
Graphene Market
Phase Change Material Market
Renewable Drones Market
Offshore Decommissioning Market
MNM helped a client analyze the attractiveness of major regions to identify the growth markets for future investment opportunities
Find blind spots
impacting you and
your clients
Let our Analysts find blind spots in your revenue decisions because of inter-connected unknowns impacting your Clients, Clients' clients, Vendors, Vendors' vendors.
CLIENT TESTIMONIALS
Energy Storage COMPANIES
MATT KARDEL,
VICE PRESIDENT APTIV,
A global technology company that develops safer, greener and more connected solutions
---
We contracted with MarketsandMarkets to evaluate the value chain and potential go-to-market partners related to our interest in the Fleet Management space. The team successfully completed the work on time and at the pricing agreed. MarketsandMarkets listened and understood our objectives and collaborated well with us to help us get the visibility we needed to make an investment.We have subsequently used MarketsandMarkets again related to Smart Cities to good results.