Disruption – as DEMAD for lightweight high performance materials rises in Electric vehicle industry - $2.65 BN of potential opportunity is opening up
Disruption – as DEMAD for lightweight high performance materials rises in Electric vehicle industry - $2.65 BN of potential opportunity is opening up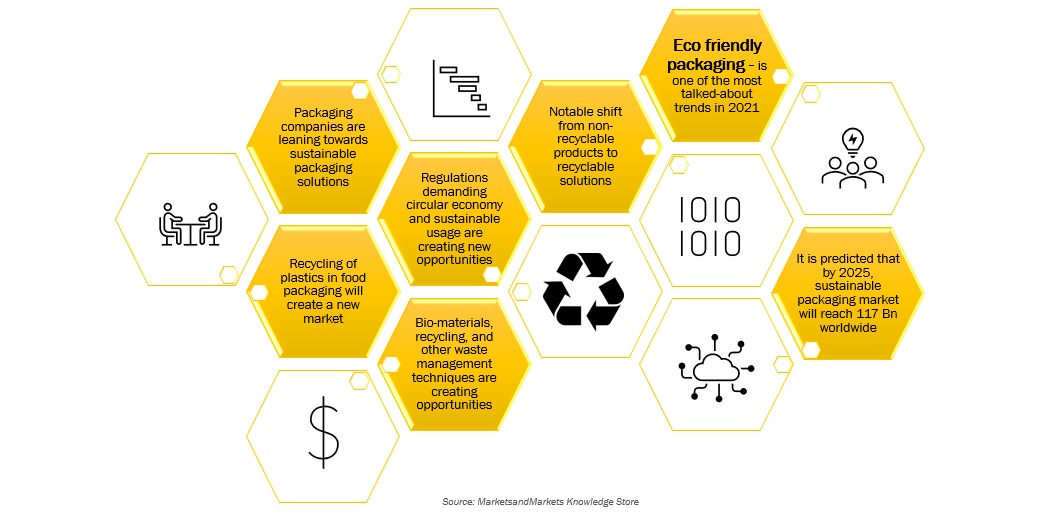 COMPELLING NEED FOR sustainable packaging in Europe

COMPELLING NEED FOR sustainable packaging IN NORTH AMERICA
COMPELLING NEED FOR sustainable packaging IN NORTH AMERICA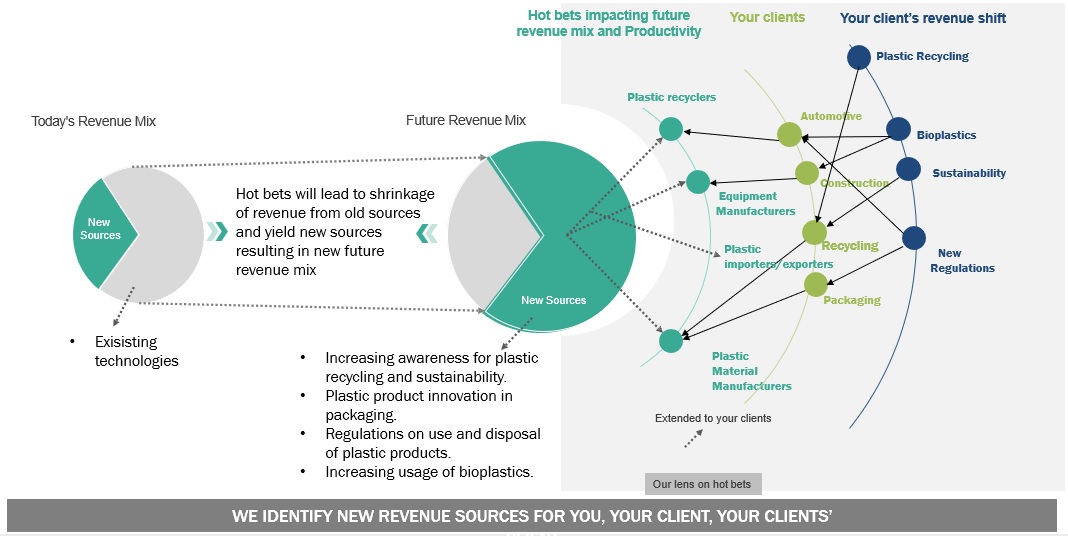 TOP Sustainable Packaging GROWTH STORIES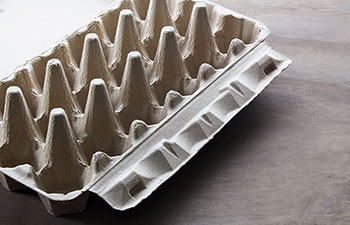 MNM HELPED THE CLIENT TO IDENTIFY THE COLLABORATION OPPORTUNITY FACILITATED WITH MORE 10 MOLDED PULP FIBER END-USE MANUFACTURERS USING NON-WOOD PULP IN US AND CANADA
Download PDF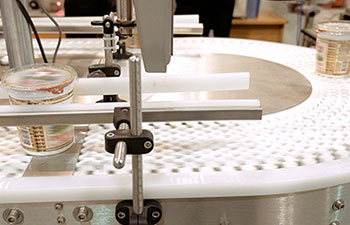 MNM HELPED THE CLIENT TO DEVELOP EXTENSIVE LIST OF MANUFACTURERS OF RIGID PLASTIC PACKAGING PRODUCT IN SPECIFIC INDUSTRIAL APPLICATIONS AND DEVELOPED DETAILED ANALYSIS ON THEIR CONSUMPTION PATTERNS FOR EACH END-USE INDUSTRY AND MUCH MORE.
Download PDF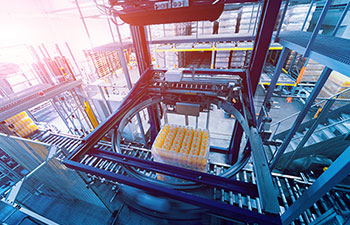 MNM HELPED A LEADING MANUFACTURER OF PACKAGING GLOBALLY TO IDENTIFY MARKET POTENTIAL FOR INDUSTRIAL SCALE PACKAGING PRODUCTS IN THE FOOD INDUSTRY.
Download PDF
Sustainable packaging MARKET IS ESTIMATED TO GROW AT A HEALTHY CAGR OF 5-6% IN THE COMING 5 YEARS, DRIVEN BY DEMAND from flexible packaging and food & beverage industry
Sustainable packaging MARKET IS ESTIMATED TO GROW AT A HEALTHY CAGR OF 5-6% IN THE COMING 5 YEARS, DRIVEN BY DEMAND from flexible packaging and food & beverage industry

Paper & paperboard packaging holds the biggest opportunity for packaging manufacturers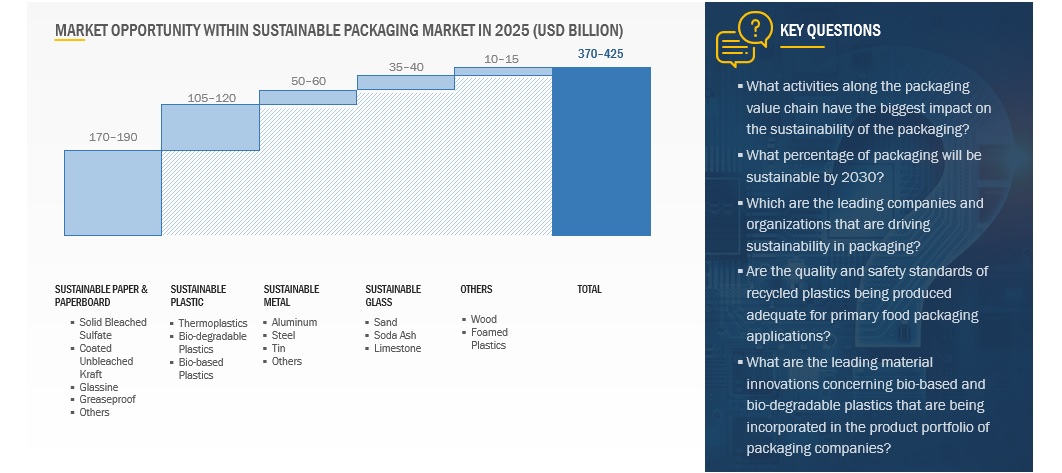 SIMILARLY, ADJACENT MARKETS HOLD A POTENTIAL OF OVER USD 97 BILLION IN ELASOMERS, MAJORITY OF WHICH WILL BE CONTRIBUTED BY flexible plastic packaging, standup pouches

ADDITIONALLY, WE HAVE ASSISTED A HOST OF sustainable packaging PLAYERS to TAP HIGH GROWTH OPPORTUNITIES ACROSS EMERGING END-USERS, GEOGRAPHIES & COMPETITION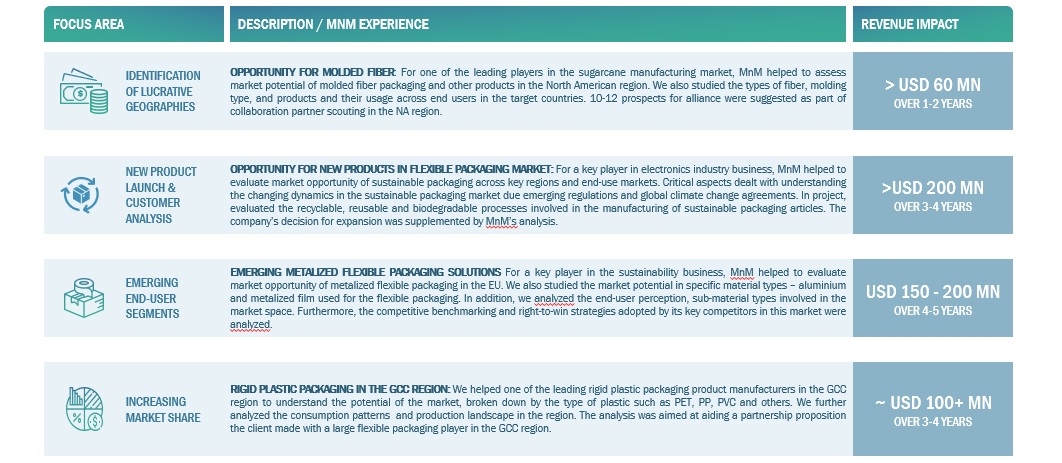 WHY DO COMPANIES NEED HELP TO GROW?
ABSENCE OF ORIGINAL RESEARCH:
Complex and overlapping markets for sustainable packaging industry, hence difficult to calculate market potential of key products
Insufficient secondary research for strategic decisions
INTELLIGENCE IS NOT DEMOCRATISED:
Client unmet needs need to be understood by all market facing employees for new product development and vendor selection.
Bleak knowledge about upcoming technologies and growing applications such as mono-structure barrier films and recycling methods
SOME UNKNOWNS & ADJACENCIES
Landfill and anti-dumping laws have served as an impetus for developing new sustainable methods in waste management, minimizing the weight, and increasing recycling of plastics.
The food processing, food delivery and snacks industry has contributed to increase in the use of sustainable materials and initiation of sustainable technologies in the food & beverage industry.
Adjacent markets such as standup pouches, corrugated packaging, and metalized flexible packaging provide immense growth opportunities owing to high demand in the end use industries
Use of recycled plastics is very high across the packaging industry
GROWTH PROBLEMS ENCOUNTERED BY Sustainable Packaging COMPANIES
Customer prioritization and assessing unmet needs:
What are the disruptions in our clients' businesses? How can we support them for our own growth?
Who are the most potential customers going forward? Should we prioritize food and personal care over construction and healthcare companies?
What are the key unmet needs of customers? Who are the key stakeholders in different settings? Do vendor selection criteria differ by settings? Which new product features should be added to the existing products?
Where to Play:
Which end-use industry and new application areas should we focus on? Should it be personal care, food service disposables, standup pouches or any other?
Which regions should we place our bets on? Should we continue with developed countries or do developing countries offer more growth opportunities?
Building a compelling Right to Win (RTW):
For M&A, which are the right targets for us? Should we target technology developers or eco-friendly raw material manufacturing companies? Should we enter new markets directly or through partners?
How can we differentiate from top players? What is their right-to-win vs ours?
OBSTACLES TO GROWTH FOR CURRENT PLAYERS
Not able to keep pace with fast evolving sustainable packaging industry – New products and technologies are emerging leading to new market opportunities
Limited clarity on new applications unmet needs, hence requirements for product features
Unclear picture about the regulatory scenario specially in multiple geographies
KEY UNCERTAINTIES/ PERSPECTIVES WHICH INDUSTRY LEADERS SEEK ANSWERS TO:
KEY QUESTIONS OF Sustainable Packaging COMPANIES
What new applications will be relevant and redundant in the next 5 years?
Can strategic recycling of platics become affordable for manufacturing/recycling companies?
How can companies optimize the manufacturing processes to provide solution for the newer applications?
Which product type in the sustainable packaging market is expected to offer significant growth potential?
How can players comply with the ever-changing demands from end-use industries?
What regulatory policies one must adhere to manufacture products for regulated applications?
KEY QUESTIONS OF COMPANIES IN ADJACENT MARKETS
What are the regulations surrounding food and medical grade packaging?
How will the e-commerce industry shape the landscape for logistics packaging; competition between paper and paperboard and reusage plastics packaging?
Impact of regulations in different regions to increase recycling and use eco-friendly materials for food contact packaging ?
What are the opportunities eco-friendly materials can provide?
LEADERS ACROSS VARIOUS FUNCTIONS IN SUSTAINABLE PACKAGING COMPANIES NEED HELP IN TACKLING BELOW INTERCONNECTED REVENUE RELATED PROBLEMS (1)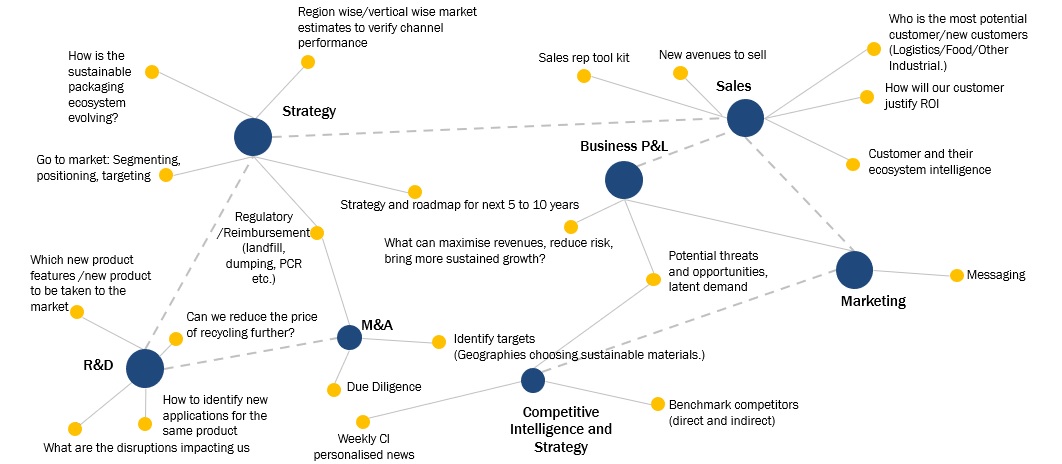 LEADERS ACROSS VARIOUS FUNCTIONS IN SUSTAINABLE PACKAGING COMPANIES NEED HELP IN TACKLING BELOW INTERCONNECTED REVENUE RELATED PROBLEMS (2)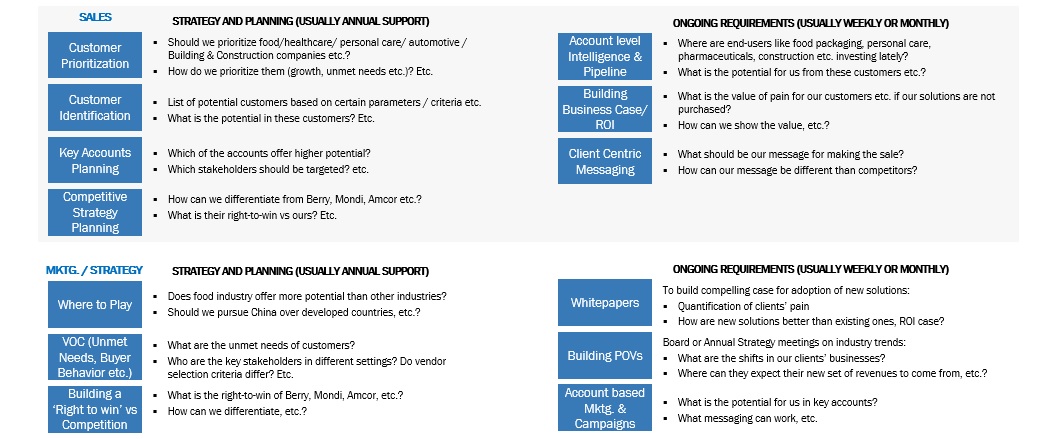 LEADERS ACROSS VARIOUS FUNCTIONS IN SUSTAINABLE PACKAGING COMPANIES NEED HELP IN TACKLING BELOW INTERCONNECTED REVENUE RELATED PROBLEMS (3)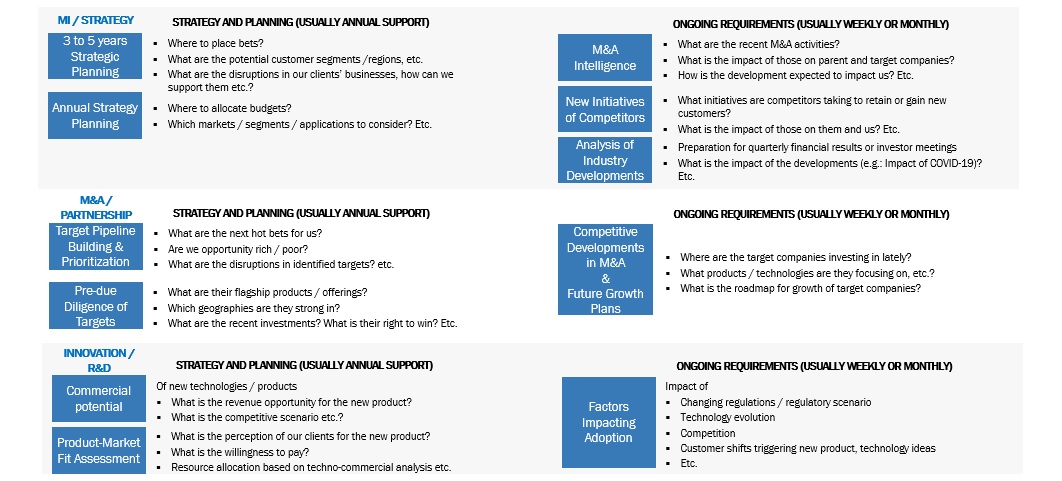 What is driving change
in your business
Product life cycles getting shorter.
Ecosystems getting converged.
Newer technologies and new use-cases disrupting.
New markets, new geographies, new clients, competition and partners.
Are changes only impacting you or your clients and their clients as well?
The trial will be a guided tour by our representative to help you discover the shift in revenue sources of your clients and clients' clients that will impact your revenue. This is your opportunity to unlock the research IP worth $100 million
REVENUE IMPACT STORY OF LEADING ORGANIZATIONS ENTERING THE Sustainable Packaging MARKET
RI STORY: MOLDED FIBER MARKET POTENTIAL ESTIMATION FOR AN AMERICAN PACKAGING MAJOR (2020)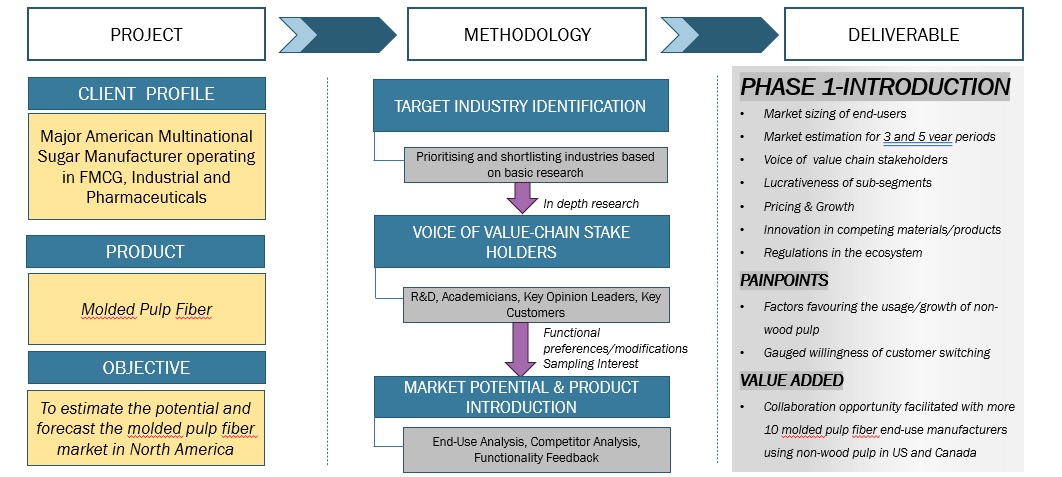 CASE STUDY: MARKET ASSESSMENT AND CUSTOMER MAPPING GCC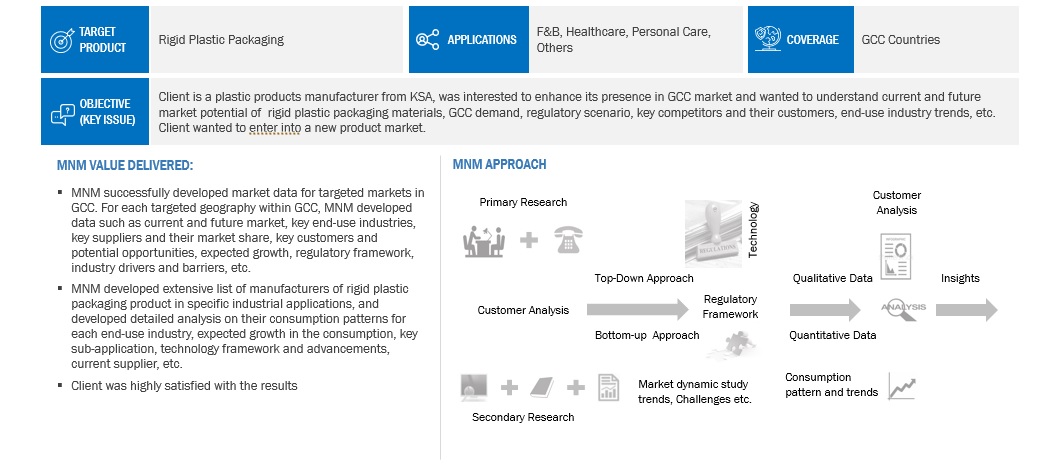 CASE STUDY: INDUSTRIAL BULK PACKAGING IN THE FOOD INDUSTRY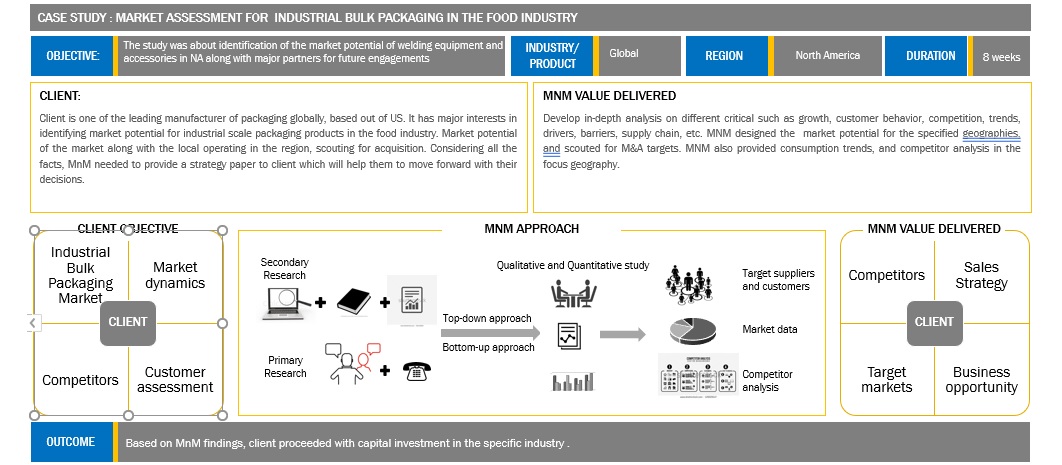 OTHER KEY REVENUE IMPACT STORIES
MNM RESEARCH FOCUSES ON HIGH GROWTH & NICHE MARKETS – such as Pharmacuetical Packaging, Anti-Counterfeit Packaging, Green Technology and Sustainability Market
INDICATIVE LIST OF OTHER PROJECTS EXECUTED FOR Sustainable Packaging COMPANIES:
Biodegradable Plastics Market
Recycled Plastics Market
Bio Plasticizer Market
Sustainable Plastic Packaging Market
Post-consumer Recycled Plastics Market
Plastic Waste Management Market
Biodegradable Paper & Plastic Packaging Market
Bioresorbable (Resorbable) Polymers Market
Thermally Conductive Plastics Market
Europe Biodegradable Polymers Market
Water Soluble Polymers Market
WE HAVE A COMPREHENSIVE UNDERSTANDING OF THE sustainable packaging ECOSYSTEM THROUGH OUR PROPRIETARY PLATFORM 'KNOWLEDGESTORE'.
Find blind spots
impacting you and
your clients
Let our Analysts find blind spots in your revenue decisions because of inter-connected unknowns impacting your Clients, Clients' clients, Vendors, Vendors' vendors.
CLIENT TESTIMONIALS
Sustainable Packaging COMPANIES

Toshio Kinoshita,
SENIOR CHIF CONSULTION RESEARCH & CONSULTING DIVISION,
Leading Manufacturer of Chemical Products
---
We recently engaged with MarketsandMarkets for a study, the team not only clearly understood our business objectives but was also extremely professional in the way they handled the entire project. The study was efficiently conducted in a phase-wise manner, and the engagement model furnished us with high-quality business insights that far exceeded our expectations at each phase. We were especially happy that MarketsandMarkets could provide us with both, an English as well as a Japanese version of the study. A special thanks to the Analyst Team and Client Services Team, whose fluency in Japanese enhanced our comfort level, as we could converse with them in our preferred language.

NISSAN CHEMICAL CORPORATION,
Leading Manufacturer Of Chemical Products
---
We at Nissan Chemicals Corporation have been clients of MarketsandMarkets for more than a year now. We recently consulted MarketsandMarkets for a study, the team at MarketsandMarkets was extremely professional and organized. The business insights were very detailed and aligned well with our expectations that really helped us formulate the Business Plans and device new strategies for development themes. MarketsandMarkets offers a unique combination of expertise and dedicated engagement model. Their research findings have helped us in designing our Pricing Strategy which will make it easier for us to predict the future sales and profits for the next ten years. We look forward to working with MarketsandMarkets in the future.