Disruption – as VETERINARY DIAGNOSTICS heads towards POC diagnostic services which is opening potential opportunities for players
IN ANIMAL HEALTH MARKET, WE ARE WITNESSING INCREASING ADOPTION OF AI AND MICROFLUIDICS WHICH CAN DISRUPT THE DEMAND FOR DIAGNOSTIC PRODUCTS, IN TURN IMPACTING THE GROWTH of the MARKET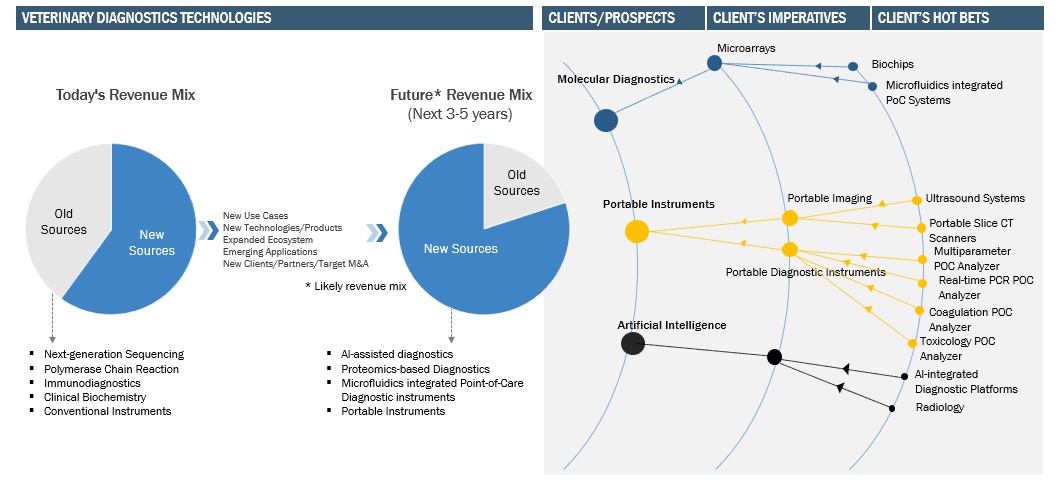 Disruption – as VETERINARY DIAGNOSTICS heads towards POC diagnostic services which is opening potential opportunities for players

TOP Veterinary Diagnostics GROWTH STORIES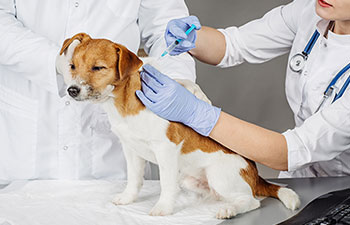 MNM identified leading players and its key success factors for maintaining leading position in Veterinary Antimicrobial Susceptibility Market
Download PDF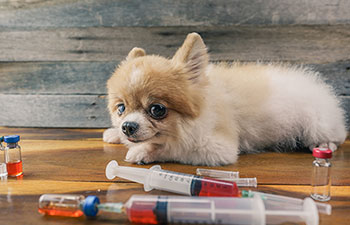 MNM assisted client in Veterinary Diagnostics to achieve Revenue Impact of $50-100 MN by providing a detailed study on Animal Medicalization Rate in 40 countries
Download PDF
THE ANIMAL HEALTH DIAGNOSTICS SPACE HAS UNEARTHED OPPORTUNITIES WORTH USD 1.4 Bn OVER THE NEXT 5 YEARS
ADDITIONALLY, WE HAVE ASSISTED A HOST OF CLIENTS to TAP HIGH GROWTH OPPORTUNITIES ACROSS EMERGING END-USERS, APPLICATIONS, & COMPETITION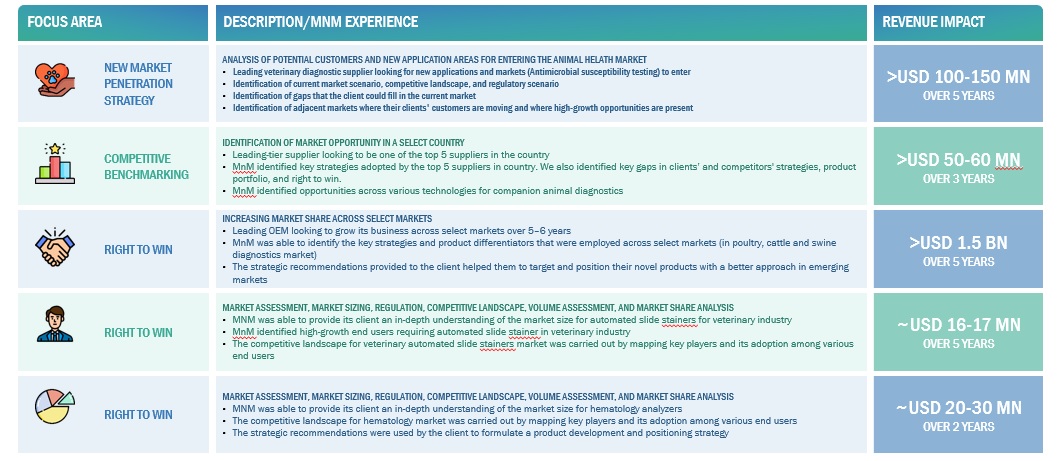 WHY DO COMPANIES NEED HELP TO GROW?
ABSENCE OF ORIGINAL RESEARCH:
Complex and overlapping markets for veterinary diagnostics instruments and kits, hence difficult to calculate market potential and TAM
Insufficient secondary research for strategic decisions
INTELLIGENCE IS NOT DEMOCRATISED:
Client unmet needs necessitate an understanding by all market facing employees for new product development and vendor selection.
Bleak knowledge about upcoming technologies and growing applications in Point-of-Care testing
SOME UNKNOWNS & ADJACENCIES
The increasing rate of zoonotic transfers adds challenges to diagnostics testing for development of testing assays, treatments, and instruments.
The adoption of portable diagnostic instruments such as urine analyzers, hematology analyzers, chemistry analyzers for small and medium sized practitioners is low. Currently it ranges between 30-40% globally, however, in developed countries it is approaching 50%. As, the adoption of portable diagnostic instrument increases, the dependency on veterinary laboratories decreases which in turn reduces the time required for the overall treatment
The availability of antimicrobial resistance testing for livestock and companion animals to reduce the major upcoming threat of resistance to antibiotics in animals.
Increasing adoption of IOT based animal health monitoring and movement tracking devices which are a significant boost to livestock farming such as cattle, horses etc.
GROWTH PROBLEMS ENCOUNTERED BY Veterinary Diagnostics COMPANIES
Customer prioritization and assessing unmet needs:
What are the disruptions in our clients' businesses? How can we support them for our own growth?
Who are the most potential customers going forward? Should we prioritize veterinary hospitals & clinics over veterinary reference laboratories or veterinary research institutes?
What are the key unmet needs of customers? Who are the key stakeholders in different settings? Do vendor selection criteria differ by settings? Which new product features should be added to the existing products?
Where to Play:
Which animal type areas and disease areas should we focus on? Should the focus be on instruments or consumables?
How are technological advancements such as integration of microfluidics and AI going to affect conventional diagnostics instruments?
Which regions should we place our bets on? Should we continue with developed countries or do developing countries offer more growth opportunities?
Building a compelling Right to Win (RTW):
For M&A, which are the right targets for us? Should we target emerging companies or consumables companies? Should we enter new markets directly or through partners?
How can we differentiate from top players? What is their right-to-win vs ours?
OBSTACLES TO GROWTH FOR CURRENT PLAYERS
Not able to keep pace with fast evolving molecular diagnostics industry – New technologies are emerging leading to increasing speed and accuracy of diagnosis
Many start-ups and emerging companies eating up market share of established companies
Limited clarity on unmet needs, hence requirements for product features
Unclear picture about the regulatory scenario
KEY UNCERTAINTIES/ PERSPECTIVES WHICH INDUSTRY LEADERS SEEK ANSWERS TO:
KEY QUESTIONS OF Veterinary Diagnostics COMPANIES
What products and services will be relevant and redundant in the next 5 years?
Can molecular diagnostic tests become affordable for routine testing, or will it continue being used for specific diseases?
How will the development of portable instruments affect the diagnostics market in the coming years?
How can companies optimize the manufacturing processes to be more agile and efficient to achieve a more seamless workflow?
What regulatory policies can help strategize and achieve volumetric scale-up?
Will the increasing consolidation of the veterinary diagnostics industry change the global market standing of key players?
KEY QUESTIONS OF COMPANIES IN ADJACENT MARKETS
How are the technological advancements in the market impacting the pricing and adoption of various instruments?
How is the increase in outsourcing of diagnostic testing services affecting the companies?
What will be the impact of POC diagnostics have on the end users of the global market?
LEADERS ACROSS VARIOUS areas in animal health NEED HELP IN TACKLING BELOW INTERCONNECTED REVENUE RELATED PROBLEMS (1)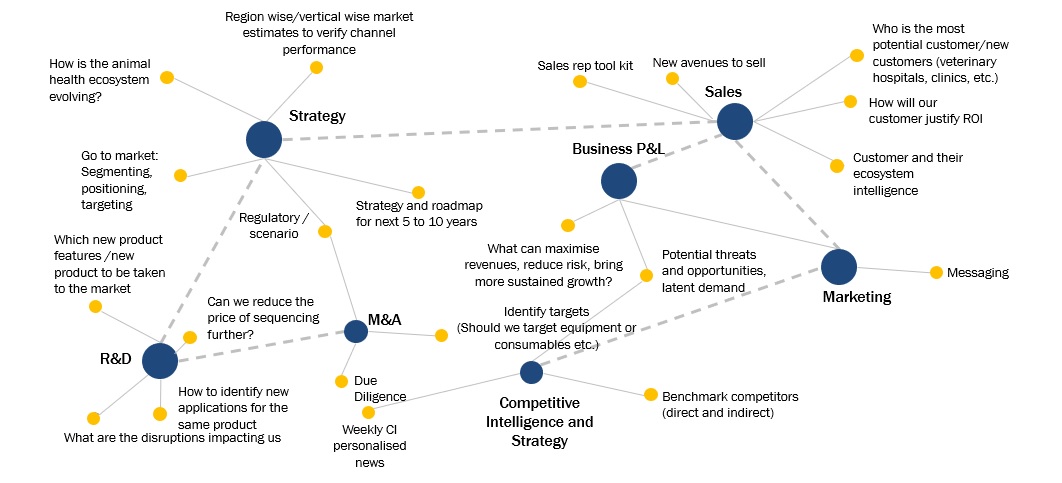 LEADERS ACROSS VARIOUS areas in animal health NEED HELP IN TACKLING BELOW INTERCONNECTED REVENUE RELATED PROBLEMS (2)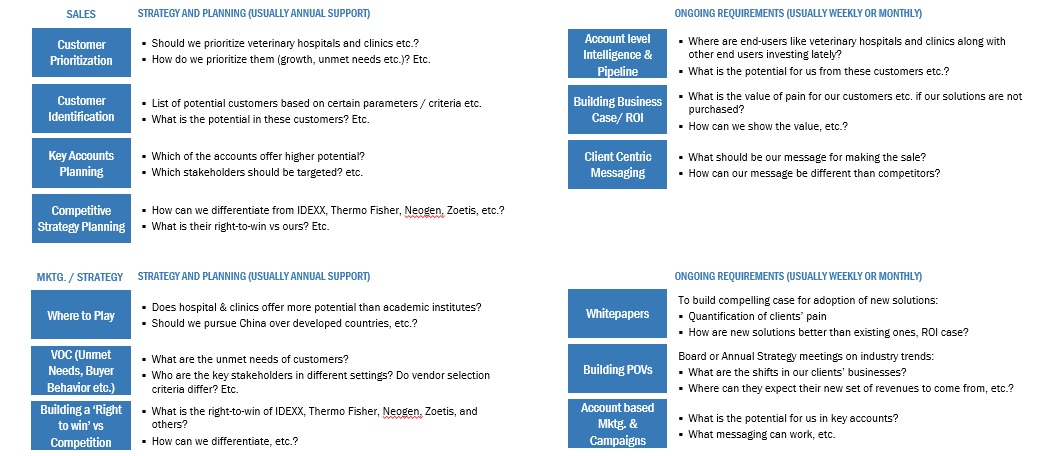 LEADERS ACROSS VARIOUS areas in animal health NEED HELP IN TACKLING BELOW INTERCONNECTED REVENUE RELATED PROBLEMS (3)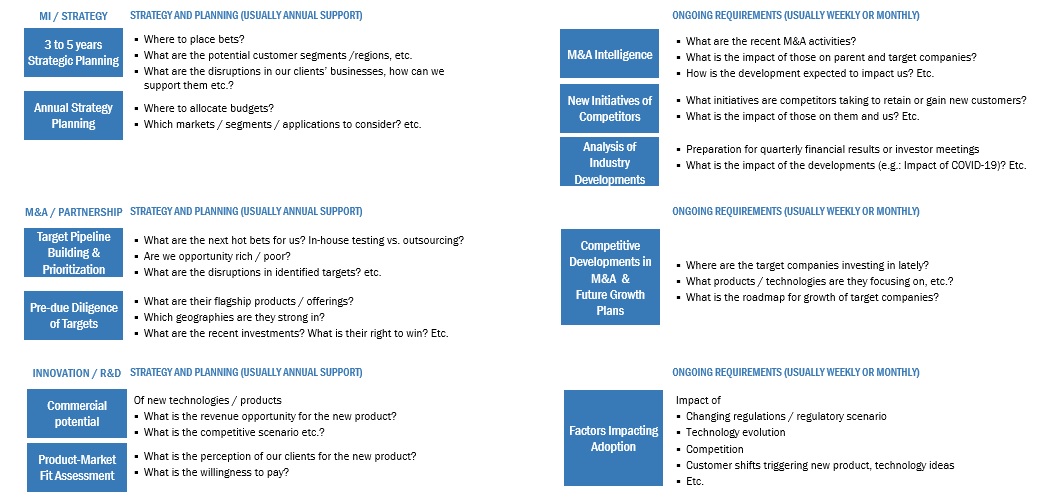 What is driving change
in your business
Product life cycles getting shorter.
Ecosystems getting converged.
Newer technologies and new use-cases disrupting.
New markets, new geographies, new clients, competition and partners.
Are changes only impacting you or your clients and their clients as well?
The trial will be a guided tour by our representative to help you discover the shift in revenue sources of your clients and clients' clients that will impact your revenue. This is your opportunity to unlock the research IP worth $100 million
REVENUE IMPACT STORY OF LEADING ORGANIZATIONS ENTERING THE Veterinary Diagnostics MARKET
MNM identified leading players and its key success factors for maintaining leading position in veterinary antimicrobial susceptibility MARKET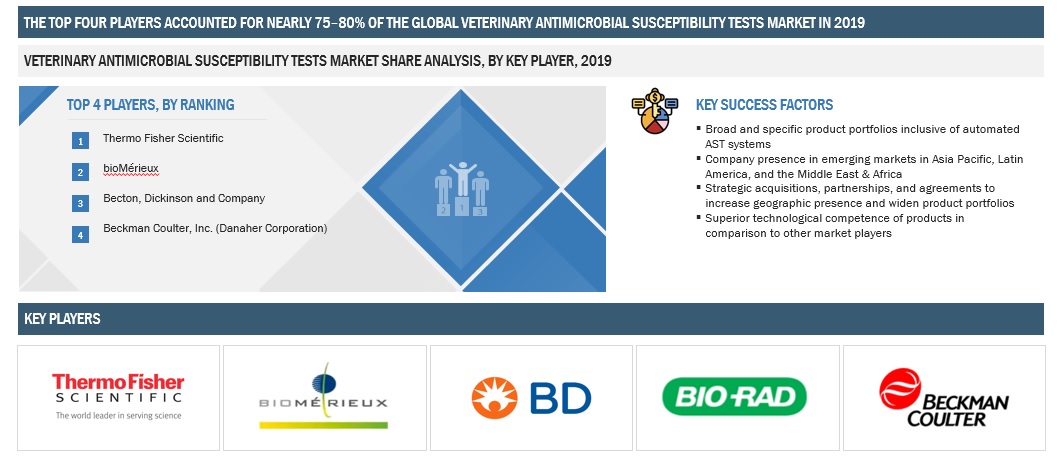 MNM ASSISTED CLIENT TO PENETRATE Livestock diagnostics market ~USD 1.5 BILLION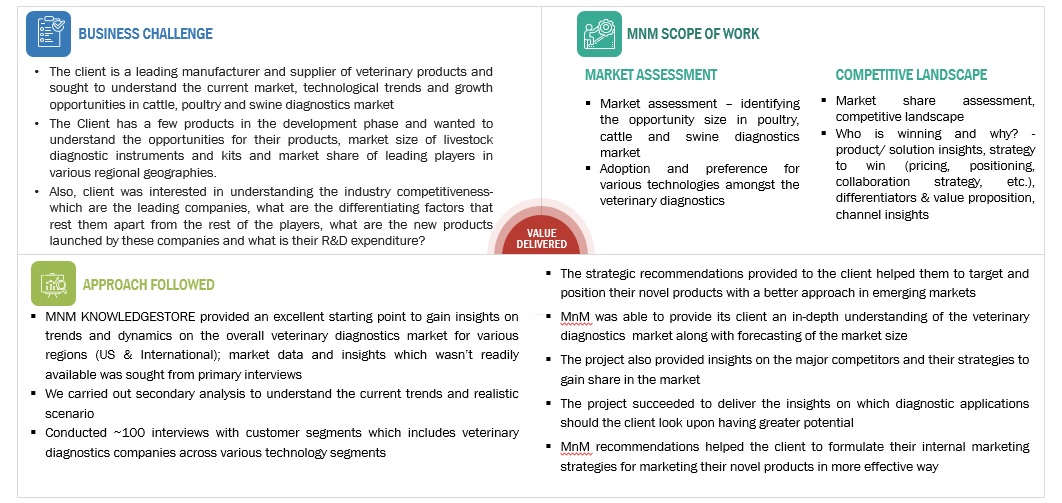 MNM ASSISTED CLIENT in veterinary diagnostics TO ACHIEVE RI OF $50-100 mn BY providing a detailed study on animal medicalization rate in 40 countries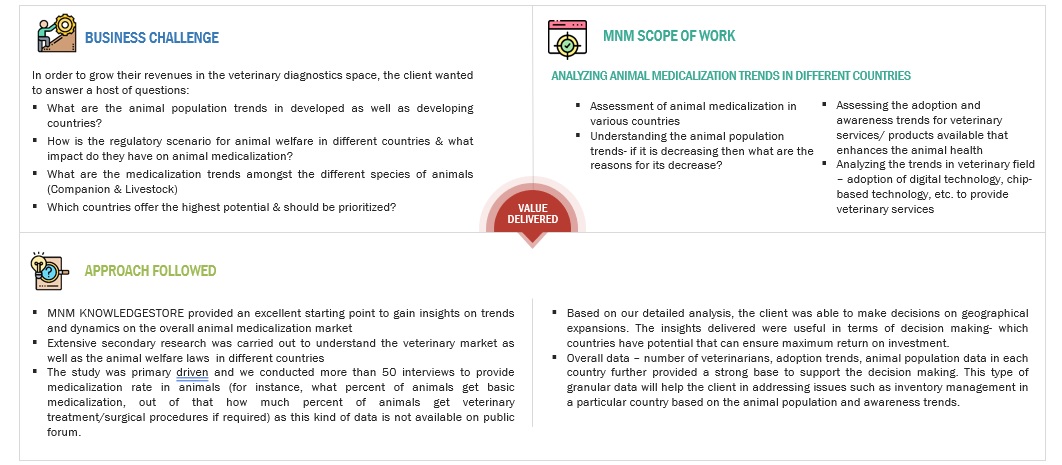 OTHER KEY REVENUE IMPACT STORIES
mnm RESEARCH FOCUSES ON HIGH-GROWTH MARKETS AND EMERGING TECHNOLOGIES, WHICH WILL BECOME 80% OF THE REVENUES OF Diagnostics FROM Animal Health Industry IN THE NEXT 5–10 YEARS
INDICATIVE LIST OF OTHER PROJECTS EXECUTED FOR Veterinary Diagnostics COMPANIES:
Veterinary Reference Laboratories Market
Veterinary/Animal Vaccines Market
Animal Parasiticides Market
Animal Growth Promoters and Performance Enhancers Market
Veterinary Pain Management Market
Animal Antibiotics and Antimicrobials Market
Veterinary PoC Diagnostics Market
Veterinary Rapid Test Market
Veterinary Imaging Market
Veterinary Diagnostics Market
Veterinary Ultrasound Market
Veterinary Electrosurgery Market
Veterinary Dental Equipment Market
Veterinary Infectious Disease Diagnostics Market
Animal Genetics Market
Veterinary Monitoring Equipment Market
Animal Wound Care Market
Companion Animal Diagnostics Market
Veterinary Care Market
Companion Animal Pharmaceuticals Market
WE IDENTIFIED THE veterinary antimicrobial susceptibility MARKET AS AN ATTRACTIVE OPPORTUNITY FOR OUR CLIENT WITH A FOCUSED TARGET ON KEY COUNTRIES
Find blind spots
impacting you and
your clients
Let our Analysts find blind spots in your revenue decisions because of inter-connected unknowns impacting your Clients, Clients' clients, Vendors, Vendors' vendors.
CLIENT TESTIMONIALS
Veterinary Diagnostics COMPANIES
---
ANIMAL HEALTH COMPANIES
---
MarketsandMarkets had conducted a study that was instrumental in developing our market understanding of medicalization treatment rate in livestock and companion animals for various countries where in-depth information was not readily available. The biggest asset was their willingness to seek alternative sources and analyze the data. We are satisfied with the research study they have done for us