Revenue Impact (RI) Story
Energy and Power
Identification of Partnership Potential for M&A in Power Generation Market
Business Proposition
MarketsandMarkets engagement was utilized to gain insights across revenue mix of power generation company's clients and clients' clients. These insights helped in defining and solving a series of problems and gauging the revenue potential of emerging use cases and technologies. Further, in a bid to enable clients and their clients to tap into opportunities, preferences were set for finding a business partner. One of the key questions answered for this purpose was-
Which are the innovative start-ups working on alternative power generation technology?
Our Approach
Insights were gained into the revenue mix of clients and client's clients. Emerging opportunities and blindspots were identified through our AI-driven market intelligence platform, KnowledgeStore. Further, our analysts expanded the understanding of the requirements that can enable the client to capitalize on new opportunities. Based on these suggestions, client services team set preferences for M&A partner.
Revenue Shifts identified
The causes of shifts in revenue sources were identified-
Next-generation renewables in focus under wind and solar technologies include kite turbines bladeless turbines perovskites and tandem cells.
The other renewable technologies in development are wave power energy and geothermal. These technologies are largely in constraint in terms of development based on the geographical location.
Small hydropower is another technology suitable for captive power consumption and in off-grid locations which have access to running water.
Interconnections
Insights were offered into interconnected ecosystems-
The current generation solar panels have an efficiency between 15-20% and are limited by the Shockley Queisser limit for being able to improve the overall Capacity Utilization Factor (CUF). The next-generation solar cells like a tandem perovskite are designed to improve and double the CUF.
Unknowns Identified
We expanded the understanding of revenue shifts and interconnections for finding blindspots-
Solar technologies like Building Integrated Photovoltaics (BIPV) can perform the dual function of being a power source and as windows in buildings.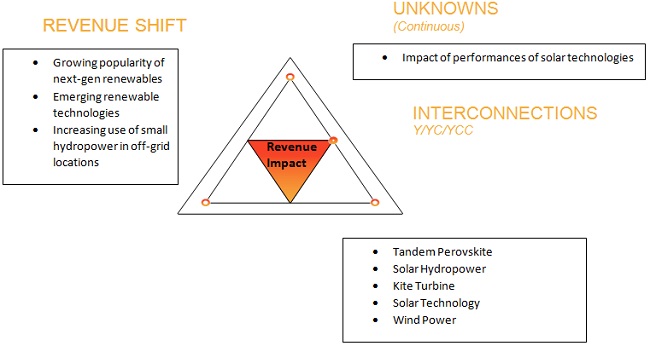 More Revenue Impact stories
See how future revenue sources change for these companies