Revenue Impact (RI) Story
Healthcare
Helped Client Tap into USD 162 Mn Opportunity in Floor Cleaning for Commercial Applications
Client's Goals
A leading vendor of professional cleaning robots engaged MarketsandMarkets to grow and secure revenue streams. For this purpose, our team offered detailed insights into autonomous cleaning robots and market landscape at a global level. We provided in-depth intelligence across the shifting revenue sources of our clients' clients and their clients for the identification of latent opportunities. Further, we defined and solved a series of problems that helped the client to strategize revenue assessment plan for introducing a new product. Few of the key problems solved during the engagement were:
Insights on the products offered by competitors
Business strategies of peers
Our Approach
Our client was offered actionable insights into key patents related to cleaning robots filed by competitors in last 2 years. Our analysts expanded the understanding of the digitalization efforts undertaken by the competitors to engage with the customers worldwide. Further, through our AI-driven market intelligence platform, KnowledgeStore, we profiled key vendors and offered insights into competitive benchmarking against similar products offered by the competitors in the cleaning robots market.
Revenue Shifts Identified
The key factor expected to cause shifts in the revenue sources across the interconnected ecosystems is the advent of Internet of Things (IoT) and Artificial Intelligence (AI). Further, the rising adoption of 360-degree cameras is anticipated to drive the future trajectory of the market.
Interconnections
Insights were offered into warehouse management, smart airport, smart cities, etc. for identifying shifting revenues across client's clients' and their clients' ecosystems.
Unknowns Identified
The emerging factors poised to have an impact on the client's business are growing integration of machine vision and increasing interest for adoption of foam plastics.
Revenue Impact (RI)
The insights provided by our client services team helped the client to target an opportunity in floor cleaning for commercial applications worth USD 162 Million by 2023.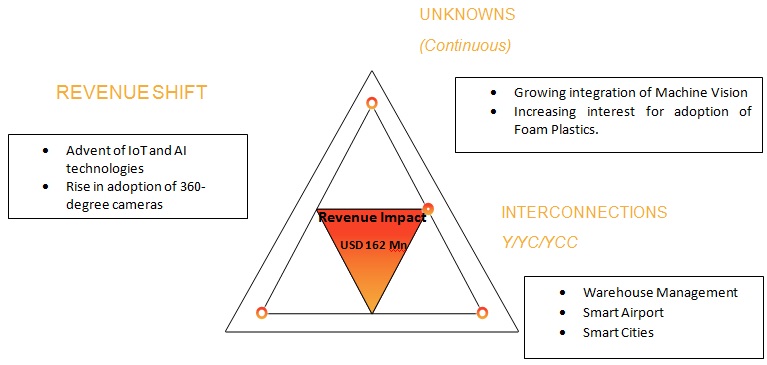 More Revenue Impact stories
See how future revenue sources change for these companies