Revenue Impact (RI) Story
Healthcare
Helped Client Tap into USD 20-30 Mn Revenue Opportunity in Eternal Feeding Device Market
Client's Goals
The client, a leading player in the neonatal critical care devices and breast pump market, was keen to strengthen its market position and grow revenues. For this purpose, we offered insights into the interconnections between our client's, client's clients' and their clients' ecosystems. We defined and solved a series of problems. It helped in the identification of latent opportunities. The key problems solved during our engagement were:
In-depth intelligence into enteral feeding pumps market for the neonates' age group
Understanding of the market size of enteral feeding devices for the NICU/preterm age group
Insights into the market share of leading players in the region
Our Approach
We identified key enteral feeding pumps existent in the market and their adoption patterns, used for neonates/preterm babies in various countries across the globe through KnowledgeStore, our AI-driven market intelligence platform. It also helped in the identification of the leading players in this market and their growth strategies. Potential customers were interviewed to understand their unmet needs and identify what they looked for in a product partner.
Our analysts expanded the understanding of the market potential of enteral feeding pumps for NICU/preterm end-user segments. In addition, we also offered insights into the competitive landscape of different players in the enteral feeding pumps market.
Revenue Shifts Identified
With the increase in the number of preterm births, the healthcare professional is increasingly preferring enteral feeding pumps in neonates as it is safest way to deliver nutrition in critical patients. Smart infusion pumps-EMR interoperability is the new standard of care of intravenous (IV) infusion therapy.
Interconnections
Recent developments in the field of Internet of Things (IoT) and Artificial Intelligence (AI) have resulted in the development of smart infusion pumps for enteral feeding in neonates which are connected to hospital EMR system. This is contributing to greater accuracy in the treatment with accurate infusion of nutrition.
Unknowns Identified
Leading players in the enteral feeding pumps market are focusing on technological developments to incorporate various safety features. However, enteral feeding pump that is efficient in bolus reduction after occlusion and detecting aspiration during enteral feeding are currently under development. These features are expected to increase safety and accuracy of enteral pumps.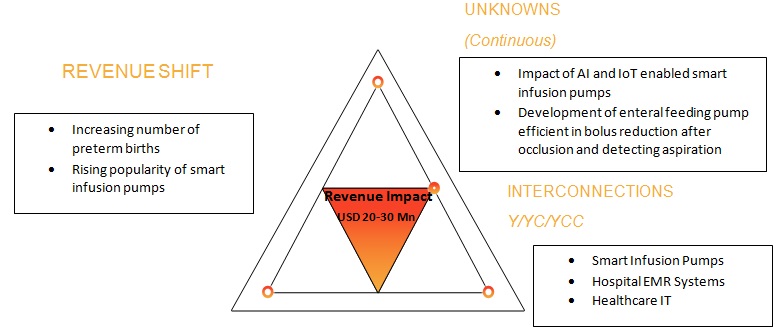 More Revenue Impact stories
See how future revenue sources change for these companies