Revenue Impact (RI) Story
Food and Beverage
Helped Client Tap Into Batch Processing And Handling Equipment With Projected Revenue of USD 40Mn
Client's Goals
Our client, a global leader in food handling equipment, engaged MarketsandMarkets to grow revenues. For this purpose, we offered in-depth intelligence into client's clients' and their clients' interconnected ecosystem. Our team defined and solved a series of problems for strategizing growth trajectory of the client. Few of the key problems solved during the engagement were:
Insights into the profiles of 10 major suppliers of food processing equipment, specifically for soups, ready meals, processed cheese, sauces, dressings and fruit compositions
Understanding of their product offerings, product strength and their strengths and weaknesses.
Regional insights and understanding of growth strategies
Our Approach
We offered competitive intelligence for the 10 major suppliers in the market for food processing equipment of the target product category for batch processing. Our team also provided the client with an exhaustive list of food processing equipment suppliers globally with their geographical reach, product category catered by them and product descriptions through our AI-driven market intelligence Platform, KnowledgeStore. Among these, the client selected 10 companies for which our analysts expanded the understanding of the growth strategies for processing technologies, their product range, handling capacities, strengths and weaknesses.
Revenue Shifts Identified
The surge in food & beverage industry, especially across the processed food segment in Europe, has driven the food & beverage processing equipment industry. Smaller companies are targeting the processing equipment sector as it is growing steadily due to changing consumer lifestyle and will bring new opportunities in future as well.
Interconnections
The meat and seafood processing companies are adopting the use of unique flavors and supplying it across the developed countries due to growth in demand for new flavors and upcoming trend of multi-national cuisines. The processing companies are using the state-of-art equipment for processing unique ingredients as well.
Unknowns Identified
The food & beverage products utilizing novel and organic ingredients will provide growth opportunities in the upcoming years.
Revenue Impact (RI)
Our client services team helped the client plan their global operational and technical strategies for batch processing and handling equipment, with a projected revenue of USD 40 million in the next 5 years.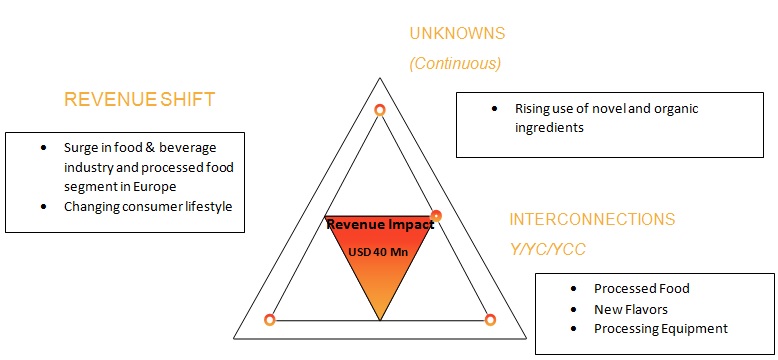 More Revenue Impact stories
See how future revenue sources change for these companies