Revenue Impact (RI) Story
Food and Beverage
Helped Client Tap into USD 120 Mn Opportunity in Spray Drying Equipment
Client's Goals
Our client, a Germany-based spray drying equipment company, engaged MarketsandMarkets to grow revenues. Our team offered detailed insights into the interconnected ecosystem of our client, client's clients and their clients. These insights were then utilized to define and solve a series of problems for tapping into latent opportunities. Two of the key problems solved during the engagement were:
Understanding of the market potential of spray drying equipment in the food & beverages industry
Insights into market perspective and demand for spray drying equipment in Europe
Our Approach
We provided in-depth information about the food & beverages sector in Europe through our AI-driven market intelligence platform, KnowledgeStore. Our analysts categorized the focus areas of manufacturers and identified regional drivers that impacted the spray drying equipment industry in the region. We further determined the demand for spray drying equipment in the food sector with regard to specific applications, as well as provided a section on key market regulations and competitor analysis.
Revenue Shifts Identified
The growth of ready to drink (RTD) products across countries like the UK, Germany etc. have increased the demand for spray drying equipment.
Interconnections
The flavored ingredients available in a powder format that have soft functional benefits will further increase the application of spray drying equipment.
Unknowns Identified
The use of exotic ingredients in the dry powder format in food & beverages products has grown in demand, which has increased usage of spray drying equipment.
Revenue Impact (RI)
Our client services team helped the client to gain a comprehensive market understanding, identify country-level trends, and develop an appropriate market penetration strategy. The insights offered allowed the client to extend its reach across the region by investing in emerging countries across Europe, with a total revenue impact of ~USD 120 million in the next five years.  It also helped the client gain an in-depth understanding of its target consumers and focus on achievable targets for the next five years.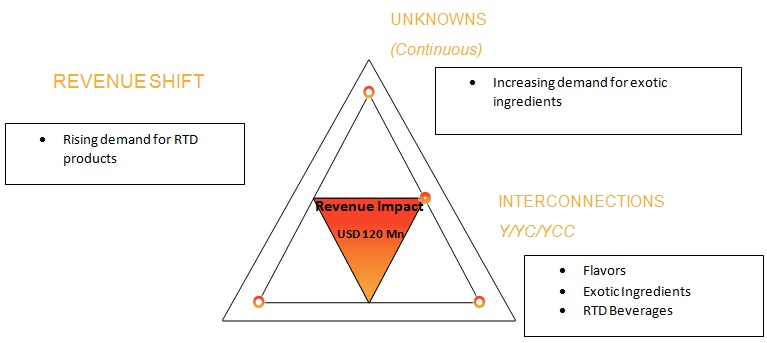 More Revenue Impact stories
See how future revenue sources change for these companies