Client's Goals
An industry-leading company in flight control and guidance system engaged Markets and Markets to grow its revenue sources. We offered expert insights on different flight types and defined a series of problems for the client. These problems were solved by our team for the identification of growth opportunities. Few of the key problems solved were-
Market intelligence on all flight type technologies, such as fly by wire, power by wire, hydromechanical systems, and digital fly by wire.
Insights on component types segmented by different platforms at the country-level. Also, different component types were covered as a part of our engagement, such as commercial fixed-wing flight control system, military fixed flight control system, military UAV flight control system, and rotary-wing flight control system.
Competitive intelligence on flight control system vendors. Further, our client services helped in competitive benchmarking against similar solutions offered by competitors
Our Approach
Through, our market intelligence platform, KnowledgeStore, access to all related technology trends and niche markets was offered. Our analyst hours were used for understanding the information provided. Causes of shifts were identified in client's and client's clients' ecosystems. This, in turn, helped in finding blindspots emerging out of interconnected ecosystems. Client services further helped in strategizing revenue plans for the next couple of years to generate revenue impact.
Revenue Shifts Identified
Emergence of New Aircraft Manufacturers in Asia Pacific has been identified to cause shifts in revenue sources. Also, increasing demand for Lightweight Flight Control Systems and Electric Actuation Systems are presumed to impact the future trajectory of the company.
Interconnections
Rising applications of UAVs/drones are assessed to influence the company's growth trajectory. Further, more electric aircraft, and avionics are identified to exhibit disruptive potential for client's growth.
Unknowns Identified
With increasing applications of UAVs, flight control system for UAVs is likely to witness higher demand. This, in turn, is expected to drive company's growth in near future. In addition, fly by optics and aircraft electrification are few of the areas identified as a part of our engagement that poses immense revenue potential.
Revenue Impact
Our insights helped the client tap into USD 50 million market, with a projected market potential of USD 5 million within three to five years of our recommendations.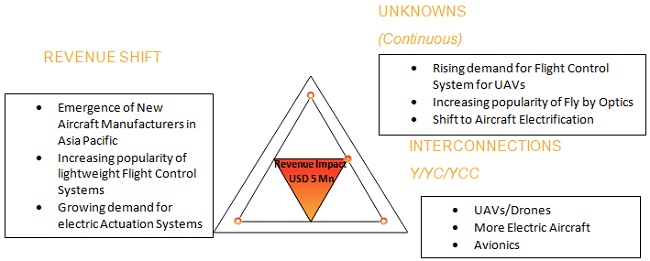 More Revenue Impact stories
See how future revenue sources change for these companies