Revenue Impact (RI) Story
Semiconductor and Electronics
Identification of M&A Opportunity in Machine to Machine Industry
Business Proposition
Our engagement model was leveraged for drawing insights into potential of revenue synergy in Machine to Machine (M2M) industry. For this purpose, we defined a series of problems faced in the industry associated with partner preference and identification & prioritization of targets. Key questions were answered while solving these problems. Two of the key questions answered are-
How companies are evolving in the industry for machine to machine connectivity?
What are their strategies to increase their revenue growth?
Our Approach
Firstly, we gained insights into high-growth niche markets and emerging technology trends in our AI-driven market intelligence platform, KnowledgeStore. These insights were further supported by inputs from our analysts that helped in identification of hot bets and challenges. This information was utilized by client services to identify spaces that can ensure maximum revenue synergy.
Revenue Shifts identified
The causes of shifts in revenue sources were identified-
M2M system integrators help develop out-of-the-box solutions and provide custom product development and on-going consulting and support services. The M2M application platform providers, hardware vendors and mobile operators have established strategic partnerships with leading system integrators to deploy M2M solutions.
The increasing adoption of machine-to-machine (M2M) communication is driving the growth of the connected devices market. Smart devices require sensors that can help generate real-time data. The key reasons for the increased adoption of new M2M technologies are better connectivity for smooth communication low power requirement and the need for a smarter and greener planet.
Many cities are now seeking to expand the use of IoT to improve services such as waste management water management and quality and energy consumption in public buildings. The use of contextual analysis to provide real-time information to citizens and authorities is also gaining popularity.
IoT is accelerating the speed of modernization in the automotive and transportation end-user industry. M2M technology has proved very useful in all modes of transport namely aviation railways roadways and maritime transport. The vehicle-to-vehicle (V2V) communication technology could lead to M2M connectivity and being made mandatory in new vehicles in few regions. The connected vehicles could lead to significant reduction in the fuel consumption and help avoid crashes along with improving the flow of the traffic. Thus, the growth in the number of connected cars is expected to drive the M2M connections market in the automotive and transportation end-user industry
Interconnections
Insights were offered into interconnected ecosystems-
In the automotive sector, the market for autonomous cars is gaining traction as car manufacturers are offering connected and partially automated cars that are operated using the M2M technology. Autonomous cars sense their surroundings with techniques such as radar LiDAR GPS and various sensors.
M2M-Communication requires a stressable network especially for mobile services. The capacity of mobile networks used by M2M-Technologies needs to be able to handle billions of nodes that are expected to increase in the next couple of years. The introduction of high-speed networks such as fifth-generation (5G) mobile networks has paved the way for a wider variety of high-bandwidth applications and boosted the machine to machine connectivity.
The formulation of a number of regulatory mandates has largely contributed to significant advancements with respect to the development of M2M solutions for different applications. For example, the European Union (EU) has mandated the installation of smart meters throughout Europe by 2020. The substantial differences in meter functionalities and specifications across the continent are being worked out to achieve the set target.
The growing popularity of Internet of Things (IoT) is poised to drive the growth of the M2M communication market. Increasing number of connected devices is projected to provide impetus to market growth in the foreseeable future.
Unknowns Identified
We expanded the understanding of revenue shifts and interconnections for finding blindspots-
IoT M2M-capablilities are being used in various new applications such as in washing gadget that send alerts to the owners; clever gadgets once it finishes washing or drying and a clever fridge should mechanically order groceries.
With M2M era hospitals can automate tactics to make certain best degrees of remedy. The M2M solutions can help improve the diagnostics through remote patient monitoring and data analytics. Doctors gain the ability to monitor their patients from any location using a dashboard and prescribe the best treatment possible for their ailment. A comprehensive intelligent monitoring system could enable a full range of health care services and treatments.
Healthcare education and skills enhancement are areas where M2M deployments hold huge potential in rural areas.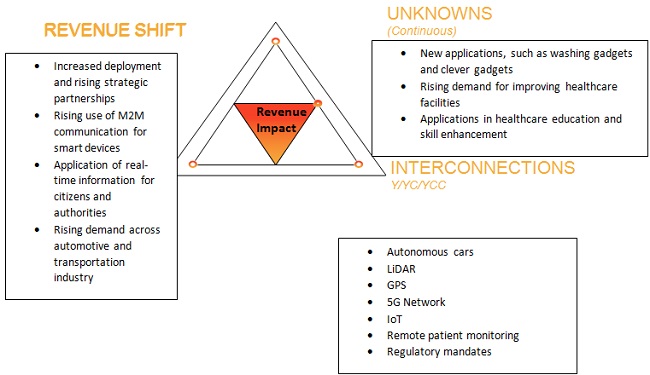 More Revenue Impact stories
See how future revenue sources change for these companies