Revenue Impact (RI) Story
Semiconductor and Electronics
Identification of Market Opportunity in Compounded Semiconductors Market
Business Proposition
Markets and Markets, using its engagement model, identified new revenue opportunities in compounded semiconductors market. For this purpose, a series of problems were defined considering insights on emerging technologies, use cases, etc. In order to solve the problems defined, few key questions were answered by our team of analysts that also helped in the expansion of the understanding of insights. Further, client services team worked on devising strategies for maximizing product potential. Two of the questions answered were-
How compounded semiconductors will help an organization?
Which new product functionalities are in demand?
Our Approach
Insights were gained into emerging technologies and high-growth niche markets from our AI-driven market intelligence platform, KnowledgeStore. An expert team of analysts worked towards the identification of opportunities and blindspots. Client services team further helped in strategizing ways for capitalization of the opportunities exhibited by the product in demand.
Revenue Shifts identified
the causes of shifts in revenue sources were identified-
GaN based devices are mainly used for opto-electronics & opto-semiconductors RF applications and in drives for automotive & industrial applications
GaN is mainly used for LED applications along with laser diodes, opto-couplers, photo-diodes and opto-detectors owing to its higher coefficient of intensity and brightness of light emission. Also, GaN is chemically inert and mechanically hard
GaN based RF power semiconductors are used in discrete components and in large integrated systems
GaN motor drives reduce the power conversion losses to a great extent in the overall automotive system. GaN based industrial drives are used under high power temperature frequency and radiation to maximise output in minimum time. GaN based technology is also used in LiDARs for automotive and military applications
Interconnections
Insights were offered into interconnected ecosystems-
LiDAR technology is used along with various sensors such as radar night vision cameras for self-driving car applications
Opto-semiconductor devices are used in mobile phones, digital cameras, televisions, and automotive displays.
GAN based power amplifiers, low noise amplifiers, and oscillators antenna filters are used in military and commercial markets such as for advanced radar system and electronic countermeasure devices
Unknowns Identified
We expanded the understanding of revenue shifts and interconnections for finding blindspots-
For Radar applications for efficient power conversion and power switching at various high frequency bands such as C-band and S-band high quality GaN power semiconductors could be used in the near future
MACOM has been accredited by the United States Department of Defence with 'Trusted Foundry' remark as it has capabilities in GaN fabrication as well as gallium Arsenide (GaAs) and Indium Phosphide (InP) compound semiconductor manufacturing.
STMicroelectronics is planning to acquire majority shares in Exagan, a France based GaN innovator company to accelerate ST's power GaN expertise for high frequency high power industrial consumer and automotive applications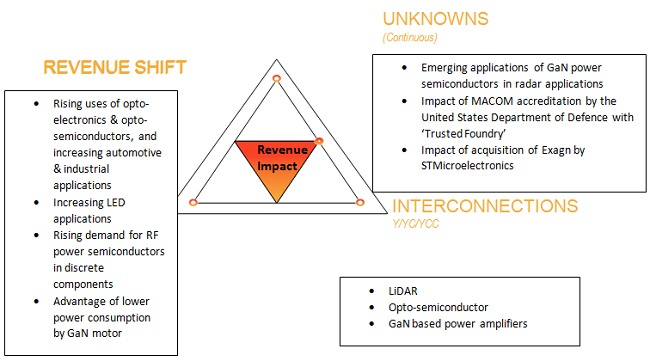 More Revenue Impact stories
See how future revenue sources change for these companies